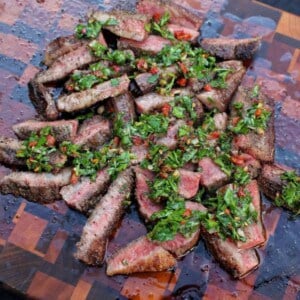 Crush the backyard cooking this Independence Day with Wagyu Secreto Steak with Roasted Chimichurri over the fire. Spicy and tangy with a hint of smoke.
Wagyu Secreto Ingredients:
Roasted Chimichurri Ingredients:
1/2

cup

parsley chopped

2

tbsp

of Sun Dried Tomatoes

chopped

2

tbsp

of Oregano

chopped

3

cloves

of Garlic

3/4

cup

Olive Oil

1/4

cup

Red Wine Vinegar

1

tsp

of Red Pepper Flakes

1

tsp

of Capers

chopped

Salt & Pepper

to taste
Build a fire in your grill or fire pit for direct cooking. Make at medium to medium-high heat.

Preheat little skillet with butter then add whole garlic into skillet to roast for 5 minutes. Flip after 3 minutes and cook for another 2 minutes or until they are roasted to your liking. Pull off grill and set aside.

Season Mishima Reserve Secreto with salt & black pepper. Add to grill and cook for about 2-3 minutes per side or until 115F internal. Pull off once done and let rest for 8 minutes.

While resting, chop your roasted garlic and add all ingredients for chimichurri into a bowl and mix.

Slice Mishima Secreto against grain, top with roasted chimichurri and enjoy!
Equipment: Grill, wood, fire starters, cutting board, small cast iron skillet & knife.