Do you love barbecue? How about ranch? Also, bacon? Shouts for my people that love all three! This BBQ Chicken Bacon Ranch Skewers recipe is for you! More than your average bacon ranch recipe, this is using my favorite homemade ranch! Y'all know I'm a sauce person, so this shouldn't be a surprise. Grab that bacon and your favorite bbq sauce, let's get cluckin'!
Bacon Wrapped Everything
Name one thing that's not better wrapped in bacon, I'll wait… Well, turns out chicken is no different. This recipe starts by cubing up some chicken breasts and wrapping them in bacon. Chicken breasts are a very lean meat, so the fattiness of the bacon really helps to add flavor to this dish. Plus, the cubed chicken was small enough that I only needed to use half a slice of bacon. Believe me, that half slice of bacon makes a world of difference in adding savoriness and texture to this bbq chicken bacon ranch skewers dish.
Once I had one chicken cube wrapped in bacon I proceeded to secure it on one of my skewers. As the pictures reveal, the skewers I used are more like mini swords. Honestly, who wouldn't cook with mimi swords if they had the chance? Of course, classic skewers will suffice but don't be afraid to take a walk on the viking side if you have the opportunity. Repeat the bacon wrapping the skewering process until all your skewers are full. If you used four chicken breasts like I did, this process might take you a second.
Find more skewer recipes in my cookbook, Food X Fire!
BBQ for my Chicken Bacon Ranch Skewers
Very few foods are able to transcend the food realm and become more than just an ingredient, but an event. Barbecue has done just that. It's a dipping sauce, a protein glaze and a summer backyard event. I'm game for all of it!
For our bbq chicken bacon ranch skewers, we use the bbq sauce as a glaze. Once the bacon on my skewers started to cook, I heated a sauce pan and warmed up the bbq sauce. Chef's choice on which bbq sauce you use for this recipe, just pick your favorite and go for it! Then, using a cooking brush, I glazed each bacon wrapped chicken cube with the bbq sauce.
BBQ Chicken Bacon Skewers Plus Ranch
I just realized that this recipe basically took three things that people are obsessed with and threw them all together. Don't we all have that crazy friend that puts ranch on everything? I have a slight inkling I might be that person for my friends. Ranch on pizza? Yes. Ranch on wings? Yes. Ranch on veggies? Duh, how else am I supposed to consume them? Okay, that might be a bit of an exaggeration. I am very capable of enjoying veggies without ranch, but you get the picture. It's another food item that has a huge following.
Have you ever tried making ranch dressing at home? It's super easy and so delicious! The fresh dill and chives really take it to the next level for me. Throw in some buttermilk for smoothness and worcestershire sauce for an extra tang. I always make this in big batches, some to use now for this bbq chicken bacon ranch recipe and some to save for later!
Let's Eat
When it comes to serving up these bbq chicken bacon ranch skewers, simply pull them off the grill and place them on a cutting board. I put my homemade ranch dressing in a squeeze bottle and completed a generous drizzle over the bbq bacon wrapped chickens. You can do this while the chicken is still on the skewer (I opted for this), or after removing them all off the skewer. Garnish with some chopped parsley and enjoy with friends and family! Cheers!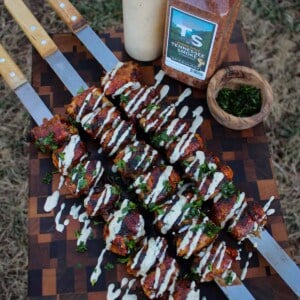 BBQ Chicken Bacon Ranch Skewers
BBQ Chicken Bacon Ranch Skewers combine our favorites for one awesome dish. Glazed in BBQ and drizzled in ranch, these skewers are delicious!
Ingredients
Chicken & Bacon:
4

Boneless Skinless Chicken Breast

medium sized cubes

1

lb

of Bacon

cut into 3" sections

1.5

tbsp

of Tennessee Smoke Rub or your favorite BBQ Seasoning

2

tsp

of Canola Oil
Ranch:
1/4

cup

of Buttermilk

2

tbsp

of Mayonnaise

2

tbsp

of Sour Cream

2

tsp

of Spicy Mustard

1.5

tsp

of Worcestershire

1.5

tsp

of Dill

finely chopped

1

tsp

of Chives

finely chopped

1

tsp

of Kosher Salt

1

tsp

of Black Pepper

1

tsp

of Garlic Powder

1

Lemon

juiced
Finishings:
1/2

cup

of your Favorite BBQ Sauce

for glaze

Chopped Parsley

for garnish
Instructions
Cooking Instructions:
Add your cubed chicken breast to a bowl along with some oil and Tennessee Smoke Seasoning (or similar). Mix together thoroughly. Take a 3 inch strip of bacon and carefully wrap it fully around one of the chicken cubes. If you have to double wrap the bacon, then the bacon strip is too long. Skewer the bacon wrapped chicken onto your skewer. Continue this process until all the bacon is on the skewers. I like to keep 6-8 bacon wrapped chicken cubes per skewer.

In a bowl, mix together the Ranch ingredients. Set the ranch in the fridge until you are ready to use it.

Preheat your fire for direct cooking using skewers at a medium high temperature (around 350F). Try avoid using a grill grate and get a 4-6 inch distance between the coals and the skewers if possible.

Add the skewers over the hot coals to cook for about 15 minutes or until the bacon is crispy and the chicken is 165F internal. Make sure to rotate the skewers every 2 minutes in order to prevent flare ups and burning. Smother any flare ups immediately. As the chicken is getting close to cooked, warm up the bbq sauce over the fire in a skillet. Glaze the outside of the skewers with the bbq sauce and let it caramelize. Cook for the last 3-5 minutes until it is fully caramelized onto the chicken. Once done, pull the chicken off to rest for 3 minutes.

As the chicken rests, drizzle a layer of ranch over top and garnish with chopped parsley. Serve and enjoy!