Summer is in full swing, and so is the grilling season. With the world being trailing, it is always nice to spend an afternoon around the fire cooking some delicious food with family. I have a ton of amazing recipes for people who want to do this, but nothing really beats the flavor, savoriness and sweetness of this Bacon Wrapped Pork Tenderloin with a Maple Glaze. I have teamed up with the National Pork Board to showcase this ideal backyard recipe. Why is it ideal? Find out below.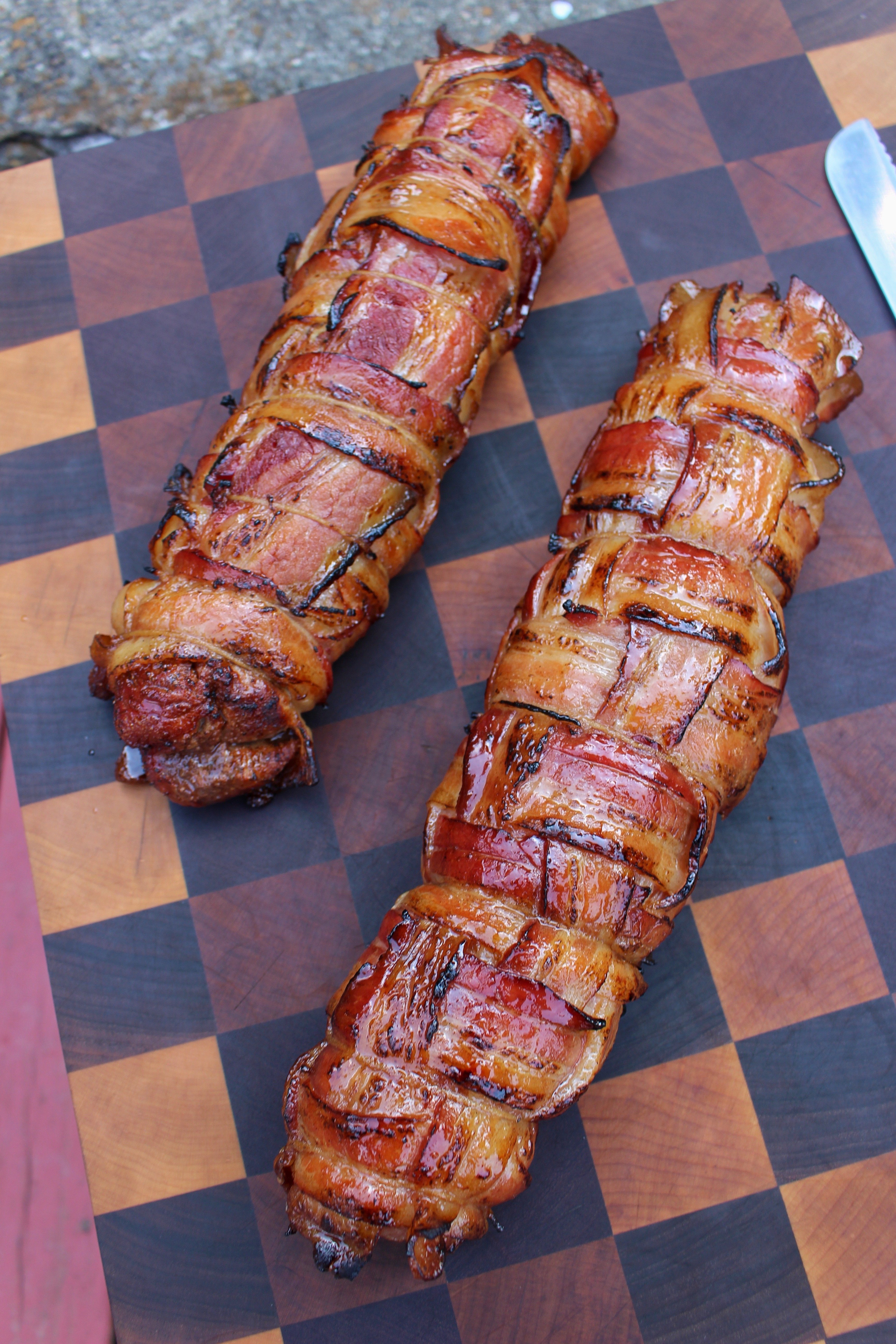 Let's Talk About this Bacon Wrapped Pork Tenderloin
Pork is a crowd pleaser. Whether you are smoking ribs, pork butt or pork loin, it always is tender & delicious. I know I love my ribs and tacos, but this Bacon Wrapped Pork Tenderloin can compete with the best of them. Why is that? Because it's wrapped in bacon!
Anything that has bacon is immediately 100x more delicious. But when you wrap a whole piece of meat in bacon, then it just becomes indescribably good. This recipe gives you the best of both worlds too because you will get a caramelized crunchy bacon outside with a soft and tender pork tenderloin in the middle.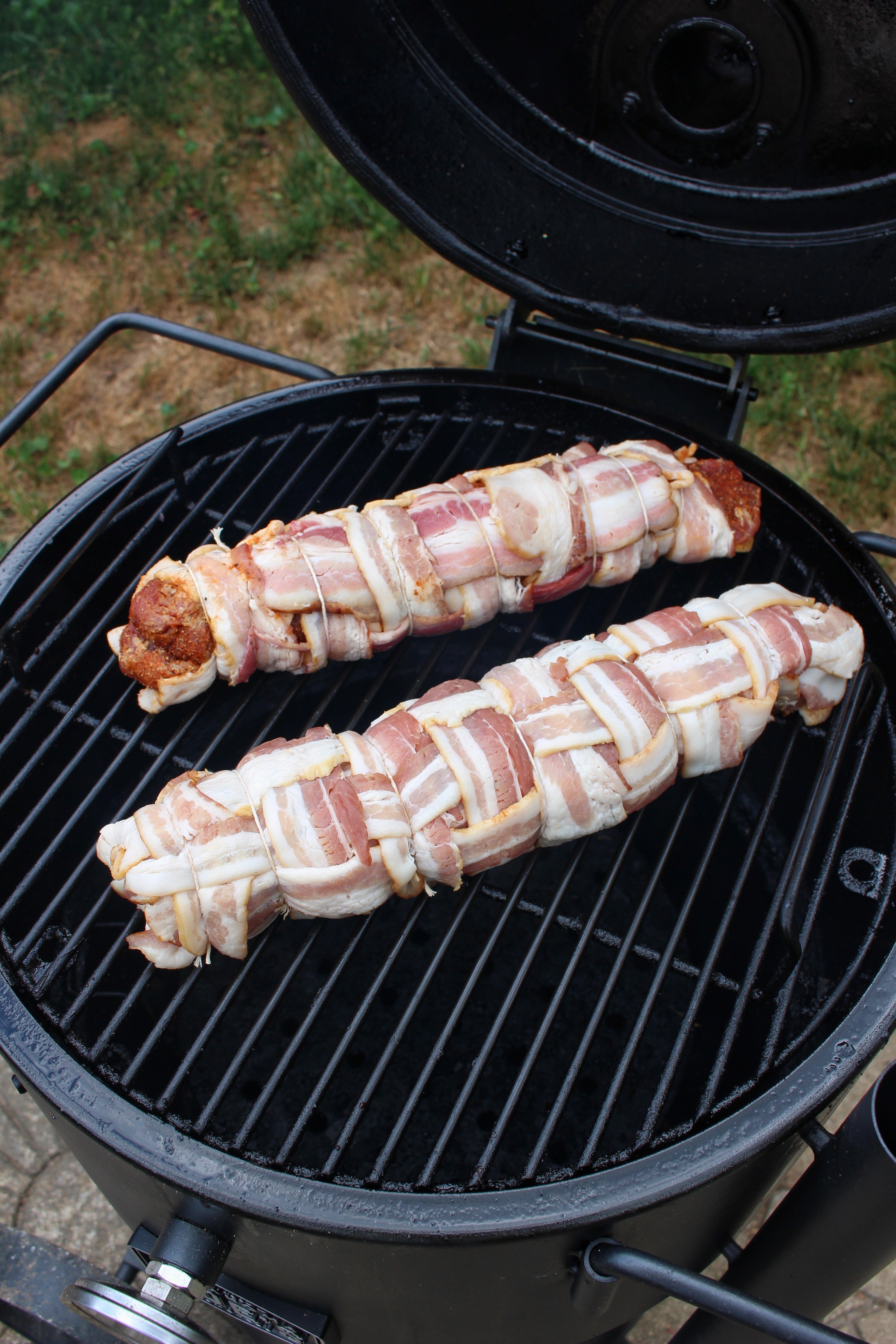 The Bacon Weave
How could I talk about this recipe without mentioning the bacon weave. A bacon weave is a netting of bacon that will wrap the outside of the pork tenderloin. To make this weave, you are going to start with 7-8 strips of bacon laid out parallel to each other. Next, you will lay one strip of bacon down at a time weaving it perpendicular to the other strips with every other strip going over the top of the bacon and every other strip going underneath. Honestly, it is a really fun way to add bacon into your dish. It also covers the pork tenderloin super well!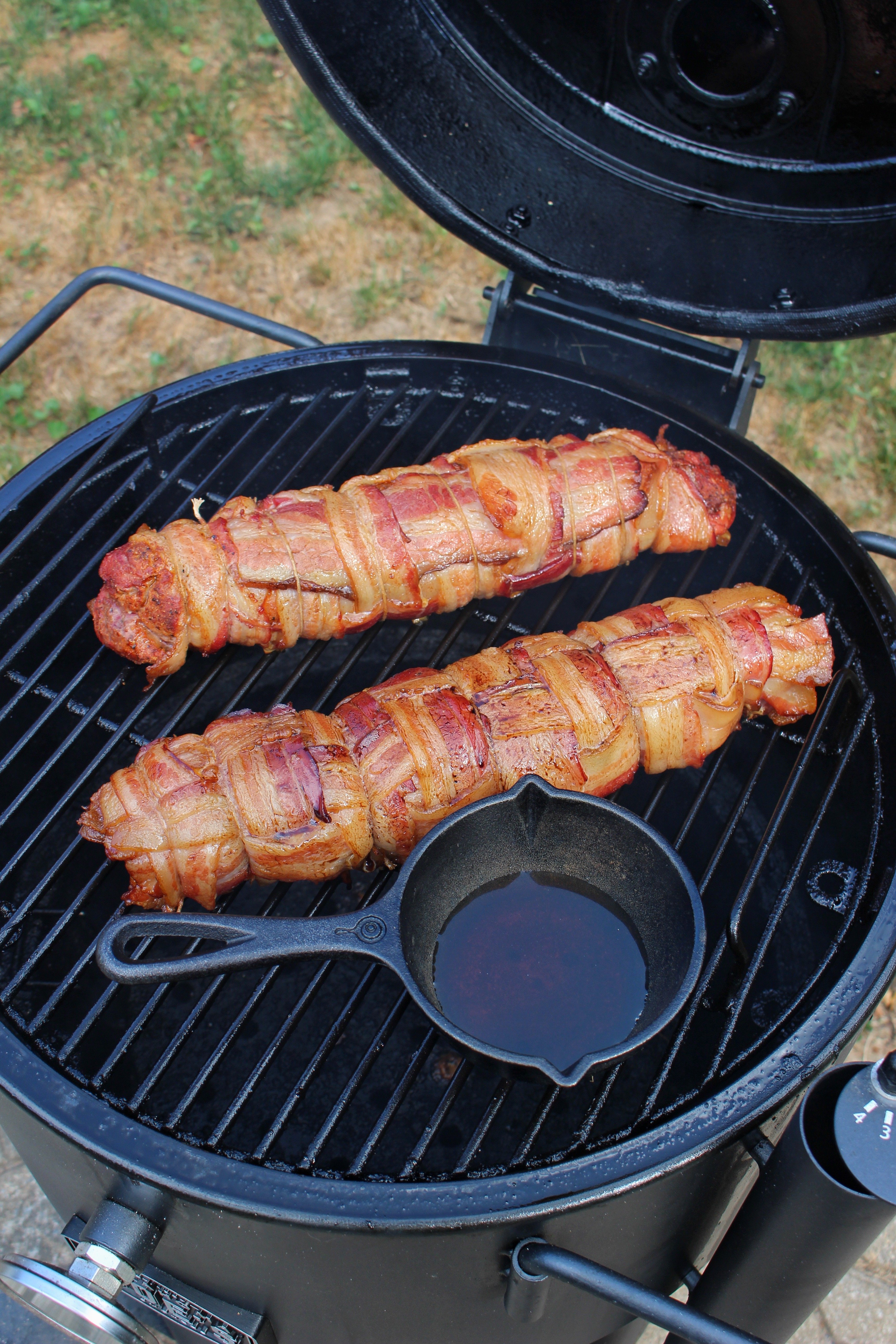 Why you should smoke this Bacon Wrapped Pork Tenderloin!
Smoked pork is the best pork. By smoking this Bacon Wrapped Pork Tenderloin, you will get a rich outer layer of smoky goodness that compliments the crispy bacon. I cooked this pork loin at about 250F for about 2 hours until it was 145F. This is my ideal temperature for cooked pork, because it is both safe and tender all at the same time.
Another little tip, use some wood chunks or wood chips in order to enhance that smoky flavor. I like to use cherry or hickory wood chunks/chips on this recipe. Cherry has a super sweet and mellow flavor for those that do not want overpoweringly smokiness. The hickory is smoky, but in a good way. It is still subtly sweet with a nice smoky finish.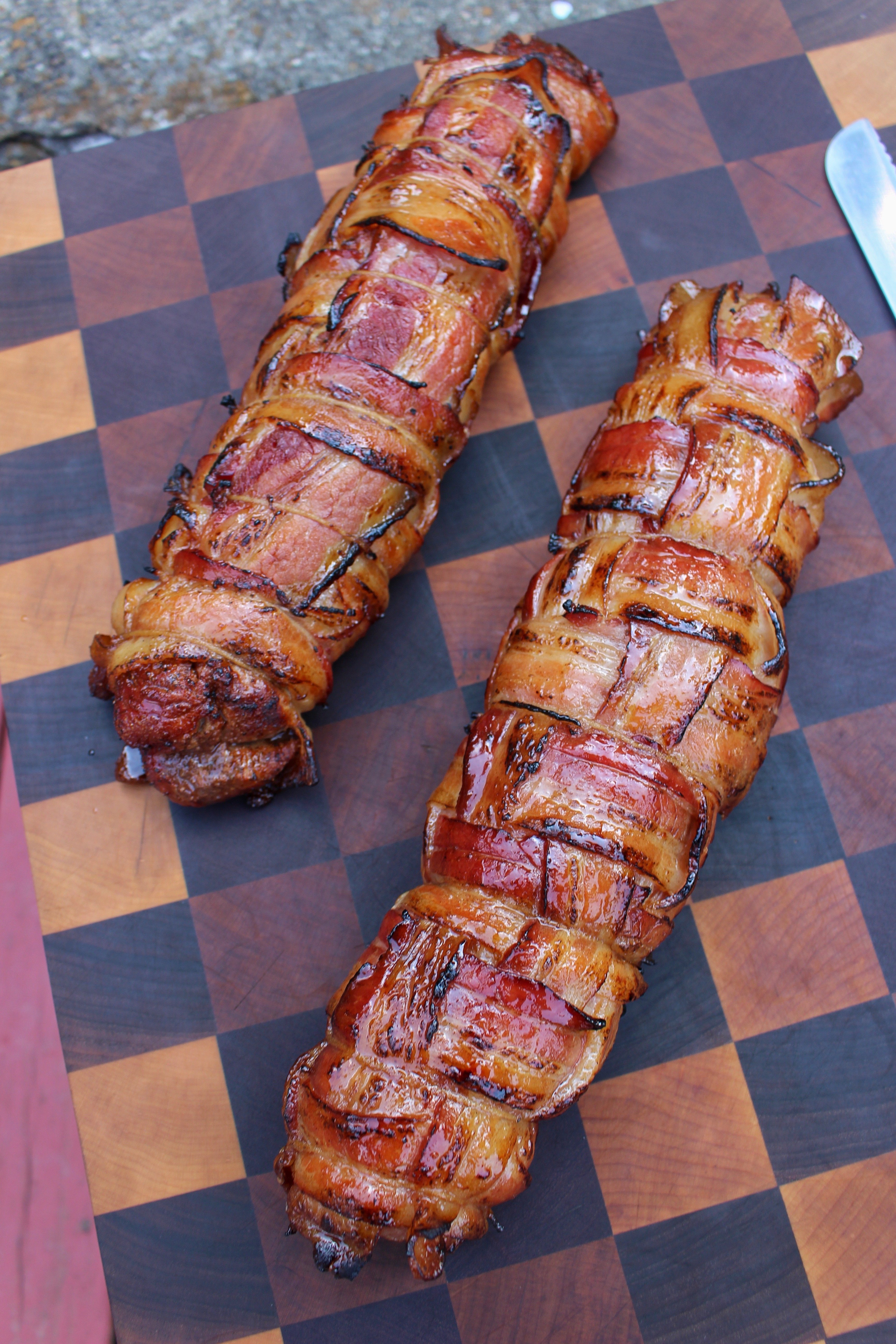 Time to Eat this Bacon Wrapped Pork Tenderloin
Getting outside and making memories around the fire is all that Over The Fire Cooking is about! With this Bacon Wrapped Pork Tenderloin with Maple Glaze, you set yourself up for just that. So make sure to grab some National Pork Board meat, and smoke this pork tenderloin. You will thank me!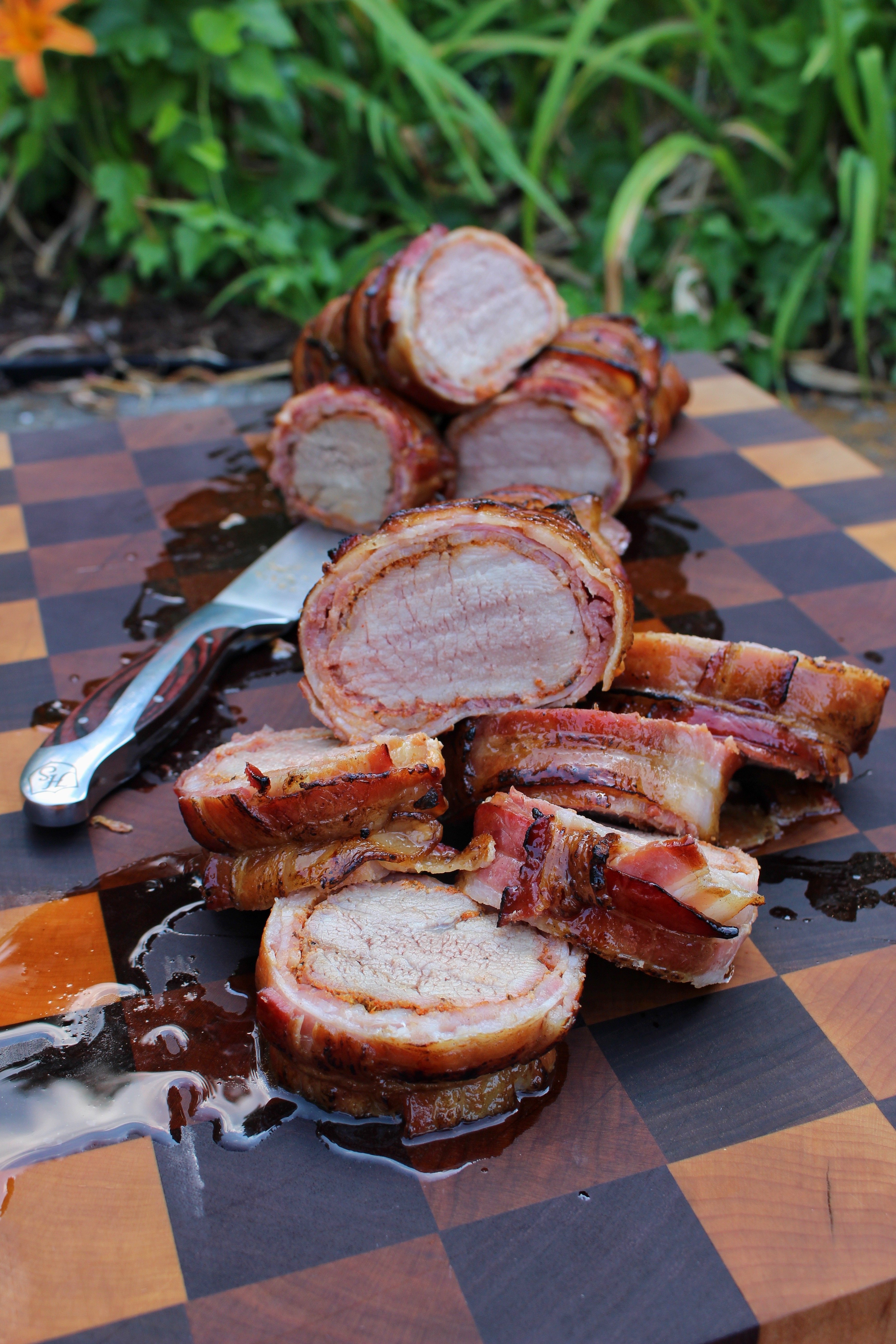 This article does contain affiliate links to products that we personally use and support. Purchasing an affiliate product does make us a small commission at no cost to you. This helps us continue creating for our website. All words and opinions are our own, and we appreciate your support!
Print Recipe
Bacon Wrapped Pork Tenderloin with Maple Glaze
Crush this awesome Bacon Wrapped Pork Tenderloin with Maple Glaze right now for summer. The perfect backyard smoking cook for the family!
Ingredients
Pork Loin:
2

Pork Tenderloins

trimmed

2

tbsp

Dijon Mustard

2

lbs

Bacon

¼

cup

Maple Syrup
Seasoning
1

tbsp

Sea Salt

1

tbsp

Black Pepper

½

tbsp

Garlic Powder

½

tbsp

Onion Powder

½

tbsp

Smoked Paprika

½

tbsp

Brown Sugar
Instructions
Trim your pork tenderloins of any excess fat or silver skin. Lather them down with dijon mustard. In a bowl, mix the seasoning then cover the outside of the pork loins with seasoning. Set in the fridge to rest for 15 minutes.

Next, create a bacon weave. Start by setting down a strip of parchment. Next, layer 7-8 bacon strips down parallel to each other. Next at the end of the bacon strips, weave a single bacon slice perpendicular to the other slices with every other slice laying on top and every other slice going underneath the strip. Continue this until you have a full weave that will cover your pork loin.

Place your pork loin at one end of the bacon weave, and by using the parchment roll begin to wrap the bacon in the weave. Make sure to only start with the parchment, and not continue as it will become intertwined in the weave.

Once done, truss the bacon wrapped pork loin with butcher twine in order to keep everything in place while it is one the grill. Once trussed, set the pork loins in the fridge for 15 minutes.

Preheat your smoker/indirect grill to 250F, and add cherry or hickory wood chunks/chips for additional smoke.

Place your pork loin on the smoker to cook for about 2 hours or until it reaches 145F internal.

When the pork loin is close to done, heat up your maple syrup and brush in on top of the pork loin. Keep on the smoker to caramelize for a couple of minutes.

When pork loin is done, pull off and let rest for 8-9 minutes. Slice and serve!
Nutrition
Serving:
0.33
Pork Tenderloin
|
Calories:
1408
kcal
|
Carbohydrates:
14
g
|
Protein:
145
g
|
Fat:
82
g
|
Saturated Fat:
27
g
|
Polyunsaturated Fat:
13
g
|
Monounsaturated Fat:
35
g
|
Trans Fat:
1
g
|
Cholesterol:
493
mg
|
Sodium:
2538
mg
|
Potassium:
2755
mg
|
Fiber:
1
g
|
Sugar:
9
g
|
Vitamin A:
364
IU
|
Vitamin C:
1
mg
|
Calcium:
71
mg
|
Iron:
7
mg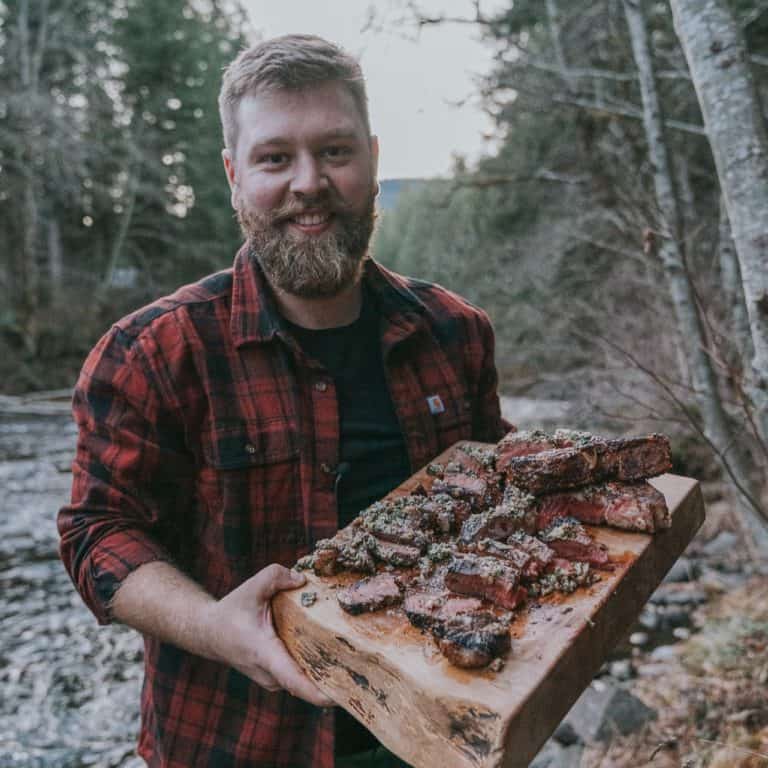 Derek is the driving force behind Over the Fire Cooking. He started cooking with live fire in 2016 and decided to start a social media page so his friends and family could follow the journey. Fast forward to today and Over the Fire Cooking has spread across multiple platforms with millions now following Derek's fire cooking journey. He's a southern fellow who enjoys everything from classic BBQ to Central and South American inspired dishes. Whatever he's cooking up, it's guaranteed to be so freakin' delicious!