Fried Sticky Ribs are everything you love about pork ribs, but taken to the next level. I did everything I could think of to make these ribs as flavorful as possible, and let's just say they are maxed out! I marinated them, smoked them and then fried them! One bite of these deep fried ribs let's you experience the tender juicy inside with a thin crispy outside, all coated in a sweet and spicy sauce. So. Freaking. Delicious!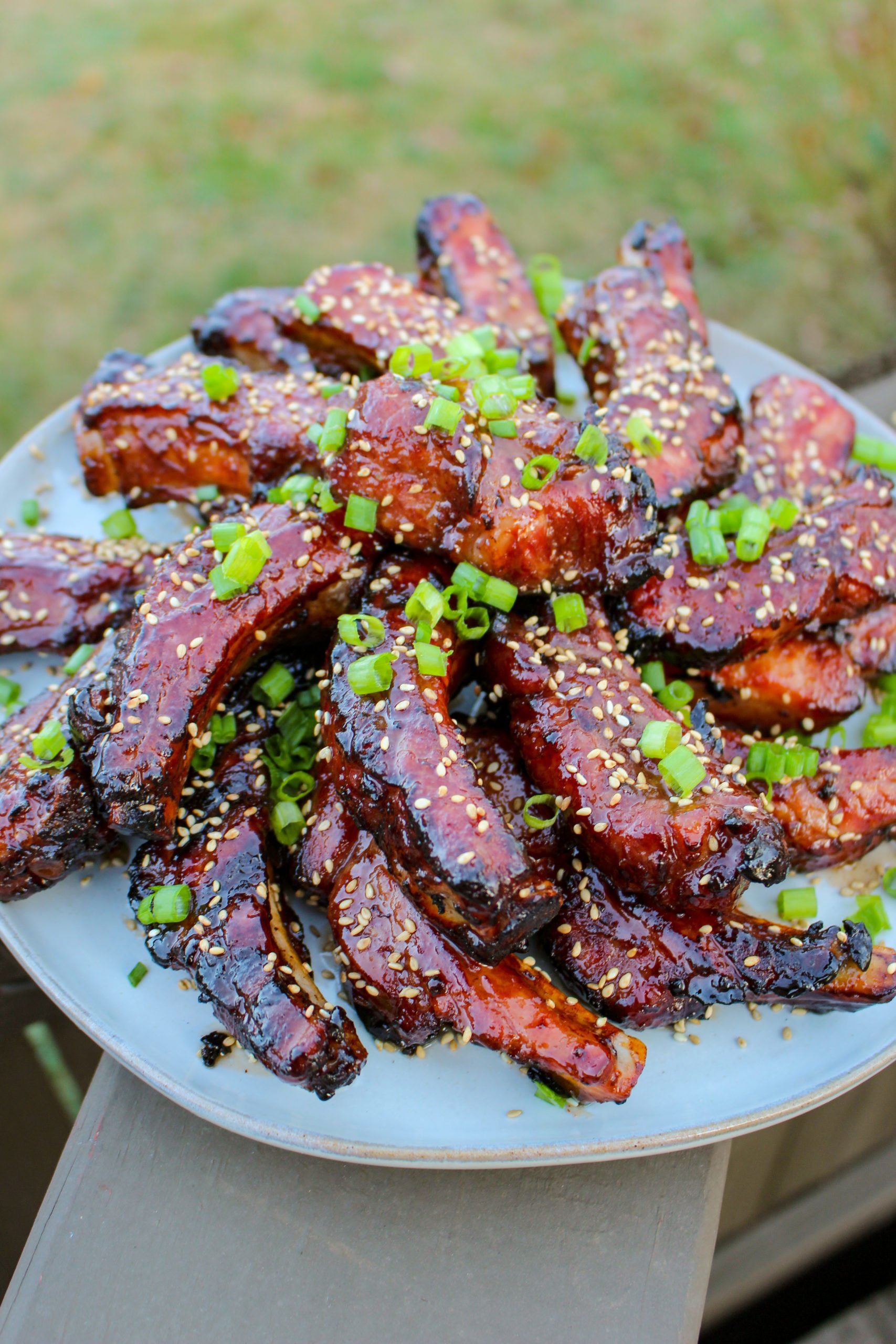 Preparing Fried Sticky Ribs
As mentioned above, we will be doing ALL the things for these Fried Sticky Ribs. So, where do we start? With the marinade, of course.
Now, these ribs don't need to marinade overnight. We'll simply do a quick marinade on them and let them soak for about four hours. Since we are cutting the slab of ribs into individual ribs, there will be plenty of surface area on each one to soak in enough of that marinade in a four hour period.
Speaking of slicing into a slab of ribs, let's go ahead and do that. However, before you start hacking away at these ribs, make sure to remove the silver skin on the bottom. It's easiest to do when all the ribs are still together, so that you only have to pull off one long strip of silver skin instead of a million smaller pieces off each individual rib.
Marinade and Smoke
Alright, the silver skin is removed and the slab of ribs is now cut into individual pieces. We are well on our way to enjoying some Fried Sticky Ribs. Next up, we'll mix together the marinade and then in a large bowl combine the ribs with the marinade. I hand mixed the ribs with the marinade to ensure each was covered. Now, set it in the fridge to soak in the flavor!
After the proper amount of time has passed, start your smoker and let it preheat. Then, remove the ribs from the fridge and discard the excess marinade. Place each rib onto your preheated smoker and then close the lid. Let them smoke.
Putting the Fry in Fried Sticky Ribs to: Frying The Ribs
While the ribs smoke, let's get ready for frying. For the frying process of this cook, I actually pulled out a second grill. You do not have to do this, but it make the process go a little faster for me. I started a fresh fire and let it coal up. Then, place your dutch oven on the grill to preheat and add the frying oil.
For more fire fried foods, check out my Fried Pancetta Empanadas, Honey Garlic Sriracha Fried Wings and Panko Fried Wild Salmon.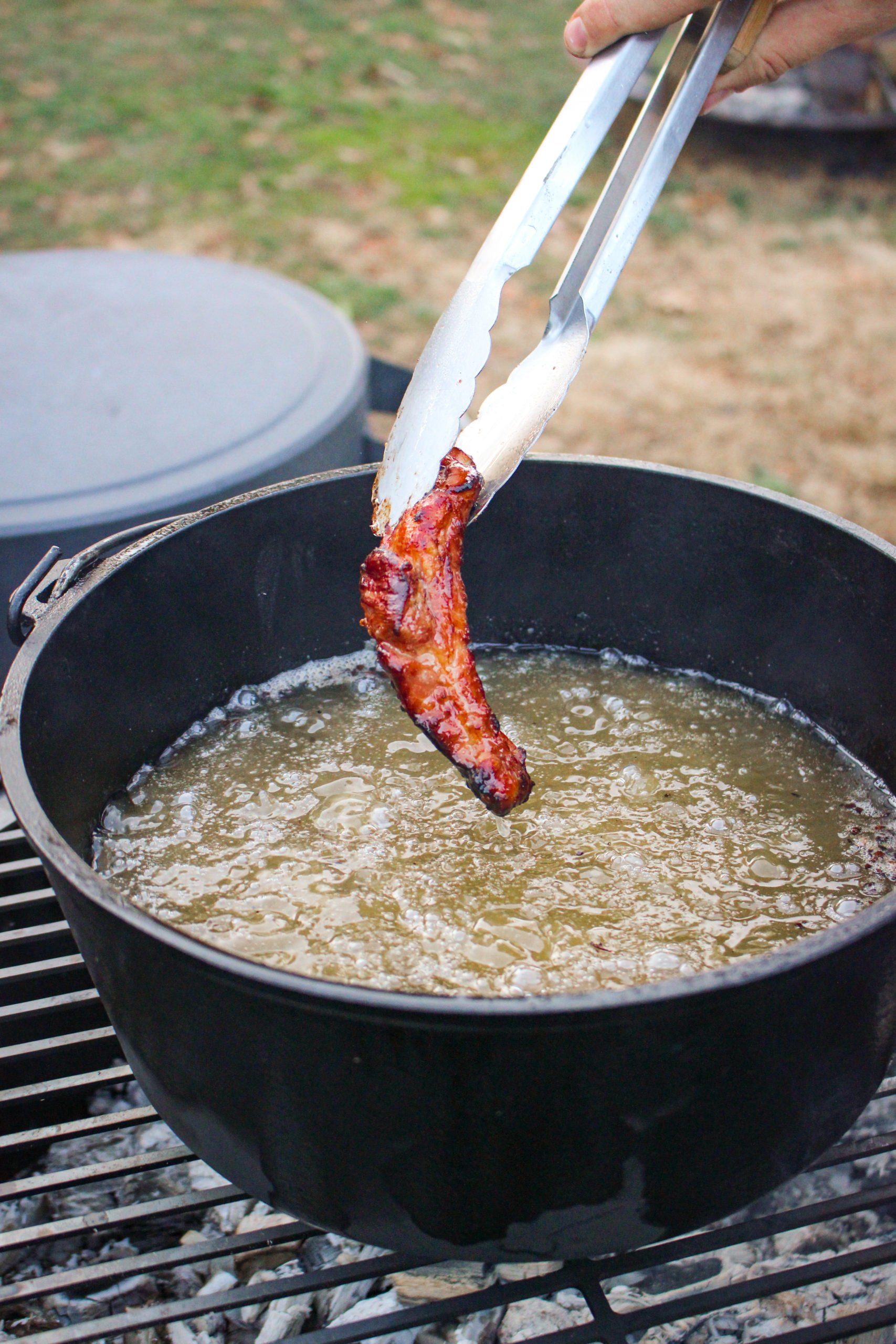 Now, pull the ribs from the smoker, coat them in flour and let's get frying pork ribs! I fried my Fried Sticky Ribs in batches because I didn't want to overwhelming the dutch oven. 
During the frying process, I also made my sweet and spicy sauce. For this, go back to the smoker and mix together honey and sriracha. Close the lid on the smoker to let those ingredients melt and fuse together.
Keep an eye on those Fried Sticky Ribs… Just a reminder… Because we don't want to overcook them… I mean over fry them… You get it.
Recipe FAQs
How long do ribs take to fry?
Because these ribs have already been smoked and cooked to an internal temperature, we are only frying for a sticky crisp texture. A quick 2 to 3 minutes does the trick.
Should I boil my ribs first?
No. We smoke the ribs first for tender meat and amazing flavor.
How can I tell with my fried ribs are done?
The meat will be tender and soft to the touch, and have shrunk back, exposing the ends of the bones.
The MOST Delicious Fried Sticky Ribs
Put the freshly fried ribs in a large bowl and grab the sweet and spicy sauce from the smoker. Pour it over all the deep fried ribs and give it a good toss. That's it! Now we're ready to serve. I garnished mine with sesame seeds and chopped scallions. Best enjoyed with friends and family! Cheers!
For more delicious recipes, check out my cookbook Food X Fire!
Needing more spice in your life? My spice line can help with that. Check them out here.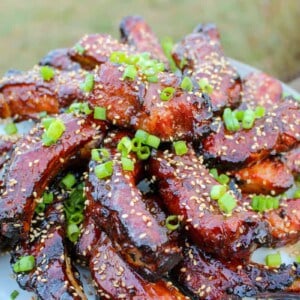 Sticky Fried Ribs Recipe
Fried Sticky Ribs for the win!
Ingredients
Ribs:
2

Racks of Ribs

cut into single cutlets

Sesame Seeds

for garnish

Chopped Scallions

for garnish
Marinade:
1.25

cups

Soy Sauce

low sodium

½

cup

Rice Wine Vinegar

2.5

tbsp

Garlic Chili Paste

2.5

tbsp

Honey

2

tbsp

Minced Garlic
Frying:
1

qt

Frying Oil

3

cups

Flour

Sriracha Honey Sauce:

½

cup

Honey

1.5

tbsp

Sriracha Sauce
Instructions
If you have not prepared them already, pull off the membrane from the back of the ribs and slice them into individual bones. In a bowl, mix all the ingredients for the marinade then place all of the ribs into the bowl. Mix together thoroughly, cover and place in the fridge for at least 4 hours but ideally overnight.

Preheat your Oklahoma Joe's Smoker to 275F for indirect cooking. Add some hickory wood chunks for added smoke flavor if desired.

Add your ribs to the smoker and cook them for 1-2 hours (check for desired tenderness) making sure to flip them half way through the cook. Once the ribs are done, pull them off, cover them and set them aside. Let your smoker cool down to 225F, then add a basting skillet with the ingredients for the Sriracha Honey Sauce. Let that slowly smoke until it is runny and warm. Once warm, pull aside and wait to use.

Preheat another grill/fire to direct high heat cooking (about 400F). Add a large skillet or dutch oven to the grill to preheat for 2 minutes, then carefully fill it with frying oil. Make sure to add enough oil so that you can fully immerse the ribs. Bring the frying oil up to 350F. In another bowl, add the flour and then dredge your ribs by adding them to the flour and coating it well. Make sure to brush off any excess flour. Once all the ribs are dredged and the oil is ready, add the ribs to the frying oil to cook for 2-3 minutes until they are golden brown. Add ribs in small batches so as to not overcrowd the skillet. Once done, pull off and let cool on a paper town to drain any excess oil.

When all the ribs are done, place them in a large bowl and drizzle the Sriracha Honey Sauce over top. Toss them until they are well coated, then place them on a serving plate. Garnish with chopped scallion and sesame seeds. Serve and enjoy!
Nutrition
Serving:
0.5
Rack of Ribs
|
Calories:
3316
kcal
|
Carbohydrates:
127
g
|
Protein:
50
g
|
Fat:
294
g
|
Saturated Fat:
62
g
|
Polyunsaturated Fat:
138
g
|
Monounsaturated Fat:
81
g
|
Trans Fat:
5
g
|
Cholesterol:
150
mg
|
Sodium:
4292
mg
|
Potassium:
780
mg
|
Fiber:
3
g
|
Sugar:
48
g
|
Vitamin A:
66
IU
|
Vitamin C:
7
mg
|
Calcium:
63
mg
|
Iron:
10
mg