Smoked Salmon Burnt Ends for a seafood spin on one of our favorites. These sweet and salty, bite size pieces of salmon were absolutely delicious! I started these salmon burnt ends by curing them overnight in some brown sugar, salt and spicy honey.
The following day, I put them on the smoker and glazed them in a spicy honey butter mixture as they finished cooking. It wasn't long after that when I was able to enjoy these tasty "burnt ends". So freaking delicious!
Post Sponsored by Oklahoma Joe's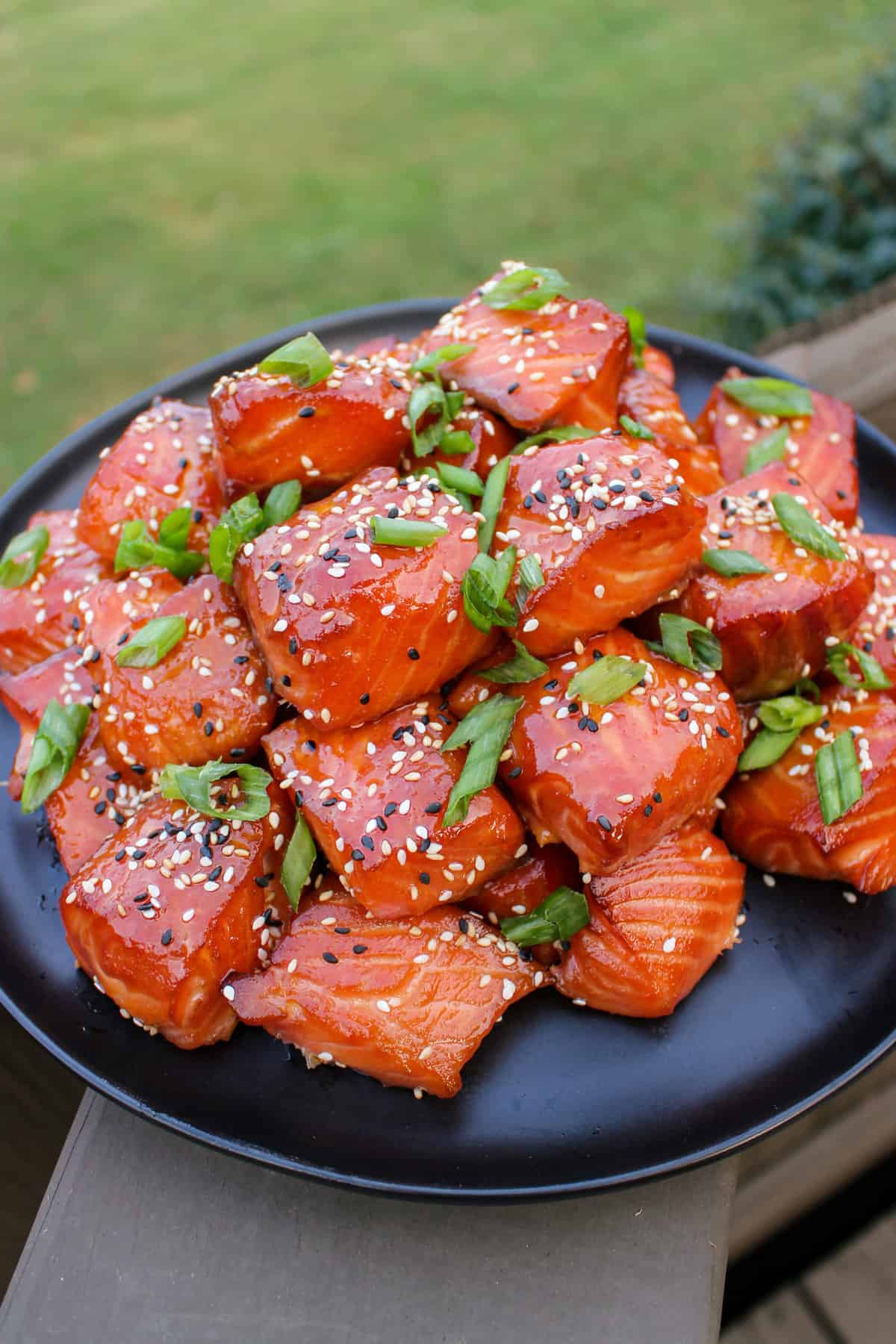 Smoked Salmon Burnt Ends
We all love classic burnt ends. The tips of a smoked brisket, cut into cubes and sent back to the smoker to continue cooking in some delicious sweet sauce. So, why Smoked Salmon Burnt Ends? Well, for one thing, it's a good way to switch up our proteins.
Secondly, it cooks in a fraction of the time as the traditional burnt ends. If salmon isn't your style, that's okay. You can check out my Classic Smoked Maple Sriracha Burnt Ends Recipe here. Alternatively, if you're pressed for time, I also have a Poor Man's Burnt Ends recipe and it's pretty stinkin' delicious too.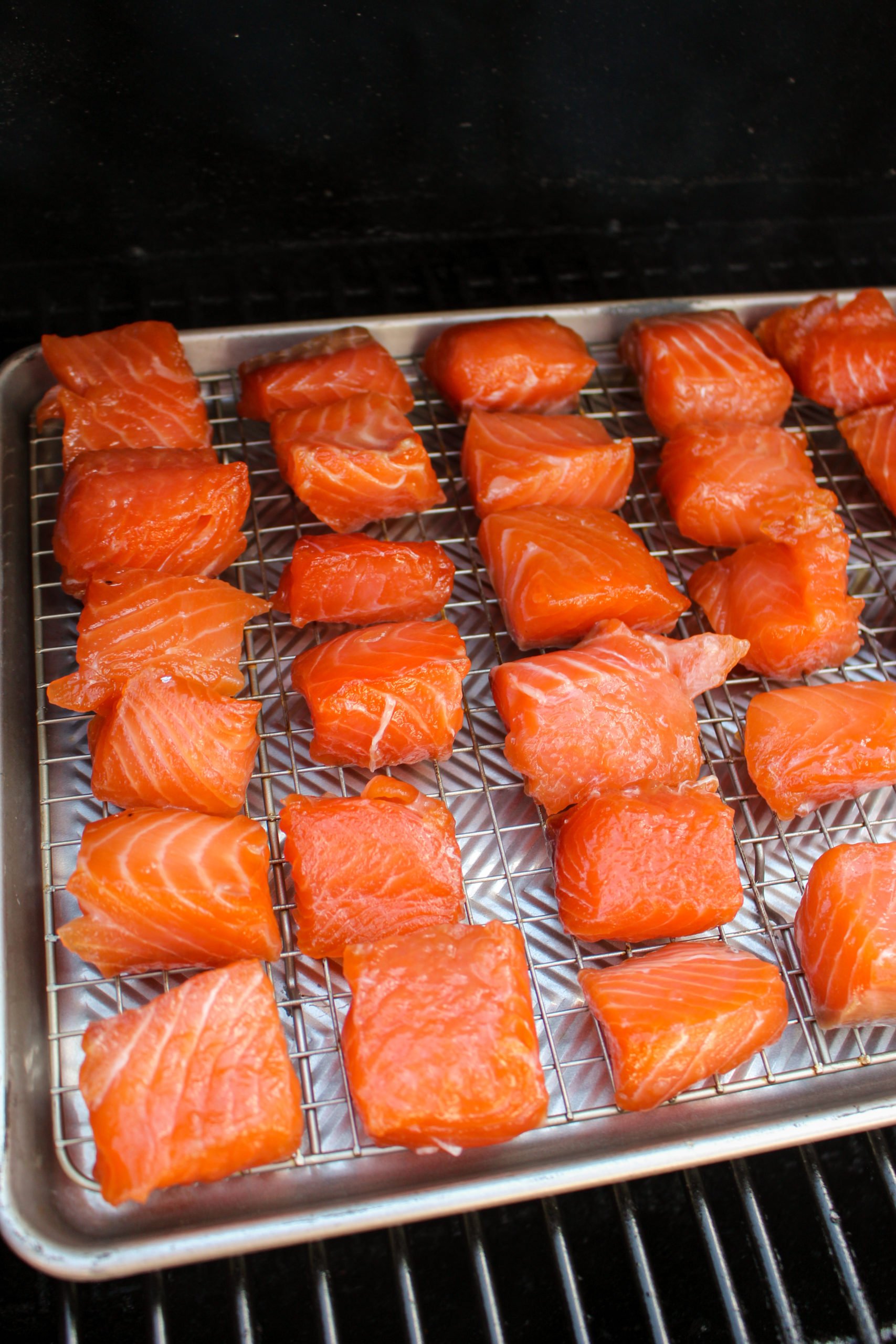 As I mentioned above, we started these Smoked Salmon Burnt Ends the night before by curing them. Curing is a process similar to marinating. However, curing involves salt and sugar whereas marinating can involve a variety of ingredients.
Both are used to add flavor to food. If you want to compare the two processes, you can make this recipe and then try my marinated salmon recipe!
First, mix the brown sugar and salt together in a large bowl. Next, sprinkle that onto the salmon and mix together. Continue this process until all the brown sugar/salt mixture is gone.
Then, add the spicy honey. Mix again until each one has an even coating of honey. From here, cover the salmon and place them in the fridge to cure for 2 hours. 
Smoking Salmon and Burnt Ends
The following afternoon (or morning, you can have this for breakfast if you want), start up your smoker and bring it to a temperature of 185-200F. Then, pull your future salmon burnt ends from the fridge and space them across a cooking sheet. Place that cooking sheet into the smoker and close the lid. We will leave them here to smoke for 3-4 hours.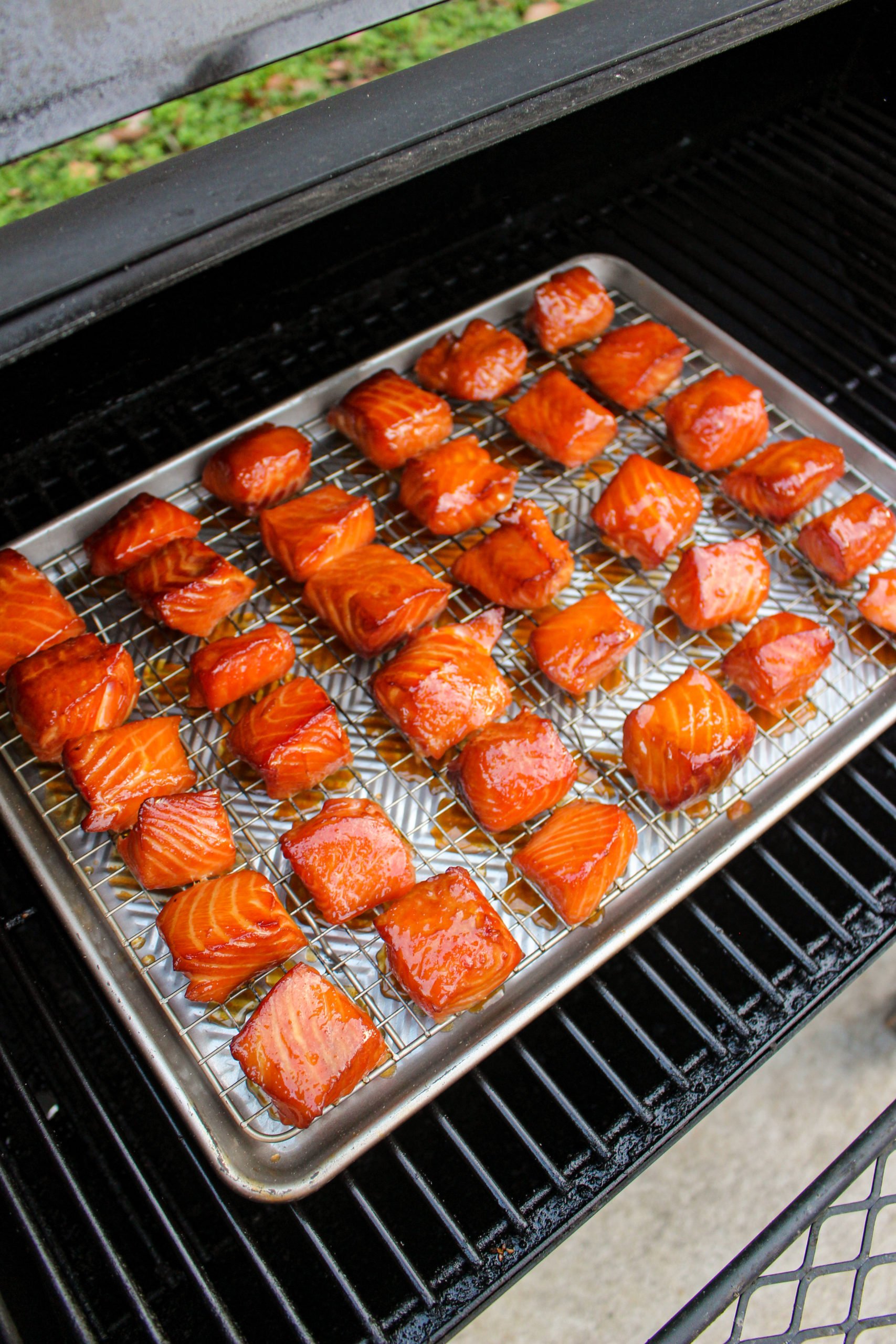 We will start making the smoked salmon glaze about an hour before the salmon finishes cooking. This go round, our glaze consists of melted butter, sriracha and more honey. I used a basting brush to spread this sweet and spicy glaze across each salmon cube. Now, close the lid and let these Smoked Salmon Burnt Ends finish cooking.
Want to try another amazing fish dish? Try my cast iron salmon recipe!
Let's Eat!
Pull the salmon from the smoker once they are cooked to your liking. I garnished mine with some multicolored sesame seeds and chopped scallions. From here, it's time to chow down! Best enjoyed with friends and family. Cheers!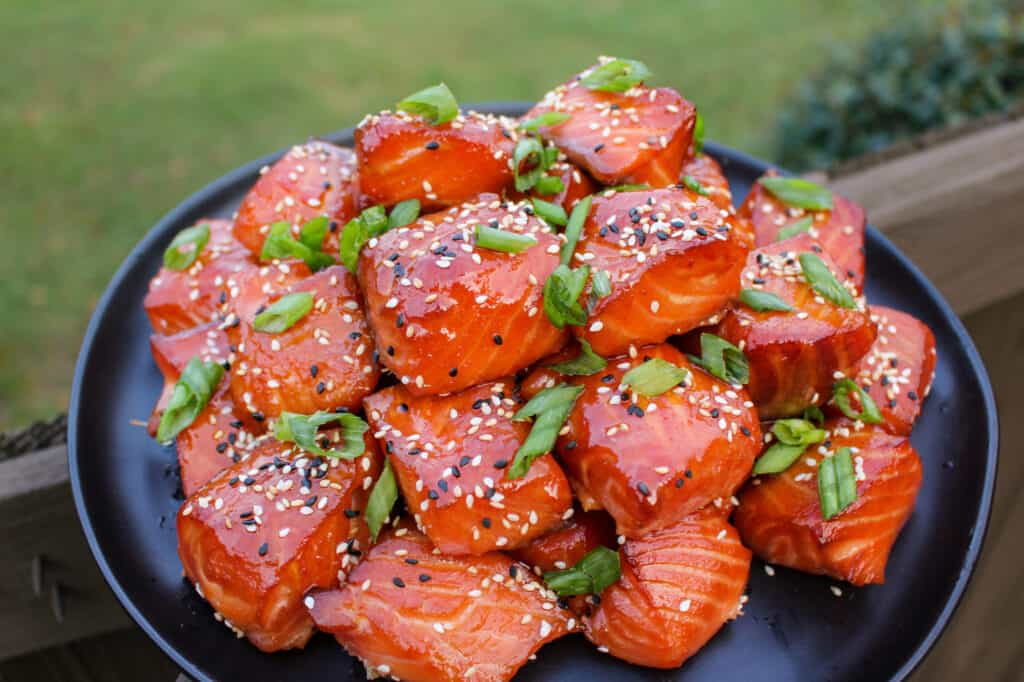 For more delicious recipes, check out my cookbook Food X Fire!
Needing more spice in your life? My spice line can help with that. Check them out here.
Smoked Salmon Burnt Ends
Smoked Salmon Burnt Ends, let's get after it!
Ingredients
Salmon & Cure:
1

Side of Salmon

skinned & cubed

1.5

cups

Brown Sugar

¼

cup

Kosher Salt

2

tbsp

Spicy Honey
Honey Sriracha Glaze:
2.5

tbsp

Melted Butter

1

tbsp

Sriracha Sauce

1

tbsp

Honey
Garnish:
Sesame Seeds

Scallions

Chopped
Instructions
Cube and skin your salmon first. Next, add it to a bowl or food safe bag. In a separate bowl, mix together your brown sugar and kosher salt. Add the mixture to your salmon along with the spicy honey. Mix together and place the salmon into the fridge. Let cure for at least 2 hours or at least 30 minutes.

When the curing is done, pull the salmon out and gently wash with cold water to release any excess cure. Place the salmon cubes on a baking sheet, and place in the fridge uncovered for 1-2 hours until the outside has developed a tacky texture.

Preheat your smoke for 185F-200F. Add some wood chips or wood chunks for added smoke flavor.

Pull your salmon out of the fridge and let sit at room temperature for 15 minutes. Place the salmon into the smoker and cook for about 3-4 hours until they have become browned and caramelized all over. Make sure to keep the temperature within 185-200F as the white protein inside the salmon will leak out if hotter.

About 1 hour before the salmon is done, mix together the honey sriracha glaze. Glaze the salmon all over and let sit in the smoker until done. Once done, pull the salmon out and let cool for 5 minutes.

As the salmon cools, garnish with scallions and sesame seeds. Serve and enjoy!
Nutrition
Serving:
0.25
Salmon Filet
|
Calories:
485
kcal
|
Carbohydrates:
94
g
|
Protein:
9
g
|
Fat:
10
g
|
Saturated Fat:
5
g
|
Polyunsaturated Fat:
1
g
|
Monounsaturated Fat:
3
g
|
Trans Fat:
1
g
|
Cholesterol:
42
mg
|
Sodium:
7264
mg
|
Potassium:
334
mg
|
Fiber:
1
g
|
Sugar:
93
g
|
Vitamin A:
241
IU
|
Vitamin C:
3
mg
|
Calcium:
81
mg
|
Iron:
1
mg