There is nothing quite like the smell of a good campfire in the fall. With a few beers and some great friends, a cookout in the great outdoors is a moment to never forget. That is what I have created my Campfire Pork Loin recipe.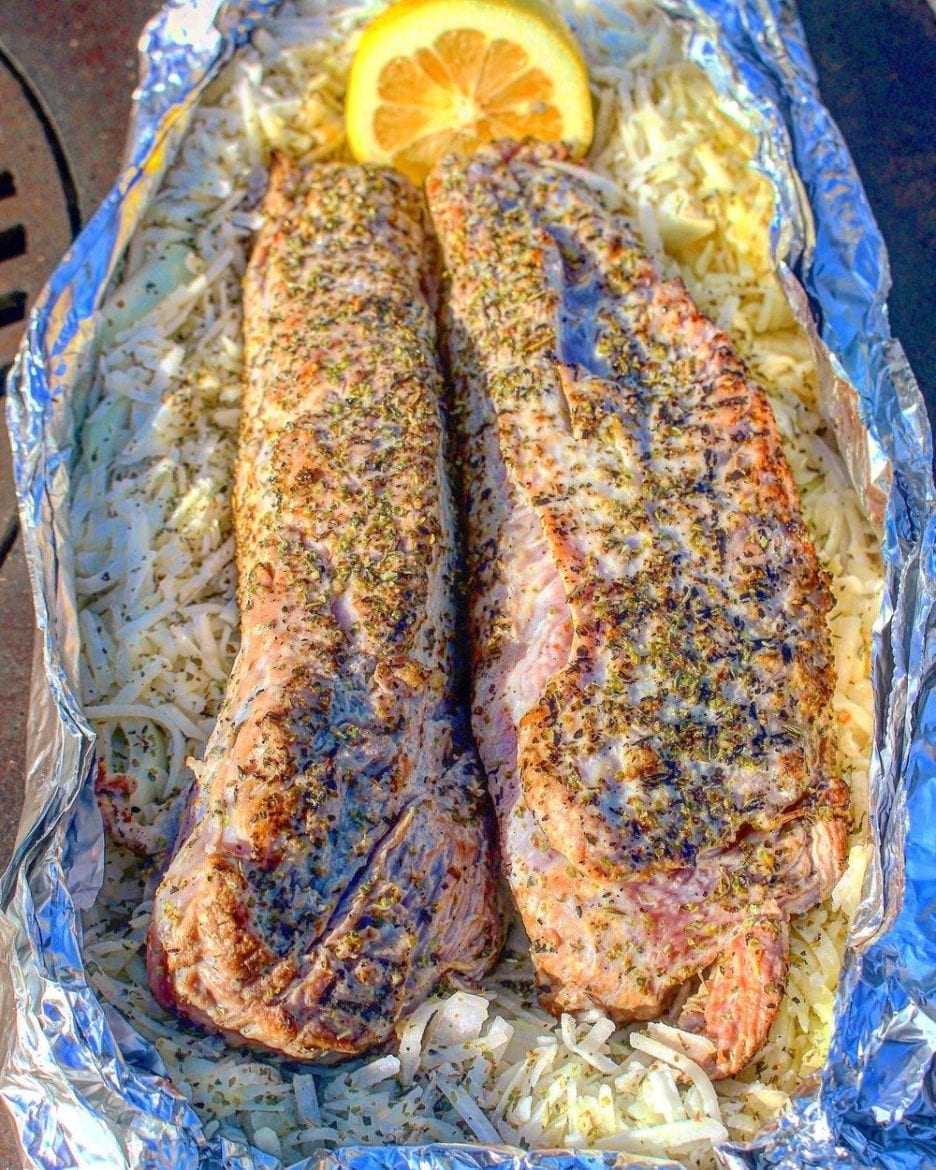 This recipe reminds me of my childhood surrounded by family, friends, and cooking over a fire. Now you can share this memory with your loved ones! Take your family & friends out into the woods, build a safe campfire, and cook this delicious meal together!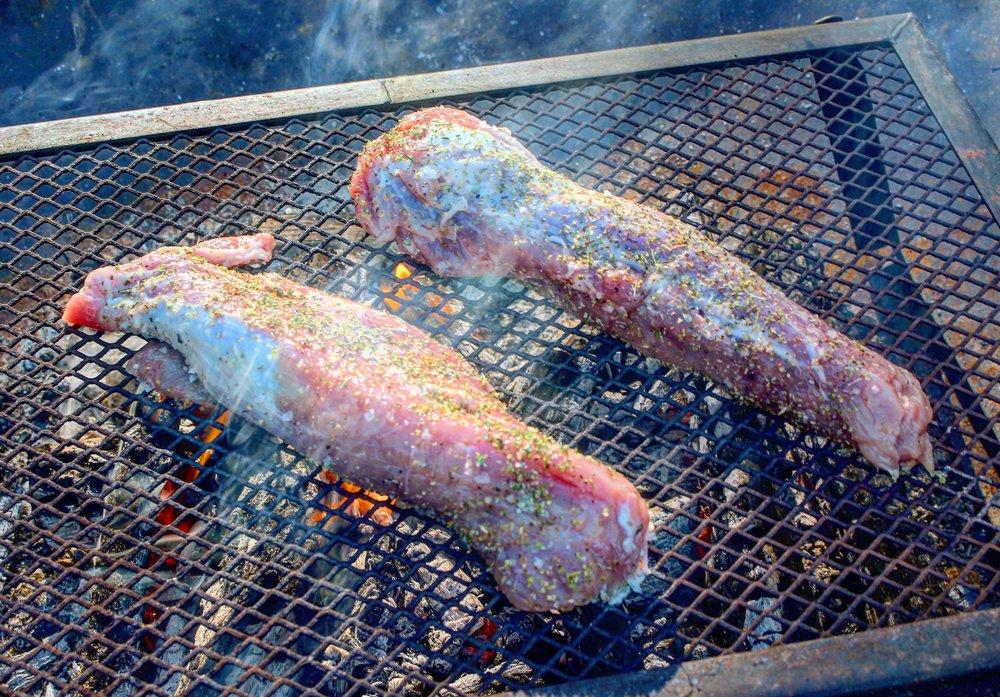 All you need is some tin foil and a grill grate. Plus you can even add some apple wood to the top of the fire in order to make a sweet and smoky flavor! So get outside and enjoy the new season with family, friends and my Campfire Pork Loin recipe!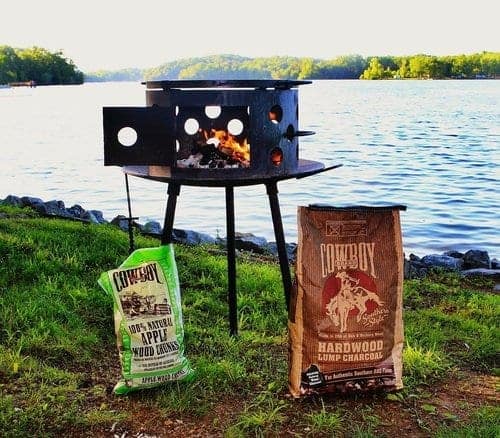 Tricks for Cooking the Campfire Pork Loin Recipe
This pork loin recipe is one of my favorites for around the campfire. One thing that I like to point out is that you can easily cook this in cast iron as well. Tin foil might not be everyones favorite to cook over fire with, but it does the job.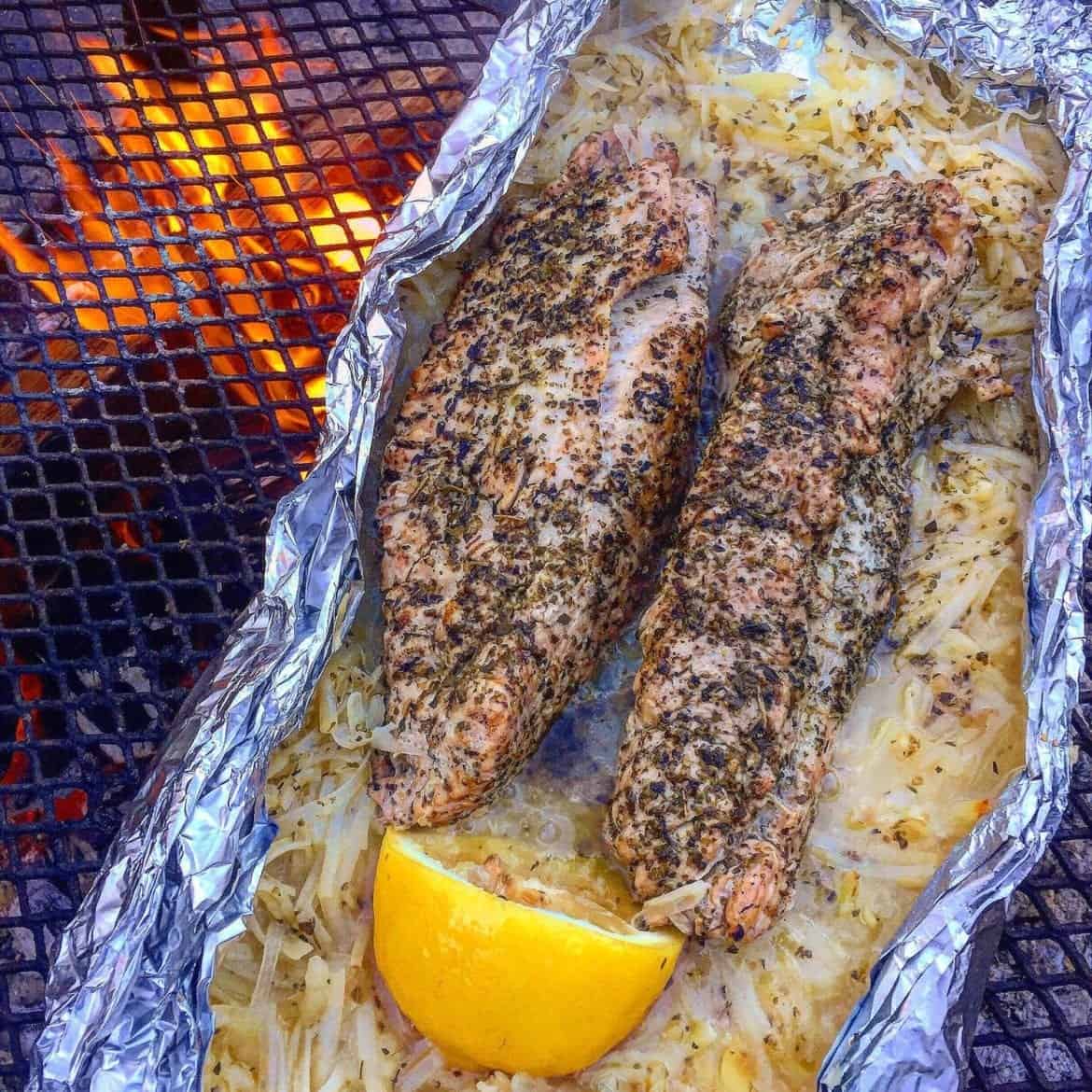 Another tip is to let the hash browns cook for a while before flipping or mixing them. You will get a great crust on the hash browns if you allow the fire to crisp them up. Either way, they are a great compliment to the Campfire Pork Loin!
Campfire Pork Loin
The perfect pork loin for RVing, camping and cooking outdoors.
Ingredients
1

large pork loin

4

cups

of hash-browns

1

cup

of White Wine

1

cup

of White Onion

Diced

1

Lemon

Sliced in Half

3

tbsp

Italian Seasoning

Olive Oil

Salt & Pepper

Tin Foil
Instructions
Using a campfire or some Cowboy Hardwood Lump Charcoal, light fire and let burn for 15-20 minutes. Add 3-4 pieces of apple wood to the top of the campfire every 30 minutes for added flavor!

While the fire is heating up, cover the pork loin in olive oil and season with salt, pepper, & Italian seasoning to taste. Once the major flame has died down, push most of the hot coals to one side of the fire pit and rake the smoldering white ash coals under your grill grate.

Place the pork loin over the fire and let sear for 1 minute per side. Pull pork off and let rest for 2-3 minutes. Make 4 sheets of tin foil about the size of 1.5x the pork loin. Place the pork in the middle of the tin foil and surround with hash-browns & onions. Make sure to fold edges so none of the juices escape. Pour white wine and squeeze half of the lemon over pork. Make sure to season hash-browns with a drizzle of olive oil & Italian seasoning. Add other half of lemon into tin foil for added flavor. Cover with one piece of tin foil and place over smoldering coals for 1.5 - 2 hours.

Keep constant heat and smoke on the dish by shoveling new smoldering coals underneath. After 1.5 hours, flip the pork inside the tin foil and let cook for another 1.5 - 2 hours. Once pork has reached an internal temperature of 140F, then pull off and let rest for 5 minutes.


Slice and enjoy!

This article does contain affiliate links to products that we personally use and support. Purchasing an affiliate product does make us a small commission at no cost to you. This helps us continue creating for our website. All words and opinions are our own, and we appreciate your support!