Did someone day, "Sweet Pineapple Teriyaki Salmon in the smoker on a pineapple plank?!" Uh… Yes, please!
I've got to give credit to Cal Reynolds from @calwillcookit for this one. He used the pineapple as a smoking plank, and I thought it was so cool that I had to give it a try. This salmon turned out fantastic!
I seasoned it with a super secret seasoning I could potentially be working on with Spiceology right now… hint hint. Then, I topped the salmon with my own homemade teriyaki sauce. Incredible. Keep reading for all the details.
SWEET PINEAPPLE PLANKS
What's the pain point for you when it comes to cooking fish? Maybe you're a master, and there are no pain points. However, for the rest of us, it's probably that fish is so quick to stick to the grill grate.
Don't let this deter you from grilling fish! There are so many cool tricks to solve this issue, and that's exactly what these pineapple planks do for this Sweet Pineapple Teriyaki Salmon.
A lot of the time, you'll see people smoke seafood on a cedar plank (which I love) or place the seafood on a bed of lemons (which I also love). However, for this recipe, we're really branching out and using pineapple.
Don't have a pineapple handy? Try our cast iron skillet salmon instead!
WHY YOU'LL LOVE THIS RECIPE
This easy Teriyaki Salmon recipe is a favorite for several reasons. The succulent, flaky salmon, drenched in a healthy teriyaki sauce, offers a perfect combination of flaky texture and depth of flavor.
This great recipe only requires a few basic ingredients, making it the perfect healthy dinner for any night of the week! Plus, cooking salmon on top of pineapples adds the perfect amount of sweetness! One bite and this meal will become your go-to salmon recipe.
If you love salmon, then you'll love our Hot Honey Salmon Bites, Planked Salmon with Chili Lime Sauce, Crab Stuffed Salmon and Bourbon Bacon Pecan Salmon!
​Teriyaki Salmon INGREDIENTS
SALMON:
Whole side of Salmon
Pineapple sliced into 3 planks
Chopped Scallions for garnish
Sesame Seeds for garnish
SEASONING:
Brown Sugar: Adds a subtle sweetness, balancing the flavors.
Kosher Salt: Enhances the overall taste, bringing out the natural richness.
Black Pepper: Provides a gentle kick, complementing the sweetness.
Garlic Powder: Infuses a savory note, elevating the dish.
Cayenne Powder: Introduces a hint of heat for depth and complexity.
Add flavor to everything you're cooking
shop over the fire spice lines

TERIYAKI SAUCE:
Soy Sauce: Adds a salty umami essence.
Water + Cornstarch: Thickens the sauce for a luscious, velvety texture.
Rice Wine Vinegar: Brings a tangy brightness, cutting through richness.
Pineapple Juice: Adds a touch of sweetness and fruity undertones.
Honey: Further sweetens the sauce, contributing to caramelization.
Ginger Paste: Infuses a zesty, aromatic kick.
Garlic Paste: Enhances the savory profile, creating a well-rounded Teriyaki glaze.
HOW TO MAKE TERIYAKI SALMON
I started the recipe by prepping my pineapple planks. I took one large pineapple and cut it into three planks. I'd recommend cutting the outside of both end planks so that it will lay flat on the grill.
When the sweet pineapple planks are ready, place them on the grill grate directly over the coals. I did this to caramelize the pineapple before placing the salmon on them.
It's important to note that for this Sweet Pineapple Teriyaki Salmon recipe, I only dumped coals on one side of the grill. It still allows me to sear the pineapple planks, but it will also allow me to cook the salmon with indirect heat by placing it on the opposite side of the grill (away from the coals).
This will help cook the salmon slower, keeping it tender and super juicy. It also gives the salmon time to soak in some of that smokey flavor that we all know and love.
Transfer the pineapple planks to the opposite side of the grill once they've caramelized. Next comes the salmon. Before placing the salmon on the grill, we'll want to season it.
I used this next-level, super delicious, and highly inventive – yet sweetly familiar – flavored seasoning. It only sounds so awesome because it is!! For now, I can't share this seasoning with you. But… soon…
So, for now, I wrote up some ingredients you can use to make a seasoning that pairs well with this Sweet Pineapple Teriyaki Salmon recipe. Season the salmon and then lay it skin side down across your sweet pineapple planks.
Now, we'll leave it here to smoke for about an hour. Up next, teriyaki!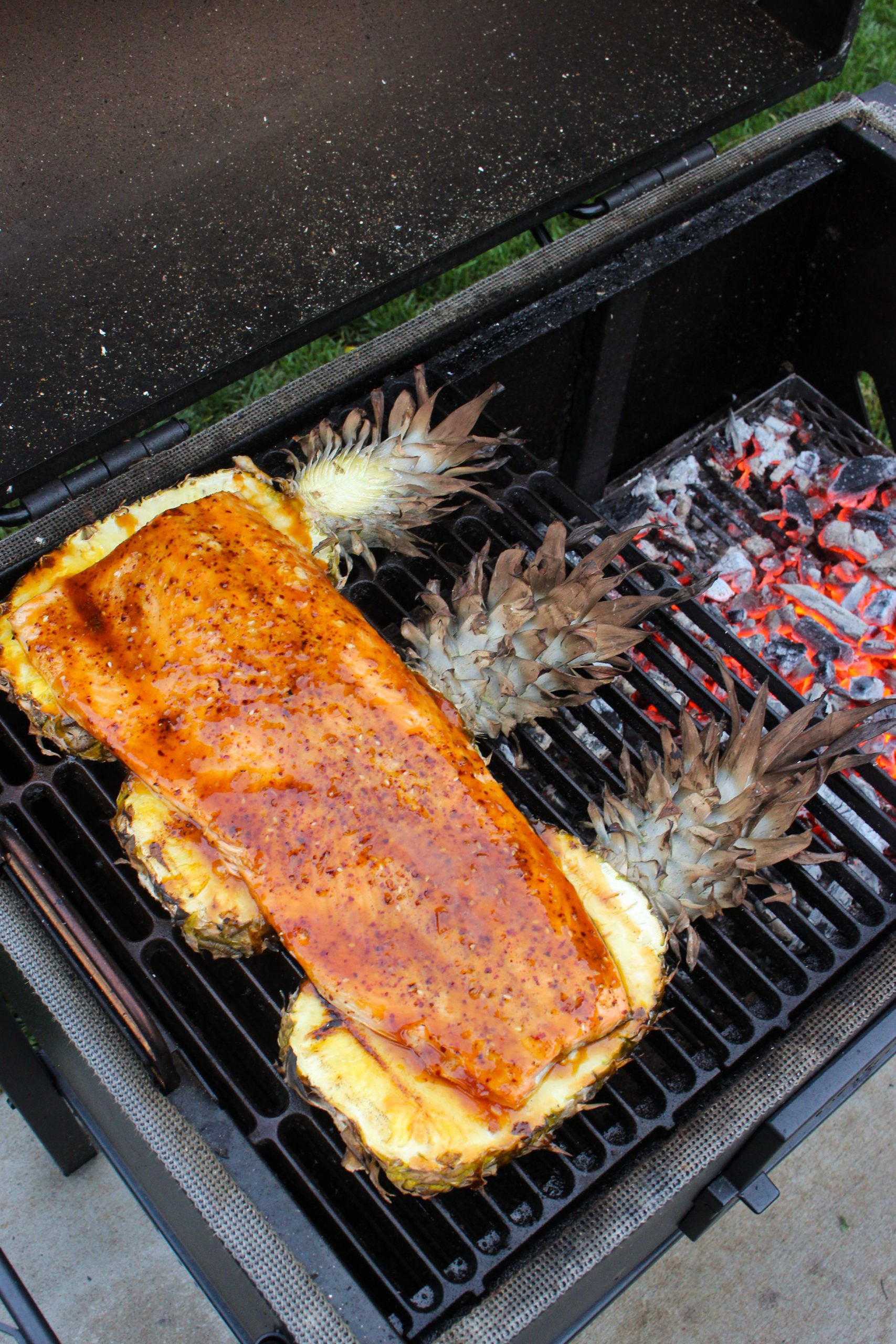 SWEET PINEAPPLE TERIYAKI SALMON TIME
While the salmon is smoking, mix all the teriyaki ingredients in a cast iron sauce bowl. I did this pretty early on in the smoking process because everything is better if it's simmered together.
When you're about 10 minutes out from the salmon being done, lather that filet down with that teriyaki sauce! Then, with the help of my wife, we transferred the pineapple planks with the salmon to a large serving dish. I garnished my salmon with some scallions and sesame seeds. We ate ours right off the pineapple planks.
Best enjoyed with friends and family! Cheers!
TIPS
Use an instant-read thermometer to ensure the internal temperature of the salmon reaches at least 135F.
Pat the salmon dry with paper towels to remove excess moisture.
Grate some fresh ginger on top of the salmon for a zesty twist!
HOW TO STORE LEFTOVERS AND REHEAT
Store leftover teriyaki salmon in an airtight container in the fridge for 3-4 days. Freeze for 4-6 months.
Before reheating, make sure your salmon comes to room temperature.
To reheat, you have a couple of options:
Oven Method:
Preheat your oven to 275F and place the leftover salmon on a baking sheet.
Bake for 12-15 minutes until it reaches 135F.
Remove from the oven and enjoy!
Stove Top Method:
Place a large skillet over medium heat on the stove top.
Drop a pad of butter or a drizzle of oil in the pan.
Place the leftover salmon fillets inside.
Cook until warm.
For convenience, you can also microwave your salmon in 30-second intervals until warm.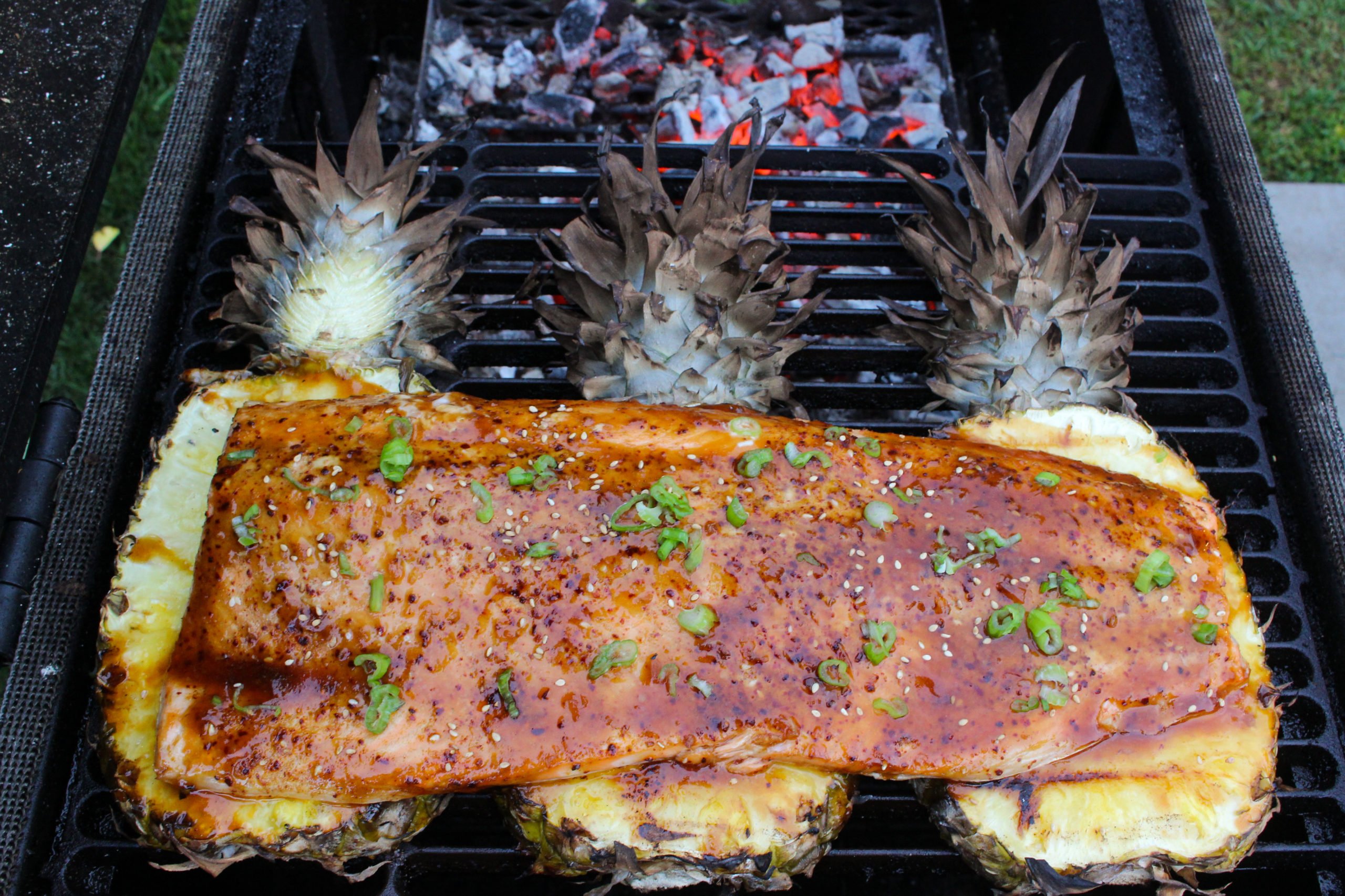 WHAT TO SERVE WITH THIS SALMON TERIYAKI RECIPE
Serve this easy salmon dish with a side of rice and some grilled veggies for an easy dinner!
RECIPE FAQs
What type of salmon should I use for this recipe?
Use any type of salmon you can get your hands on. You can go for wild salmon like Atlantic salmon or farm-raised salmon if you prefer a higher fat content.
Can I marinate the salmon in the teriyaki sauce instead of pouring it over the salmon during cooking?
Yes! If marinating is easier for you, then go right ahead! You can save the excess marinade to pour over the salmon during cooking if you like for even more flavor.
Can I use frozen salmon for this recipe?
While we recommend using fresh salmon, you can also use frozen. Make sure to let it thaw completely and come to room temperature before cooking.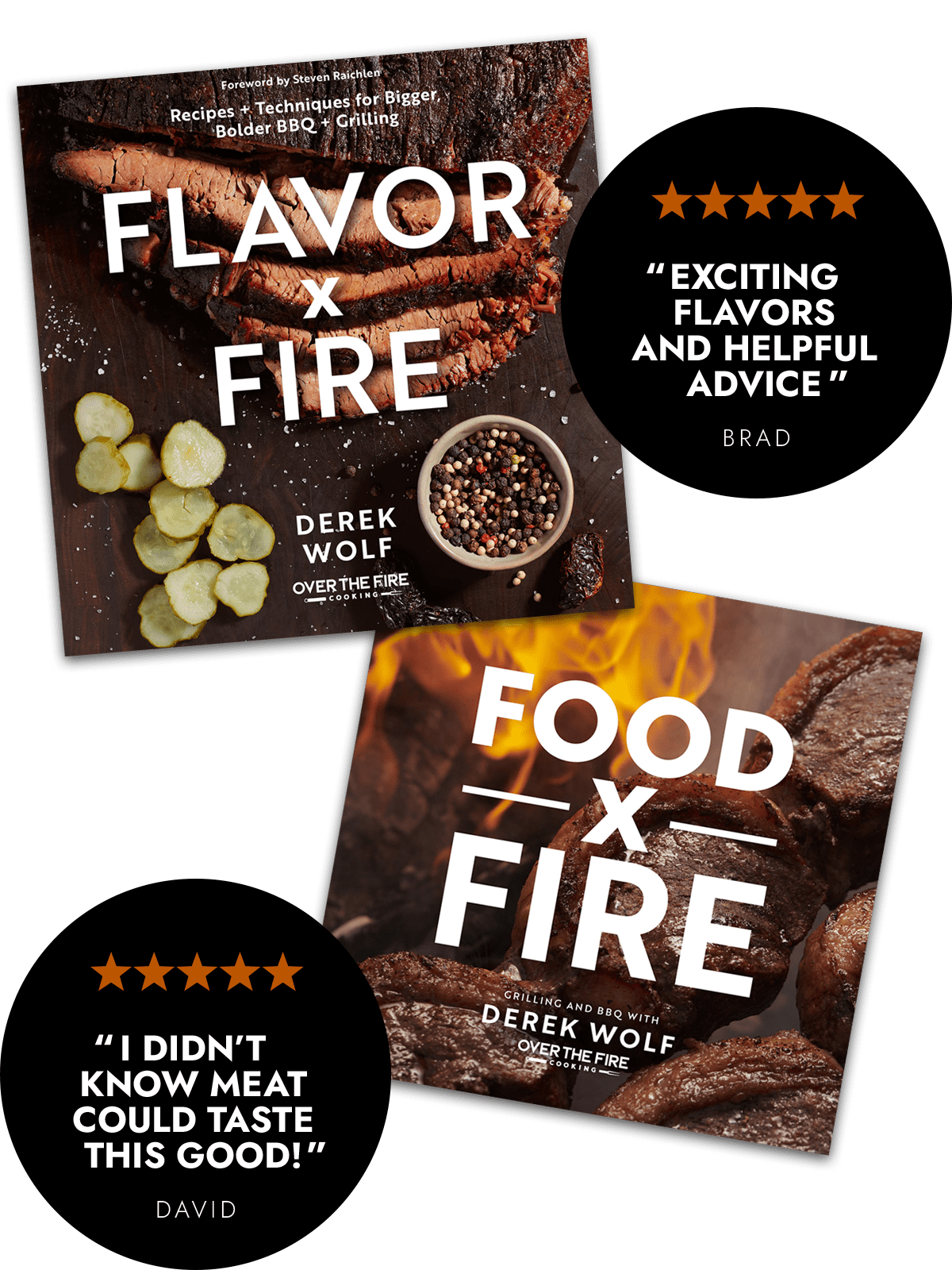 Get The Cookbooks!
Flavor X Fire & FOOD X Fire
All the major tastes—salty, sour, sweet, bitter, and umami—are explored in depth, along with an investigation of other components you should consider when it comes to flavor, such as aroma, heat, and texture.
Teriyaki Salmon
Sweet Pineapple Teriyaki Salmon in the smoker on a pineapple plank?! Yes, please. This salmon turned out fantastic!
Ingredients
Salmon:
1

whole side of Salmon

1

Pineapple

sliced into 3 planks

Chopped Scallions

for garnish

Sesame Seeds

for garnish
Seasoning:
1

tbsp

of Brown Sugar

2

tsp

of Kosher Salt

1.5

tsp

of Black Pepper

1.5

tsp

of Garlic Powder

1

tsp

of Cayenne Powder
Teriyaki Sauce:
1/2

cup

of Soy Sauce

3

tbsp

of Water + 1 tbsp of Cornstarch

1.5

tbsp

of Rice Wine Vinegar

1.5

tbsp

of Pineapple Juice

1

tbsp

of Honey

2

tsp

of Ginger Paste

2

tsp

of Garlic Paste
Instructions
Begin by slicing your pineapple from top down into three equal slices (remove the rounded edges to prevent rocking). Next, mix together the seasoning, lather your salmon with oil and season thoroughly.

Preheat your grill/smoked for indirect two zone cooking at 350F.

Sear off both sides of the pineapple for a nice char, then pull them over to the cool side of the grill to make a "plank". Add your salmon to the pineapples and cook until 135F internal or for about 1 hour.

About halfway through your cooking of the salmon, preheat a skillet on the direct side of the grill for your sauce. Add all the ingredients for the teriyaki sauce and mix. Let simmer until the sauce has reduced by half or is at your desired thickness.

About 5 minutes before pulling your salmon off, glaze the salmon with the sauce. Let caramelize and then pull off the grill.

Garnish with sesame seeds, scallions and enjoy!
Nutrition
Calories:
258
kcal
|
Carbohydrates:
47
g
|
Protein:
13
g
|
Fat:
3
g
|
Saturated Fat:
0.5
g
|
Polyunsaturated Fat:
1
g
|
Monounsaturated Fat:
1
g
|
Cholesterol:
23
mg
|
Sodium:
2808
mg
|
Potassium:
574
mg
|
Fiber:
4
g
|
Sugar:
31
g
|
Vitamin A:
361
IU
|
Vitamin C:
110
mg
|
Calcium:
55
mg
|
Iron:
2
mg