What are you cooking when you go camping or RVing? Maybe lamb chops? For most people, what we choose to eat while camping tends to be the last decision that we make. We make sure we have all our gear, car keys & beer before we go out into the woods. And even when you do think about food, we tend to go for the easy stuff. The fact that we are outside our normal indoor kitchen challenges us to think outside the box about food.
But what if I told you that you could cook something gourmet around the campfire that isn't too complicated? What if I told you that you don't need any fancy grill or gear to make this happen? In fact, you probably have all the gear you need in your kitchen.
Sizzling deliciousness
Introducing my new Cast Iron American Lamb Chops Recipe
All you will need for this great campfire meal is a fire, cast iron skillet, knife & a cutting board. First, grab some delicious American lamb chops on your way to the campsite. Next you need some herbs from my recipe below and some butter. Get your fire really hot, and get ready to cook. Sear those lamb chops and get ready to flip. Now, lamb chops do not take a long time to cook. In fact, most people tend to over cook them so make sure to only cook them for 4 minutes per side. Once you get that nice crust from the butter & white wine, you will squeeze some lemon zest on top and serve pipping hot. Eat your lamb immediately after serving. You do not need to rest it!
At the end of the day, simple yet delicious is all we are looking for at the campfire. Try these Cast Iron American Lamb Chops & you will have a new flare for outdoor cooking!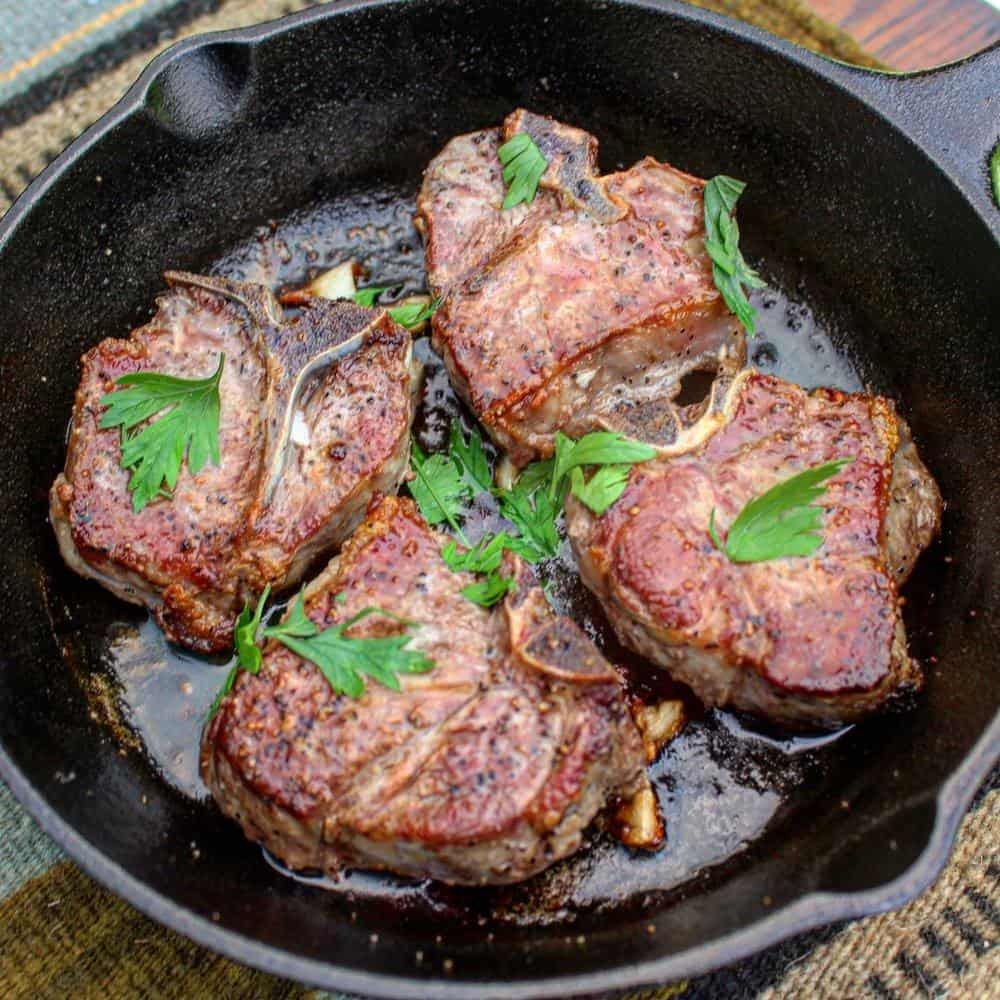 Ready to be devoured.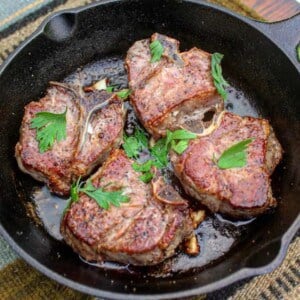 Cast Iron American Lamb Chops
Enjoy some delicious lamb chops cooked right on the cast iron over the fire. Filled with lemon citrus, white wine and spices for a fresh flavor.
Ingredients
4

American Lamb Loin Chops

1

tbsp

of butter

1/4

cup

of white wine

1

Garlic bud

minced

1

Lemon

halved

Black Pepper

Sea Salt

Olive Oil

Parsley

chopped
Instructions
Start campfire until it reaches medium-high heat. Preheat cast iron skillet over fire 2-3 minutes before cooking in it.

When lamb chops are at room temperature, lather with olive oil and season with sea salt and black pepper. Add a little bit of olive oil the to cast iron, and place lamb in cast iron for 4 mins on the first side.

When ready, flip lamb chops on other side for another 4 minutes. While cooking, add garlic & white wine to the skillet. Place butter on top of each lamb chop and let melt into the sauce below.

Once done cooking, pull cast iron off fire, sprinkle chopped parsley and serve immediately. Tip: Pour the butter sauce on top of lamb for more flavor!