My father-in-law has been an oyster lover his whole life. Over the past few years, he has been slowly showing me some of his favorite ways to enjoy oysters. While the oyster purist might cringe at cooking them, I can assure you that this Fire Baked Oyster recipe does them justice. Try it out! And if you don't want to, then just eat them straight. I ain't judging.
What's so great about cooked Oysters?
For all my oyster fans out there, you might be wondering why I would choose to bake these guys instead of just eating them raw. While I do not live close to the ocean, I know just how delicious freshly harvested and shucked oysters can be. Little bit of horseradish and lemon juice, and you are in oyster heaven. However, there is epic flavor that this Fire Baked Oyster recipe brings to the table.
Pre-Order my new cookbook Food by Fire!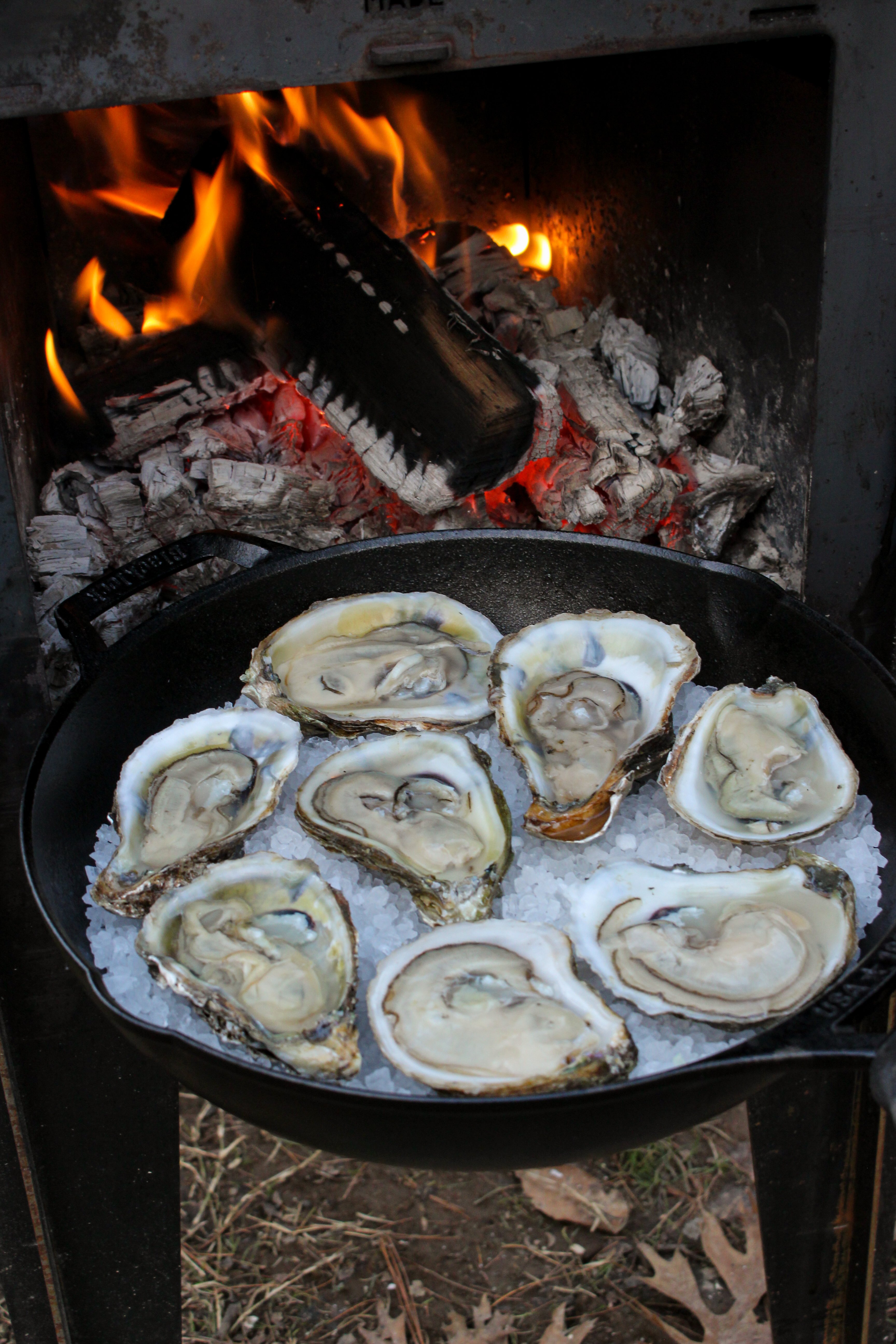 Firstly, add some butter to them! We all know what butter (and cheese and bacon) make everything better. So for any of my non-seasoned oyster people, adding some liquid gold could really help to give you a good first impression. Similar to whiskey, you don't want to overpower your palate on the first try as you either won't appreciate it or will be turned off. These Fire Baked Oysters are a great starting place for those that want to learn to appreciate some natural seafood flavor while mellowing this harsh bite.
Secondly, they are just plain fun to cook over fire. Cooking oysters can be difficult because you can easily over bake them; however if you do them right, they are incredibly fun to add to your arsenal of fire cooking recipes. These Fire Baked Oysters are just the tip of the iceberg too! Try cooking them right on the coals, which is a style I do in my new cookbook Food by Fire (pre-order it ASAP).
Let's eat the Fire Baked Oysters!
In the end, we all want natural flavor from good oysters. If you are getting bored of eating them raw, then try these Fire Baked Oysters sometime. There is no rush! Enjoy the salty brine of some good oysters. Just know that this recipe is waiting for you when you are ready. Cheers.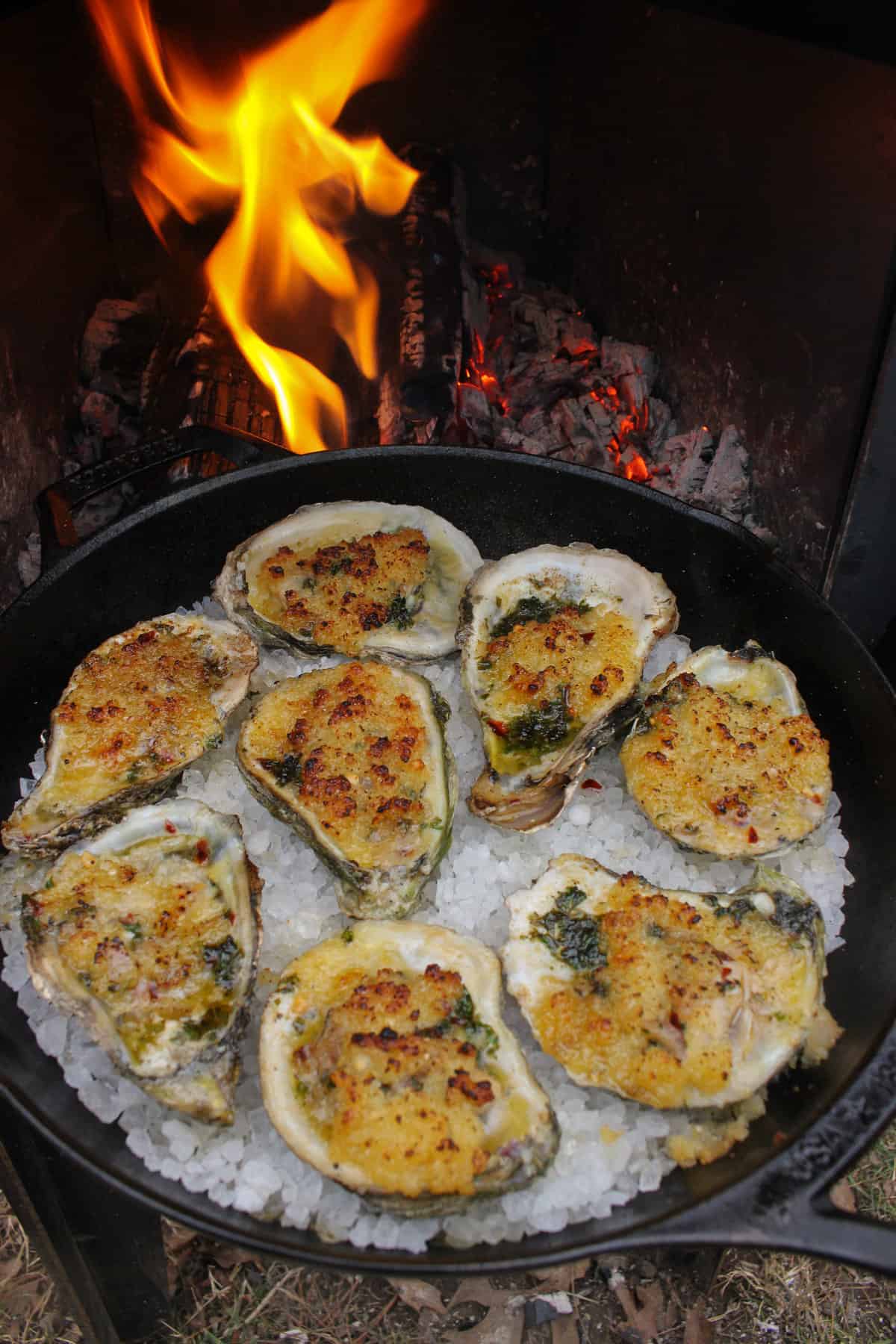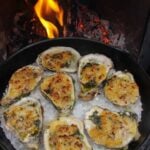 Print Recipe
Fire Baked Oysters
While the oyster purist might cringe at cooking them, I can assure you that this Fire Baked Oyster recipe does them justice.
Ingredients
Oysters:
8-10

Oysters

shucked & on the half shell

2

cups

of Rock Salt
Butter Sauce:
3

tbsp

of Butter

unsalted

1.5

tbsp

of Parsley

chopped

1

tbsp

of Shallots

chopped

1

tbsp

of White Wine

2

tsp

of Red Chili Flakes

1

tsp

of Sea Salt

1

tsp

of Black Pepper

1

Lemon

juiced
Crust:
2

tbsp

of Melted Butter

1.5

tbsp

of Parmesan Cheese

grated

1.5

tbsp

of Panko Crumbs
Instructions
Preheat a grill or brick oven for high heat indirect cooking (around 450F).

Add a cast iron sauce pan to preheat over the direct heat for 1 minute. Add the butter to the skillet to melt then add the chopped shallots. Stir for 30 seconds, then add the rest of the ingredients for the butter sauce. Let simmer for 20 seconds, then pull off heat to let cool for 1 minute.

Mix together the ingredients for the crust. Add rock salt to the base of a cast iron skillet, and place the shucked oysters on top. Top each oyster for a spoonful of the butter sauce along with a dollop of the crust mixture. Do not worry if the crust mixture covers all the oyster.

Place the cast iron on to your grill/oven on the cool indirect cooking side. Bake the oysters for 1-2 minutes until the crust on top is golden brown. Once done, pull them off and let cool for 2-3 minutes.

Once cooled down, eat and enjoy!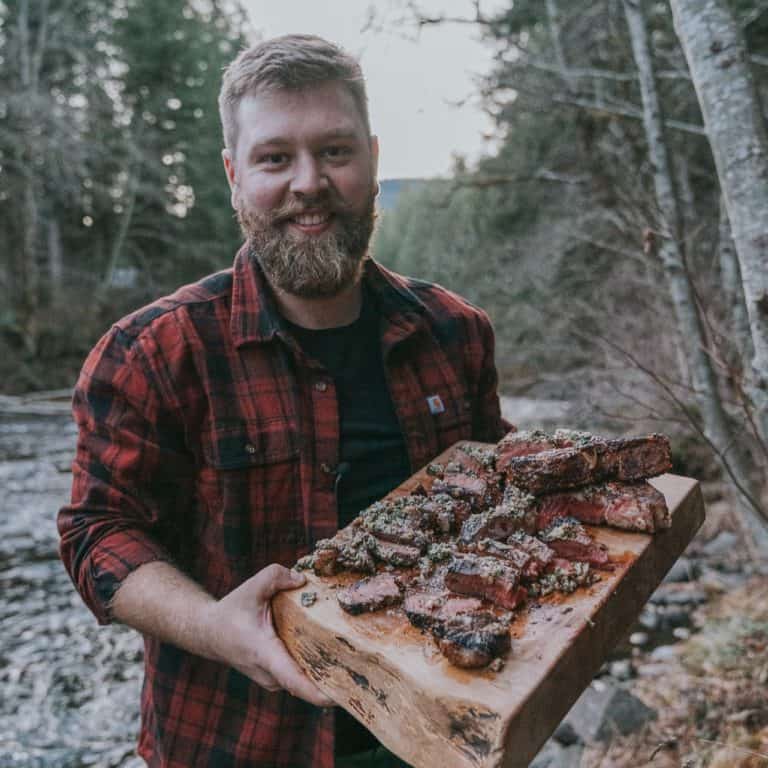 Derek is the driving force behind Over the Fire Cooking. He started cooking with live fire in 2016 and decided to start a social media page so his friends and family could follow the journey. Fast forward to today and Over the Fire Cooking has spread across multiple platforms with millions now following Derek's fire cooking journey. He's a southern fellow who enjoys everything from classic BBQ to Central and South American inspired dishes. Whatever he's cooking up, it's guaranteed to be so freakin' delicious!