It is time for more rotisserie cooking! On the menu today is some beautiful Mishima Reserve Tri-Tip that will be skewered and basted with a Garlic Parmesan Sauce over fire for a Garlic Parmesan Rotisserie Tri-Tip. This cook was insanely delicious and worth every bit of the 30 minutes it takes to finish. But first, how about this insanely good American Wagyu from Mishima Reserve!
So what is Mishima Reserve?
Mishima Reserve is a high quality American producer of Japanese Heritage breed Wagyu beef of the Kuroge Washu Bloodlines. They are naturally raised with a focus on reducing their carbon footprint by maintaining high quality standards and practices. In the end, their beef is born & raised responsibly in the USA by the best ranchers across the Northwest & Rocky Mountains.
America makes Wagyu Beef?
Yes we do and it is amazing… Mishima Reserve is just one of many great producers of American Wagyu. They, however, have had years of learning all the in's and out's to maintaining and evolving American Wagyu—making wagyu more accessible (and more affordable).
What is Tri-Tip?
Back to the cook… Today we are cooking rotisserie tri-tip which comes from the bottom sirloin primal of the beef. Tri-tip gets its name from the three points it has! It is such an insanely good meat to smoke & grill. It actually happens to be very close neighbors to our good friend picanha, which lends a ton of great flavor to the beef.
Garlic Parmesan Rotisserie Tri-Tip
For this recipe, we are gonna be cooking it in a rather unconventional way. Most often tri-tip is either smoked or slowly grilled over fire. We are kinda combining the two with the rotisserie tri-tip. In this way of cooking, we get to slightly smoke it while still giving the beef a lot of sear from the fire. We will be adding a drip pan underneath the cook that will act as our basting pan for the Garlic Parmesan Sauce. I highly recommend using an herb basting brush to really get some extra flavor as you baste the food. Either way, you are gonna love this recipe using the best: Mishima Reserve.
Discount Code!
Oh and use OVERTHEFIRECOOKING when checking out at Mishima Reserve for 15% off your sale!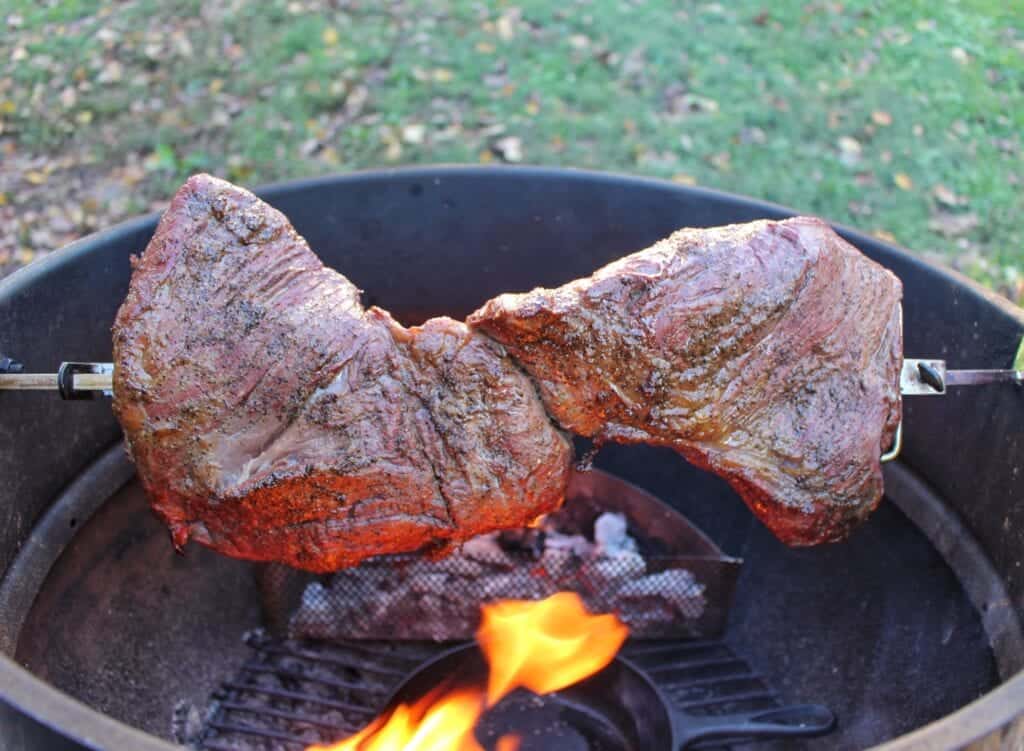 Garlic Parmesan Rotisserie Tri-Tip Recipe
This Garlic Parmesan Rotisserie Tri-Tip gets the best of both worlds. Slowly grilled beef with ample amounts of flavor & crust for the ultimate cook with Mishima Reserve.
Ingredients
Tri-Tip Ingredients:
2

Mishima Reserve Tri-Tip Steaks

Salt & Pepper

to taste

Avocado Oil
Garlic Parmesan Sauce Ingredients:
3

tbsp

of Avocado Oil

6

Garlic Cloves

pressed

4

tbsp

of Butter

unsalted

¼

cup

of Red Wine Vinegar

¼

cup

of Parmesan Cheese

grated

1

Lemon

squeezed

Optional 4-5 Sprigs of Thyme & Rosemary, tied as a brush
Instructions
Build a medium size fire for 3 zone indirect cooking on the rotisserie.

Lather the Mishima Reserve Tri-Tip with avocado oil, salt and pepper. Skewer on to your rotisserie making sure that each steak is secure.

Place a cast iron skillet under where the tri-tip will be to catch drippings and for the sauce. Place tri-tip onto skewer and let cook for 25 minutes or until the internal temperature reads 125F.

While steak is cooking, add oil and garlic to your cast iron skillet. Let brown (about 2 minutes). Next, add butter and let melt (about 1 minute). Finally, add red wine vinegar, parmesan cheese and lemon juice. Stir until thoroughly mixed and let simmer over fire for 2-3 minutes. Using an herb brush or a basting brush, brush the outside of the steak occasionally for the last 5-8 minutes of the cook. Be careful to prevent flare ups, and make sure to wear gloves for protection.

Once steak is done, pull off and let rest for 15 minutes.

Slice against the grain, serve and enjoy!
This article does contain affiliate links to products that we personally use and support. Purchasing an affiliate product does make us a small commission at no cost to you. This helps us continue creating for our website. All words and opinions are our own, and we appreciate your support!