There are certain cuts of beef that you can't ever get wrong. One of them is the short rib. Full of flavor that is out of this world from all of the fat that is intertwined between the bones. That is what you have here with my Grilled Korean BBQ Short Ribs recipe. This will be marinated for a period of time so that it soaks up all of that additional flavor and breaks down the fat. Grill it really fast and you are in beef heaven.
RELATED ARTICLE: Are you looking for other beef recipes? Try my Jack Daniels Smoked Beef Ribs!
Marinate the Grilled Korean BBQ Short Ribs in some amazing spices like brown sugar, sesame oil & chili flakes. Grill it over some white hot Cowboy Charcoal really quickly. It makes for the perfect quick meal after work. Let the Grilled Korean BBQ Short Ribs marinate while you are gone and grill it right when you get home! Like I said, there is no way to mess this meat up!
Tips for my Grilled Korean BBQ Short Ribs
Short ribs are a very forgiving cut of beef. With my Grilled Korean BBQ Short Ribs, you are able to marinate it in order to keep it flavorful from the inside out. While the marinade is very important, here are two tips that will help to cook this recipe easier. One is that you pay attention to how hot your fire is. The Grilled Korean BBQ Short Ribs needs a hot fire as they are thin and will not need to cook long. Getting that fire hot will help create a crust that you will love. Lastly, allow that steak to rest. This will help the juices redistribute to the meat and leave you with a beautifully colored piece of beef!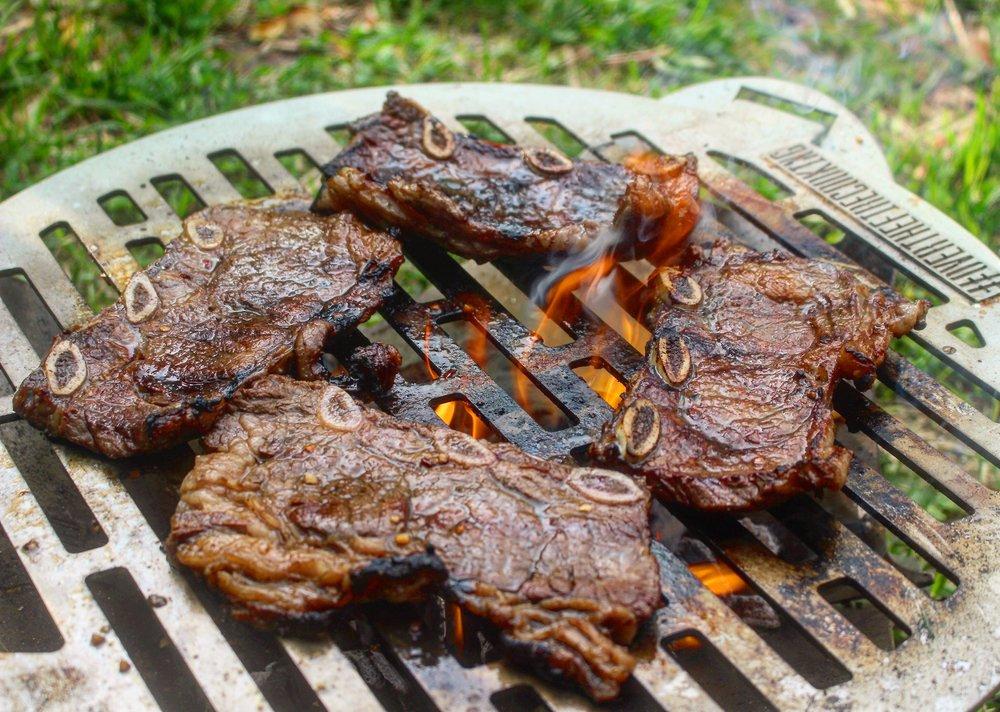 Sizzling on the grill!
Ready to eat!
Grilled Korean BBQ Short Ribs
Everyone loves some good short ribs. Try these Grilled Korean BBQ Short Ribs so that you do not miss out!
Ingredients
Grilled Korean BBQ Short Ribs Ingredients
4

flanken short ribs

1/2 inch thick

1

bowl/bag of Beef Marinade

Handful of sliced green onions

1

tbsp

of sea salt
Beef Marinade Ingredients
1

cup

of soy sauce

1

cup

of water

1/4

cup

of brown sugar

1/2

white onion

diced

3

tbsp

of white vinegar

2

tbsp

of sesame oil

2

tbsp

of black pepper

2

tbsp

of garlic

minced

1

tbsp

of onion powder

1

tbsp

of red chili flakes

1

tbsp

of sea salt
Instructions
In a bowl or plastic bag, mix all the ingredients for the Beef Marinade above. Make sure to stir in the brown sugar last and slowly so that it evenly dissolves. Season the flanked short ribs with a little bit of sea salt. Put beef in the marinade, mix it around for an even coating, cover it, and place in the refrigerator for 4-8 hours (you can do up to 24 hours - the longer the better).

About 15 minutes before cooking, pull beef out of the refrigerator and take out of marinade. Let come to room temperature.

Use some Cowboy Hardwood Lump Charcoal to light fire and let burn for 10-15 minutes. Once charcoal is white hot, push into one flat pile for direct grilling.

Grill the short ribs for about 4-5 minutes per side. Pull off and let rest for 5 minutes once done.

Sprinkle some sliced green onions on top, serve & enjoy!
Notes
Equipment Needed: Cowboy Charcoal, grill, tongs, knife, and a cutting board.
This article does contain affiliate links to products that we personally use and support. Purchasing an affiliate product does make us a small commission at no cost to you. This helps us continue creating for our website. All words and opinions are our own, and we appreciate your support!