Have you ever wanted to get the fancy steakhouse flavor at home but did not know how? Here is your answer: butter. Butter truly does make everything better and that includes cast iron cooked steak. Below you will find my recipe for homemade Herb Butter. This amazing recipe will have you lathering your steak in Herb Butter for the rest of your life. It will make you forget going to the fancy steakhouse and have you opening a bottle of red wine at home and enjoying your perfectly cooked meal!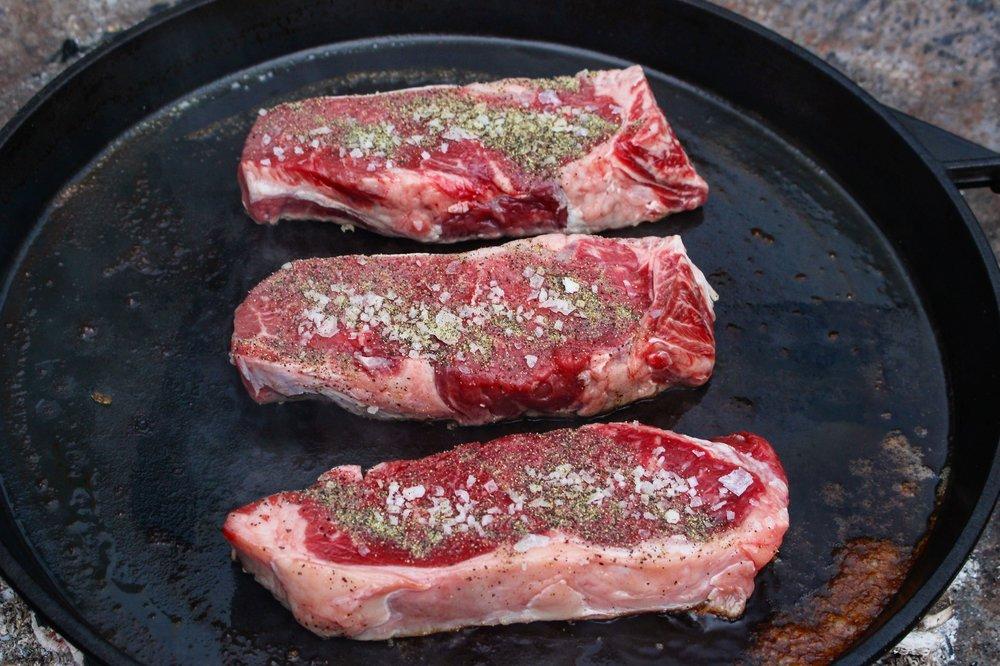 What is Herb Butter?
If you have cooked steak before, then you might know that butter makes steak even better. In fact, butter just makes everything taste better. So then why would you add herbs to it?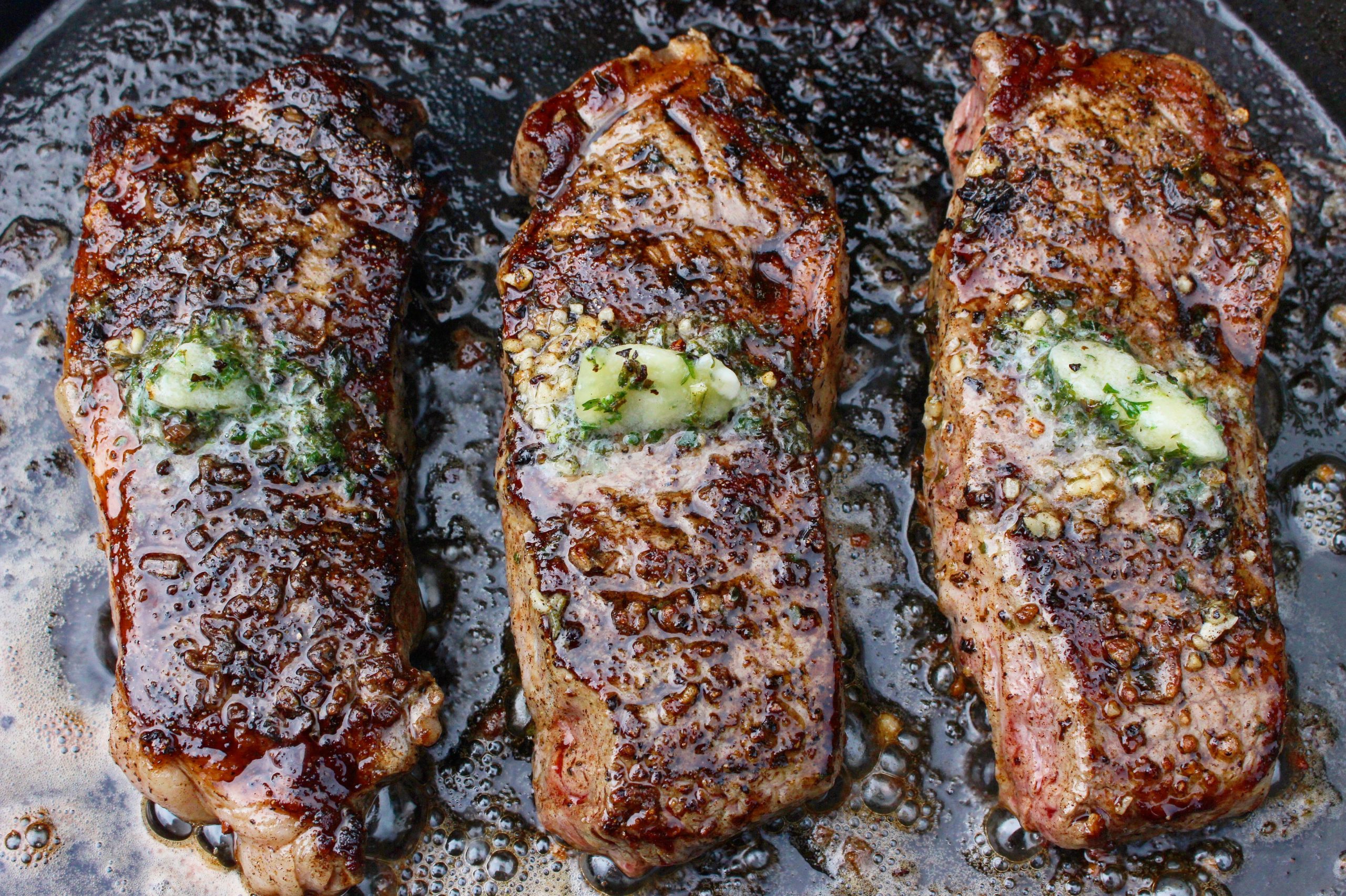 Herb will naturally enhance the overall flavor of the steak by providing a freshness that most seasonings cannot. While you will get great flavor on the inside of the NY Strip, adding the rolled herb butter, that you will make before the cook, will create a fantastic crust and outer layer on the meat.
Do I need to use cast iron to cook the NY Strip?
Short Answer: No.
Long Answer: You probably want too.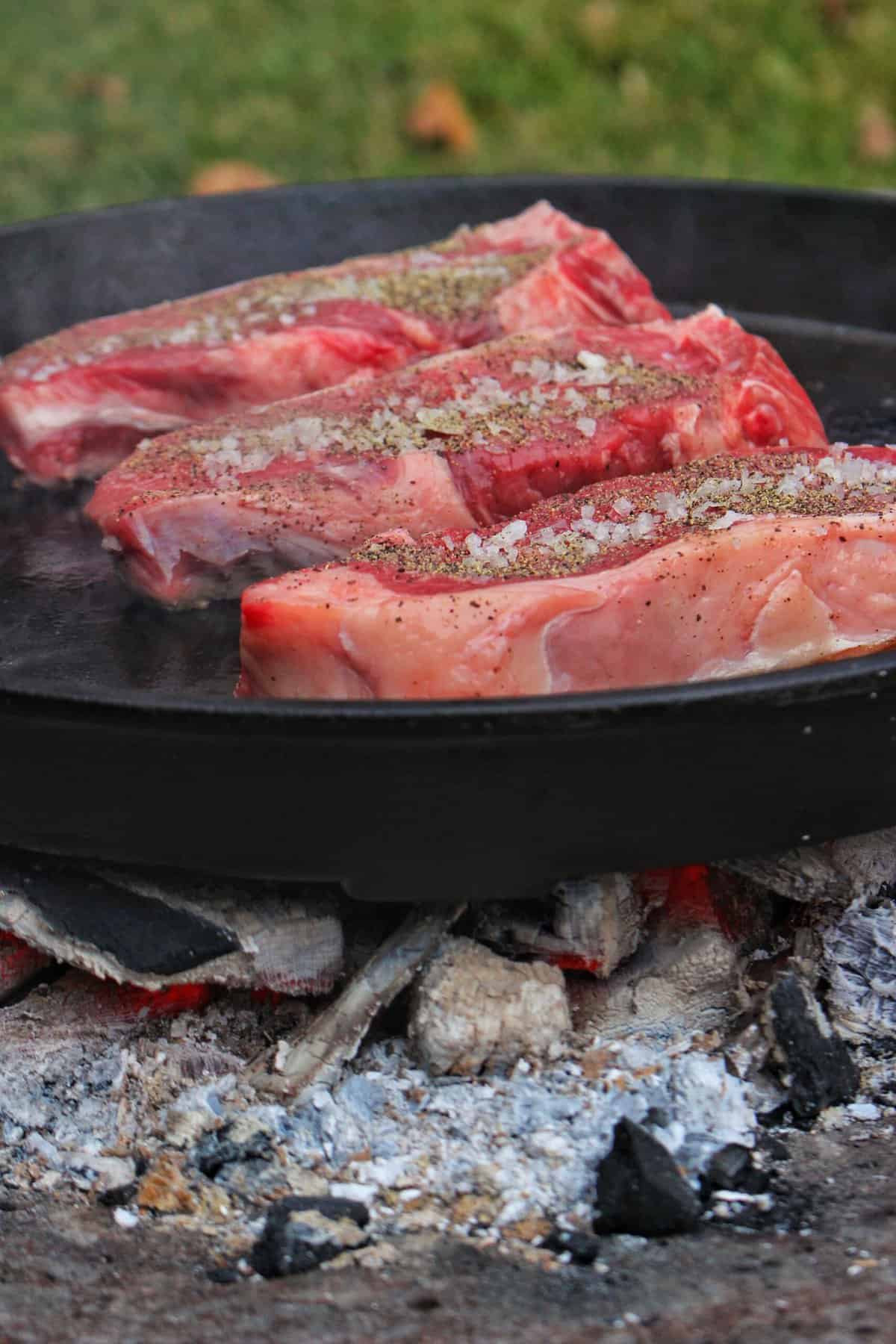 I get this question all the time. A lot of hardcore grillers out there do not like the idea of cooking steak inside a cast iron over the fire. While you can totally do this recipe without the cast iron (or grill grate), skillets provide some additional benefits that grill grates are missing.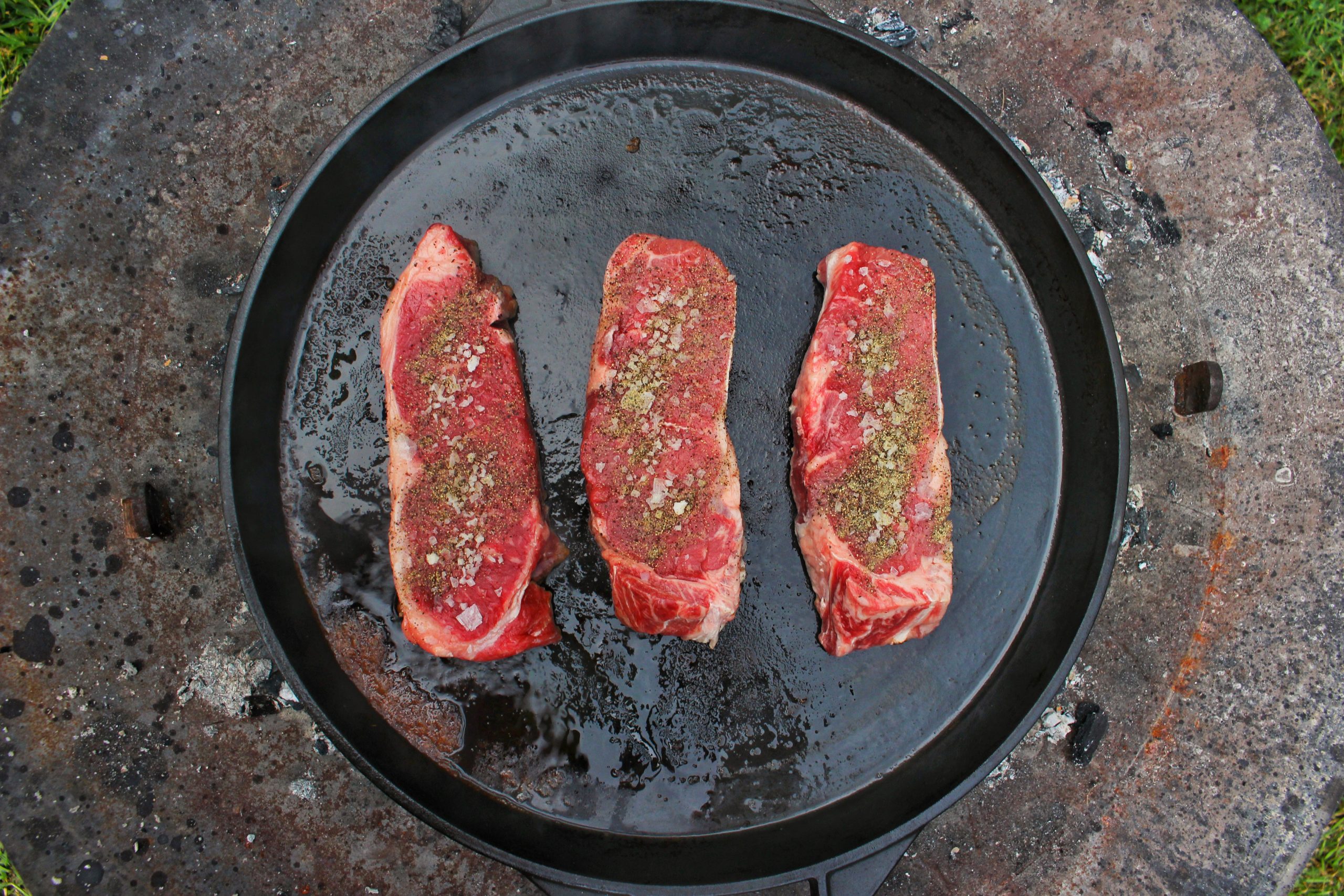 For one, you can add liquids into the skillet (a.k.a. butter) without the fear of flare ups or loss. Another benefit is getting a flat crust. When paired with high heat and a dry surface, skillets can create the ultimate sear for all meat.
I recommend trying out a cast iron with the Herb Butter NY Strip recipe.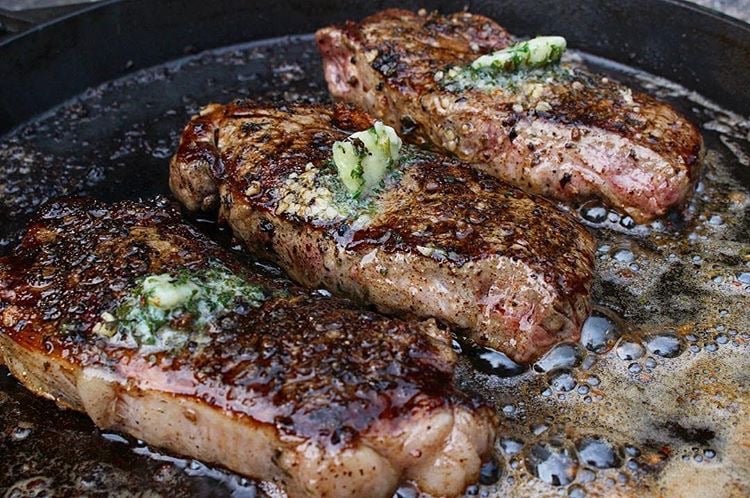 Herb Butter NY Strip
Prime cut NY Strips basted in herb butter sauce for the win!
Ingredients
Herb Butter Ingredients
1

full stick of unsalted butter at room temperature

2

tbsp

chopped fresh parsley

1

Garlic clove

minced

Dash of fresh lemon juice

Salt and pepper to taste
Steak Ingredients
3-4 10

oz

NY Strips at room temperature

1/2

stick of butter

1

tbsp

of Kosher Salt

1

tbsp

of Black Pepper
Instructions
In a bowl, mix unsalted butter, garlic and parsley. Then add lemon juice, salt and pepper. Roll butter into a log shape in parchment or non-stick aluminum foil and place in refrigerator for 1 hour. (This can be done up to 24 hours before cooking)

While butter is cooling, start to season NY strips with salt and pepper.

Light the Cowboy Hardwood Lump Charcoal in a charcoal chimney or mound inside your grill and let burn for 10-15 minutes.

Place cast iron skillet over fire at least 5-10 minutes before cooking. (Optional: For more added fun place the cast iron directly on top of the coals!). Add 1/2 stick of butter on cast iron 2 minutes before you start cooking.

Once fire is medium to medium-high heat, add steaks to cast iron and let cook on one side for 3 minutes. Flip steaks and place Herb Butter on top of each steak. With a spoon (being very careful), baste the steaks with the melted Herb Butter for 3-4 minutes.

Pull steaks off grill and let rest for 10 minutes. Serve and enjoy!
Notes
Note: For medium to medium rare steaks follow instructions above. For well done to medium steaks then do 4 min one side and 4-5 min other side.
Gear: Cowboy Charcoal & cast iron
This article does contain affiliate links to products that we personally use and support. Purchasing an affiliate product does make us a small commission at no cost to you. This helps us continue creating for our website. All words and opinions are our own, and we appreciate your support!