Ribs are one of the most classic dishes in fire cooking and barbecue, period. Smoky, sweet with some hidden flavors that seem to just melt in your mouth when you take the first bite. Well you have never had ribs like this before, because these are made with 100% American Lamb: introducing my new Honey Chipotle BBQ Lamb Ribs Recipe.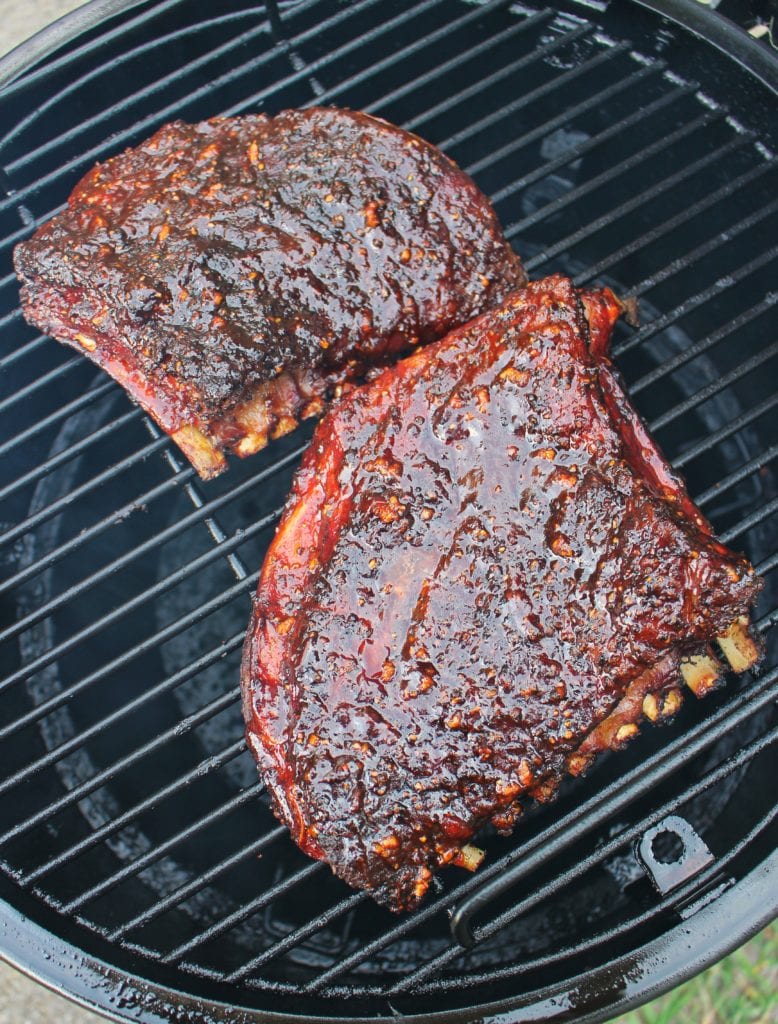 I have teamed up with the awesome crew at American Lamb Board to show you just how delicious bbq lamb ribs can be on the smoker. There is nothing overly complicated or, honestly, all that different about cooking lamb ribs. First things first, you need to sign up for the Summer Lambventure's right here! This sweepstakes enter you to win a $500 gift card when you click on the link above. Oh and make sure to check out their Instagram for additional votes!
Next, you need to get the right ribs. I highly recommend finding a local butcher that sells American lamb. You can use the American Lamb Board locator if you like right here! If you do not have access American Lamb, then check out Porter Road. Their selection of American Lamb is awesome, and it all ships to your house which is an added bonus. For this cook, I used Porter Road for my American BBQ Lamb Ribs.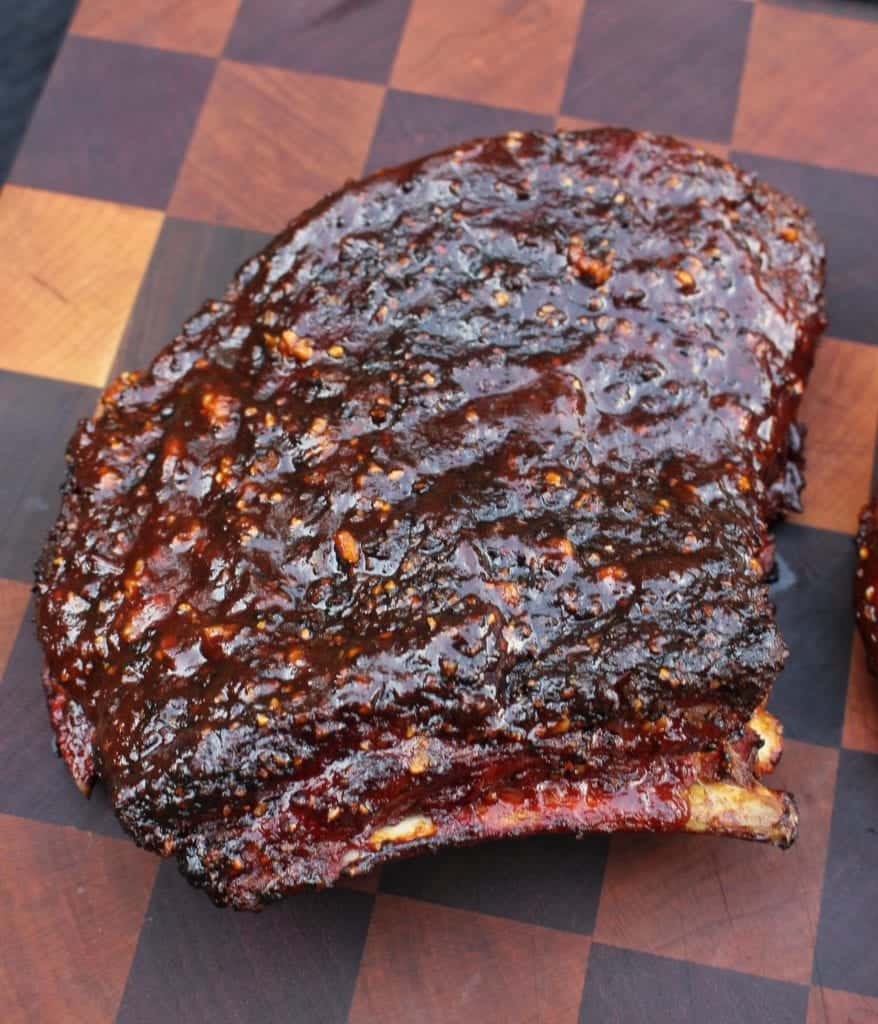 The BBQ Lamb Ribs Rub
I dry rubbed my ribs first so that the seasoning would create a nice layer on the meat. This really helps later because it will give the bbq sauce some more surface to cling to when being added. I smoked the ribs indirectly at 225F for about 3 hours. I shot for an internal temperature around 205F, but bbq lamb ribs are very forgiving. Anything between 200-210F will be just fine on these.
The Honey Chipotle BBQ Sauce
The next part is the Honey Chipotle BBQ Sauce. This is a catch-all bbq sauce that you can add to literally anything. It is sweet, smoky and spicy all at the same time. Lathered the outside layer of the ribs with this about 30 minutes before the ribs came off. I also let the heat rise in the smoker to 300-350F just so the bbq lamb ribs could caramelize on the outside.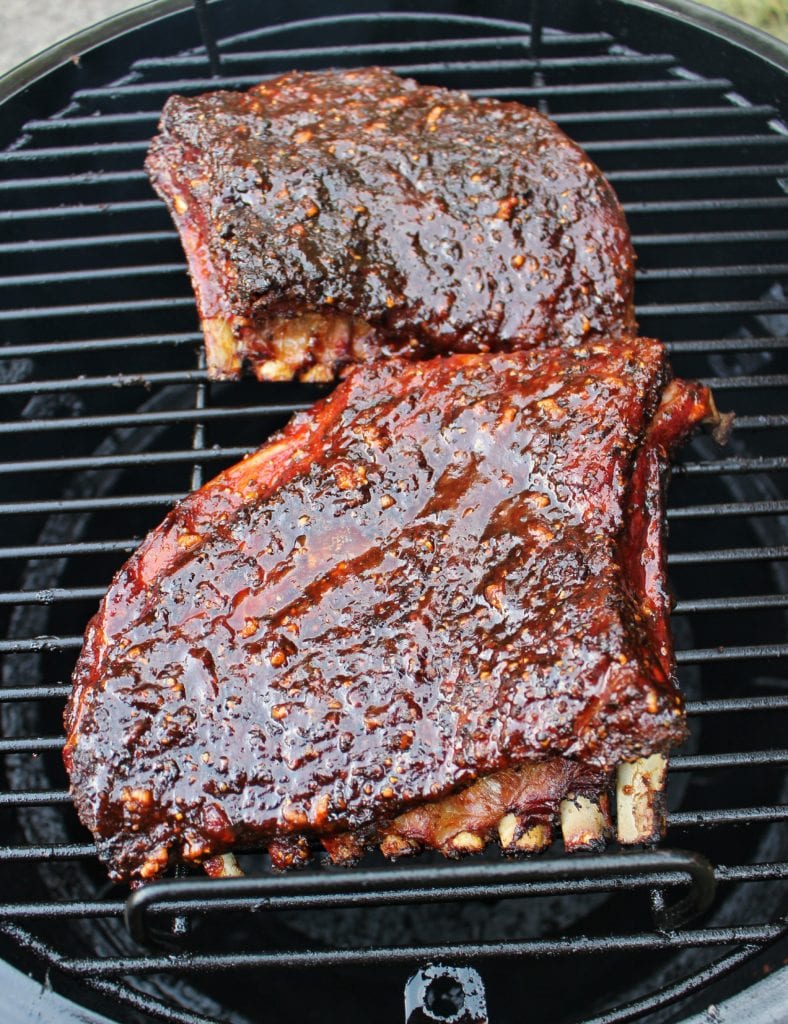 Time to Eat these BBQ Lamb Ribs!
Once the bbq lamb ribs are done, you pull them off and let them rest for 8-10 minutes. Slice into them and enjoy! The bbq sauce on the outside joins with the meat to make this awesome crispiness. Add more sauce on top if you like!
Make sure to check out the American Lamb Board! If you have been following me for a while, you know that they are super awesome. Not only is making bbq lamb ribs delicious, but supporting hard-working American ranchers & farmers is the best.
Make sure to sign up for the Summer Lambventure's Sweepstakes right here! That's a chance to win a $500 gift card. Don't miss out!
Honey Chipotle BBQ Lamb Ribs
BBQ Lamb Ribs like you have never had them before. Doused in a Honey Chipotle BBQ Sauce while being smoked over fire. Tender and delicious!
Equipment
Smoker and bbq sauce pan.
Ingredients
Lamb Ribs Ingredients:
2

American Lamb Ribs

like from Porter Road

2

tbsp

of Yellow Mustard

2

tbsp

of Black Pepper

coarse

1.5

tbsp

of Sea Salt

1

tbsp

of Chipotle Powder

2

tsp

of Garlic Powder

2

tsp

of Cumin
Honey Chipotle BBQ Sauce Ingredients:
¼

cup

of Ketchup

¼

cup

of Chipotles in Adobo Sauce

pureed

2

tbsp

of Raw Honey

3

garlic cloves

pressed

1.5

tbsp

of Brown Sugar

½

Lime

juiced

Salt & pepper to taste
Instructions
Using a knife, slice a crisscross pattern over the top fat of the lamb ribs to help rendure during smoking. Lather the ribs in yellow mustard then season thoroughly with the black pepper, sea salt, chipotle powder, garlic powder, and cumin.

Using a grill or smoker, start your fire with natural wood charcoal for an indirect cook. Set the grill/smoker for a consistent 225F.

When grill/smoker is ready, place lamb ribs on and cook for about 2 hours.

About 1 hour before the ribs are ready, cook over fire or on your stovetop with your bbq sauce pan. Add all the Honey Chipotle BBQ Sauce ingredients to pan and bring to a low boil. Let cook for 5-8 minutes to fully immerse.

About 30 minutes before the ribs are ready, pour Honey Chipotle BBQ Sauce over top of ribs and lather. Kick up your smoker for the last 30 minutes to 300-350F to caramelize the ribs. Once ribs are around 205F internal, pull them off and let rest for 8-10 minutes.

Slice ribs and enjoy!
This article does contain affiliate links to products that we personally use and support. Purchasing an affiliate product does make us a small commission at no cost to you. This helps us continue creating for our website. All words and opinions are our own, and we appreciate your support!