Thanksgiving is right around the corner, and if you are like me you always want to do something different. While the classic turkey recipes are always fan favorites, its fun to switch things up. If that is something you want, then try my new Honey Fire Rotisserie Turkey Legs using hot Cowboy Charcoal.
Post Sponsored by Cowboy Charcoal
Why Use Turkey Legs?
My biggest issue with turkey is that it is normally dry and not very flavorful. That is why when I try a turkey that blows me away, I know it was prepared by someone who knows their stuff. If you do not have a long time too perfect your turkey cooking skills, then maybe cooking these rotisserie turkey legs with Cowboy Charcoal might be your best option.
Turkey legs are dark meat which usually means that they are tender and retain a lot of moisture. While they might be more difficult to find, they are the cream of the crop when it comes to Turkey cuts. Plus when you cook these with Cowboy Lump Charcoal, you will end up with a ton of smoky delicious flavor on the meat.
Remember Those Festival Turkey Legs?
Whether it was a fair or a festival, the best thing to eat there was the turkey legs. They are huge, flavorful and fun. That is the goal for this recipe! You get a ton of shock and awe by not only using turkey legs, but also by putting them on the rotisserie.
The trick to putting them on the rotisserie is using your prongs correctly. On my rotisserie, I have two prong add-ons to help secure the meat being cooked. Try your best to skewer the rotisserie turkey legs close to the bone through the thicker part of the meat. Then securely fasten the prongs into the meat so that they do not slip and fall off when cooking.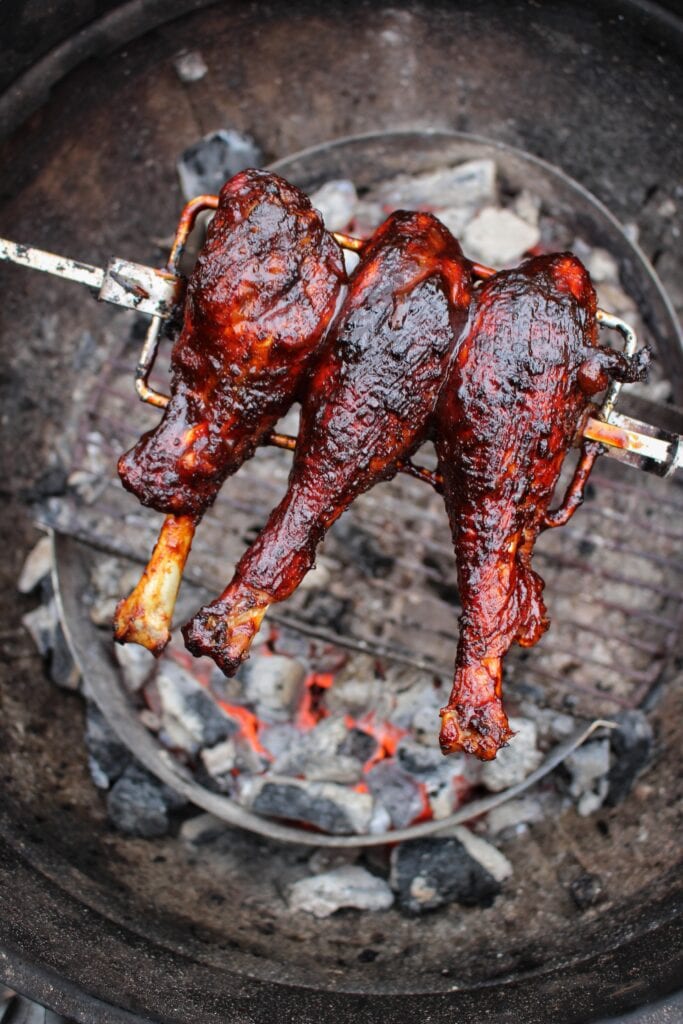 The Honey Fire BBQ Sauce
The last bit is making that Honey Fire BBQ Sauce. This is simply a hot bbq sauce mixed with honey. I used Cowboys Prairie Fire BBQ Sauce since it is my favorite. Use whatever works for you and your spiciness resilience. Mix that sauce, heat it up on the coals and lather the turkey legs till they are mahogany color.
Make sure to bring a napkin or two for eating these rotisserie turkey legs as they can be messy. Enjoy this favorite of my house during the holidays, and make sure to get some Cowboy Charcoal. Cheers!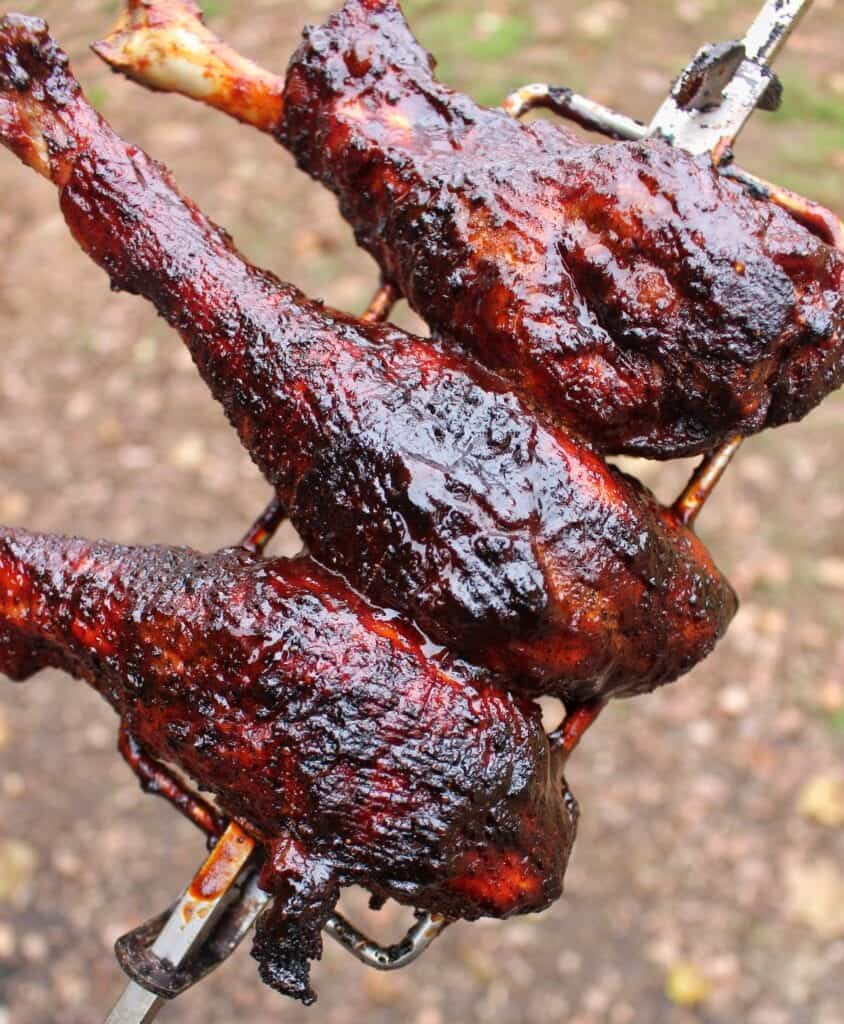 Honey Fire Rotisserie Turkey Legs
Try something different this Thanksgiving with these Rotisserie Turkey Legs. Glazed with a spicy honey bbq sauce over hot Cowboy Charcoal.
Ingredients
Turkey Leg Ingredients:
3-4

Whole Turkey Legs

2.5

tbsp

of Chipotle Powder

1

tbsp

of Garlic Powder

1

tbsp

of Onion Powder

1

tbsp

of Black Pepper

1

tbsp

of Sea Salt

1

tsp

of Cinnamon

1

tsp

of Allspice

Oil
Honey Fire BBQ Sauce Ingredients:
1/2

cup

of Cowboy Prairie Fire BBQ Sauce

2

tbsp

of Honey
Instructions
Pre-light some Cowboy Charcoal, and set up your grill for 3-zone rotisserie grilling. Once coals are hot, add to grill and get to a consistent 300F.

Lather the Turkey Legs with oil then season with chipotle powder, garlic powder, onion powder, black pepper, sea salt, cinnamon and allspice. Skewer the legs and secure tightly.

Add turkey legs to rotisserie, cover and cook for about 40 minutes or until then reach an internal temperature of 165F.

As turkey legs are cooking, add to your sauce pan the Cowboy Prairie Fire BBQ Sauce and Honey. Mix and set aside.

Once turkey legs have reached temperature, take lid off grill and place bbq sauce pan on to grill in order to warm up. Once it starts bumbling, lather the outside of the turkey legs till they are covered in sauce. Let turkey lets caramelize (another 5 minutes) then pull off and let rest for 5 minutes.

Pull turkey legs off skewer, add more bbq sauce if desired and enjoy!
This article does contain affiliate links to products that we personally use and support. Purchasing an affiliate product does make us a small commission at no cost to you. This helps us continue creating for our website. All words and opinions are our own, and we appreciate your support!