What do you do with your leftovers from Thanksgiving? There are so many awesome recipes using leftover turkey, veggies and more that I love; but now, making empanadas is my new obsession. THAT BEING SAID… I am not an empanada expert! Still learning some keys to making them even more delicious. However, these Leftover Chipotle Turkey Empanadas were super fun to make and did hit the spot!
What are Empanadas?
I have to doubly state that I am no empanada expert; however, these Leftover Chipotle Turkey Empanadas made we want to dive more into them. These golden brown pockets full of delicious meat were first introduced to me in my early stages of fire cooking. Hailing from Spain, these have been made a staple piece dish in most South American countries.
One of my favorite cuisines, Argentinian, is where I was first exposed to these delicious empanadas. They are simply a fried or baked turnover style dish, but usually filled with meat, veggies and some delicious sauce. That being said, they seemed like the perfect vessel to use for Thanksgiving Leftovers.
What to do with your Leftover Turkey?
A ton of turkey, veggies and sauce is all your left with after Thanksgiving. My wife suggested that we make Leftover Chipotle Turkey Empanadas, and I could not resist. We packed these guys with chopped up turkey, peas, onions, corn, chipotle puree, garlic and more.
The filling mixed well and seasoned thoroughly by first being sautéed; moreover, cool it off once you are done cooking. Next, we filled the empanada discs with the filling and sealed them off. Firstly, I did not make my own empanada discs. However, I will now do so after doing this recipe. You can find some premade empanada discs at most modern or ethnic grocery stores now. Once they were filled and sealed, I fried them over the fire for about 3 minutes per side until golden brown.
Grab all of my Seasonings & Rubs!
Let's devour these Leftover Chipotle Turkey Empanadas!
I paired these guys with a sauce recipe from my new cookbook Food by Fire! Make sure to preorder it now. The Charred Salsa Verde was an amazing choice; however, these Leftover Chipotle Turkey Empanadas would be amazing with chimichurri, gremolata or anything else delicious. Try the recipe out below and enjoy!
Pre-order my new cookbook Food by Fire now!
Print Recipe
Leftover Chipotle Turkey Empanadas
What do you do with your leftovers from Thanksgiving? These Leftover Chipotle Turkey Empanadas we super fun to make and did hit the spot!
Ingredients
Ingredients:
1

cup

of Leftover Turkey

finely chopped

4

Garlic Cloves

minced

¼

cup

of Sweet Peas

¼

cup

of Sweet Corn

¼

cup

of Carrots

diced

¼

cup

of Red Onions

diced

⅕

tbsp

of Raisins

2

tbsp

of Chicken Stock

2

tbsp

of Chipotle Puree

2

tsp

of Kosher Salt

2

tsp

of Black Pepper

2

cups

of Canola Oil

6-8

Empanada Discs
Instructions
Preheat your grill to a high temperature for direct cooking (around 400F). Add a cast iron with 1 tbsp of oil to the skillet 1-2 minutes before cooking to preheat.

Add to your skillet the garlic first to brown for 1 minute. Next, add the peas, corn, carrots and red onions to cook for 1 minute until softened. Finally, add the turkey, chicken stock, chipotle puree, salt and pepper. Mix this all together and cook for another 3-4 minutes until slightly caramelized and softened. Pull the skillet off fire and add the mixture to a bowl to cool for 5 minutes.

Begin making your empanadas by laying out one empanada disc. Place 2 tbsp of the meat mixture on one side of the disc with some room on the edges to seal it in. Fold the empty side of the disc over the mixture and press firmly to the opposite side so that the edges seal. Using a fork or your hands, press the edges additionally for an extra seal. Repeat this step for all of your empanadas until done.

Clean off your skillet and preheat your fire for high heat again (around 400F). Add your canola frying oil to the skillet and bring it up to 350F.

Lay your empanadas into the frying oil and carefully cook for about 2-3 minutes per side until the empanadas are golden brown all around. Make sure to not overcrowd your skillet; therefore, only cook about 3-4 empanadas at one time. Once they are done, pull them off and let them cool for 3-4 minutes.

Add some salsa verde, chimichurri or anything else to dip your empanadas into and enjoy!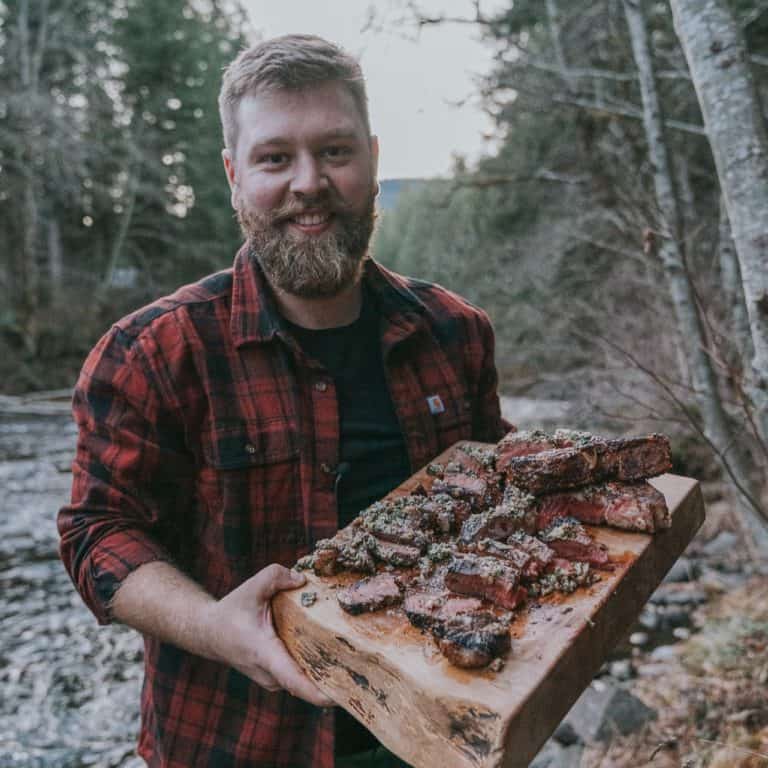 Derek is the driving force behind Over the Fire Cooking. He started cooking with live fire in 2016 and decided to start a social media page so his friends and family could follow the journey. Fast forward to today and Over the Fire Cooking has spread across multiple platforms with millions now following Derek's fire cooking journey. He's a southern fellow who enjoys everything from classic BBQ to Central and South American inspired dishes. Whatever he's cooking up, it's guaranteed to be so freakin' delicious!