Mojo Chicken Drumstick Skewers sounds right up my alley for cooking with fire! Pair this with a nice lump charcoal, like Cowboy Charcoal, for that smokey finish and you are in heaven! Lets try it.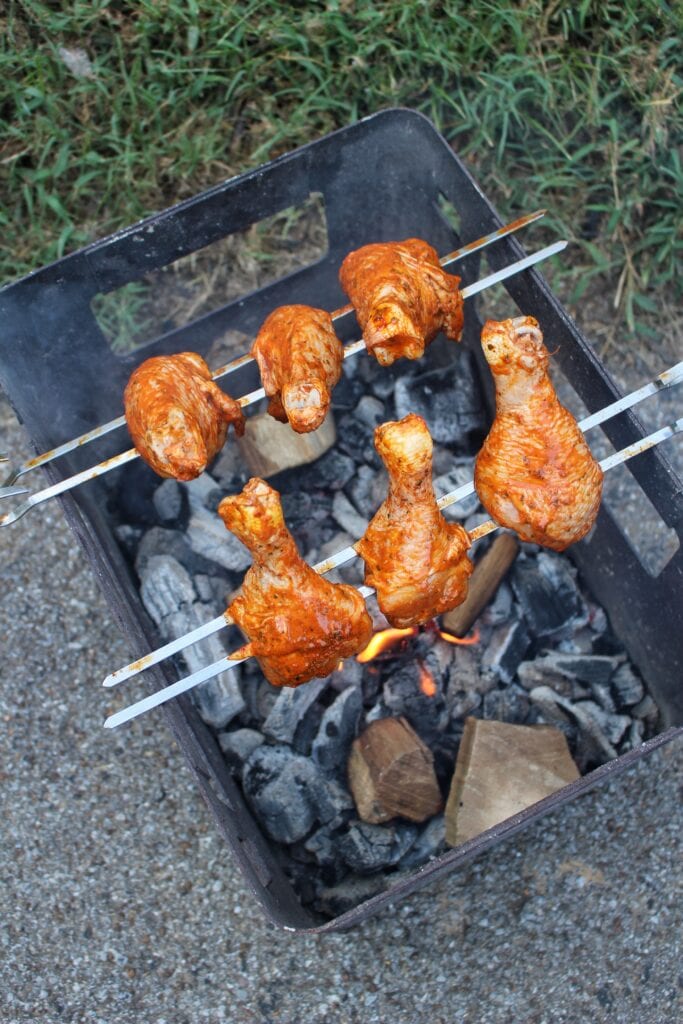 What is Mojo?
Ahhh mojo marinade. This is one of my new favorites on the marinades to use for fire cooking. I was inspired by some Cuban style cooking that I saw, and just had to try this marinade for myself. Typically, mojo includes garlic, citrus, oregano and a few other spices. Most of the time it includes orange juice, or more explicitly bitter orange juice. I went with blood oranges instead. The tartness of the blood orange is a great add for getting some semi-sweet but semi-bitter flavor to the chicken. I also added some cayenne & pimento peppers to the mix. The cayenne will bring a spicy finish while the pimentos will add some richness. Lastly, make sure to marinate for at least 4 hours or more. This will definitely amplify the flavor on this Mojo Chicken Drumstick Skewers recipe.
How to Skewer & Cook Drumsticks Properly
The trick to this cook is the skewering process. While you do not have to cook these on a skewer, the indirect heat from skewering them helps to get better caramelizing without leaving some of the marinade & seasoning onto the grill grates. Since there is really only one bone on a drumstick, you need to skewer once above the bone and one below it while having them a little offset from each other. This will help prevent the Mojo Chicken Drumstick Skewers turning while cooking or falling off.
Time to Eat the Mojo Marinated Chicken Drumsticks Skewers
Once the Mojo Chicken Drumstick Skewers are ready, it's time to start that Cowboy Charcoal and get grilling. Don't forget to set aside some mojo chicken marinade before you add it to the raw chicken so that you can glaze the chicken while cooking. You'll get that nice ruby red color from this! Find the recipe below and enjoy!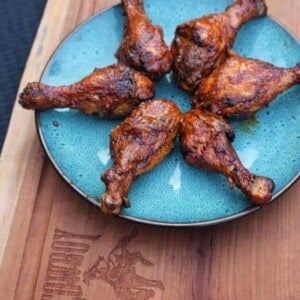 Mojo Chicken Drumstick Skewers
Mojo Chicken Drumstick Skewers marinated in a Cuban mojo inspired sauce with some char from Cowboy Charcoal.
Ingredients
Chicken Ingredients:
6-8

Chicken Drumsticks

trimmed

4-6

Flat Metal Skewers
Mojo Marinade Ingredients:
3

Blood Oranges

juiced

3

Lemons

juiced

2

Limes

Juiced

⅓

cup

of Pimento Peppers

⅓

cup

of Cilantro

chopped

2

tbsp

of Paprika

1

tbsp

of Cumin

2

tsp

of Oregano

2

tsp

of Cayenne Powder

4-6

cloves

of Garlic

1.5

tbsp

of Salt

1

tbsp

of Pepper

2

tbsp

of Oil
Instructions
In a blender, mix all the ingredients for the Mojo Marinade until smooth. Before adding the marinade to the chicken, pour a small amount into a bowl and set aside. Place chicken into a bowl and pour in marinade. Mix thoroughly and let marinate for 4-12 hours.

Using Cowboy Charcoal, fill a full chimney of coals, light and let preheat for 15 minutes. Pour coals into grill and place into one pile for indirect grilling with skewers.

Skewer the chicken drumsticks by placing one skewer above the bone and one skewer offset a half an inch & underneath the bone to prevent it from twisting. Skewer 3-4 drumsticks to each pair of skewers.

Place the skewers over the fire so that they are getting radiant heat from the Cowboy Charcoal. Cook for 8 minutes per side or until the internal temperature, not touching bone, is 165A few minutes before pulling the drumsticks off, lather with the marinade we set aside as the beginning to get a nice sear.

Pull off, let rest for 5 minutes and enjoy!
This article does contain affiliate links to products that we personally use and support. Purchasing an affiliate product does make us a small commission at no cost to you. This helps us continue creating for our website. All words and opinions are our own, and we appreciate your support!