Smoked Wagyu Beef Back Ribs Recipe
When I think of smoking ribs over fire, I do not typically think of beef ribs. Ever smoked beef ribs before? If you are from Texas, then you do not need to answer that question. For most people like myself, smoked beef ribs is not a common occurrence; but, it is super delicious in its own right.
Today, I had the pleasure of smoking some American Wagyu Beef Back Ribs from Mishima Reserve. These well marbled ribs are so easy to make compared to most meat that has to be cooked over fire. In the end, it only takes 3-4 hours to cook these till they are nice and tender. So what are beef back ribs anyway?
What are Beef Back Ribs?
There are a ton of different cuts of beef ribs on the cow. Beef back ribs, however, come from the ribs close to the spine. This is where you get your ribeyes and prime rib. So these ribs are full of tender meat and flavorful fat off the cow.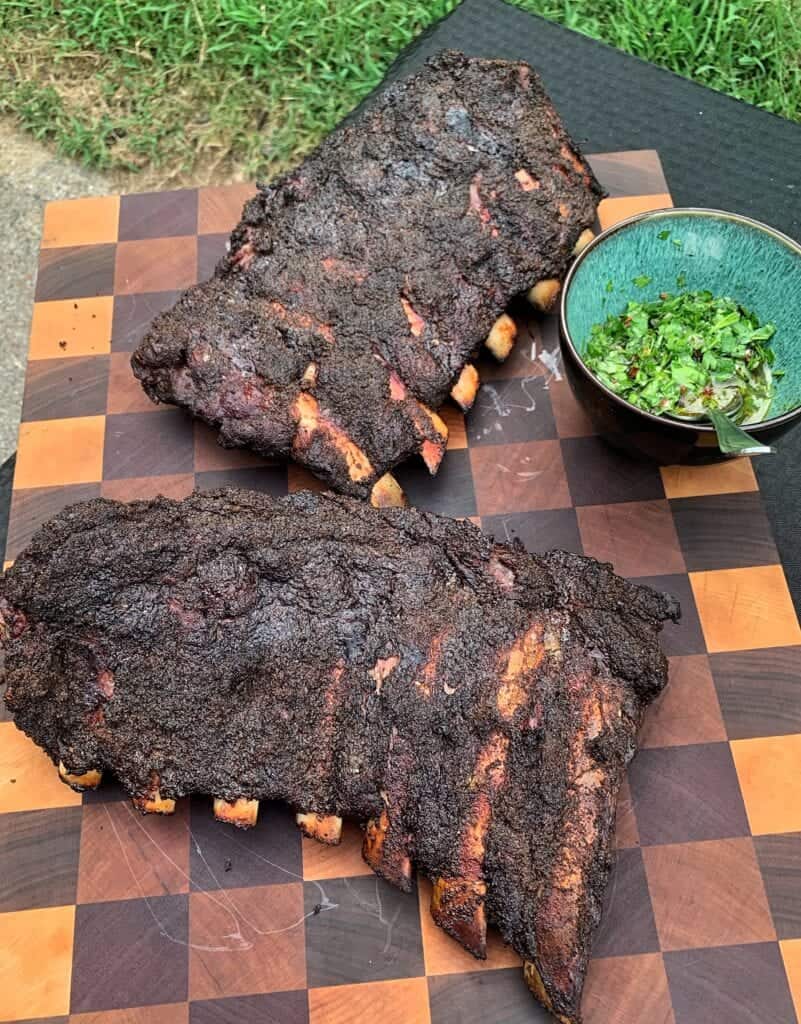 How do you cook Beef Back Ribs?
The best part about beef back ribs is how easy they are to cook. Set your smoker or indirect cooker to 275F, season your ribs and place on for 3-4 hours. Once the ribs hit 205F internal then you are ready to pull them off to rest. Warning: Make sure they are 205F everywhere on the ribs. Tenderness in one area of the ribs does not guarantee they are all tender. Use your instant read thermometer to check that the ribs are tender everywhere before pulling to rest for an hour.
Who is Mishima Reserve?
You have heard me mention that these beef back ribs are from Mishima Reserve. Well who are they anyway? Mishima Reserve is a high quality American producer of Japanese Heritage breed Wagyu beef of the Kuroge Washu Bloodlines. They are naturally raised with a focus on reducing their carbon footprint by maintaining high quality standards and practices. In the end, their beef is born & raised responsibly in the USA by the best ranchers across the Northwest & Rocky Mountains.
America makes Wagyu Beef?
Yes we do and it is amazing… Mishima Reserve is just one of many great producers of American Wagyu. They, however, have had years of learning all the in's and out's to maintaining and evolving American Wagyu into these delicious beef back ribs and more!
Labor Day Giveaway!!!
If you did not know, Mishima Reserve is doing the #GreatLaborDayGiveway until September 2nd. Click here to enter, and the giveaway prizes are below!!!

Discount Code!
Oh and use OVERTHEFIRECOOKING when checking out at Mishima Reserve for 10% off your sale!
Smoked Wagyu Beef Back Ribs
Juicy and well marbled beef back ribs thrown on the smoker and cooked till they fall off the bone. Maybe add some chimichurri?
Equipment
Grill, wood, fire starters, cutting board, small cast iron skillet & knife.
Ingredients
Beef Back Ribs Ingredients:
2

Mishima Reserve Beef Back Ribs

2

tbsp

of Black Sea Salt

2

tbsp

of Black Pepper

1

tbsp

of Garlic Powder

1

tbsp

of Onion Powder

2

tsp

of Mustard Powder

Your favorite Hot Sauce
(Optional) Chimichurri Ingredients:
1/2

cup

parsley chopped

3

cloves

of Garlic

pressed

3/4

cup

Olive Oil

1/4

cup

Red Wine Vinegar

1

tsp

of Red Pepper Flakes

Salt & Pepper

to taste
Instructions
Pull out your Mishima Reserve Beef Back Ribs and, using a butter knife & paper towels, remove the membrane on the back of the ribs. Add hot sauce to the top of the ribs as a binder. Mix the salt, black pepper, garlic powder, onion powder, & mustard powder then season the ribs thoroughly.

Bring your smoker or indirect cooker to a consistent 275F.

Add your beef ribs bone side down to the smoker and let cook for 3-4 hours or until all parts of the ribs are at 205F internal. Once done, pull off, wrap in butcher paper and rest in a cooler for 1 hour.

While resting, add all ingredients for chimichurri into a bowl and mix.

Pull out ribs, flip over to bone side and slice. Top with chimichurri if desired and enjoy!
This article does contain affiliate links to products that we personally use and support. Purchasing an affiliate product does make us a small commission at no cost to you. This helps us continue creating for our website. All words and opinions are our own, and we appreciate your support!