Seafood it so delicious, but is it too difficult to cook while RVing? The answer: no. Seafood is easy to cook while RVing. But, you do have to choose something easy the first time you venture out. Lobster tails might be a good place to start. You definitely need to try this Sriracha Butter Lobster Tail recipe.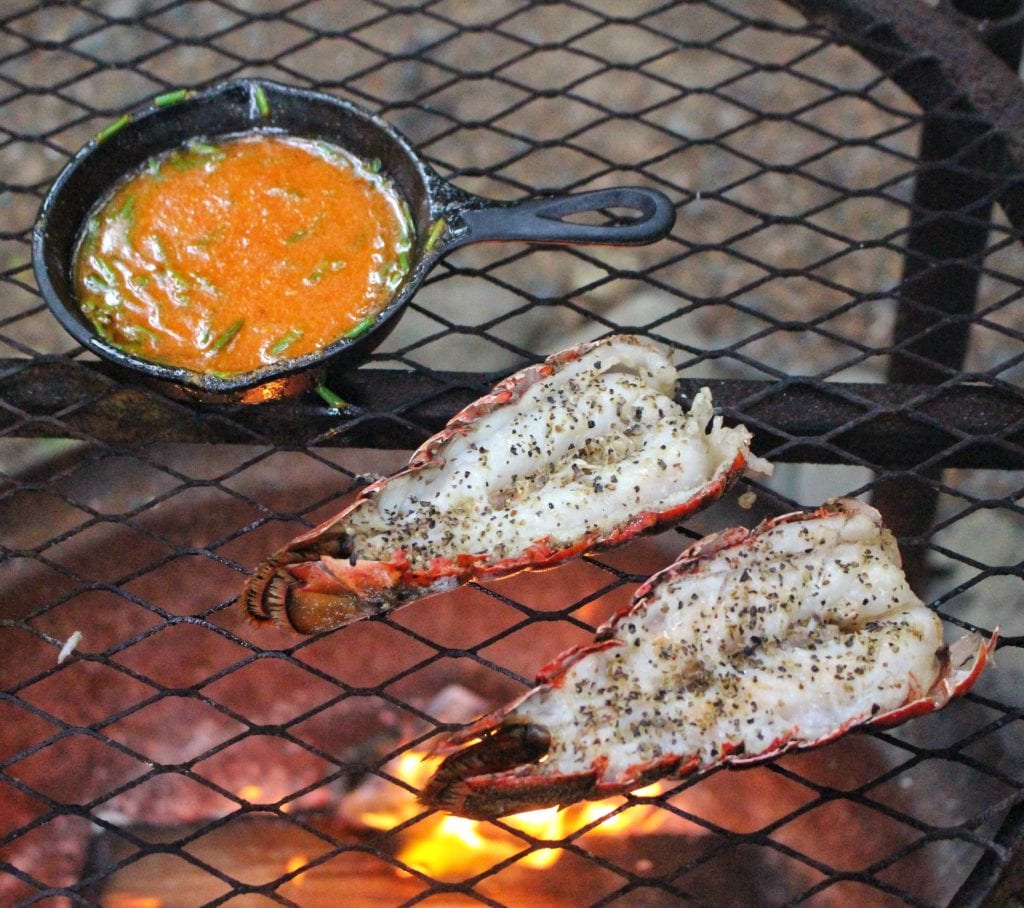 Lobster tails are one of my favorites to cook over fire. I love to grill them, smoke them and one day I will cook them right on the coals! They usually are lightly covered in seasoning and then lathered in a butter sauce. At least, that is the way I like them!
By adding that Sriracha to the butter sauce will really spike the flavor to a new level. Get some heat from the sriracha and tang from the garlic for a dynamic duo of flavor.
For my Sriracha Butter Lobster Tails, I split them in half in order to lay them flat. You could easily butterfly them and cook indirectly, but I chose not to since I wanted to make them over a campfire.
Lobster does not take a long time to cook; however, it does take longer than shrimp and scallops. Once it is on the grill, you got 5-7 minutes before they are done. So, be ready with all your gear nearby so you do not over cook the Sriracha Butter Lobster Tails.
In the end, these Sriracha Butter Lobster Tails are a perfect flavor for cooking outside right next to your RV.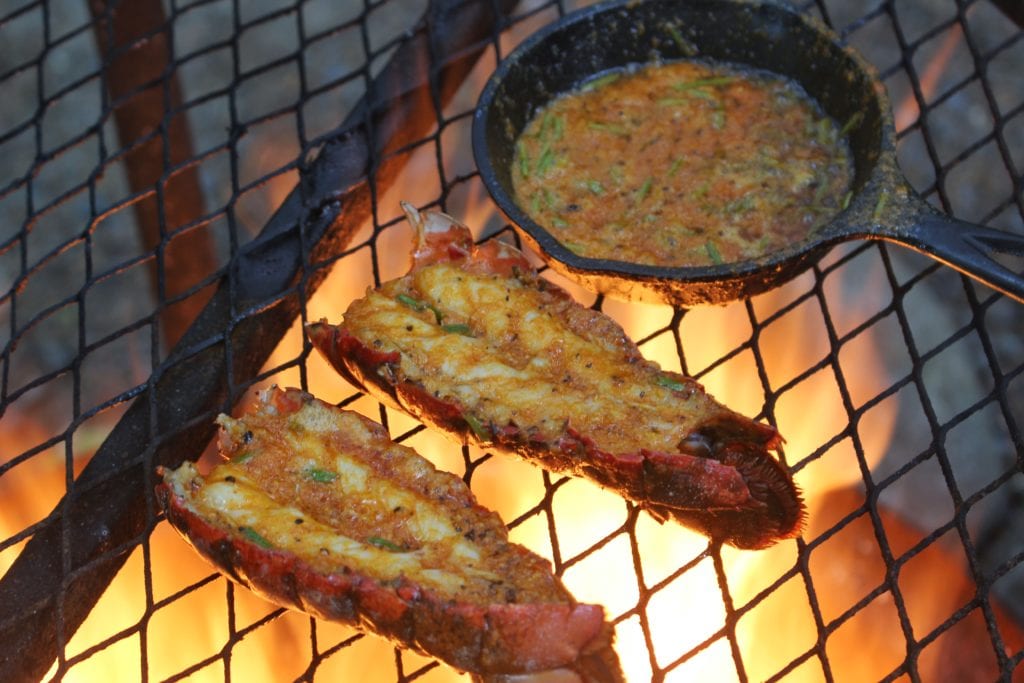 Sriracha Butter Lobster Tails
These Sriracha Butter Lobster Tails are the ticket to amp up any backyard barbecue. Spicy and tangy with delicious cold water lobster.
Ingredients
Lobster Tails Ingredients:
2

Cold Water Lobster Tails

split in half

Salt & Pepper

to taste

Olive Oil
Sriracha Butter Sauce Ingredients
2

tbsp

of butter

1

tbsp

of Sriracha Sauce

2

cloves

of garlic

minced

1/2

lemon

squeezed

1

tbsp

of chives

chopped
Instructions
Split lobster tails in half (but not full down the back of the tail) and then lay flat. Lather with olive oil and season with salt and pepper to your taste.

Using a fire starter and some local wood, start your fire. Make fire a medium heat. Place your grill directly over fire and preheat 2 skillets.

Place lobster on grill flesh side down to cook for 2-3 minutes before flipping. Also, add sauce skillet to preheat for 2-3 minutes. Before flipping lobster tails, add butter, sriracha sauce, garlic, lemon and chives to sauce skillet and stir. Allow to simmer over fire for 3 minutes. Flip lobster tails and let cook for about 5-6 more minutes or until the meat is no longer translucent. Using a brush, lather the lobster tail meat with the Sriracha Butter Sauce. Be careful to minimize flare ups from the dripping butter.

Pull off lobster tails and let rest for 1 minutes. Eat and enjoy!
Notes
Equipment: 1 cast iron sauce skillet & food brush
This article does contain affiliate links to products that we personally use and support. Purchasing an affiliate product does make us a small commission at no cost to you. This helps us continue creating for our website. All words and opinions are our own, and we appreciate your support!