There are just some steaks that are better than others. We all remember it. It might have been at a steakhouse or your friends backyard. The steak that was tender, juicy and full of flavor. For me it was a porterhouse steak that I tried to recreate but couldn't. Luckily for you, I was told the secret recipe for The Perfect Porterhouse Steak.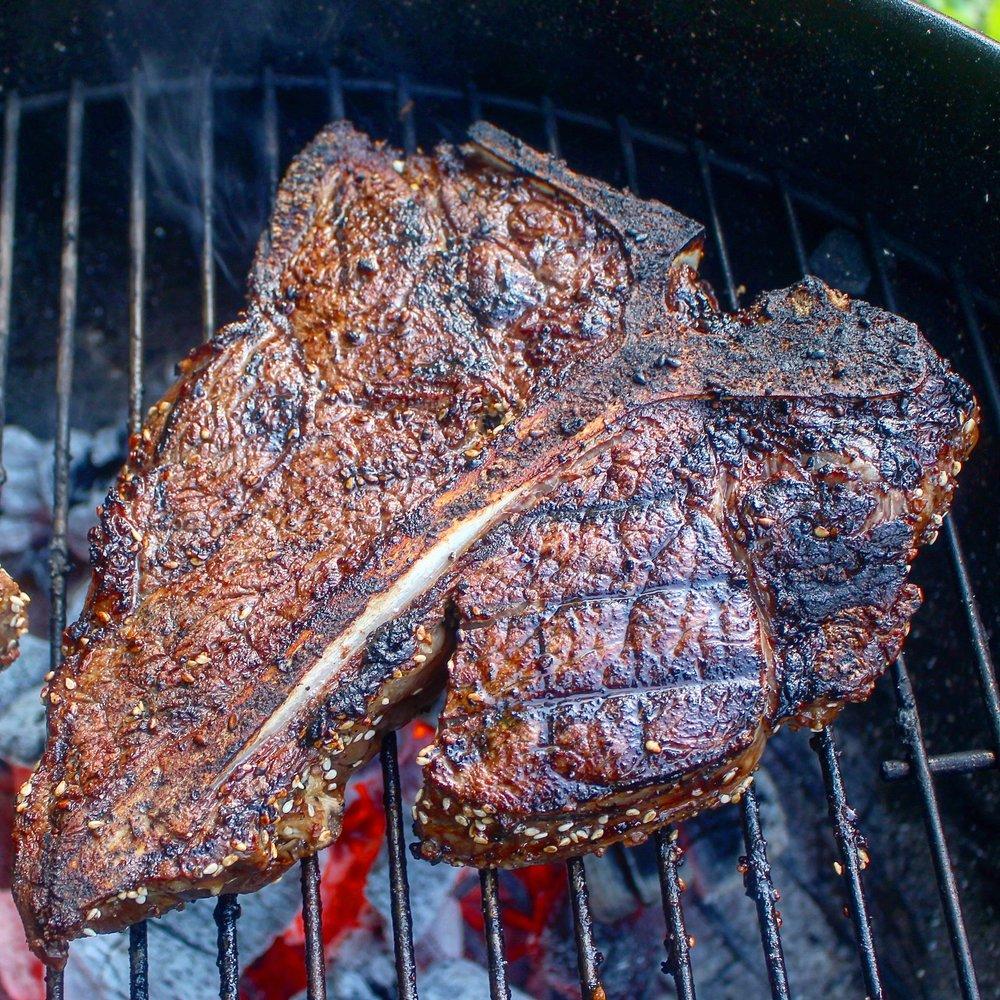 With the grill marks!
Introducing the Perfect Porterhouse Steak recipe
Cooked over white hot Cowboy Charcoal, This massive chunk of meat if full of salt and tang because of its special marinade! Soy sauce, lemon juice, sesame seeds and more are thrown into a bag where you will marinate the porterhouse steak for 20 minutes. This is enough time for the Perfect Porterhouse Steak to soak up all of the flavor without becoming too soft.
RELATED ARTICLE: Try my Espresso Rub T-Bone Recipe!
Next, you are going to throw the porterhouse steak over the fire to get that amazing char and crust. Every good steak lover knows that cooking over hot coals is a perfect way to get that smoky & savory flavor you love in beef. Finally, you are going to let the Perfect Porterhouse Steak rest. Resting the meat is one of the most important parts of the cook. If you let it rest for 8-10 minutes, then the juices will redistribute into the meat and give you that perfect medium rare color you want! Slice up this steak and you are ready to go. It is the perfect serving size is just for just one! No need to share!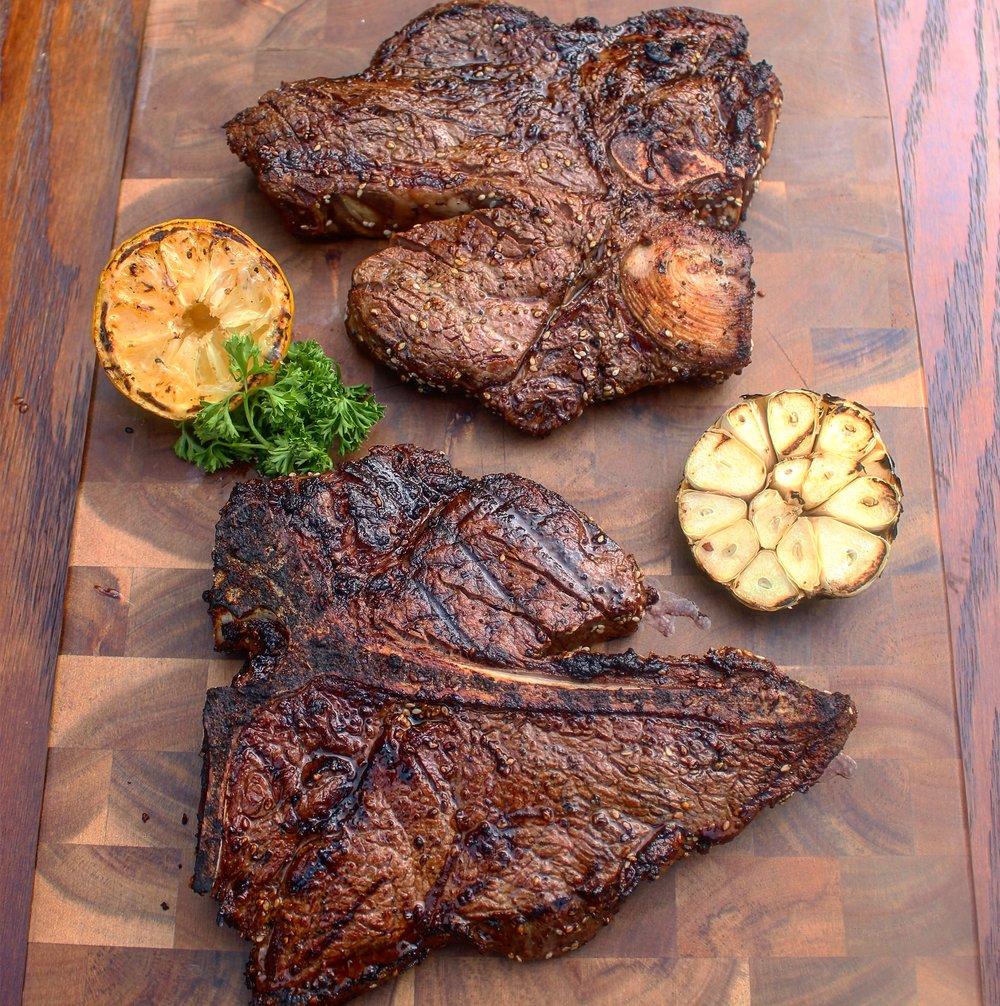 That's a pretty platter!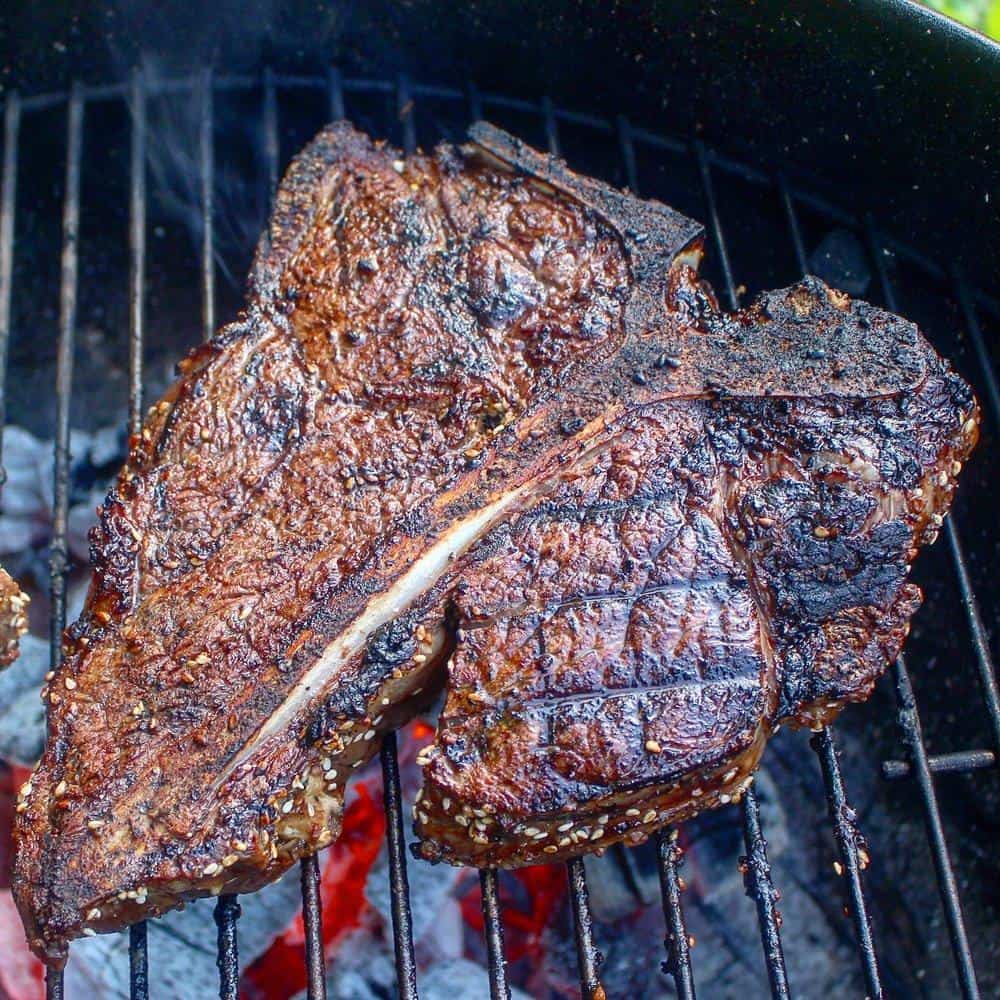 Sliced and ready to eat!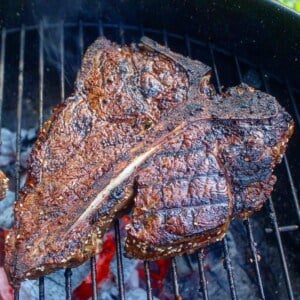 The Perfect Porterhouse Steak
Try the best Porterhouse Steak you will every have. Trust me!
Ingredients
1 16-20

oz

Porterhouse Steak

1/2

cup

of soy sauce

2

tbsp

of minced garlic

2

tbsp

of lemon juice

1

tbsp

of black pepper

1

tbsp

of sesame seeds

1

tbsp

of sea salt
Instructions
In a bag, add the soy sauce, minced garlic, lemon juice, black pepper, sesame seeds & sea salt. Place a de-thawed porterhouse steak into the bag to marinate. Once sealed, thoroughly disperse the marinade over the steak. Place in refrigerator for 20 minutes.

Use some Cowboy Hardwood Lump Charcoal to light fire and let burn for 10-15 minutes. Once charcoal is white hot, push into one flat pile for direct grilling.

Take the steak out of the bag & and lightly pat dry any excess marinade. Throw marinade away. Add more sea salt to the steak if desired.

Place steak over fire and let grill for 8-10 minutes per side or until the internal temperature is 120F (medium-rare). Once done, pull steak off grill and let rest for 10 minutes.

Slice, serve & enjoy!
Notes
Equipment Needed: Cowboy Charcoal, tongs, fire resistant gloves and a cutting board
This article does contain affiliate links to products that we personally use and support. Purchasing an affiliate product does make us a small commission at no cost to you. This helps us continue creating for our website. All words and opinions are our own, and we appreciate your support!