Why settle for one great idea when you could combine two great ideas into one?! That is what you have with my new Wood Plank Surf and Turf cook using Mishima Reserve Filet Mignon & their new Alaskan King Crab Legs. Delicious American Wagyu filet mignon combined with some Alaskan King crab legs are seasoned and smoked over the fire while sitting on a wood plank then basted in an herb butter bath. It's the benefit of reverse searing and cast iron butter baths but with wood planks and crab legs. So why use a wood plank with steak and seafood you ask?
Post Sponsored by Mishima Reserve
Why Cook on a Wood Plank?
Cooking on a wood plank seems to have a connotation for being reserved for salmon only. If you think that, then you are totally missing out! The wood plank is a lot like a cast iron skillet in that it is a vessel for cooking. Benefit about wood planks, is that it adds the flavor of the wood to the food as it heats up. This takes on a whole new meaning to reverse searing as this surf and turf gets smoked.
For this Wood Plank Surf and Turf, I used a hickory wood plank. The smoky and sweet flavor of the hickory wood was potent when I opened up my grill after cooking for only 15 minutes. I even chose not to soak my wood in water in hopes of getting more flavor rather than steam from the moisture in the wood. For this cook, I recommend using oak, hickory, cherry or maple wood for cooking. Oh and I also recommend using Mishima Reserve!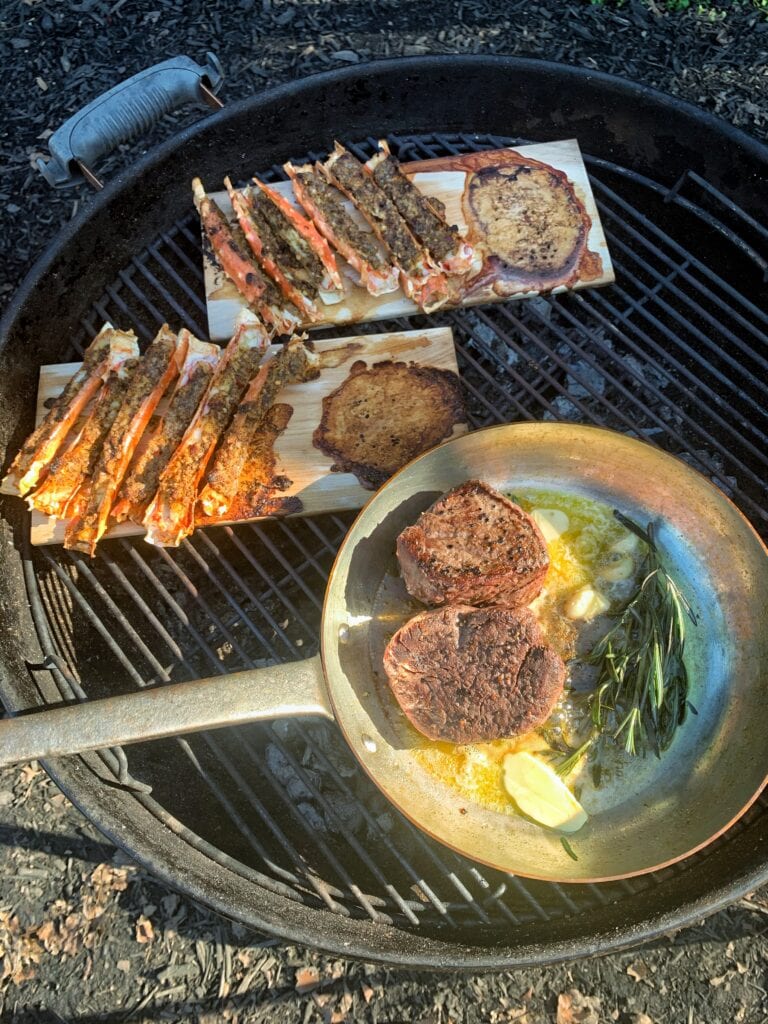 So what is Mishima Reserve?
Mishima Reserve is a high quality American producer of Japanese Heritage breed Wagyu beef of the Kuroge Washu Bloodlines. They are naturally raised with a focus on reducing their carbon footprint by maintaining high quality standards and practices. In the end, their beef is born & raised responsibly in the USA by the best ranchers across the Northwest & Rocky Mountains.
America makes Wagyu Beef?
Yes we do and it is amazing… Mishima Reserve is just one of many great producers of American Wagyu Beef. They, however, have had years of learning all the in's and out's to maintaining and evolving American Wagyu Beef—making wagyu more accessible (and more affordable).
Searing the Steaks for this Wood Plank Surf and Turf
Once the steaks have hit ideal internal temperature for you, you are going to pull them out and let them rest for 10 minutes. After they have rested, they are going back to the grill via a skillet where they will get an herb butter bath. Dousing the steaks in butter, rosemary and garlic will enhance the overall flavor while getting you an insanely good crust. The best for a killer Surf and Turf. #crustisking
Let's Make Some Wood Plank Surf and Turf
In the end, this Wood Plank Surf and Turf is a one of a kind recipe. You get the benefits of reverse searing, wood plank cooking and cast iron butter baths all in the same recipe. The flavors are intense and the cooking is a ton of fun. So try this yourself and let us know what you think!
Discount Code!
Oh and use OVERTHEFIRECOOKING when checking out at Mishima Reserve for 15% off your sale for this surf and turf!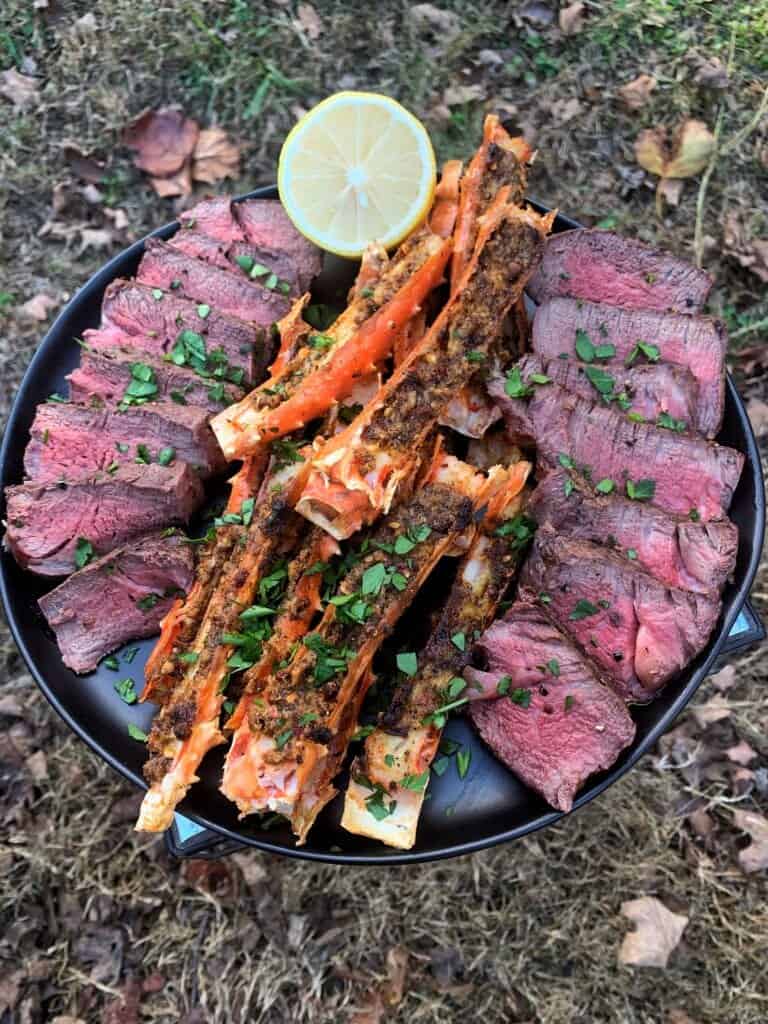 This article does contain affiliate links to products that we personally use and support. Purchasing an affiliate product does make us a small commission at no cost to you. This helps us continue creating for our website. All words and opinions are our own, and we appreciate your support!
Wood Plank Surf and Turf
Get the best of reverse searing and wood plank cooking with this Wood Plank Surf and Turf. Premium American Wagyu Beef and Alaskan King Crab from Mishima Reserve over fire!
Ingredients
Steak Ingredients:
2

Mishima Reserve Wagyu Filet Mignon's

Salt & Pepper

Oil

Butter

Rosemary

Whole Garlic Cloves
Crab Leg Ingredients:
1

package of Mishima Reserve Crab Legs

split in half lengthwise

2

tbsp

of Cumin

1

tbsp

of Red Chili Flakes

1

tbsp

of Sea Salt

1

tbsp

of Black Pepper

4

Garlic Cloves

pressed

1

Lemon

zested & juiced

¼

cup

of Parsley

chopped

Oil
Instructions
Build a medium size fire for 2 zone indirect cooking, around 275F.

Lather the Mishima Reserve Filet Mignon in oil then season with salt & black pepper. In a bowl, mix the cumin, red chili flakes, sea salt, black pepper, pressed garlic cloves, lemon juice, lemon zest and oil. Add mixture to the flesh side of the crab legs. Place the crab legs and the filets onto the wood planks so that they are secure and evenly distributed.

Place the wood planks with filet & crab onto the side of the grill without coals, filets facing the heat and cover. Cook for 15-20 minutes or until the steaks reach desired internal temperature (I pull at 120F for medium rare). Pull steaks once cooked and let rest for 10 minutes. Continue cooking crab legs for 10 minutes, pull and let rest.

Once steaks have rested, preheat a skillet with oil, rosemary and whole garlic cloves. Add steaks to skillet for 1-2 minutes for sear. Flip steaks, add butter to pan and baste steaks for 1-2 minutes. Pull steaks off skillet.

Top crab legs with parsley, slice steak and enjoy!