Cooking skewered food over the coals is an art form. If you have ever traveled the world, you know that this is a common way to get your meat grilled. Hot coals slowly roasting meats that have been marinated & skewered till tender and full of flavor. I thought it would be fun to try this at home with my Zesty Lamb Kebabs with Mint Yogurt Sauce recipe below.
How Do I Start?
Using 100% American Lamb, I set out to marinate these lamb kebabs in a unique sauce that would pull out the characteristics of the fire cooking community I have fallen in love with. Added some sweet & earthy notes with the cumin, cinnamon and coriander in the mix. Next, I added some tangy flavors with the dill, garlic and lemon. In the end you have this earthy, tangy and sweet marinade that your cubed American leg of lamb will sit in for at least 2 hours.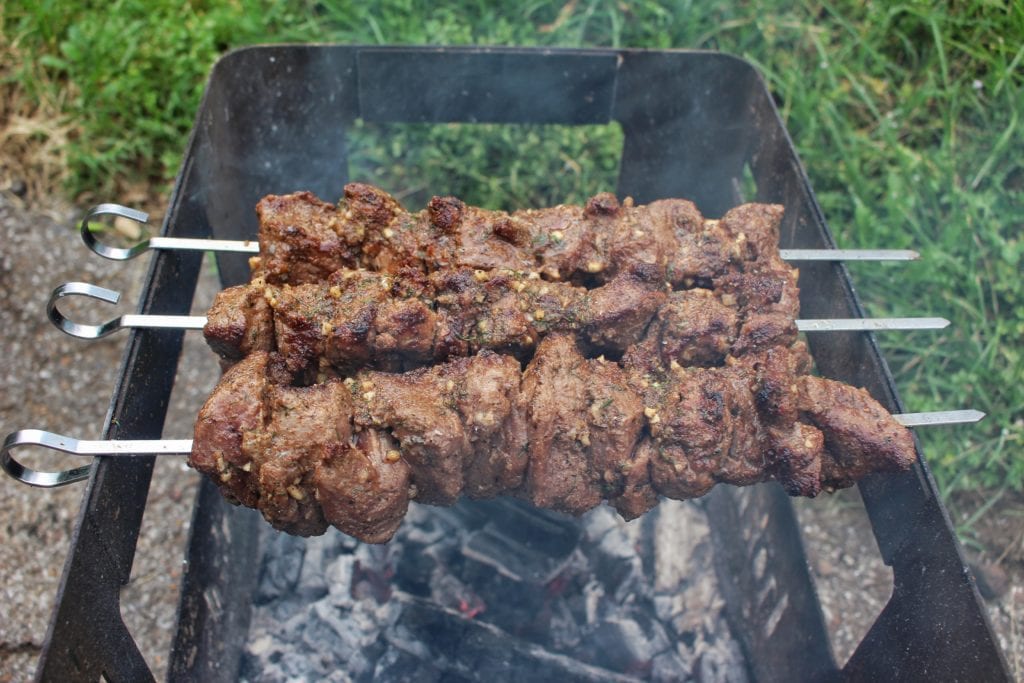 Building The Fire
After the lamb kebabs marinate, it is time to build the fire. You do not want a ton of flames or smoke. You are looking for an even heat made of white hot coals similar to dirty cooking. This will help to prevent any unwanted flavors like ash or char to get on the meat.
How Long to Cook the Lamb Kebabs
While I say to cook 5-6 minutes per side, do not be afraid to rotate the lamb kebabs often. This will help get an even cook while preventing the meat from burning as well. Make the Mint Yogurt Sauce after you add the skewers to the grill. The fresher the sauce is, then the better it will taste. Just a tip.
Letting them rest..
When the lamb kebabs are done, pull them off and let them rest for 5-6 minutes. You do not need them to rest much longer than that. Add some yogurt sauce on top and you are in heaven. Just make sure you get that authentic American Lamb, and you will be ready to make this for all your friends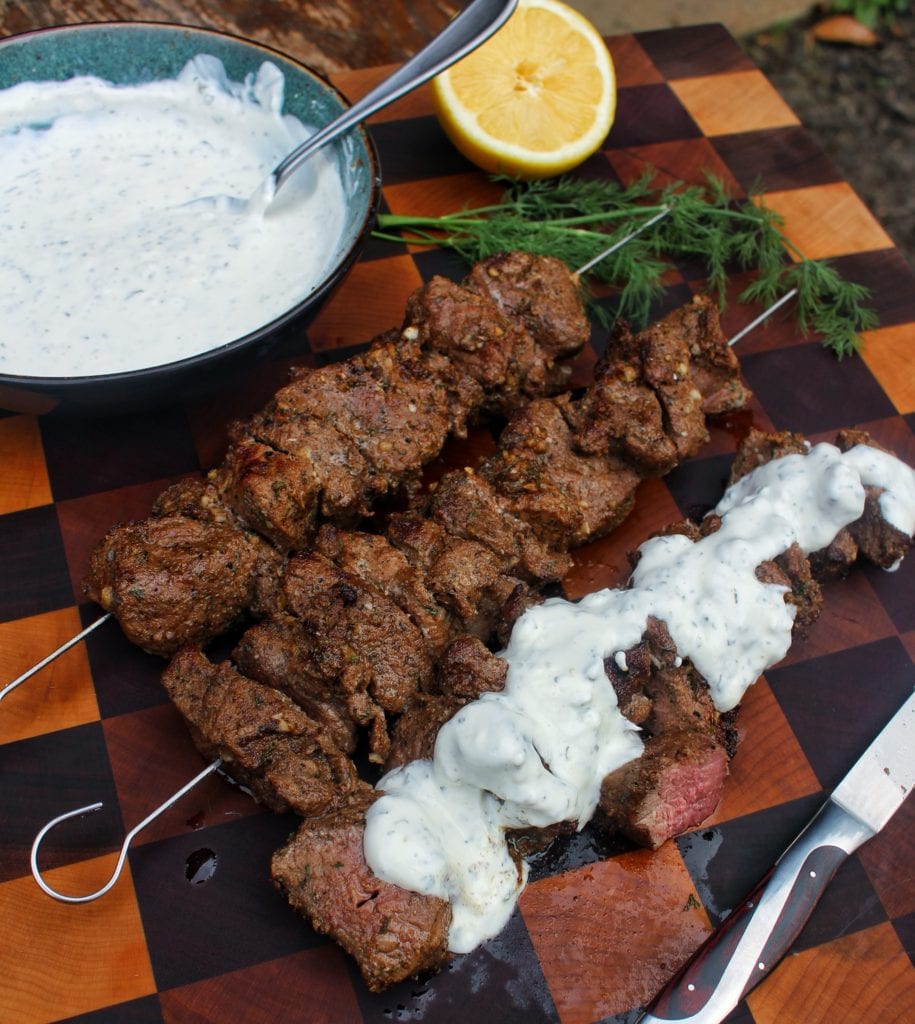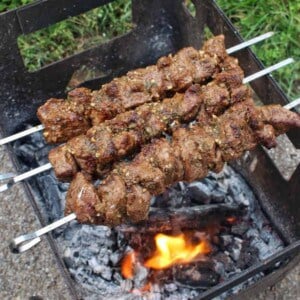 Zesty Lamb Kebabs with Mint Yogurt Sauce
Sweet & tangy American Lamb sliced into cubes them marinated and grilled on kebabs over the fire. Great summer time recipe!
Ingredients
Lamb Kebab Ingredients:
1

Boneless American Lamb Leg

trimmed & cubed

3

Garlic Cloves

minced

1

tbsp

of Dill

finely chopped

1

tbsp

of Onion Powder

1

tbsp

of Cumin

2

tsp

of Cinnamon

2

tsp

of Coriander

1

Lemon

juiced

Salt & Black Pepper

to taste

Olive Oil
Mint Yogurt Sauce Ingredients:
1

cup

of Plain Yogurt

1

tbsp

of Mint

chopped

2

Garlic Cloves

pressed

1

Lemon

juiced

Salt & Pepper

to taste
Instructions
In a bowl, add all the spices & herbs for the American Lamb Kebab but leave out the cubed lamb. Mix thoroughly and pour a small portion of the marinade into a small bowl. Use this later for grilling. Add cubed lamb to the large batch of marinade and mix. Place in the refrigerator to marinate for at least 2 hours.

Build a fire in your grill or fire pit for direct cooking. Make at medium to medium-high heat.

Pull out marinated lamb and skewer. Place skewers over the fire and let cook for about 5-6 minutes per side or until the internal temperature hits 130-135F for medium rare. Lather the kebabs with the reserve spices & herbs marinade that did not touch the lamb.

While kebabs are cooking, mix all ingredient for the Mint Yogurt Sauce.

Pull kebabs off grill and let rest for 4-5 minutes. Top with Mint Yogurt Sauce or dip, and enjoy!
Notes
Equipment: Grill, wood, fire starters, brush, cutting board, skewers & knife.
This article does contain affiliate links to products that we personally use and support. Purchasing an affiliate product does make us a small commission at no cost to you. This helps us continue creating for our website. All words and opinions are our own, and we appreciate your support!