Tired of the same thing every Easter? Truth is that Easter is an exciting day to celebrate with family and friends! So why shouldn't the food also be exciting? This year, instead of doing your traditional meal try my new Easter BBQ Lamb Ribs recipes.
Lamb has always been a staple-piece of Easter. From rack of lamb to leg roasts, we all love the flavor and taste of quality American lamb. Lamb ribs, however, might be something you have never had! These succulent and delicious ribs are full of amazing flavor that will melt in your mouth as you eat them.
First, you will lather these ribs in spices, then you will place them on the grill for a couple of hours. This will give you plenty of time to cook all the other dishes for your Easter party. Last, you will doss them in BBQ sauce and place them back on the smoker to caramelize. Serve these with a plate of fresh veggies, rice, & beans for a perfect holiday meal.
Don't forget to find a local butcher that sells American lamb!
Need more info? Check out my 3 tips to making these ribs perfect below!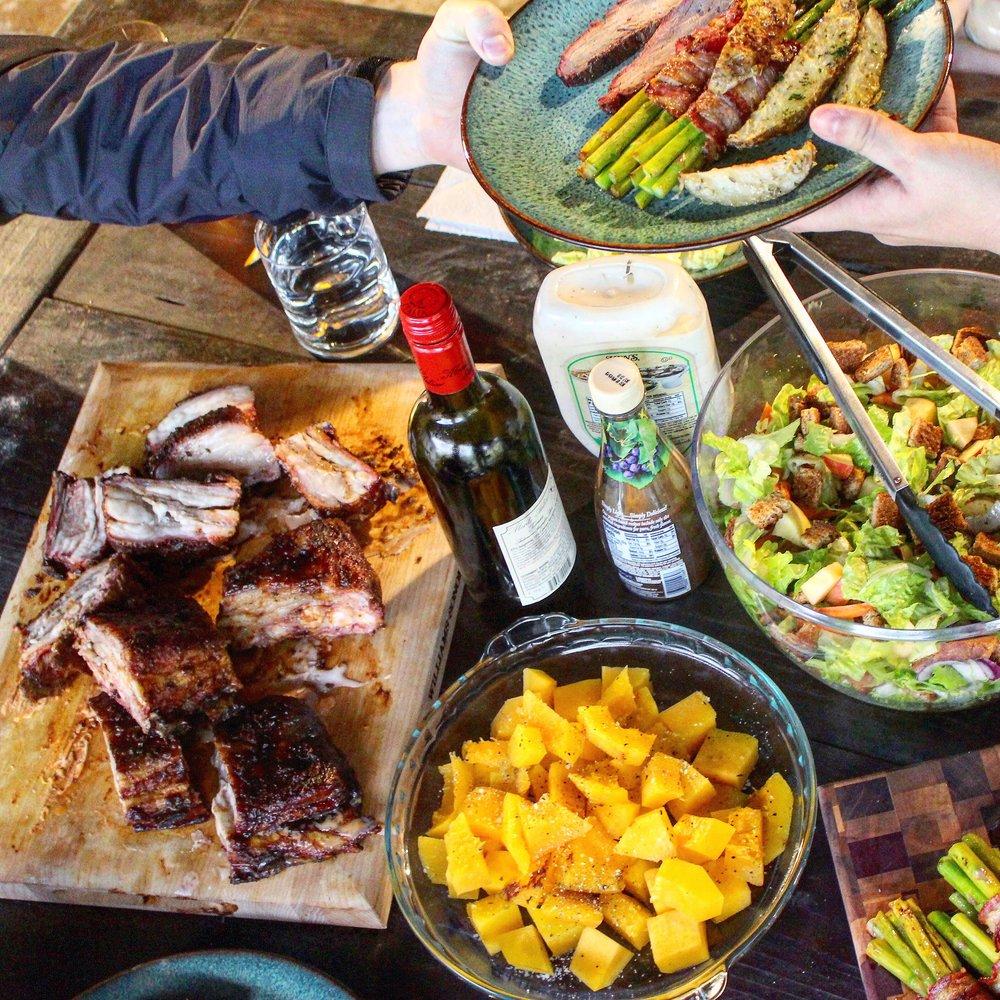 Serving up that delicious meal!
3 Tips for the BBQ Lamb Ribs
Tip #1: Use all of the spices including the mustard!
These ribs are packed full of flavor. Make sure to use all the spices so that you really bring out that amazing American lamb. The spices that I list below are perfect compliments to BBQing the ribs. The mustard is also a great substitute for olive oil as it will hold the spices in place plus add a lot of flavor!
Tip #2: Keep that smoker between 225-250F
Lamb ribs have a lot of fat on the top layer. This means that as you cook them then they will have the fat gradually seep into the meat. This is where you get that nice and tender image of ribs in your mind. Keeping that grill hot will make sure that the fat breaks down easily while not too quickly!
Tip #3: Caramelize the BBQ sauce at the end.
The ribs will be pretty much ready to eat when you pull them off the grill the first time. Once you lather them with BBQ sauce, do not be tempted to eat! Throw them back on the grill to caramelize that BBQ sauce for an amazing crust. You will be happy I told you this!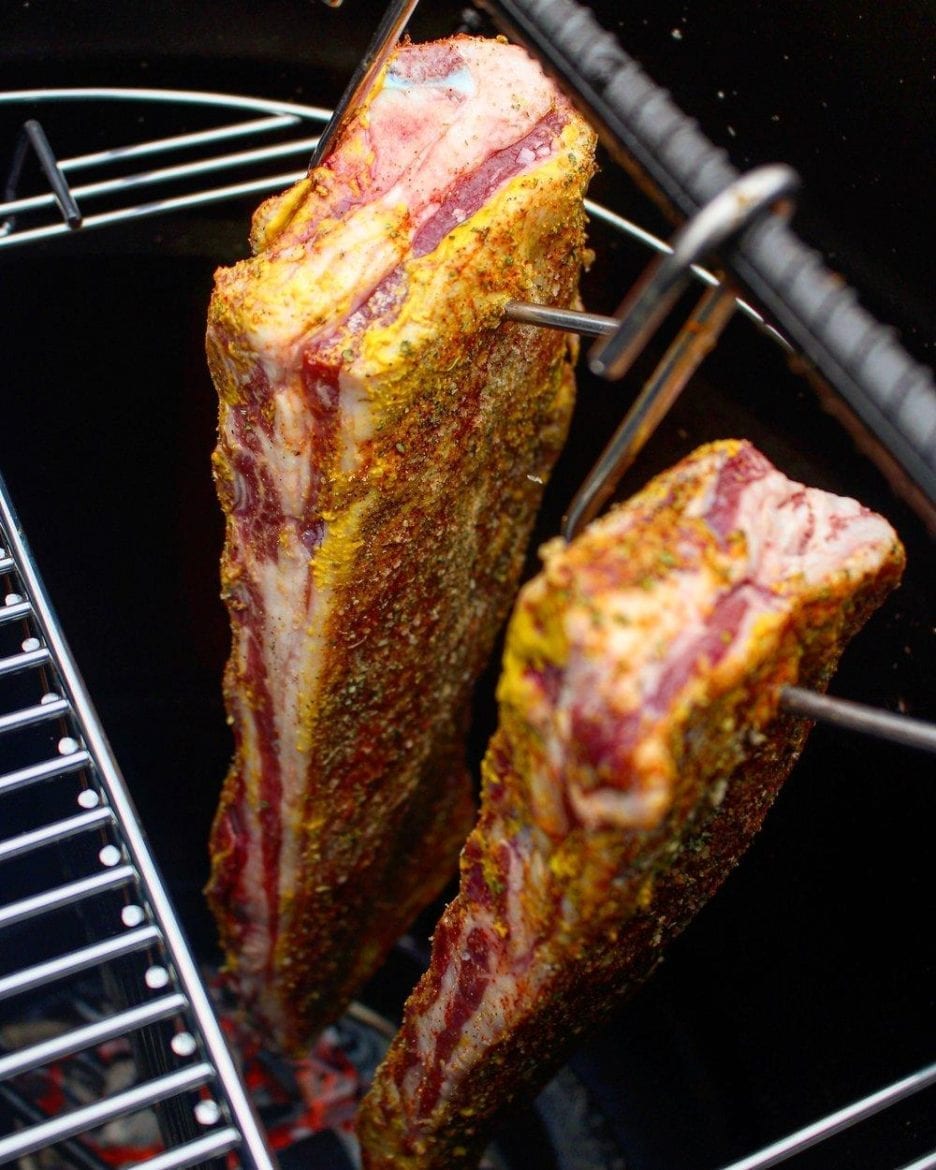 Lamb ribs hanging and smoking.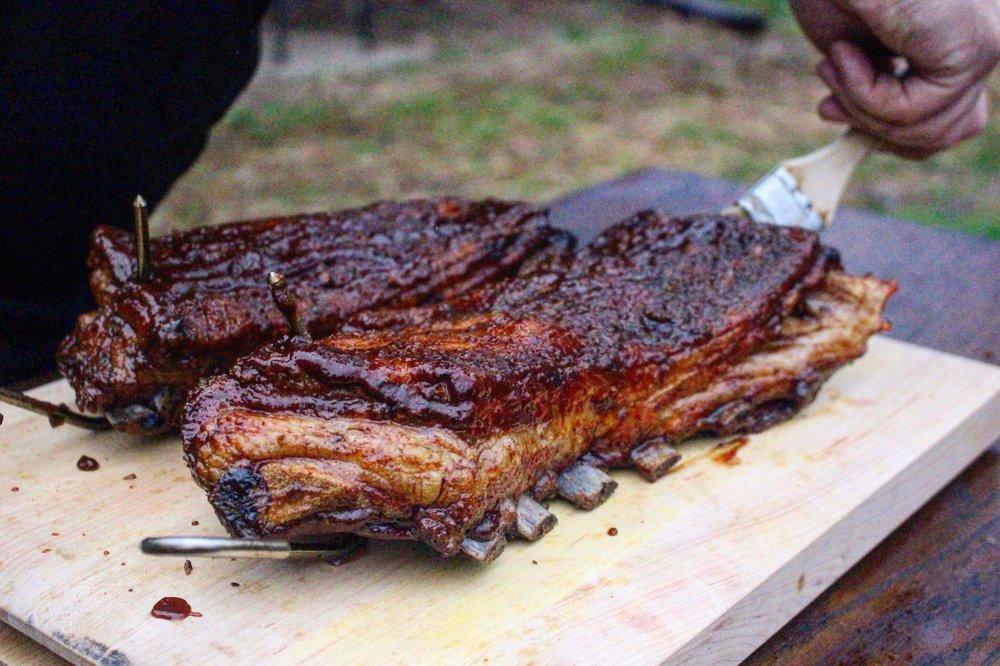 Sauced up!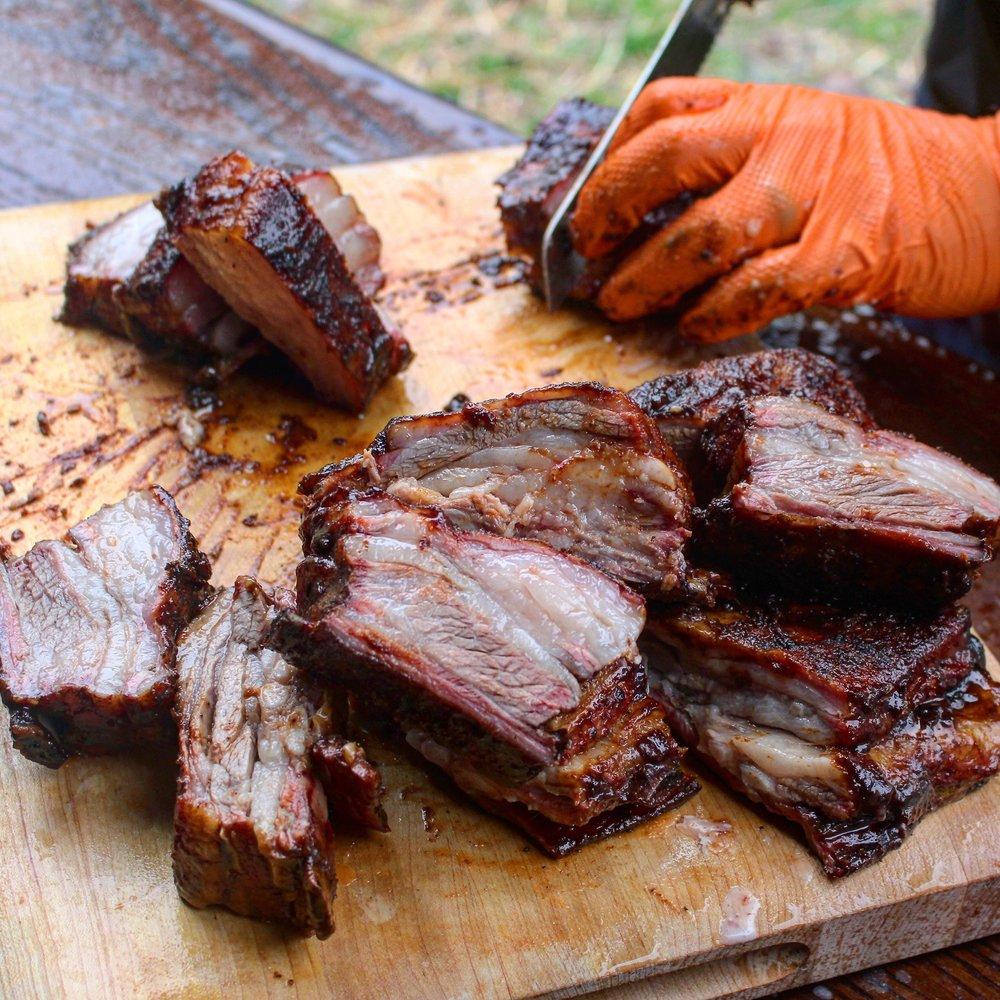 Look at that smoke ring!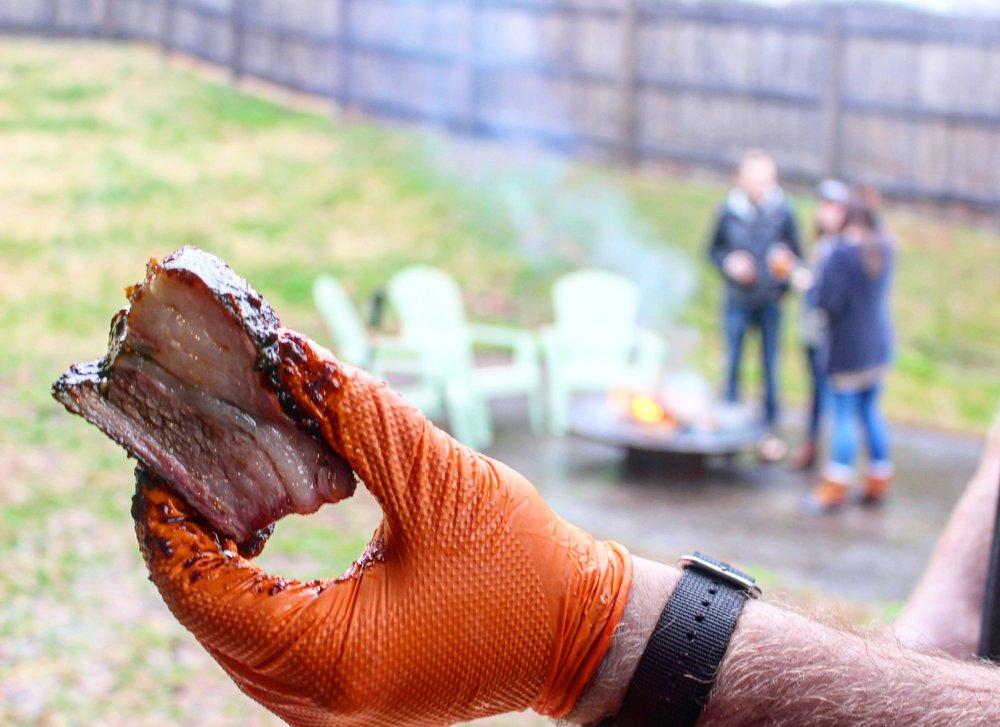 Ready to share! Time to eat!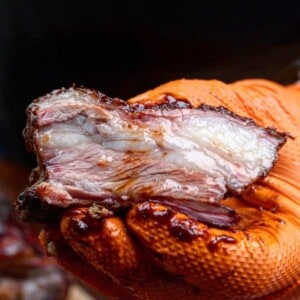 BBQ Lamb Ribs
Slowly roasted BBQ Lamb Ribs for Easter! Cannot be beaten.
Ingredients
2 2-3

lbs

American Lamb Ribs

2

cup

of apple cider

1/2

cup

of mustard

4

tbsp

of paprika

4

tbsp

of garlic powder

4

tbsp

of onion powder

4

tbsp

of sea salt

4

tbsp

of black pepper

3

tbsp

of cumin

2

tbsp

of oregano

1

bottle of Cowboy Charcoal BBQ Sauce
Instructions
In your smoker, build up heat until you reach an even 225-250F. NOTE: I recommend adding cherry wood chips for a subtle smoky flavor.

Lather the ribs with mustard first, then season with all the spices listed above (except BBQ sauce). Make sure to season thoroughly.

Place ribs on smoker for indirect cooking for 3.5 hours. Make sure to spray ribs with apple cider every 30 minutes to make sure they stay tender and juicy.

Pull ribs  off grill and lather with BBQ sauce. Place ribs back on grill over a medium heat for another 30 min to caramelize the sauce.

Slice ribs, serve and enjoy your adventurous Easter meal!
Notes
Equipment: Smoker,  Gloves, Tin Foil, Cutting Board, & a Knife.
This article does contain affiliate links to products that we personally use and support. Purchasing an affiliate product does make us a small commission at no cost to you. This helps us continue creating for our website. All words and opinions are our own, and we appreciate your support!