Everything goes better with alcohol: beer & grilling, wine & Wednesdays, or whiskey and meat. So why not try that with fire cooking?
Introducing my new BBQ Maple Bourbon Ribs using Cowboy Charcoal BBQ Sauce & Apple Wood Smoking Chips. Full of delicious flavor, these ribs will be a surefire hit with your next backyard grill out.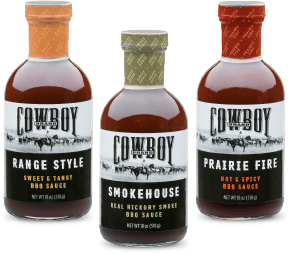 Why add bourbon?
Bourbon adds a multiplicity of flavor to meats. In my BBQ Maple Bourbon Ribs recipe, not only does it sweeten the meat, but it also adds tons of earthy and natural tones.
You get spiciness from the malted barley with the grain adding some honey and fruit. Overall, it really enhanced the overall flavor of the bourbon ribs.
How long do the bourbon ribs need to cook?
For these ribs, I did the 3, 2, 1 method. This method really works with the BBQ Maple Bourbon Ribs because it gives them enough time to have the fat break down between the bones.
First, you smoke the ribs for 3 hours. Next, you pull them off the grill, wrap in tin foil to increase the moisture, and add them back to the grill for 2 more hours.
Finally, you pull the ribs off the grill, lather them in bbq sauce, and let smoke for 1 more hour the caramelize on the outside.
What are 5 reasons I should try this?
If you are not convinced already then here are my 5 reasons you should try this recipe out this weekend:
1.) Everyone likes ribs.
2.) Maple syrup makes everything taste better.
3.) Bourbon ribs.
4). Bourbon on ribs.
5.) Did I say Bourbon?
So if you're a lover of the finer things in life like a good rack of ribs and a glass full of bourbon then definitely check out my recipe below.
BBQ Maple Bourbon Ribs
Maple syrup makes these ribs sweet and delicious.
Ingredients
Rib Ingredients
2

racks of St. Louis style ribs

1

bottle of Cowboy Range Style BBQ Sauce

1/2

cup

of your favorite bourbon

1/2

cup

of maple syrup

2

cups

of Over The Fire's BBQ Seasoning
Over The Fire BBQ Seasoning
1

cup

of light brown sugar

1

teaspoon

of paprika

1

teaspoon

of cinnamon

1

tablespoon

of kosher salt

1

tablespoon

of garlic powder
Instructions
Light the Cowboy Hardwood Lump Charcoal in a charcoal chimney or mound inside your grill and let burn for 10-15 minutes.

Soak a hand full of Cowboy Charcoal Apple Wood Smoking Chips in some water for 10-15 minutes.

Peel off the membrane on the bony side of the ribs.

Using the BBQ rub, season the ribs thoroughly on both sides.

Push all charcoal to one side of grill and place wood chips on top.

Place ribs on opposite side of charcoal and let smoke on 225-250F for 3 hours.

Pull ribs off grill and place inside tin foil. Add back to the smoker for 2 more hours.

Pull ribs off grill, glaze both sides of the ribs with Cowboy Range Style BBQ Sauce, maple syrup & bourbon.

Wrap ribs with tin foil and place back on the grill for another 1 hour at 225-250F.

Pull ribs off and enjoy!
This article does contain affiliate links to products that we personally use and support. Purchasing an affiliate product does make us a small commission at no cost to you. This helps us continue creating for our website. All words and opinions are our own, and we appreciate your support!