Scallops are such an underrated food when it comes to grilling over fire. Yes, there are tons of great steak recipes (of which I have a few), but scallops can be equally just as good when done right. These Brown Sugar & Guinness Scallops are the perfect example. Seared to perfection, then basted in a brown sugar, butter and Guinness sauce to make them creamy, malty and delicious. They are so good that you gotta make them for St. Patrick's Day!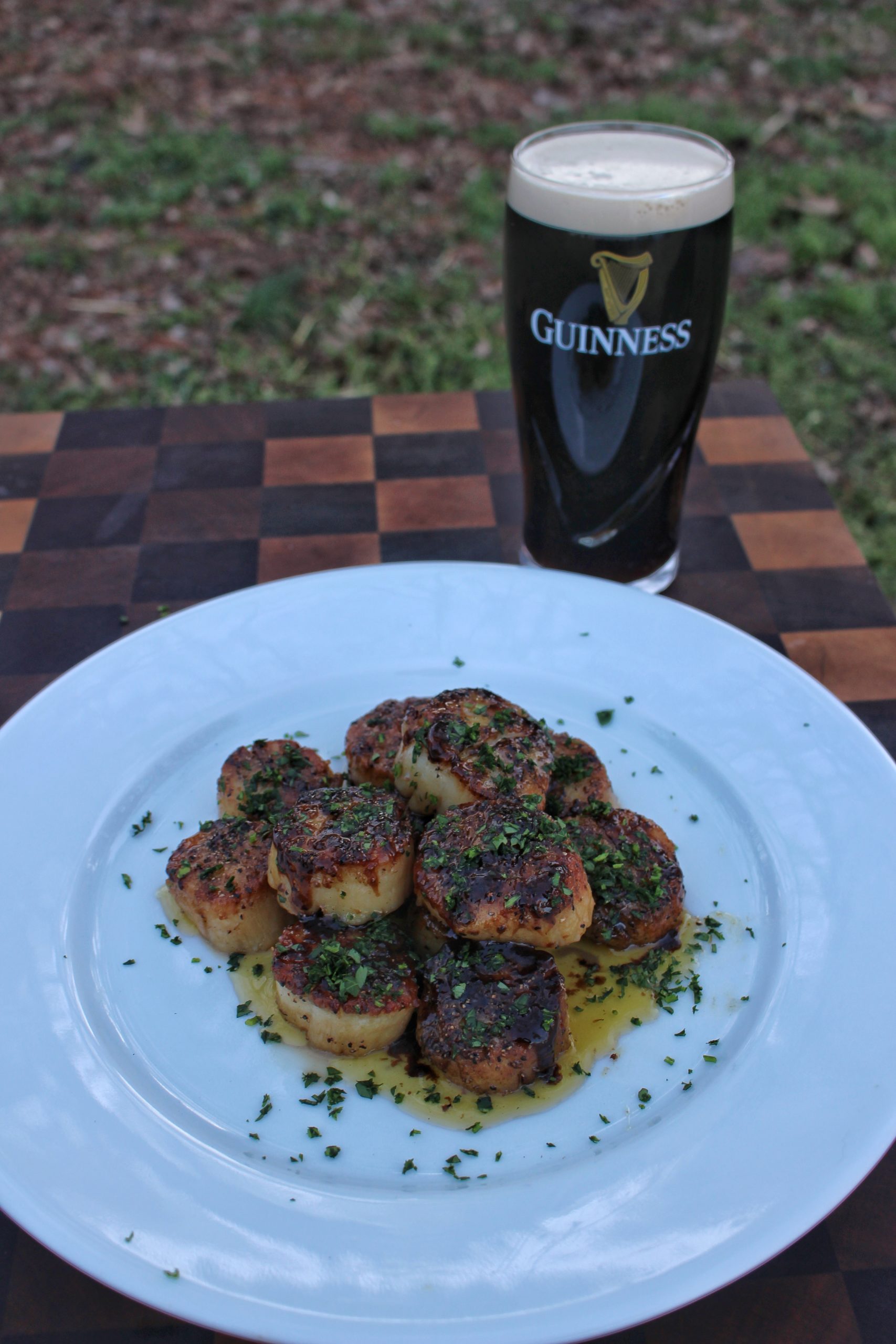 How do you get the perfect scallop sear?
The key to delicious scallops is getting a perfect sear and pairing with some Guinness Draught. Because these seafood delicacies only take a couple minutes to cook, you have a little less leeway to create the crust than on a steak or chicken. The two tricks for this I learned from my good friend Christie Vanover from GirlsCanGrill.com: pat them dry and have a searing hot pan.
1. Pat them dry
Christie told me that when she cooks scallops she will pat them dry and leave them in the fridge uncovered for 1 hour before cooking. This really helps to take away a lot of the moisture that scallops have on the outside.
Since scallops are seafood, they are inherently full of water. If you cook your scallops without getting them dry, then they will cook in a searing hot pan but create no crust.
They get no crust because they will get shedding their moisture which will decrease the heat of the pan and not give us that maillard reaction we are looking for. Whatever you do, make sure to get your scallops dry on the outside before cooking and potentially put them in the fridge for some extra crispiness.
2. Get a searing hot skillet
Once your Brown Sugar and Guinness Scallops have been dried correctly, then you need to get a searing hot skillet. Some people think that cooking their scallops at 400F will burn them, but in reality if you add some olive oil then you are sure to get a great sear!
Preheat your skillet over the fire about 2-3 minutes before cooking with some olive oil inside. If you see it beginning to smoke a little bit, that is your que to add the scallops!
What about the sauce?
This recipe is unique because we use a delicious Brown Sugar Butter Guinness sauce to baste the scallops. Right after you flip the scallops, you will add the Guinness Draught, butter and brown sugar.
As that melts in the skillet, you will baste it over the scallops to coat them in malt and caramel flavors. These savory & slightly sweet Brown Sugar and Guinness Scallops will give you tons of flavor to enjoy!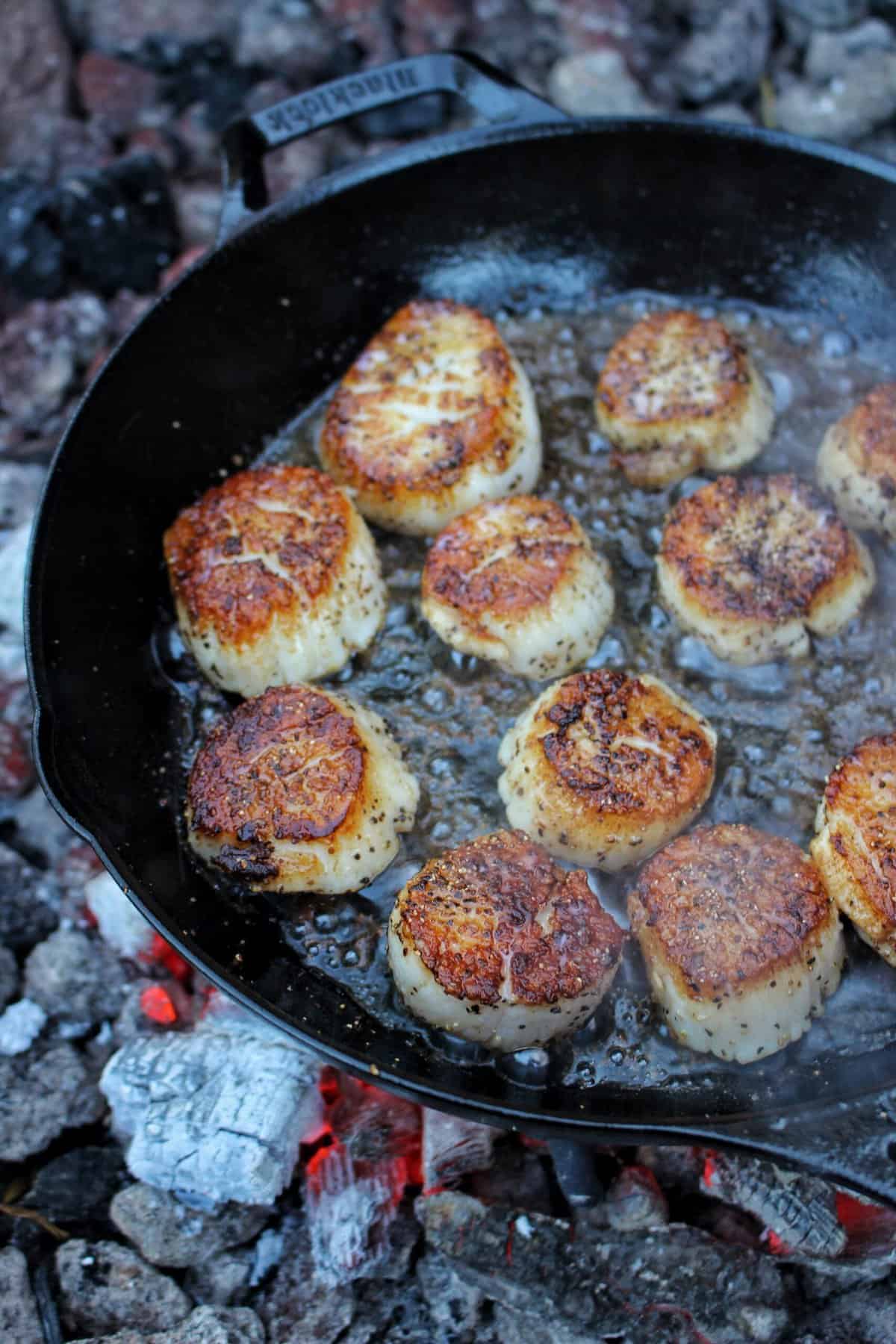 Time for some Brown Sugar and Guinness Scallops!
Once the scallops are done, it is time to eat! Grab yourself a pint and pour yourself some Guinness Draught in honor of St. Patrick's Day. The pint pairs perfectly with these Brown Sugar and Guinness Scallops to give you a unique twist on a classic dish.
So enjoy your day celebrating Ireland and the delicious food and beverages it has to offer. Slainte!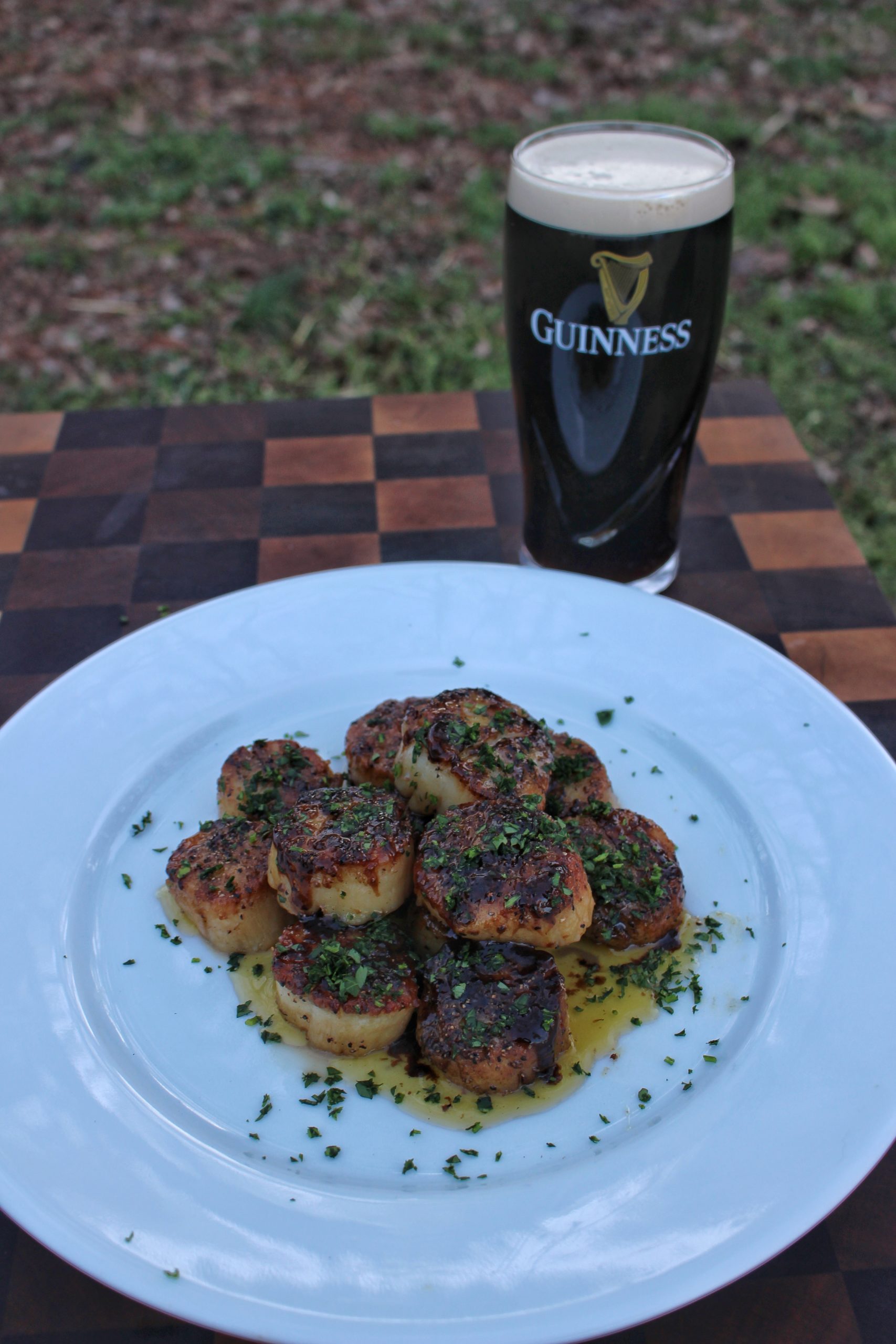 This article does contain affiliate links to products that we personally use and support. Purchasing an affiliate product does make us a small commission at no cost to you. This helps us continue creating for our website. All words and opinions are our own, and we appreciate your support!
Brown Sugar and Guinness Scallops
Deliciously caramelized Brown Sugar and Guinness Scallops are great for any party of St. Patricks Day! Try these seafood delicacies with this simple recipe below.
Ingredients
10-12

Scallops

patted dry

2

tsp

of Sea Salt

2

tsp

of Black Pepper

¼

cup

of Guinness Draught

¼

cup

of Unsalted Butter

2

tbsp

Brown Sugar

Parsley

for garnish

Olive Oil
Instructions
Pat your scallops dry and add a small drop of olive oil to each one (Pro Tip: Leave scallops with paper towel on top and bottom in fridge for 1 hour to make extra dry on outside). Season with sea salt and black pepper.

Preheat your grill or charcoal to high temperature (around 400F). Add your skillet over fire to preheat 2-3 minutes before cooking along with some olive oil.

Add scallops to the skillet and sear for about 2-3 minutes on the first side. After the flip, add Guinness Draught, Butter and Brown Sugar to skillet. Let melt and baste over the scallops for 2 minutes. Once done, pull scallops off and rest.

Top scallops with some chopped parsley, pour yourself a pint of Guinness Draught and enjoy!