#ad Beer Can Chicken is a classic recipe when cooking for the summer. I used to love doing this with my family all the time! I always remember what a chef once told me, "when cooking with alcohol, the food will taste only as good as the quality of the beverage." So, let's make some quality Beer Can Chicken with the best beer you can get: Guinness Draught. Oh… let's add some bacon too it as well.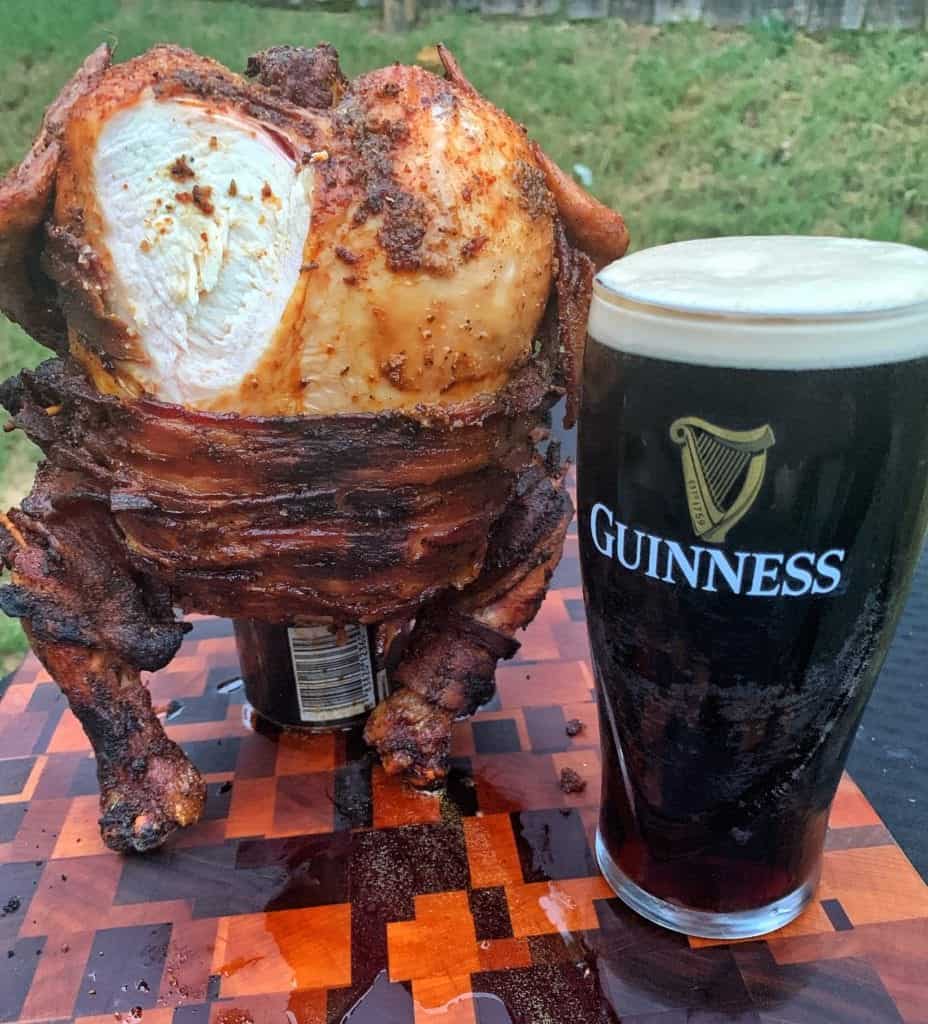 Why Beer Can Chicken?
Chicken is inherently plain and dry. The meat does not have a ton of flavor compared to other proteins, which is why many cooks add other ingredients to it like bbq sauce, green chile sauce and more. The other issue is that dry chicken is not very tasty. If you overcook chicken or you do not keep the moisture level high, then it will lose a lot of its flavor.
Here is where beer can chicken saves the day…
By opening a bottle of high-quality beer and placing it inside the cavity, you resolve both issues. The moisture from the beer will slowly evaporate inside the chicken and prevent it from drying out. The flavor of the beer is them imparted on the chicken and you are left with a rich, roasted flavor all over. But we are not stopping there.
What else?
When we add the rub on to the chicken, we will coat the outside with an herbal sweetness to give it a great flavor on the skin. Lastly, we add some bacon because… well because why not! The fat from the bacon will keep the moisture levels intact while adding tons of bacon-y flavor all over.
So what are we left with?
In the end, you have a deliciously smoked chicken with the rich, roasted flavor of Guinness Draught, smoked bacon and a sweet herbal outside. Seriously, it's the amped up version of your favorite beer can chicken. So let's get to it!
Guinness & Bacon Beer Can Chicken
Moist and crispy chicken wrapped in bacon and made perfect by Guinness Draught. This is the perfect backyard recipe to show up all your friends.
Ingredients
1

Whole Chicken

6-7

Slices

of Bacon

2

tbsp

of Smoked Paprika

2

tbsp

of Garlic Powder

1.5

tbsp

of Brown Sugar

1

tbsp

of Black Pepper

1

tbsp

of Oregano

1

tbsp

of Cumin

1

tbsp

of Salt

Olive Oil

1

can

of Guinness Draught Beer
Instructions
Using a chimney, start some charcoal. In your grill, place charcoal around the edges to look like a ring with an empty middle for indirect cooking. Bring the fire to a medium heat around 300F.

In a bowl, mix the smoked paprika, garlic powder, brown sugar, black pepper, oregano, cumin and salt. Add some olive oil until it is a liquidy paste. Pat chicken dry and lather paste all over the outside. Using toothpicks, place the bacon over the front of the chicken and around the legs. Open a can of Guinness Draught and insert into the cavity of the chicken and secure.

Place chicken on a grill grate or inside the grill in the middle of the charcoal. Cook for about 3 hours or until the internal temperature (not touching bonreads 165Check every once in a while in order to rotate to prevent burning.

Once done, pull chicken out of grill and let rest for 5 minutes. Pour yourself a pint of Guinness Draught, slice and enjoy!
This article does contain affiliate links to products that we personally use and support. Purchasing an affiliate product does make us a small commission at no cost to you. This helps us continue creating for our website. All words and opinions are our own, and we appreciate your support!