Seafood lovers are happy to know that fire cooking my Lemon Garlic Salmon recipe is easy. You no longer need to fear making fish over the fire.
From start to finish, you are able to get all the smoky flavor you love from the fire into a delicious and juicy cut of fish.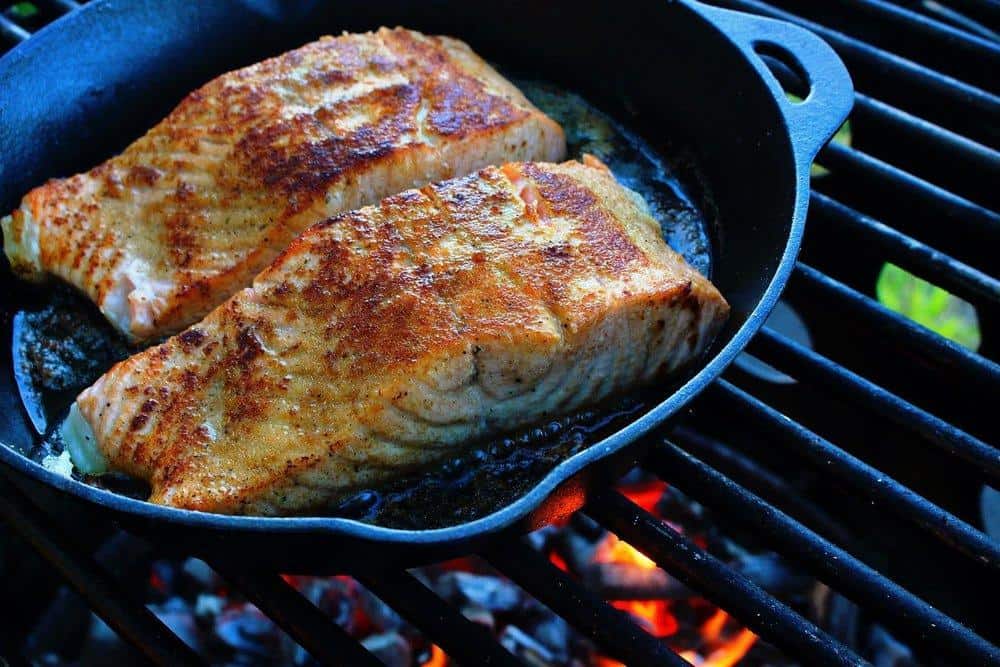 Post sponsored by Cowboy Charcoal
Why This Recipe Works?
Truth is that this fatty fish is full of rich earthy and sweet flavor, especially when it is cooked in cast iron. My Lemon Garlic Salmon is made to be cooked over the fire in a cast iron pan.
Salmon creates a naturally amazing crust from the heat of the pan. It melts the fat into the meat, leaving it nice and juicy. This leaves you with a meaty fish with a cartelized outside.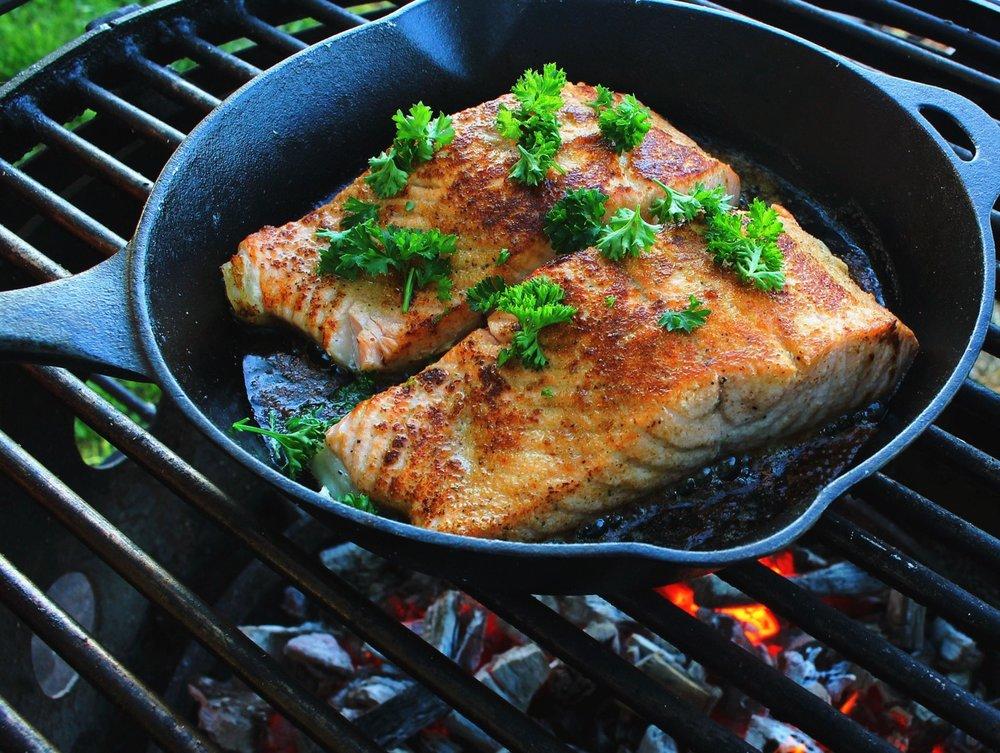 I like lemon and garlic in my salmon because it is both zesty and tangy. I love the bite of citrus on the front of the palate before I taste the meaty tenderness of the fish.
My Lemon Garlic Salmon recipe melts in your mouth when it is cooked for a few minutes over the fire.
It is one of my favorite fish cooking dishes to cook. Top it off with a little bit of parsley, and you are ready to chow down!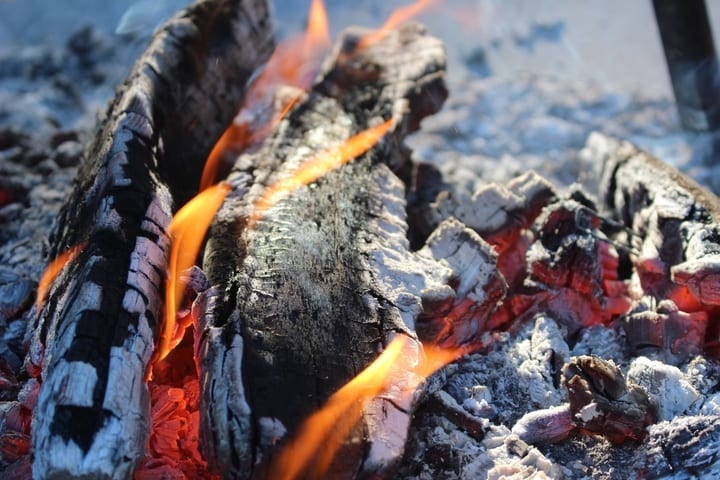 Recipe Ingredients
Skin on salmon filets
Lemon
Garlic salt
1Fresh parsley
Butter
Step By Step Instructions
This is a quick and simple recipe!
First, start by lighting your Cowboy Charcoal and letting it get ready for cooking. After about 10 to 15 minutes, you should be ready to go! Spread the coals into your grill an allow the grill and skillet to pre-heat another 10 minutes.
Meanwhile, lather the salmon with the garlic salt. Squeeze 1/2 of the lemon juice over top and allow the fish to rest for 5 minutes.
When the skillet is hot, place the salmon in the pan skin side down. After the salmon has cooked until almost completely done, about 8 to 10 minutes, flip it and finish it off by cooking the meat side down another 2 to 3 minutes.
Remove the salmon from the heat and serve with a squeeze of fresh lemon juice and minced parsley.
Recipe FAQs
How Can I Prevent My Salmon From Sticking?
A well seasoned cast iron pan helps prevent the salmon from sticking.
Can I Cook This In The Oven?
You can cook this dish in the oven, tho we recommend stove top for a great sear if you can't cook this over the fire.
How Long Should Salmon Be Cooked?
Salmon should be cooked until it reaches 140 degrees F internally according to the USDA. Some people prefer salmon more medium rare and others prefer it more flakey and well done.
Can I Use Frozen Salmon?
You can use frozen salmon, just make sure to thaw it completely before cooking.
Expert Tips & Substitutions
Once you start cooking, this recipe goes quick. So have your side dishes and all your ingredients ready to go once the salmon hits the cast iron.
When it comes to cooking salmon on cast iron, we find filets help us manage the portions without ripping or tearing the fish while trying to flip.
You can use additional spices in this recipe to jazz it up! We love our Chipotle Garlic!
What To Serve With This Recipe:
Serve this salmon dish with
Rice
Pasta
Corn on the cob
fried potatoes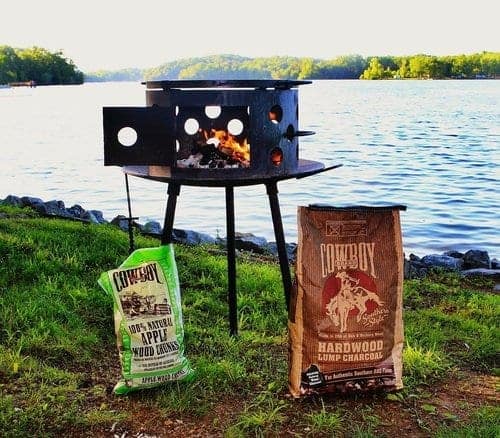 The time to get outside cooking over a fire is now. So, break out your Cowboy® Hardwood Lump Charcoals and your favorite cast iron skillet!
Leave the modern world behind and let's get cooking my Lemon Garlic Salmon!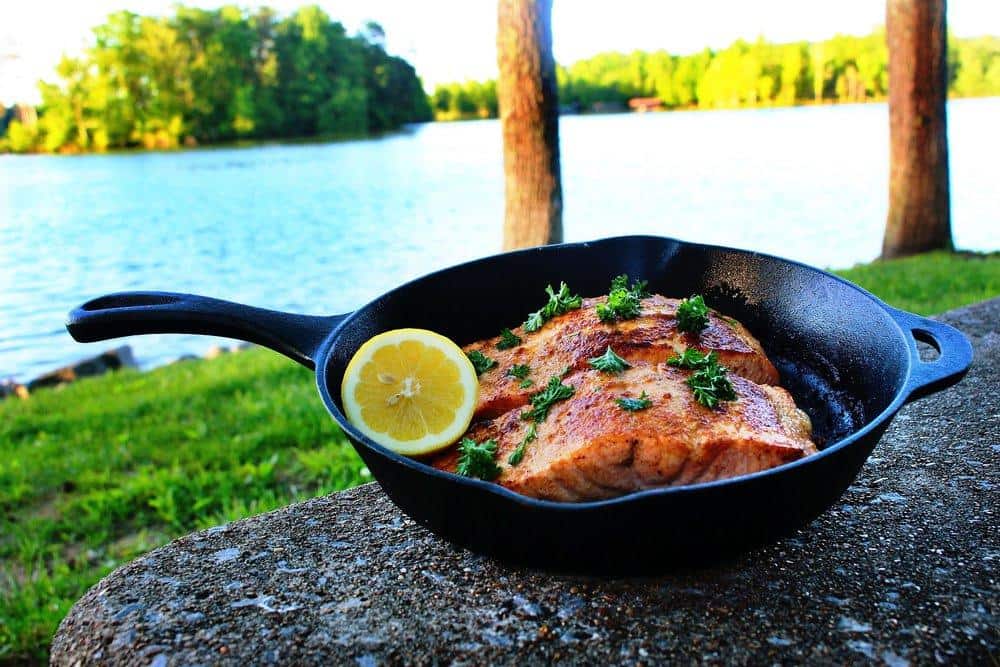 Cast Iron Skillet Salmon Recipe
Zesty and citrus flavor perfect for a hearty salmon filet.
Ingredients
2

fresh salmon filets

5-6 oz each with skin on

1

lemon

cut in quarters

1

tbsp

of garlic salt

1/2

cup

of freshly chopped parsley

1/4

cup

of butter
Instructions
Light Cowboy® Hardwood Lump Charcoals in charcoal chimney and let burn for 10-15 minutes

Spread hot coals over grilling area and preheat grill & cast iron pan for approximately 10 minutes.

On a plate, lather salmon flesh side with garlic salt and squeeze two quarters of lemon on top. Let salmon sit for 5 minutes before cooking.

Once skillet is hot, place all of the butter into the pan and let melt

Place salmon skin side down into skillet for about 6-8 minutes

Flip salmon on to flesh side to cook for 2-3 minutes

Flip salmon back to skin side down and squeeze the last bit of lemon on top

Place fresh parsley on top and enjoy!