Today we're cooking filet mignons, one of the most tender cuts of meat. I got a little creative with this Charcoal Broiled Filet Mignon recipe and cooked these steaks under the fire! A quick sear on each side was all it took for these steaks. Topped each filet with some homemade shallot basil butter and chowed down on these bad boys!
But First, Butter
I know you're all eager to hear about how I cooked these Charcoal Broiled Filet Mignon, but if you're cooking this recipe it's important for us to start with the butter. We'll actually use the butter to finish off the steaks, so we need to make sure it's ready to go by that time. Finally, I set the butter in the fridge to chill for 2 hours.
Start by softening some butter. Don't completely melt the butter, I said soft for a reason. Next, add all your ingredients into a medium/large mixing bowl. I've listed what I used below, but feel free to add in different herbs and/or spices to make this to your liking! With that said, I do strongly encourage adding the shallots. The crisp crunch it provides with each bite of steak was something my wife and I both enjoyed tremendously.
Have you pre-ordered my cookbook Food by Fire?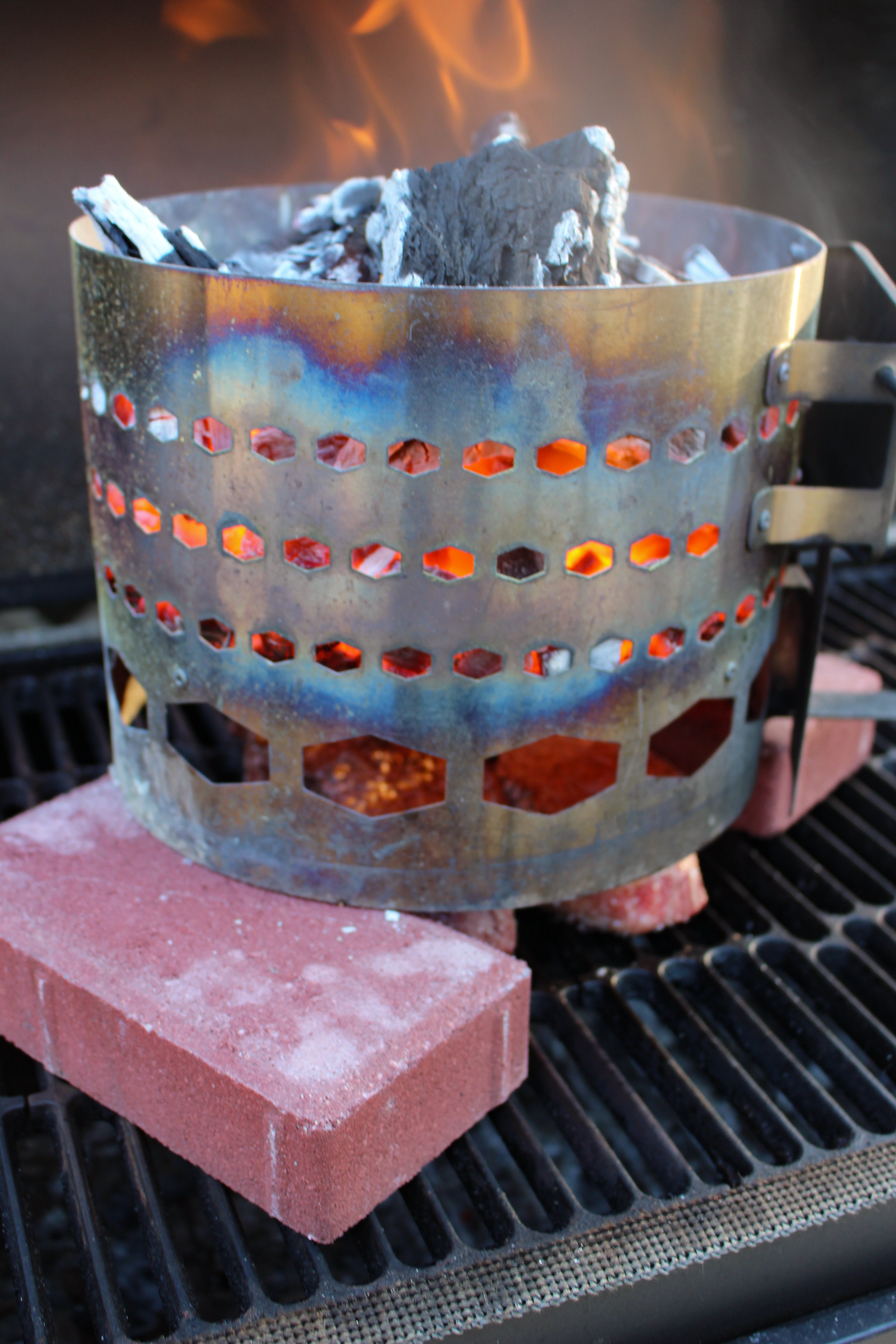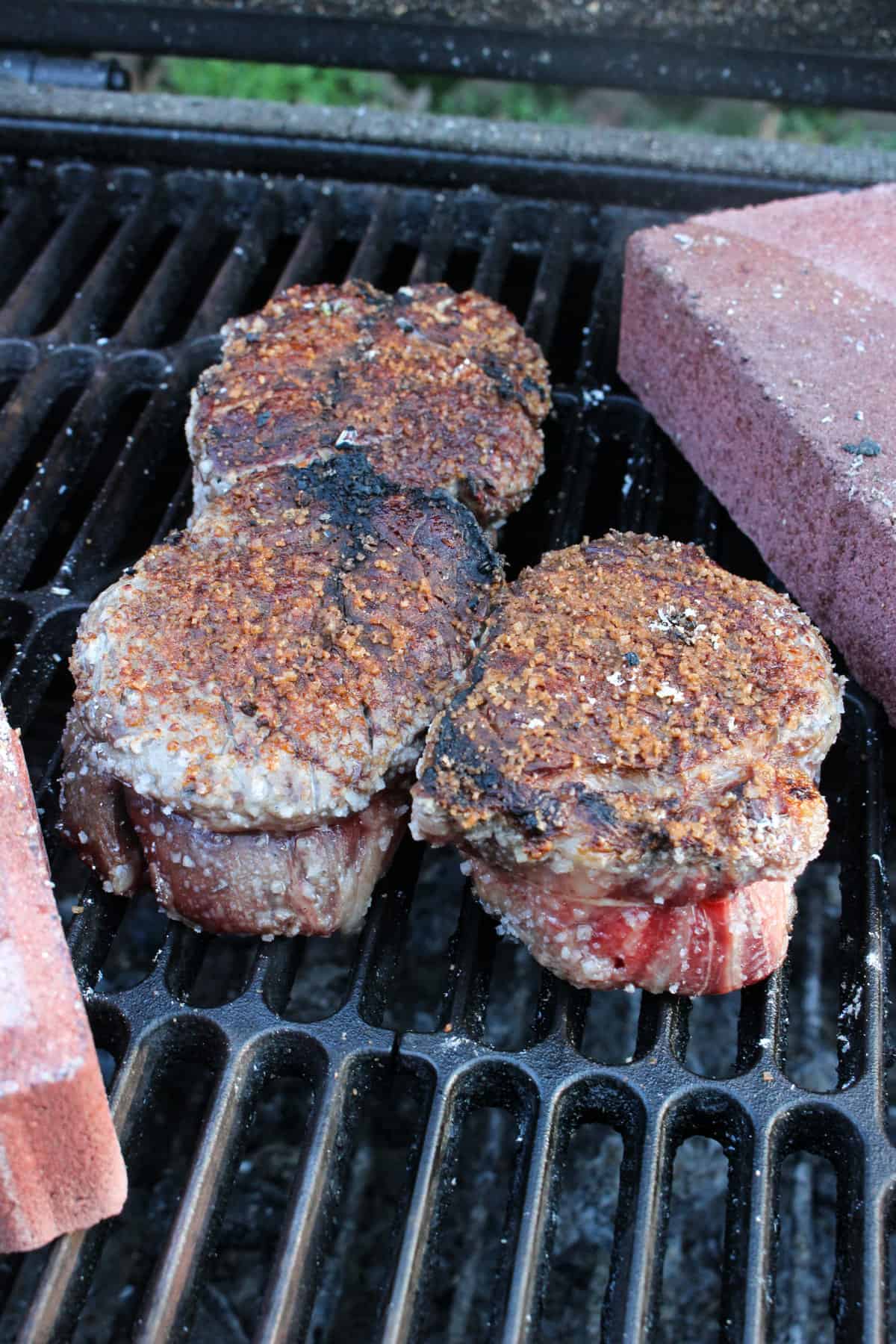 Charcoal Broiled Got Me Spoiled
Now, let's talk about these filet mignons and how I cooked them under the fire. If you haven't guessed already, I actually just cooked them under one of my charcoal chimneys. I first saw this idea by Alton Brown, and was super inspired! First, I let the coals in the chimney get nice and hot. Then, I grabbed two cooking bricks and set them about a foot apart on top of one of my grills. I placed my three filet mignons between the bricks and then set the charcoal chimney on top of the brick edges. This allowed the charcoal chimney to stay a couple inches above the steaks as they cooked.
As far as the filets go, for this recipe I only prepared them with some oil and salt. I knew the shallot basil butter would bring in some amazing texture and flavor, so didn't want to take anything away from that by putting too much seasoning on the steaks. I cooked each side of the filet mignons for about 5-6 minutes. Remember, we're broiling these steaks which means they're cooking under high heat. They'll cook quickly and come out with an insane crust.
Serving Up These Charcoal Broiled Filet Mignon
Once our charcoal broiled filet mignons are almost done cooking, grab the butter from the fridge. Slice the butter into pencil thick slices and place a single slice on top of each steak. Carefully place the coals back on top of the steaks to start melting the butter. Only leave the heat over the steaks until the butter is a little less than halfway melted. This should only take about 30 seconds to a minute. Then, remove the charcoal chimney and place the steaks on a cooking sheet to rest.
I let my filet mignons rest for about 5 minutes. The butter on top of the steaks should continue to melt while the steaks are resting. I sliced into my steaks for serving, but serving them whole is also an option. Best enjoyed with friends and family. Cheers!
Have you pre-ordered my cookbook Food by Fire?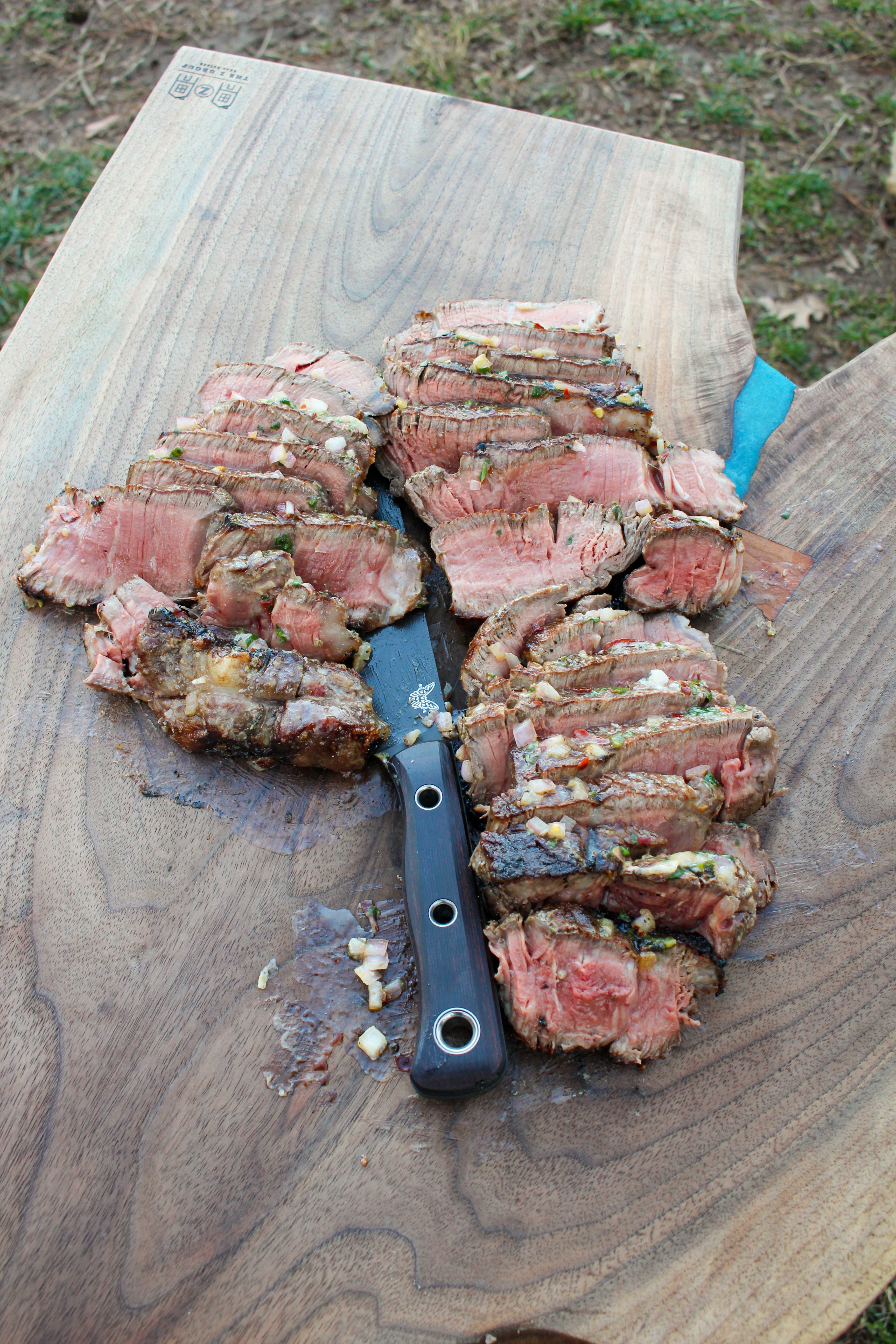 Charcoal Broiled Filet Mignon
After being inspired by Alton Brown, I took a stab at broiling under the coals with this Charcoal Broiled Filet Mignon recipe! A quick sear on each side was all it took for these steaks.
Ingredients
Filets:
3

Filet Mignon

1.5

tbsp

of Sea Salt

Canola Oil
Shallot Basil Butter:
1/2

cup

of Butter

softened

1/2

tbsp

of Basil

chopped

2

tsp

of Shallots

chopped

1/2

tsp

Red Chili Flakes

1/2

of a Lemon

juiced
Instructions
In a bowl, mix together all the ingredients for the shallot basil butter. Grab a single piece of plastic wrap about 12" long. Place all the butter ingredients on one end and carefully roll up into a "log". Roll nice and tight then place in the fridge for at least 2 hours to firm.

Fill a charcoal chimney with charcoal and preheat on your grill. You are ready to cook when the chimney is fully lit and the coals are red hot.

Lather your filets with oil then generously season with sea salt on all sides. Place in the fridge until the charcoal is ready to cook.

On your grill, set two fire bricks (or anything that can withstand high heat) about 6 inches apart so that your chimney can stand on top of it. Add your filets in-between the bricks and place the chimney over top so that the filets are fully underneath the hot coals. Cook for about 3-4 minutes per side or until the temperature is 120F internal. Make sure to scrap off any loose charcoal that might fall on top of the steaks, and rotate the steaks around to get an even crust. Just as the steaks are done, slice little medallions of the Basil Shallot Butter and place them on top. Melt them over the steaks for 30 seconds, then pull the steaks off to rest for 5 minutes.

Slice, serve and enjoy!