Do you need a pick-me-up for your middle of the summer blues? This Filet Mignon Burger has got you covered. Seared over hot Cowboy Charcoal, topped with crispy onions and covered in gooey cheese is just the beginning. Oh, did I mention we are using a filet mignon instead of a patty? Check it out asap!
Why A Filet for a Burger?
I love a good burger. Everyone loves a good burger. So why would I switch up a classic burger with filet mignon steak? Do I really need to answer that…
Because it is steak, and steak is delicious. This Filet Mignon Burger is so aggressively awesome that I make three of these instead of just one. Lathered this filet mignon with oil, salt, pepper and garlic powder for the dynamic trio called SPG. Grilled it over some hot Cowboy Charcoal and added it to the burger bun. Wanna hear about the toppings that went on it too?
How are we going to cook these crispy onions & gooey cheese?
We topped this burger with simple crispy onions and gooey cheese. The crispy onions were first marinated in buttermilk then dredged in flour and more SPG. Fried them up over the hot Cowboy Charcoal at 350F until golden brown. The gooey cheese was sauteed over the coals using a simple roux. Mixed butter, milk and flour in a skillet then slowly introduced gouda cheese till it was nice and thick. This is the perfect cheese sauce to drench your Filet Mignon Burger.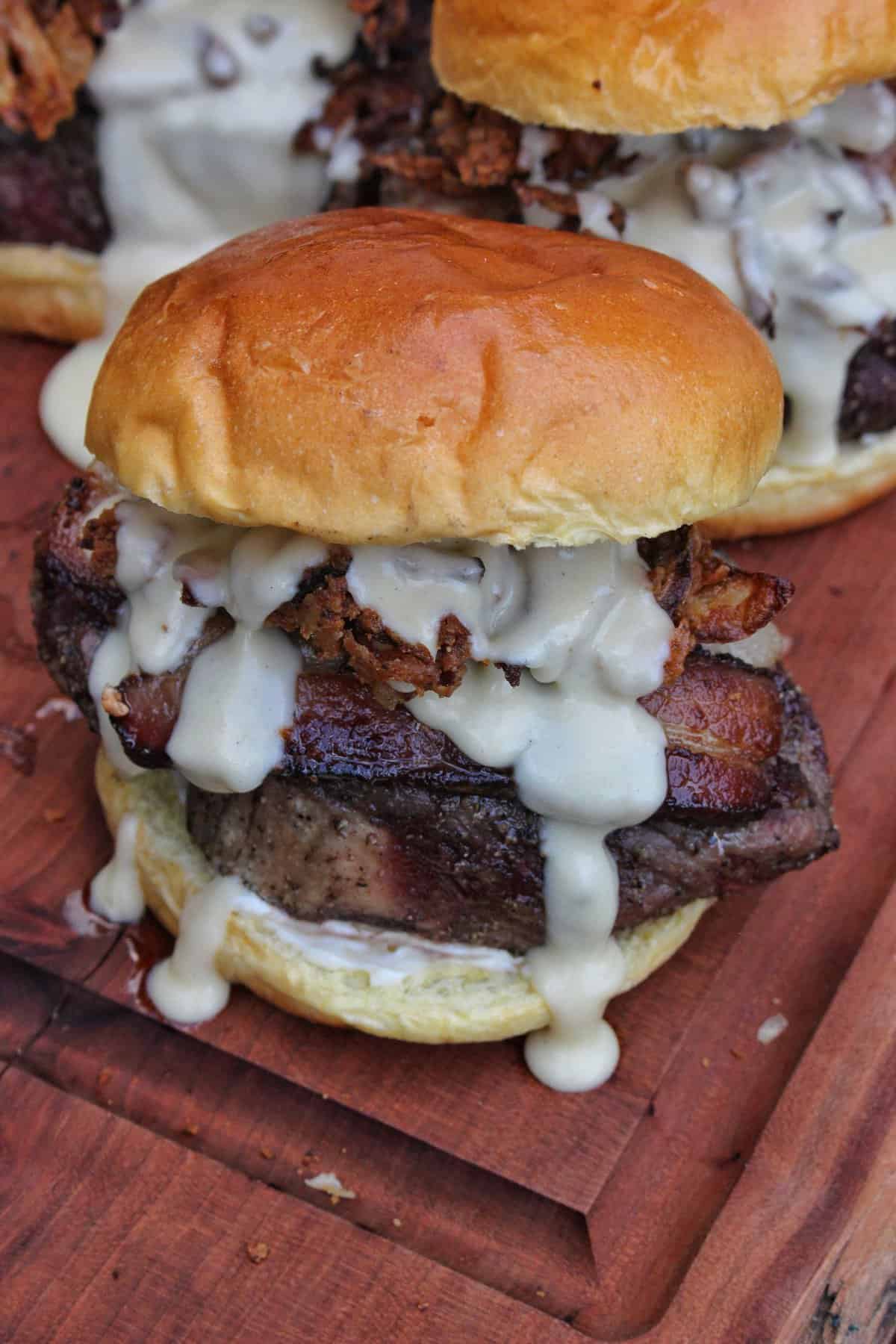 Time to Eat these Filet Mignon Burgers
So do you need any more excuses for making this meal? The Filet Mignon Burger is an epic backyard grilling experience combining good lump charcoal, beautiful beef, crispy onions and lots of cheese. You cannot go wrong! Try out the recipe below.
This article does contain affiliate links to products that we personally use and support. Purchasing an affiliate product does make us a small commission at no cost to you. This helps us continue creating for our website. All words and opinions are our own, and we appreciate your support!
Filet Mignon Burger
Try this brand new Filet Mignon Burger over some hot Cowboy Charcoal now! A fun twist on a backyard favorite.
Ingredients
Steak Burger:
3

Filet Mignons

1

tbsp

of Sea Salt

1

tbsp

of Black Pepper

1

tbsp

of Garlic Powder

3

strips of Bacon

cut in half

Mayonnaise

as needed

Burger Buns

buttered
Gooey Cheese:
½

cup

of Gouda Cheese

⅛

cup

of Milk

2

tbsp

of Butter

1

tbsp

of Flour
Crispy Onions:
½

of a White Onion

finely sliced

1

cup

of Buttermilk

½

cup

of Flour

1

tsp

of Sea Salt

1

tsp

of Black Pepper

1

tsp

of Garlic Powder

Frying Oil

as needed
Instructions
In a bowl, add the finely sliced onions and buttermilk. Let sit for 15 minutes in the fridge. In a separate bowl, mix the flour, sea salt, pepper and garlic. Add seasoning to a plastic bag and add onions, making sure to drain the excess buttermilk. Toss thoroughly and set aside.

Lather your steaks with oil and season using sea salt, black pepper and garlic powder.

Using Cowboy Charcoal, fill one chimney full of coals, light and let preheat for your smoker for medium-high heat (350F).

Preheat a skillet with 2 inches of frying oil over coals until 350F in the oil. Carefully add the onions and fry for about 2-3 minutes until golden brown. Once done, set on a paper towel to absorb extra oil and set aside.

Pull the frying skillet off and preheat two more skillets. Add bacon to one skillet and cook until done. To the other skillet, add butter and let melt. Mix in milk and flour until smooth. Lastly, add cheese and mix until smooth. Let simmer over fire until completely absorbed, then set aside or over a low heat source to stay warm.

Add your steaks to the grill and cook for about 3-4 minutes per side until they are 120F internal. Once done, pull off and let rest for 10 minutes.

After everything has been cooked, brown up your burger buns for extra crispiness. Start building your burger with the bottom bun, mayonnaise, steak, bacon slices, crispy onions, gooey cheese and top of bun.

Slice and enjoy!