Ever tried bison before? This hearty and gamey meat is perfect for those that love the taste of beef without the fat. You cook bison ribeye just like you would a steak so there is nothing new about it. Even the flavor of the meat is fantastic. You get a nice tender meat that absorbs all the spices that it is seasoned with.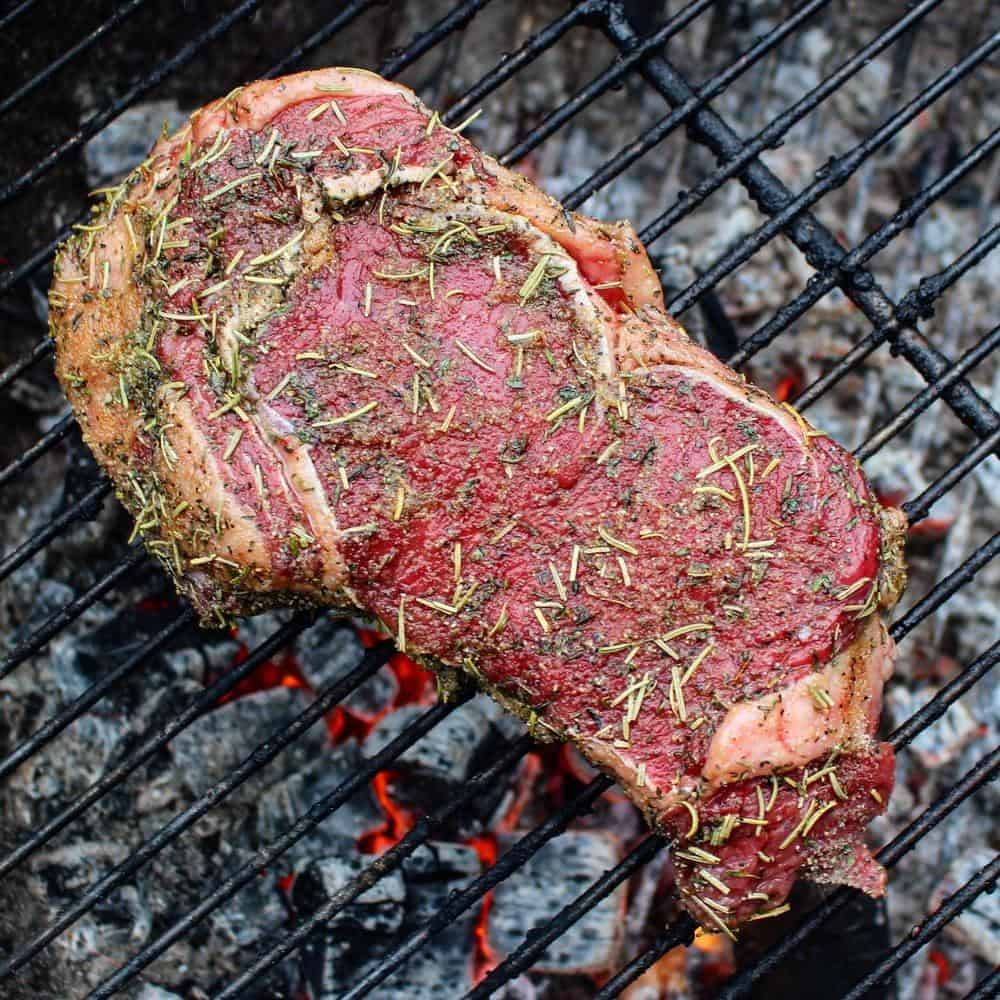 Get ready to eat!
If I got you interested in trying some bison, then check out my Charred Bison Ribeye recipe below. Seasoned with 7 different spices that add tons of character to the meat. My only tip before you light your Cowboy Charcoal and start cooking is to watch the internal temperature of the meat closely. Bison has less fat than most meats therefore it will cook faster than expected! 
RELATED ARTICLE: Ribeye w/Bourbon Cream Sauce!
More About the Charred Bison Ribeye Recipe
Bison is one of the most delicious red meats that you can buy. Not only does it have less fat, as I said above, but that means you have a leaner & more healthy piece of meat to cook over fire. My Charred Bison Ribeye recipe helps make sure that you can cook this for keto or even paleo based diets. Add some brussel sprouts on to the grill and you are ready to meal prep for the whole week. Whatever you do, just know that this Charred Bison Ribeye is absolutely packed full of flavor!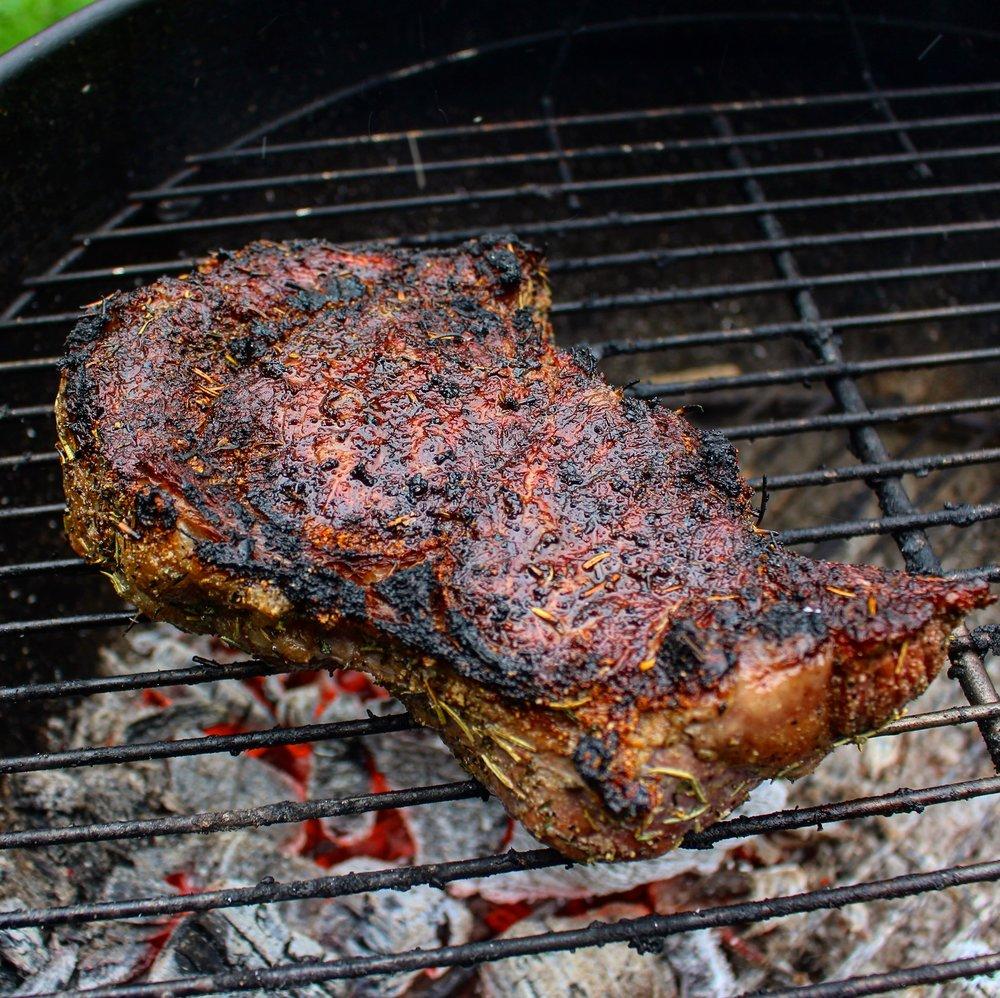 Sizzling goodness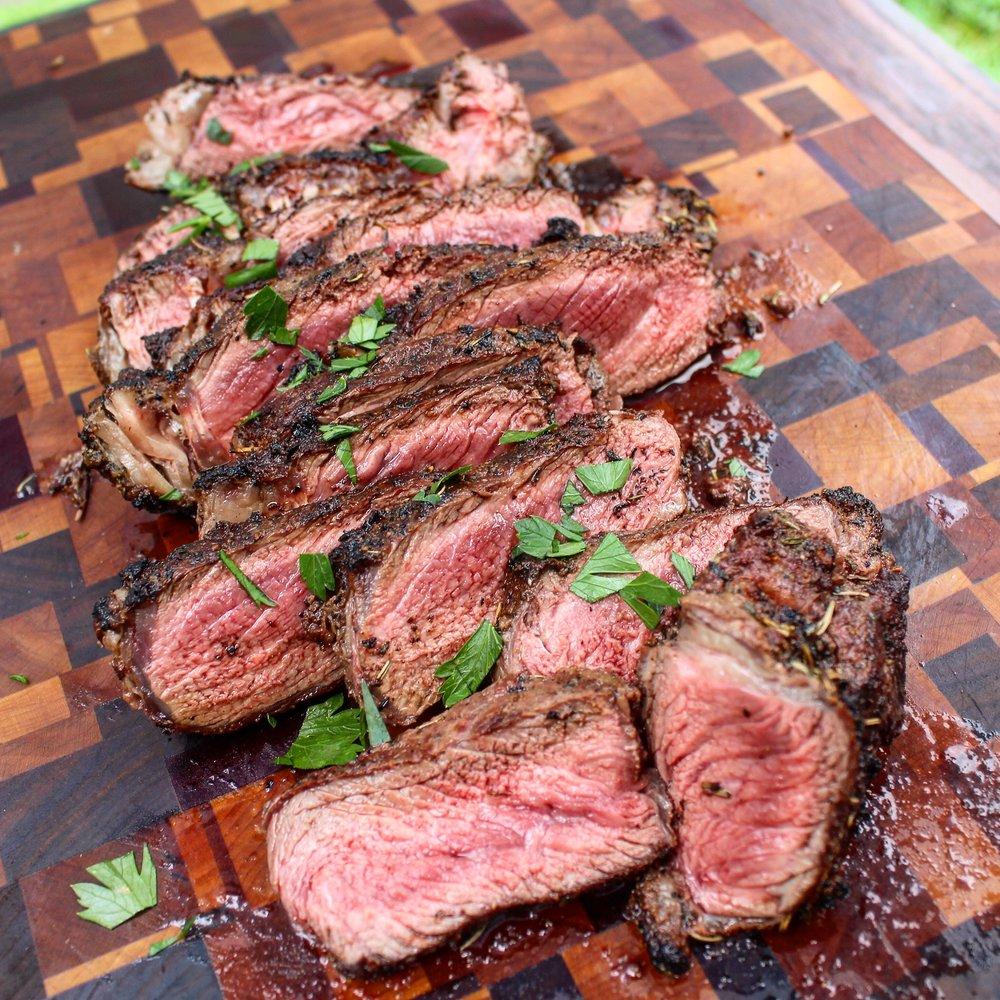 Sliced and ready to eat!
Charred Bison Ribeye
Try my Charred Bison Ribeye for those that love wild game and open fire cooking. Seasoned with garlic, herbs and more for a wild & natural flavor.
Ingredients
1 12-16

oz

Bison Ribeye

2

tsp

of Garlic Salt

2

tsp

of Black Pepper

1

tsp

of Onion Powder

1

tsp

of Basil Leaves

chopped

1

tsp

of Thyme

1

tsp

of Rosemary

1

tsp

of Cumin

Olive Oil
Instructions
Once Bison is at room temperature, drizzle a little olive oil on top and season with all the spices above. Make sure to season thoroughly!

Use some Cowboy Hardwood Lump Charcoal to light fire and let burn for 10-15 minutes. Once charcoal is white hot, push into one flat pile for direct grilling.

Place ribeye over fire and let grill for 7-8 minutes per side or until the internal temperature is 120F (medium-rare) or 130F (medium). Keep a close eye on the steaks as they have less fat than beef and will cook faster! Once done, pull steak off grill and let rest for 10 minutes.

Slice, serve & enjoy!
This article does contain affiliate links to products that we personally use and support. Purchasing an affiliate product does make us a small commission at no cost to you. This helps us continue creating for our website. All words and opinions are our own, and we appreciate your support!