Chipotle Black Pepper Smoked Beef Ribs Recipe
Smoked beef ribs are king. They are massive, exciting and super unique. Truth is that beef ribs are mesmerizing to me every time that I cook them. But for me, the biggest question is making sure that the beef I am eating was treated well before I pour my heart and soul into cooking it for my family.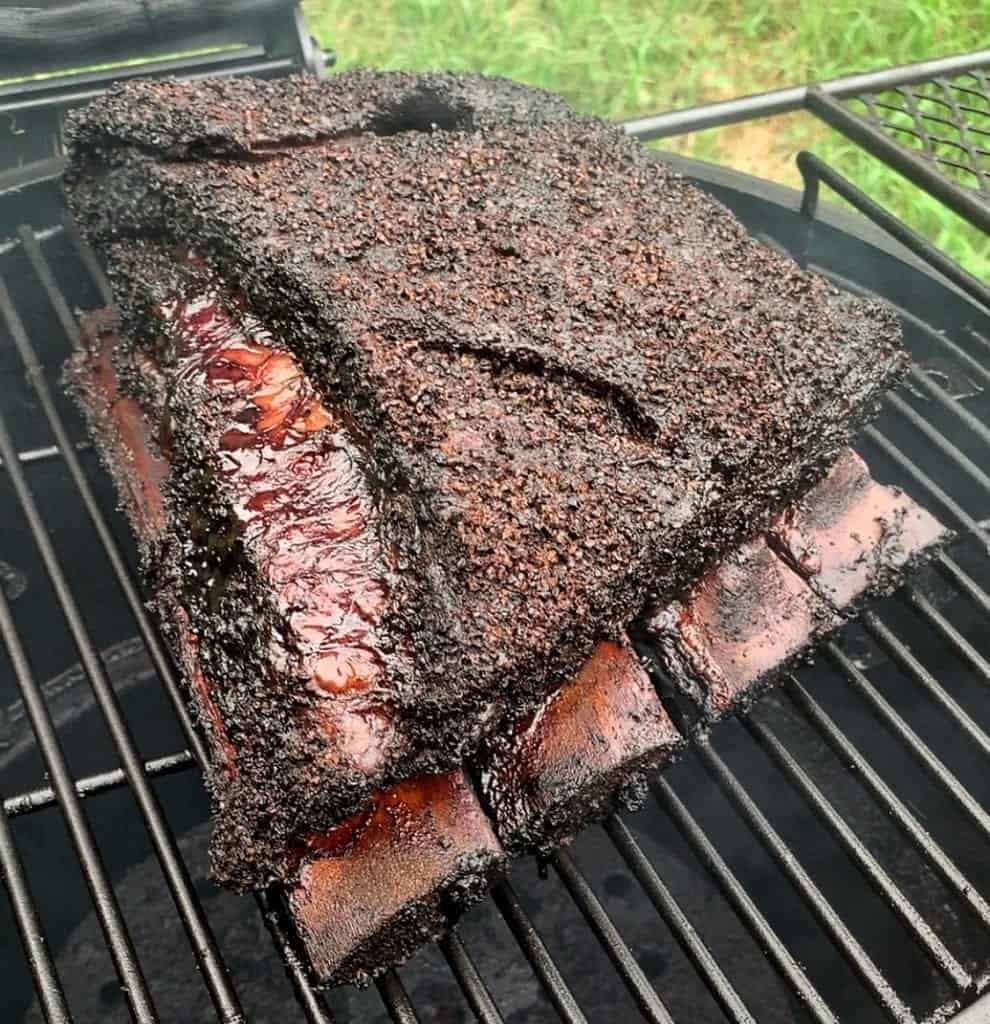 Starts with Love
Whether you know this or not, the best food you will ever taste starts with the most important ingredient: love. From potatoes to cattle, having knowledgeable ranchers that are following the highest level of modern ethical practices is key to sustainability and longevity for a meat eater like myself. So what ranchers are doing this?
Well, to name a few: Adams Ranch, Blue Goose Cattle & Baldwin Family Farms. These are just three of the ranches that are apart of the Global Animal Partnership, which is changing the meat industry for good.
What is the Global Animal Partnership?
The Global Animal Partnership, or GAP, is an Animal Welfare Labeling program that is making it easier for people like you and I to shop for ethically raised meat. They work with farmers and ranchers like the ones stated above to help them continuously improve the lives of farm animals.
Their plan is simple:
To make sure all their animals are raised without antibiotics, hormones or animal by-products.

Create standards to continuously improve the lives of farm animals. For those in the GAP program, those standards are auditing on every farm, every 15 months by a third party.

Work with farmers to provide them with 'farm to fork' support, all designed to help GAP's partners create sustainable, profitable practices that enable them to flourish for generations to come.

Create

the country's leading, easy to understand labeling system

that tells you explicitly how the animal was raised (see

the GAP label and its various steps

below).
More About the Smoked Beef Ribs:
You have anywhere from Step 1 to Step 5+. Each step contains more and more sought after treatment practices that enhance the well-being and lifestyle of the animal. Like I said before, a lot of love helps to create a better end result. For my beef ribs, they were a step 4, which means they were always on a well nourished pasture, no feedlots with minimal management practices. You will no longer need to feel confused or distant to the process, which is an important piece to anyone who chooses to eat meat.
How Can I Find some Smoked Beef Ribs?
Best part about GAP is that it's easy to find. You can find GAP certified products in over 5,000 outlets across the USA and Canada. I purchased the beef featured here from my local Whole Foods Market, which stocks a wide variety of GAP certified products, ranging from fresh beef, chicken, pork, turkey and lamb. You can also find GAP certified products like broths, deli meats and even pet food.
Walked right into the Whole Foods Market and got a grass-fed Step 4 Beef Plate Rib with 4 bones. Using a rub found below, I smoked this whole beef rib until it was nice and tender. After it rest, we then sliced and ate.
In the end…
Honestly, these Smoked Beef Ribs were a fantastic cook because they were delicious and authentic. I knew each ingredient and its origin. I knew the ranch, lifestyle and practice regarding the life of the cow, which this beef came from. It was peace of mind and complete clarity. It is not often that a backyard cook like you or me gets access to that information. But, times are changing thanks to Global Animal Partnership.
I can honestly say that it was a better meal because of it. In the end, love truly is the best ingredient.
Chipotle Black Pepper Smoked Beef Ribs
These Smoked Beef Ribs will be the perfect outdoor cooking experience when you use high quality beef from Global Animal Partnership!
Ingredients
Beef Rib Ingredients:
1

GAP Certified Beef Plate Rib

3-4 bones & trimmed

1/2

cup

of coarse black pepper

1/4

tbsp

of coarse kosher salt

2

tbsp

of chipotle powder

1.5

tbsp

of garlic powder

Avocado Oil
Spray Ingredients:
1.5

cups

of red wine

I prefer malbec or syrah

2

tbsp

of hot sauce

if you like

1

food safe spray bottle
Instructions
Lather beef rib in avocado oil or hot sauce. Season your beef rib thoroughly using the black pepper, salt, chipotle powder & garlic powder.

Build a fire in your grill for indirect cooking. Let rise to an even 250F with a light blue smoke. Add hickory wood chunks to the top for added flavor.

Add beef rib to smoker and let cook until all parts of the rib are at 180F internal (about 3-4 hours). Replenish coals when needed to maintain temperature.

Once you hit temp, add wine & hot sauce into your spray bottle. Carefully spray the beef rib ever 30 minutes to maintain moisture. Allow to cook until all parts of rib register 205F internal (about another 2-3 hours).

Once ribs have hit temperature, pull off smoker, wrap in butcher paper & allow to rest in a cooler for a minimum of 1 hour. When ready, pull out of cooler, slice and enjoy!
This article does contain affiliate links to products that we personally use and support. Purchasing an affiliate product does make us a small commission at no cost to you. This helps us continue creating for our website. All words and opinions are our own, and we appreciate your support!