I don't filet fish often, but when I do I know Bubba Knives will be there to help! Today I cooked up a Chipotle Lime Red Snapper. I fileted the red snapper before and let it rest in a chipotle lime marinade for a bit. Lit the fire the for a delicious fish dinner. Fresh red snapper filets provided the perfect sweet flavor to match our spicy, citrus marinade! Let me tell you how it all came together.
Getting Snappy
This Chipotle Lime Red Snapper recipe started with the whole red snapper. You can find these at most grocers, but the one I picked up was from Whole Foods. Then, I brought it back home and broke out my Bubba Knives! These knives are great for fileting fish, something I'm hoping to do a lot more of. Most butchers will filet a fish for you but because I'm constantly trying to grow as a cook I decided it was time to filet it myself. My best advice is to follow the spine of the fish as you cut. This will serve as your guide as you cut and ensure you're getting the most meat for each filet.
After the red snapper filets are cut we can start working on the chipotle lime marinade. I started this marinade with a blending of seasonings, namely cumin and oregano. I then mixed those with some cilantro, soy sauce, chipotle purée, jalapeños and garlic. Tossed them all into a blender and finished it off with some oil and lime juice! Red snapper is inherently a sweet and nutty flavored meat. It's not the "fishiest" of fish meat, so it's a good candidate for people that are new seafood eaters.
The Story of a Chipotle Lime Red Snapper
I let this red snapper marinade for only 15-20 minutes because letting it marinade allows that flavoring to really get absorbed by the meat. Plus, it helps achieve a greater depth of flavor. I do not recommend marinating it too long as it will get mushy if it does.
The following evening I tended my grill and prepped the fire. Then, I oiled my plancha (similar to a griddle) and placed each filet on top. It doesn't take long for fish to cook, so don't go too far. I flipped the filets after only 2 – 2.5 minutes. The internal temperature we shoot for on fish is 145 degrees Fahrenheit, so if you're unsure how long to cook your filet just use a meat thermometer.
Serving Snapper
I remove the chipotle lime red snapper from the plancha once it was done cooking. I had prepared a bed of sliced cabbage and red onion on a serving plate that I set the filets on top of. Placed some lime wedges around the filets and it was ready to eat. Best enjoyed with friends and family. Cheers!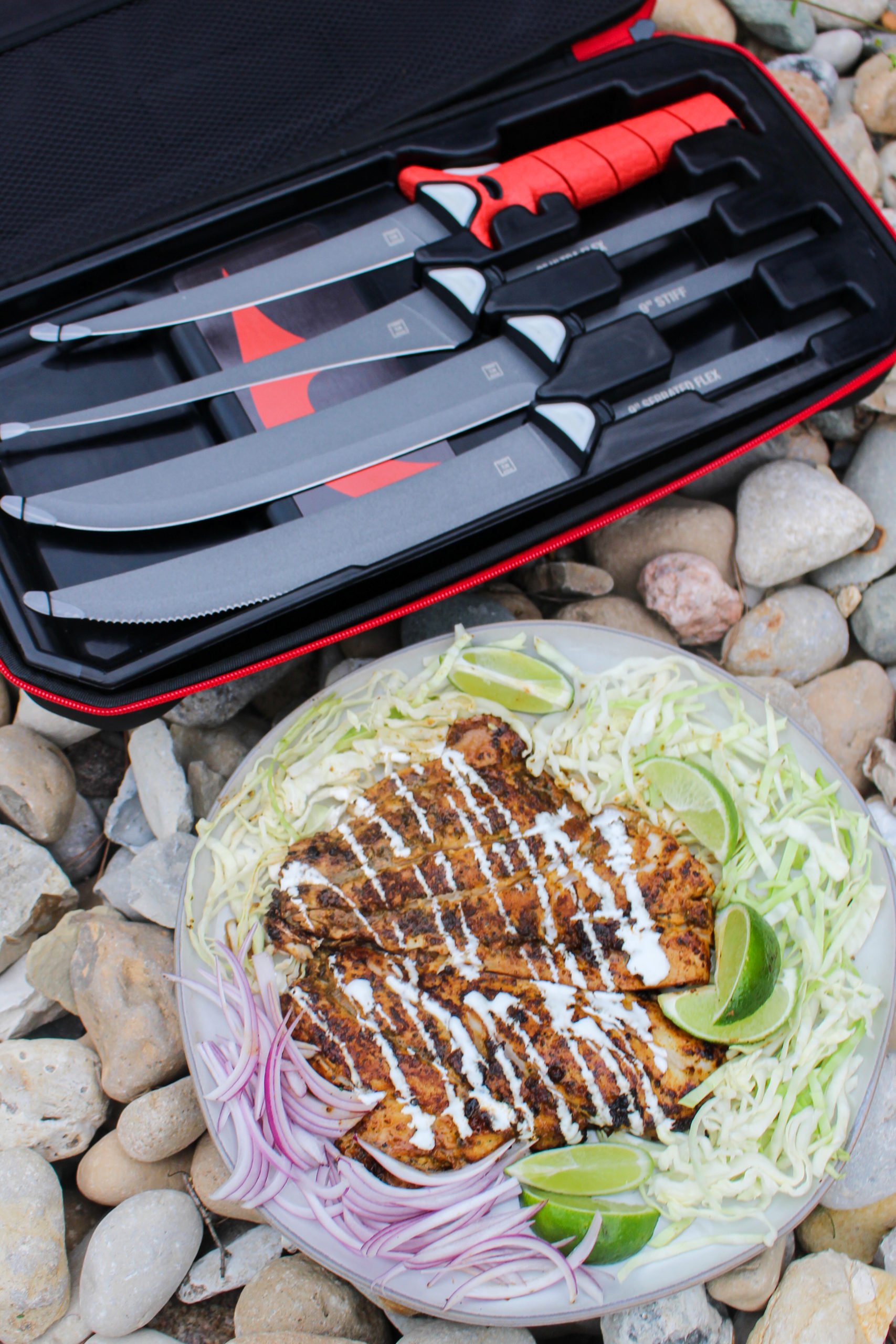 For more delicious (and exclusive) recipes, check out my cookbook Food X Fire!
Needing more spice in your life? My spice line can help with that. Check them out here.
Full Length Recipe Video on YouTube!
Chipotle Lime Red Snapper
Chipotle Lime Red Snapper for a spicy, citrus filet of fish! Red snapper is great for all seafood lovers and this chipotle lime marinade is next level delicious!
Ingredients
Red Snapper:
1

Whole Red Snapper

de-finned and scaled

Sliced Red Onions

for garnish

Sliced Cabbage

for garnish

Sour Cream

for garnish
Chipotle Lime Marinade:
1.5

tbsp

of Chipotle in Adobo Puree

3

Limes

juiced

6-8

Garlic Cloves

1.5

tbsp

of Soy Sauce

1

Jalapeño

1

tbsp

of Cilantro

1.5

tsp

of Kosher Salt

1.5

tsp

of Black Pepper

1

tsp

of Cumin

1

tsp

of Oregano

2

tsp

of Canola Oil
Instructions
Start by filleting your red snapper. Make an incision along the top spine and down behind the gill to the bottom of the collar. Next, slice down one side of the spine all the way down to the tail. Finally, slice from your cut at the collar to the tail on the bottom side of the fish. Next, holding the meat from the top of the spine, begin to slowly slice following the rib bones until the filet is free from the fish. Repeat this on the other side as well until you have two red snapper filets.

In a blender, I added all the ingredients for the Chipotle Lime marinade. Adding the filets to a food safe bowl, I poured in the marinade and let it sit in the fridge for 15-20 minutes.

Preheating a fire for direct grilling at high heat (around 400F), I added a skillet/plancha with some oil to preheat about 1-2 minutes before cooking.

Pull out the snapper and discard the excess marinade, I added them to the skillet flesh side down first to cook for 1-2 minutes. Flipping it over, I cooked the skin side down for 1-2 minutes until it was 145F internal. Once done, I pulled it off to rest for 2 minutes.

Garnished with sour cream, shredded cabbage, sliced red onions and lime juice, I served this red snapper up and enjoyed!
Nutrition
Calories:
557
kcal
|
Carbohydrates:
19
g
|
Protein:
95
g
|
Fat:
11
g
|
Saturated Fat:
2
g
|
Polyunsaturated Fat:
3
g
|
Monounsaturated Fat:
4
g
|
Trans Fat:
1
g
|
Cholesterol:
167
mg
|
Sodium:
2933
mg
|
Potassium:
2113
mg
|
Fiber:
5
g
|
Sugar:
3
g
|
Vitamin A:
1209
IU
|
Vitamin C:
48
mg
|
Calcium:
230
mg
|
Iron:
3
mg