If you have never smoked lobster, then you are missing out! Sweet and smoky flavors comboed on some delicious seafood like lobster is to die for. Not to mention that they are smoked using Cowboy Charcoal and covered in butter? That is enough! It is time for you to try this Smoked Lobster Tails with Parmesan Butter recipe!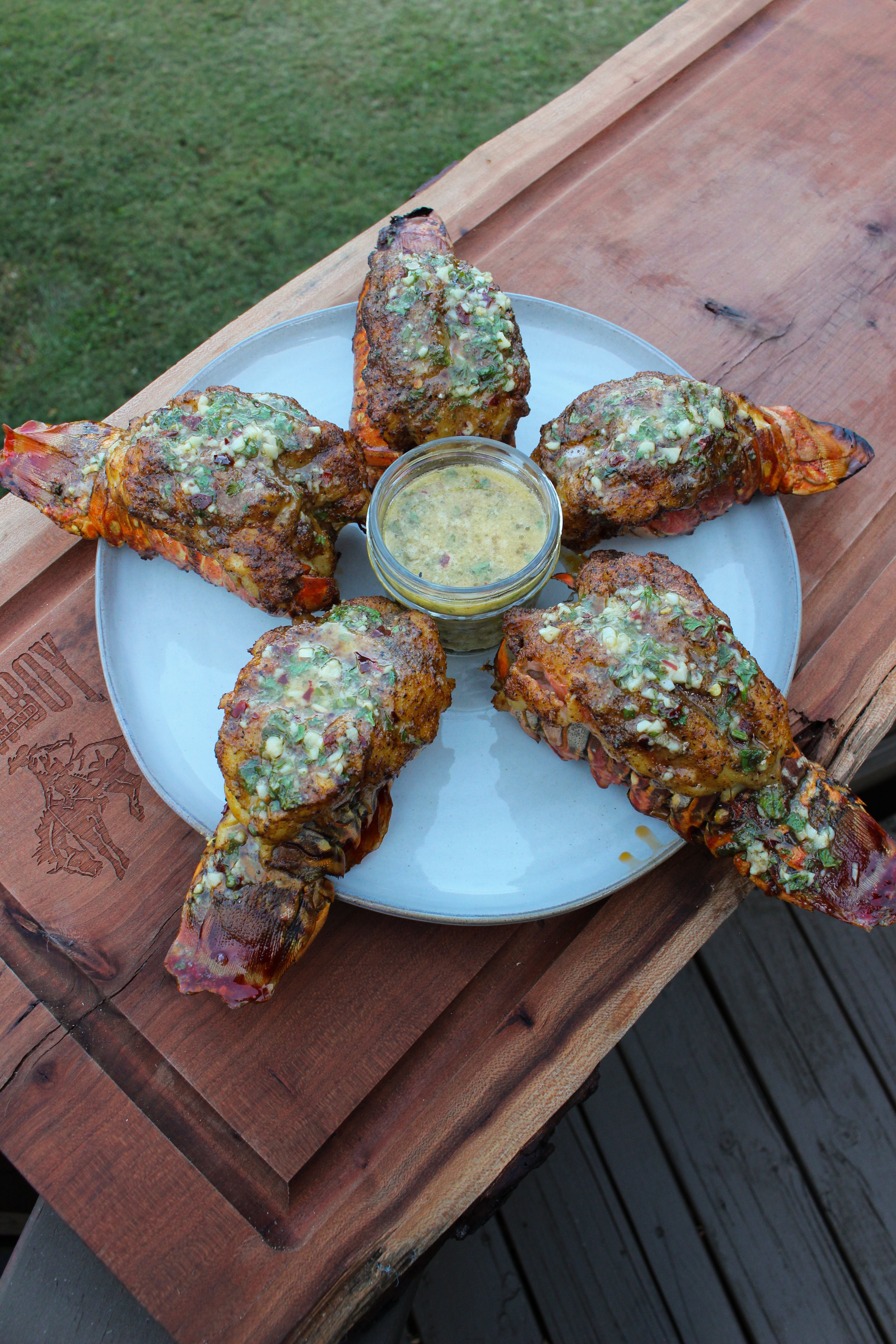 How to Smoke Lobster Tails
The trick for smoking lobster tails is having hot coals. While it might be a little more close to hot smoking (as we will be well above 250F), the smoke flavor given off from quality coals is essential.
That is why for these Smoked Lobster Tails I used Cowboy Charcoal. Not only does it cook at higher temperatures well, but the flavor from the coals is truly amazing.
We cooked these lobster tails at 375F in my drum smoker for about 30 minutes. They are quite a quick cook compared to other smoking recipes, but they do not lack in flavor.

Seasoned with salt, pepper, paprika, garlic and cumin (my secret weapon), these tails were lathered and ready to go once the Cowboy Charcoal was hot enough. Place them onto the smoker and we were off to the races. Now let's chat about that delicious Parmesan Butter.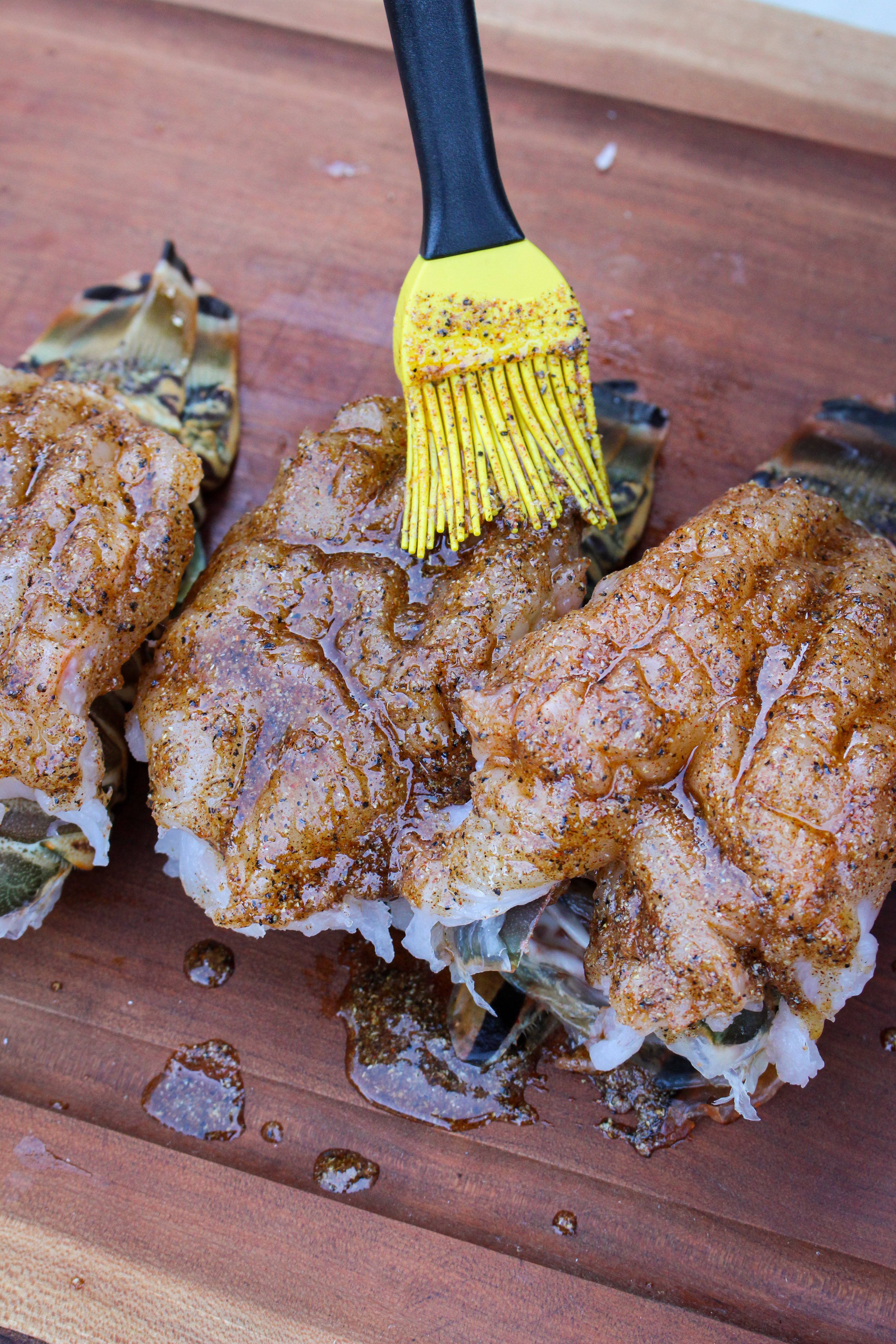 About that Parmesan Butter Sauce
The trick for any good recipe is butter. Lots of butter to be exact. Well these Smoked Lobster Tails were not lacking with this Parmesan Butter sauce.
While the tails smoked, we added a basting skillet for the butter to melt. Add into the skillet some parsley, garlic, lemon juice, red chili flakes and (of course) parmesan cheese. Once that is all mixed up, we are ready to glaze the outside of the lobster tails.
The Parmesan Butter will give a sweet yet earthy flavor onto the lobster tails. All you need is a little brush on top of the tails and you are good. We want to save the rest of the butter for dipping at the end.
After the tails have been glazed and done, we are going to pull them off and dive right in!
Let's eat these Smoked Lobster Tails with Parmesan Butter
Smoked Lobster Tails with Parmesan Butter are a surefire ticket for backyard smoking success. Just add a bag of Cowboy Charcoal and you are in for business. Find the recipe below and make sure to watch our videos making this delicious recipe. Cheers!
Want another great lobster recipe? Try my grilled lobster with garlic butter!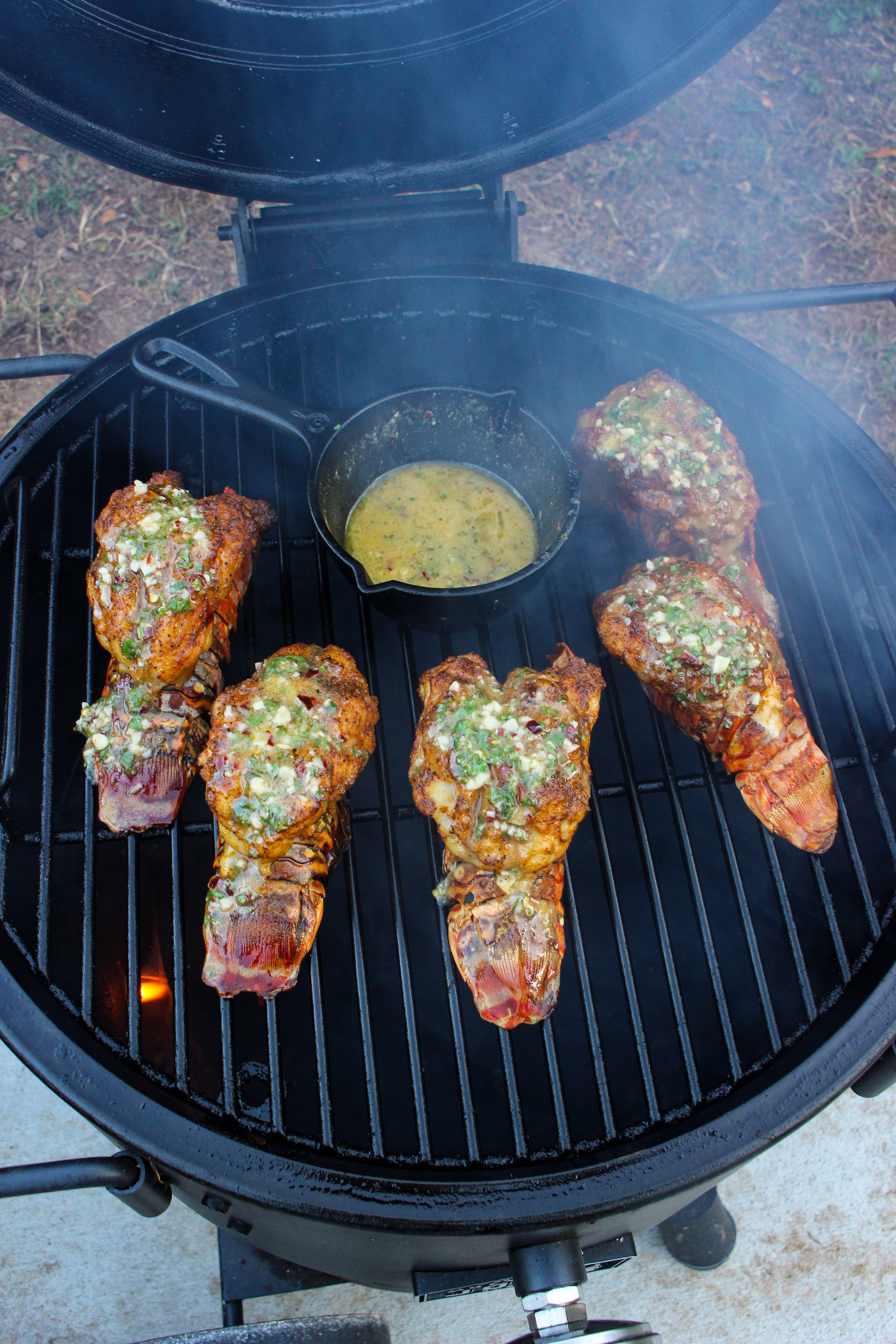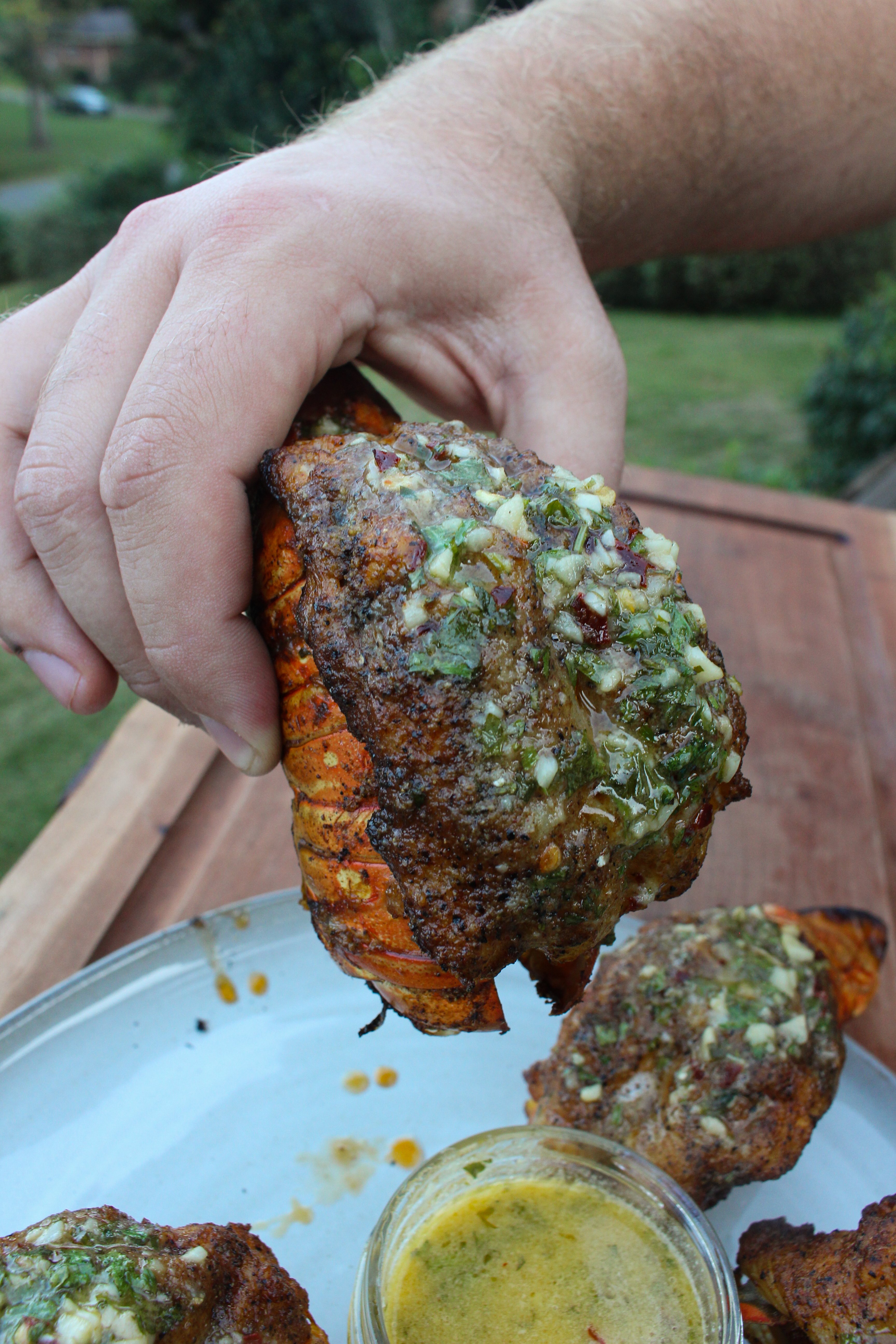 Smoked Lobster Tails with Parmesan Butter
Delicious flavor comes off of these Smoked Lobster Tails with Parmesan Butter. A great recipe to make quickly over hot Cowboy Charcoal.
Ingredients
Lobster Ingredients:
4-5

Lobster Tails

1/4

tbsp

Kosher Salt

1/4

tbsp

Black Pepper

1/2

tsp

Smoked Paprika

1/2

tsp

Garlic Powder

1/2

tsp

Cumin

2

tbsp

Canola Oil
Parmesan Butter:
⅛

cup

Butter

1

tbsp

Chopped Parsley

1

tbsp

Grated Parmesan Cheese

2

Garlic Cloves

minced

1/2

tsp

Red Pepper Flakes

1

Lemon

juiced
Instructions
Using a knife, cut in the middle of the top of the lobster shell all the way down to the tail. Try to avoid cutting the meat. Once fully cut, use a spoon to go underneath the top of the shell to separate the meat from the shell. Carefully lift the meat up and out from the shell (while still attached at the base of the tail). Lay the meat on top of the shell. Using a knife, make shallow slits lengthwise down the meat. Repeat this for all the lobster tails.

In a food safe bowl, mix together the kosher salt, black pepper, paprika, garlic powder, cumin and oil. Make into a thin paste. Using a brush, lather the lobster with the seasoning.

Using Cowboy Charcoal, preheat your smoker to a medium-high temperature of 375F. Feel free to add wood chips or chunks for additional smoke flavor.

Once the smoker is ready, add the lobster tails on and cook indirectly for 20-30 minutes. The lobster tails are done when they turn from translucent to completely white (or the internal temperature is 145F).

About 10 minutes before the lobster tails are finished cooking, add your basting skillet to the smoker. Melt your butter in the skillet then slowly integrate the parsley, parmesan cheese, garlic cloves, red pepper flakes and lemon juice. Mix together thoroughly, then lightly glaze the outside of the lobster tails before they come off the smoker. Save some butter for dipping at the end!

When the lobster tails are done, pull them off and let rest for 2 minutes. Pour the leftover butter sauce into a dipping bowl. Serve and enjoy!
Nutrition
Serving:
1
Lobster Tail
|
Calories:
182
kcal
|
Carbohydrates:
4
g
|
Protein:
12
g
|
Fat:
14
g
|
Saturated Fat:
5
g
|
Polyunsaturated Fat:
2
g
|
Monounsaturated Fat:
6
g
|
Trans Fat:
1
g
|
Cholesterol:
97
mg
|
Sodium:
780
mg
|
Potassium:
203
mg
|
Fiber:
1
g
|
Sugar:
1
g
|
Vitamin A:
483
IU
|
Vitamin C:
16
mg
|
Calcium:
86
mg
|
Iron:
1
mg