This Chorizo Breakfast Burrito is a delicious and hearty breakfast that will have you jumping out of bed in the morning.
It's made with crispy seasoned potatoes, fluffy eggs, homemade guacamole, spicy chorizo, and cheese rolled up in a crispy tortilla and served with a spicy and creamy Jalapeño Lime Sauce!
Looking for more killer breakfast ideas? Check out my California Burrito, Southwest Breakfast Burrito, or my 12 Fire Cooked Breakfasts!
Prep the Potatoes and Guacamole for Your Chorizo Breakfast Burrito
First, we need to take care of a little bit of potato prep work. We'll soak the potatoes in cold water for 30 minutes because that helps remove excess starch. The less starch there is in the potatoes, the crispier they will become in the skillet.
Start by dicing the russet potatoes and white onions up. No need to peel the potatoes. The peel also creates a deliciously crispy texture for the Chorizo Breakfast Burrito. Add the diced potatoes into a bowl of ice water and let them soak for 30 minutes.
Now for the guac. Cut four large, ripe avocados in half, then use a spoon to scoop the meat of the avocados out into a bowl. Add in a drizzle of lime juice and a sprinkle of salt, then use a fork to mash it all together. I love homemade guacamole for a Chorizo Breakfast Burrito, among other things, because you can play with the texture so it's just how you like it. Prefer it a little chunkier? Mash it less. Love a smooth guac? Mash it more! The flavor is delicious either way.
Finish the guacamole with the chopped cilantro and diced red onions. Mix it up, then set it aside in the fridge while you prep the rest of your meal.
Feeling Saucy?
Next, we're whipping up a super simple Jalapeño Lime Sauce for the Chorizo Breakfast Burrito. It's rich, tangy, spicy flavor is exactly what these burritos need.
To make the sauce, combine sour cream, mayonnaise, buttermilk, chopped cilantro, jalapeño paste, and lime juice. Whisk it up until it's fully combined, then cover and set it in the fridge.
Get Cooking
Now, let's cook, because I know we're getting hungry.
Preheat your grill to a high heat of around 400ºF for direct cooking. Add a cast-iron skillet or plancha onto the grill along with a drizzle of oil, then let the oil heat up for a couple of minutes.
Pull the potatoes out of the fridge, drain the water, then pat them dry to remove excess moisture. The less moisture, the crispier the potatoes!
Add the potatoes into the hot skillet and let them cook for roughly 20 minutes or until they turn crispy and golden-brown. With 5 minutes to go, add in the diced white onions, salt, pepper, and garlic to season the potatoes. Pull the potato mix off of the grill and set it aside.
Prep the Chorizo and Eggs for Your Chorizo Breakfast Burrito
Next, cook the ground chorizo on the grill, because you can't have a Chorizo Breakfast Burrito without the chorizo!
If you want more ways to use chorizo, then you should check out my Smoked Chorizo Queso, Chorizo Breakfast Fatty, or Chorizo Smashburgers!
Set the skillet back onto the grill, add in the chorizo, and let it cook until it's fully rendered. I usually achieve this in about 8-10 minutes with the high temperature.
Next, remove the chorizo from the skillet and set it aside, then add in the eggs. Don't forget to whip them first! This creates the best light, fluffy texture. Let the eggs cook for 3-4 minutes, then pull them off the grill and set them aside.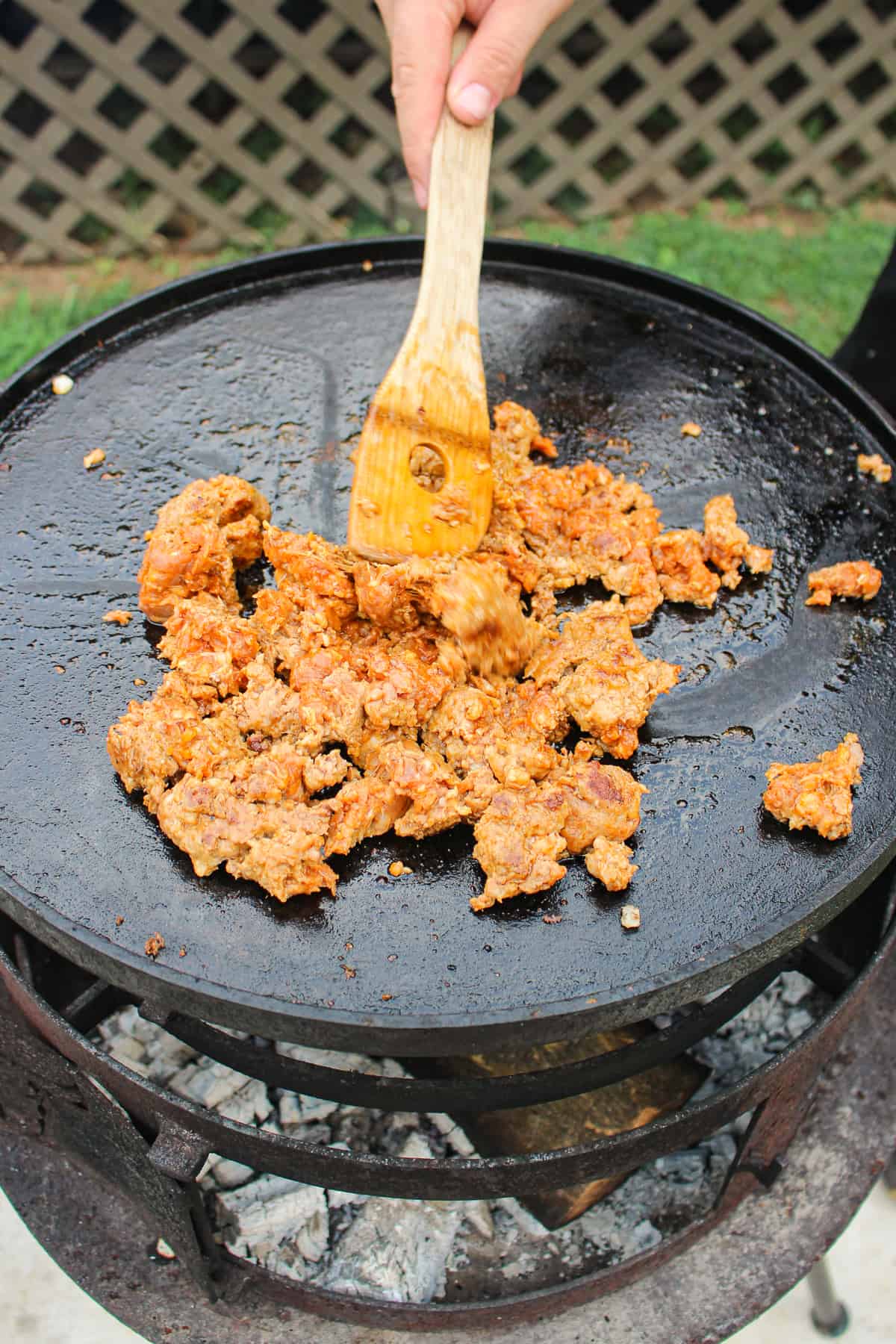 Burritos Assemble!
Start your Chorizo Breakfast Burrito with a large, warm tortilla. Layer on a scoop of cooked potatoes followed by the chorizo, eggs, jack cheese, and guacamole. Make sure you roll it up nice and tight, because no one likes a burrito that just falls apart.
Finish by placing the assembled burritos onto the skillet for just 1 minute per side to give the outside a nice crisp.
Slice in half and serve with Jalapeño Lime Sauce for dipping!
For more delicious recipes, check out my cookbook Food X Fire!
Needing more spice in your life? My spice line can help with that. Check them out here.
Print Recipe
Chorizo Breakfast Burrito
This Chorizo Breakfast Burrito is potatoes, eggs, guacamole, and chorizo wrapped in a crispy tortilla. Served with Jalapeño Lime Sauce!
Ingredients
Burrito:
2

lbs

Ground Pork Chorizo

2

Russet Potatoes

½

White Onion

5-6

Eggs

whipped

2

cups

Monterey Jack Cheese

3-4

Large Tortillas

1

tbsp

Kosher Salt

1

tbsp

Black Pepper

1

tbsp

Garlic Powder
Guacamole:
4

Large Avocados

¼

cup

Diced Red Onions

⅛

cup

Chopped Cilantro

3

medium Limes

juiced

Kosher Salt

as needed
Jalapeno Lime Sauce:
¼

cup

Sour Cream

⅛

cup

Mayonnaise

⅛

cup

Buttermilk

2

tbsp

Chopped Cilantro

1.5

tbsp

Jalapeno Paste

2

medium Limes

juiced
Instructions
Begin by dicing up your russet potatoes and white onions. Add your potatoes to a bowl of ice water and let sit for 30 minutes. In another bowl, take out the meat from the avocados and add the lime juice and some salt. Mash together to your desired consistency, then add the cilantro and diced red onions. Finally, add all the ingredients for the Jalapeno Lime Sauce to a bowl and mix together. Cover and set the Jalapeno Lime Sauce and Guacamole in the fridge until ready to use.

Preheat your grill to high heat (around 400F) for direct cooking. Add a cast iron skillet or plancha to the grill with some oil about 2 minutes before cooking.

Pull your diced potatoes out of the ice water and pat them dry. Add them to the skillet, making sure to stir them frequently, and cook until they soften and are golden brown (about 20 minutes). During the last 5 minutes of cooking, add the diced white onions, salt, pepper and garlic. Mix all together and cook till the potatoes are done and the onions are translucent. When done, pull it all off and set to the side.

Next, cook your ground chorizo on the skillet. Cook until it is fully rendered (about 8-10 minutes). When done, pull the chorizo off and set to the side. Finally, add your whipped eggs to the skillet and cook to nice and soft (about 3-4 minutes). Pull off and set to the side as well.

Start building your burritos with a warm large tortilla and layers of potatoes, chorizo, eggs, jack cheese and guacamole. Roll nice and tight and repeat until you have made as many burritos as you like. Add the burritos to the skillet to crispy for about 1 minute per side. Once done, pull off the burrito and serve hot.

Slice the burritos in half if you desire, serve with the Jalapeno Lime Sauce on the side and enjoy!
Nutrition
Calories:
1608
kcal
|
Carbohydrates:
74
g
|
Protein:
69
g
|
Fat:
117
g
|
Saturated Fat:
41
g
|
Polyunsaturated Fat:
10
g
|
Monounsaturated Fat:
29
g
|
Trans Fat:
0.03
g
|
Cholesterol:
409
mg
|
Sodium:
5287
mg
|
Potassium:
1808
mg
|
Fiber:
20
g
|
Sugar:
8
g
|
Vitamin A:
2101
IU
|
Vitamin C:
59
mg
|
Calcium:
623
mg
|
Iron:
10
mg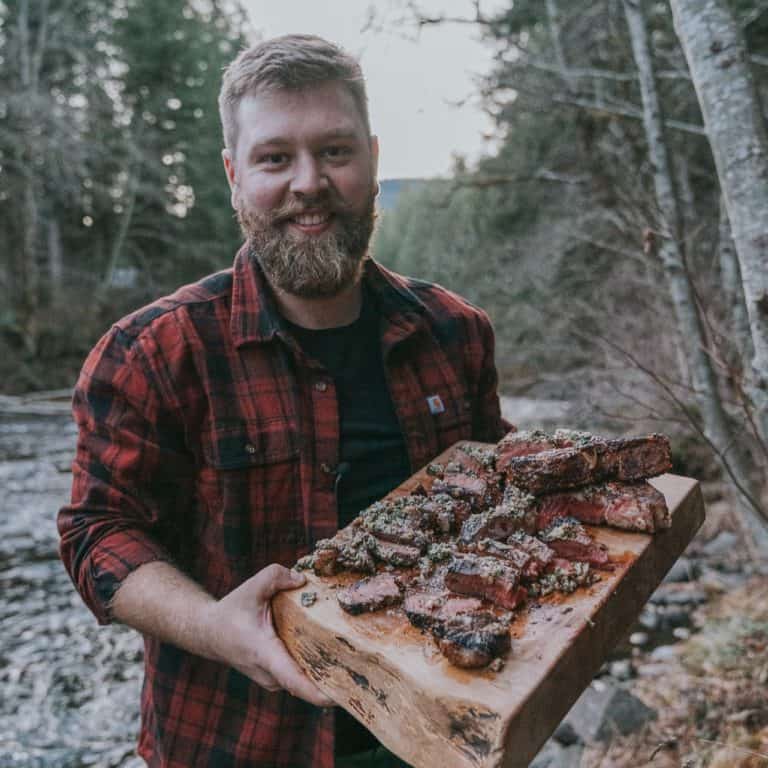 Derek is the driving force behind Over the Fire Cooking. He started cooking with live fire in 2016 and decided to start a social media page so his friends and family could follow the journey. Fast forward to today and Over the Fire Cooking has spread across multiple platforms with millions now following Derek's fire cooking journey. He's a southern fellow who enjoys everything from classic BBQ to Central and South American inspired dishes. Whatever he's cooking up, it's guaranteed to be so freakin' delicious!