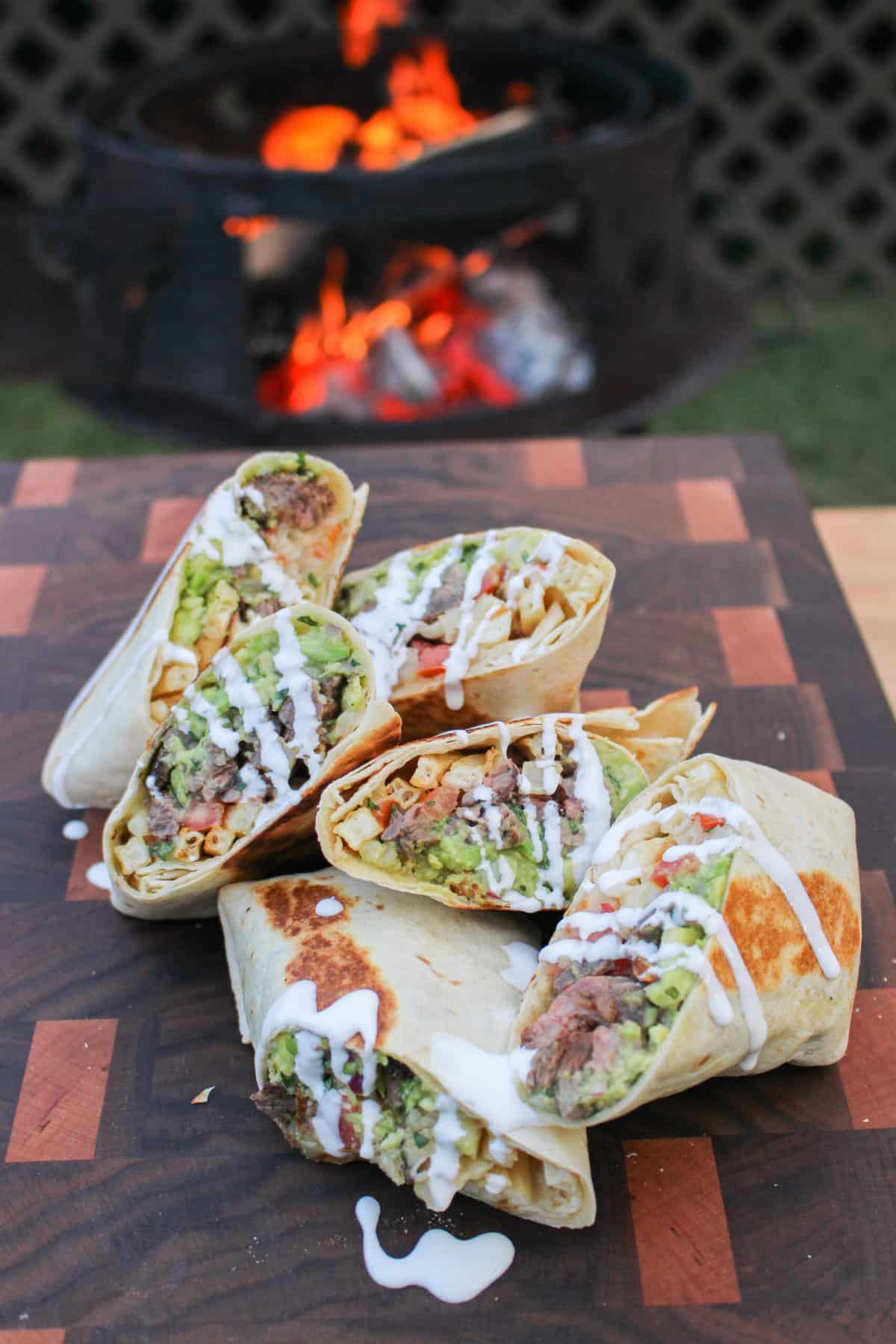 This California Burrito Recipe makes for the most hearty, flavorful meal. That's because it's loaded with marinated and grilled steak, homemade guacamole, French fries, pico de gallo, and cheese.
Why You'll Love California Burritos
If you're a burrito lover, you know that there are so many different burrito styles out there. This recipe comes straight from Southern California and will tickle your taste buds making you feel like true San Diegans. This savory, salty dinner takes just 20 minutes to prep!
Now let's talk through all the details so you can get right to eating your new favorite steak burrito.
California Burrito Ingredients
First, you're going to want to marinate your beef. Each skirt steak will be soaked in light beer, lime juice, chopped cilantro, soy sauce, ground cumin, garlic powder, black pepper, cayenne powder, and salt.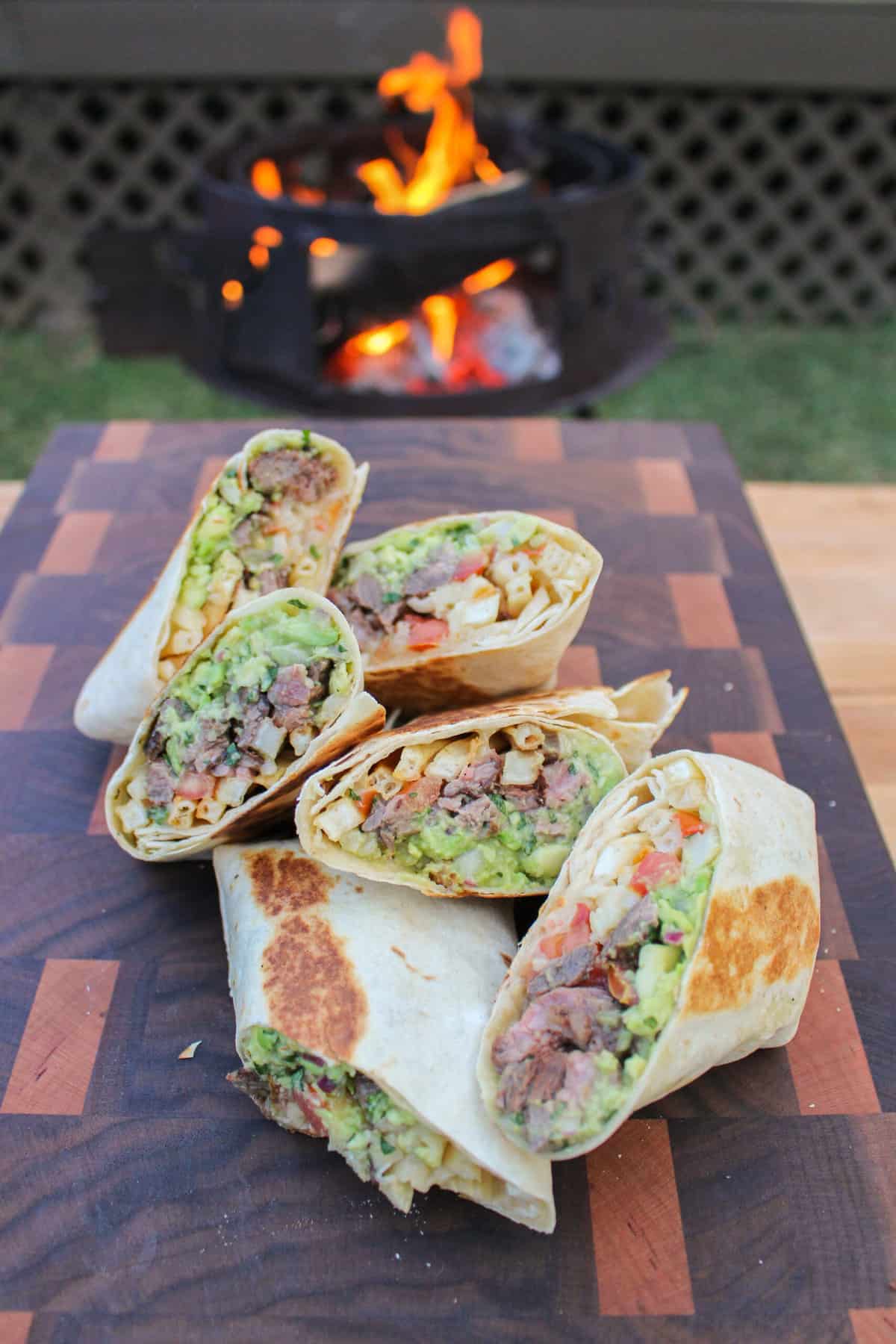 To finish off the burrito, you'll need a large flour tortilla, french fries, pico de gallo, Monterey Jack cheese, sour cream, and guacamole.
I like to make some fresh homemade guacamole: with large avocados, diced red onions, chopped cilantro, lime juice, and salt.
Looking for more delicious burrito recipes? Check out my Chorizo Breakfast Burrito, Southwest Breakfast Burrito, or Grilled Steak Burrito Bowl!
How To Make This California Burrito
Step #1: Prepare The Beef
First, we need to make sure that the beef is nice and flavorful for our California Burrito Recipe. And that, of course, means marinating the steak!
So, in a food-safe bowl or bag, combine the light beer of your choice with lime juice, chopped cilantro, soy sauce, ground cumin, garlic powder, black pepper, cayenne pepper, and kosher salt.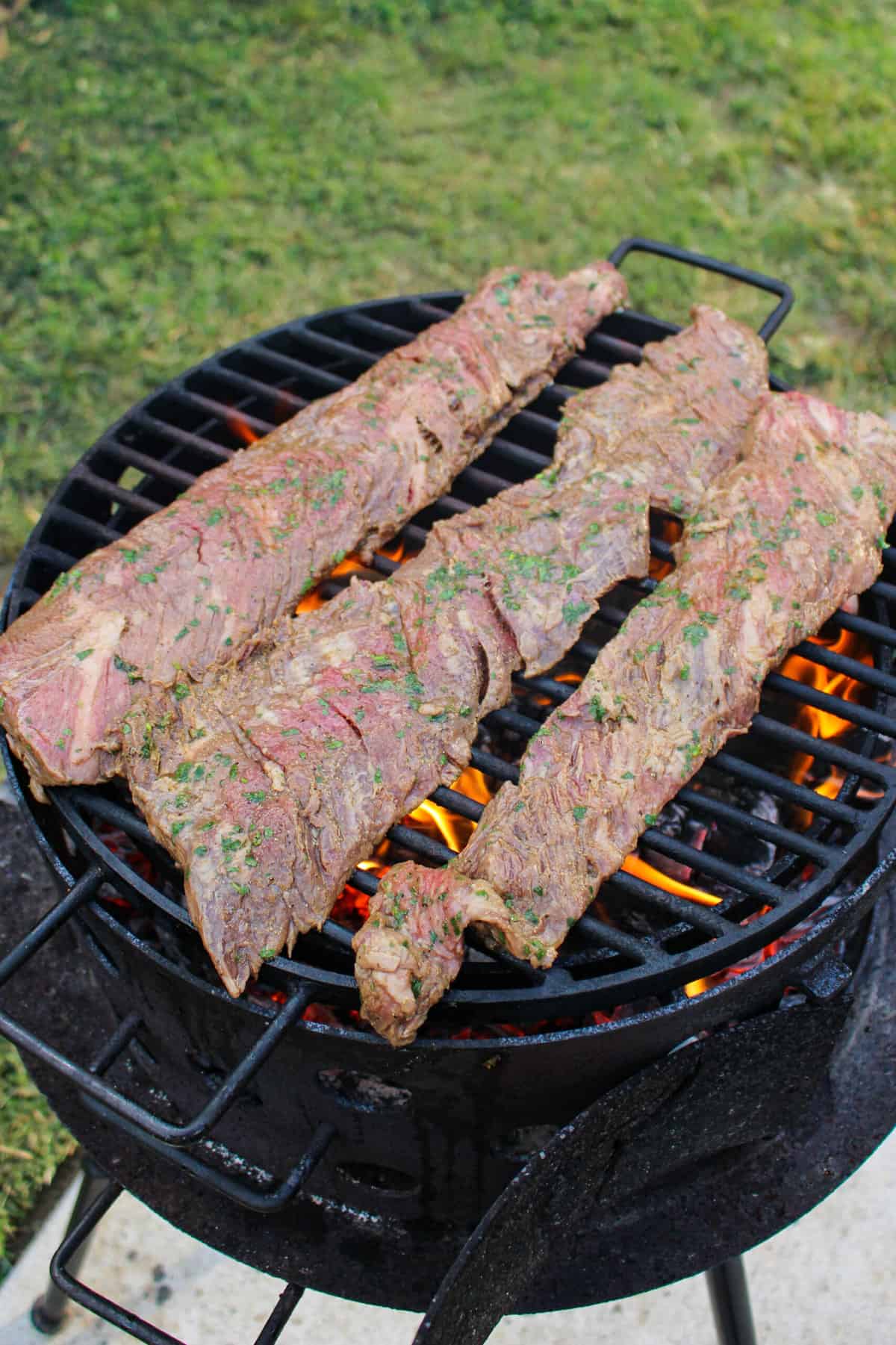 Add the steaks into the marinade, making sure that they're completely covered in the mixture. This flavoring is key, so make sure the entire steak is getting an even marinade! Place the steak for your California Burrito Recipe into the fridge and let it marinate overnight or, if you're shorter on time, a minimum of four hours.
Step #2: Cook the Fries
What makes a California Burrito a California Burrito? The French fry.
You read that right, these crazy people are putting fries into their burritos and I gotta say… We're crazy about it too!
So, whether you're frying your own French fries or opting for the frozen store bought ones, now is a good time to get those fries frying. Then set them to the side to wait until burrito assembly.
Step #3: Grill The Steak
Next up, let's cook! Preheat your grill for direct cooking at medium-high heat (around 400ºF). Pull the steak out of the marinade, discard the excess marinade, then place the steak over the heat on the grill.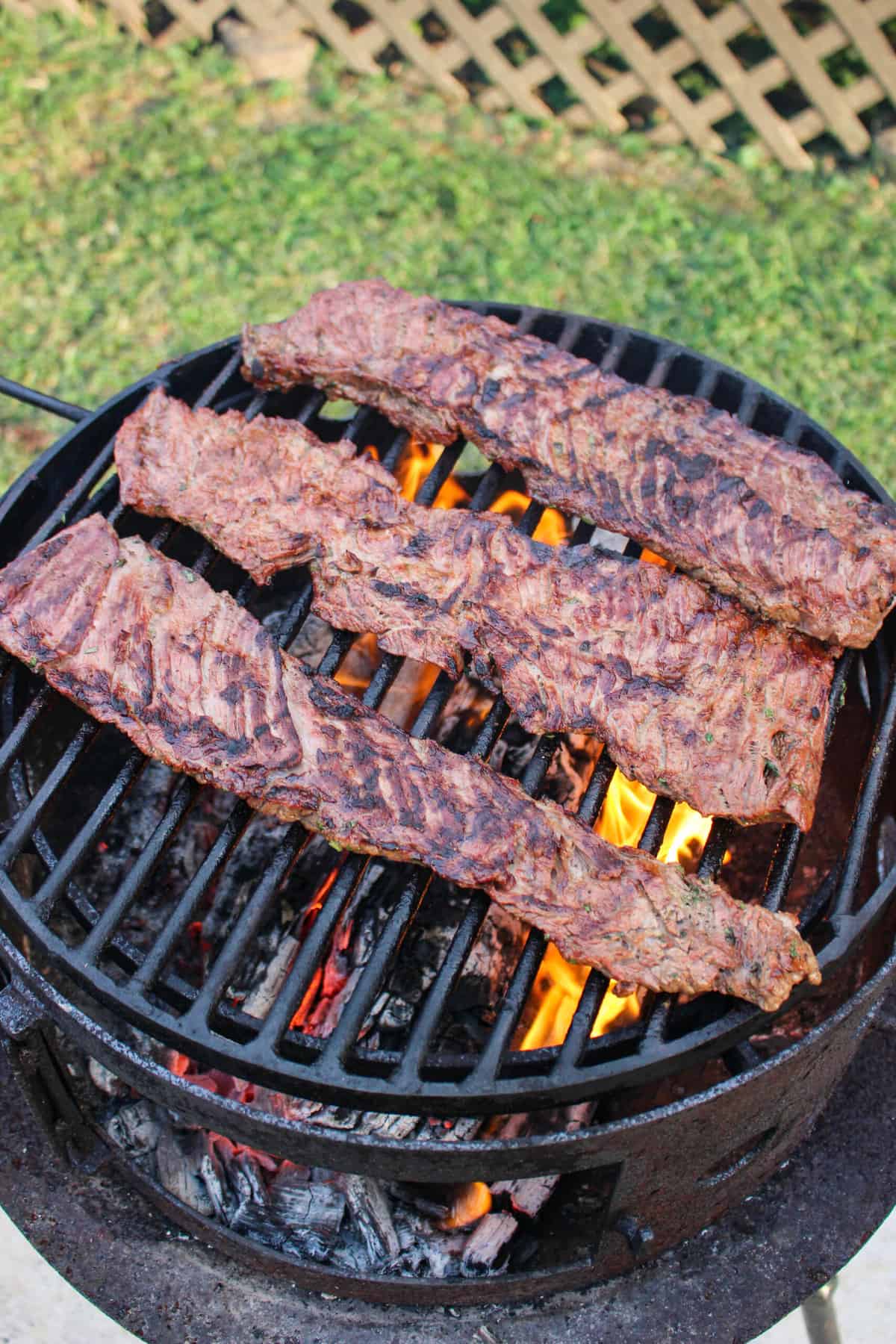 Grill the steaks for 2-2.5 minutes on each side, then use a meat thermometer to make sure that the internal temperature is 120ºF just like you're making carne asada!
Pull the steak off of the grill and let it rest for 10 minutes while you prep the other components of your California Burrito.
Step #4: Prepare The Guacamole
Next up, we've got a homemade guacamole recipe, because homemade guac is next-level on this California Burrito.
To make your guacamole, mash avocado with thinly sliced diced red onions, chopped cilantro, lime juice, and salt. Taste and adjust as needed, then set it aside.
Step #5: Assemble The California Burrito
Finally, let's put these things together. First, toast a few large tortillas on the grill. They need just 30 seconds or so to get a little warm. Charred tortillas just don't quite cut it.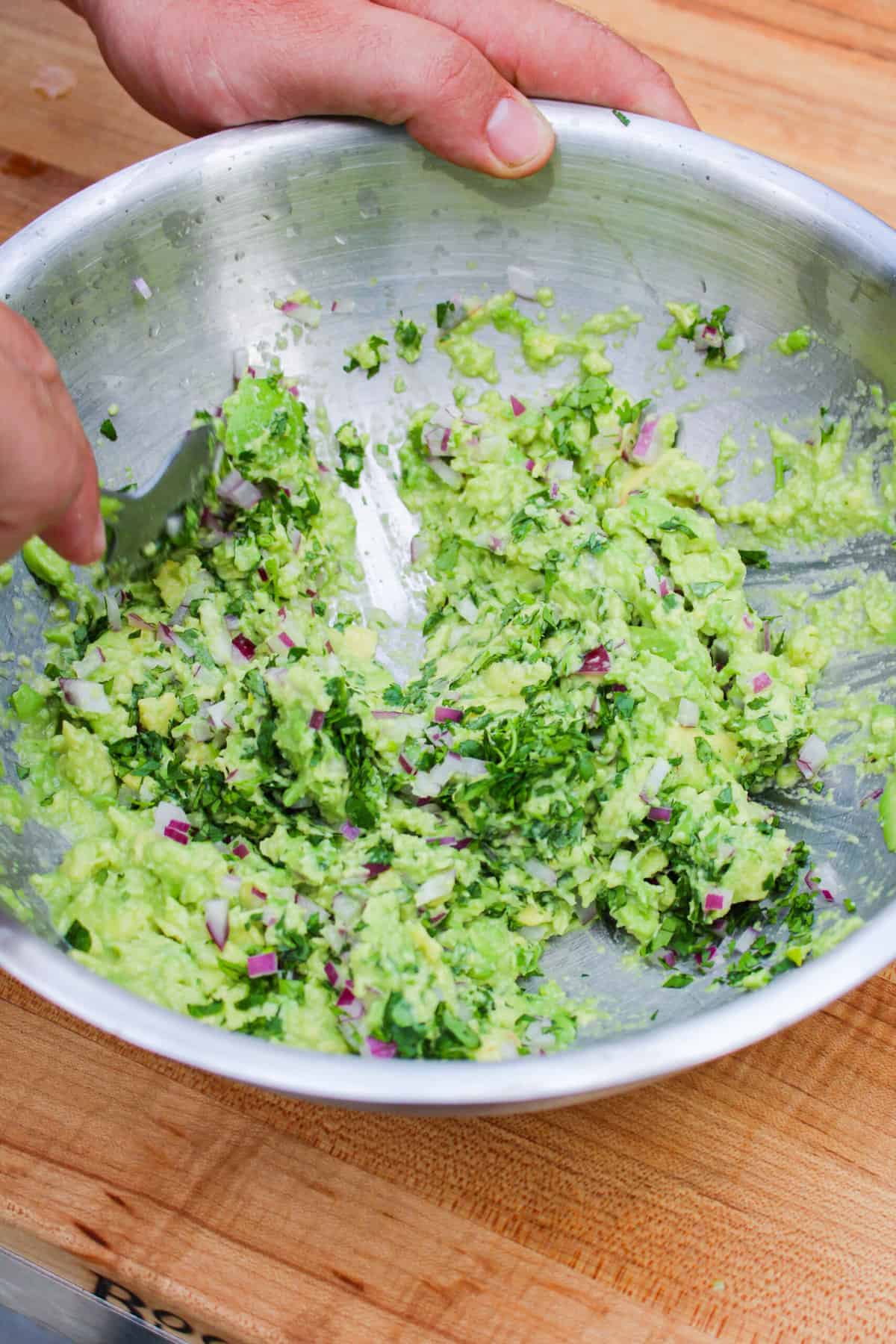 Next, grab the steaks and slice them up into bite-sized pieces. Don't forget to slice against the grain to shorten the muscle fibers. The shorter muscle fibers make for the most tender texture for this California Burrito Recipe.
Place a warm tortilla onto a clean work surface, then spread it evenly with a layer of guacamole. Add on a handful of chopped steak, pico de gallo, French fries, and shredded Monterey jack cheese.
Carefully roll your California style burrito up tightly so it doesn't fall apart, then set to the side and finish rolling the rest of them up so they're all ready to go.
Step #6: Make Your California Burrito Crispy
Okay, we have one last step in this California Burrito Recipe before we can dig in! We're going to toast the burritos for just a couple of minutes, because a toasted burrito is always the way to go.
So, add a skillet or plancha onto the grill and let it warm up for a minute or two. Add the burritos onto the pan and cook them for one minute on each side or until crisped to your liking.
Pull the burritos off of the heat, slice them in half, then serve them up with sour cream, hot sauce, and any other toppings or dips that your heart desires!Love this California Burrito Recipe? Then you'll definitely love my California Burrito Style Burger!
Recipe FAQs
Why Is It Called a California Burrito?
Loaded with crispy fries instead of rice and beans, this giant burrito gets its name from its origin in San Diego, California, where taco shops and food trucks got deep fryers and decided to double down on their fillings. With some of the best Mexican food in the country, this fun fusion is incredibly filling and over the top delicious. Now you can get street vendor style food from the comfort of your own home.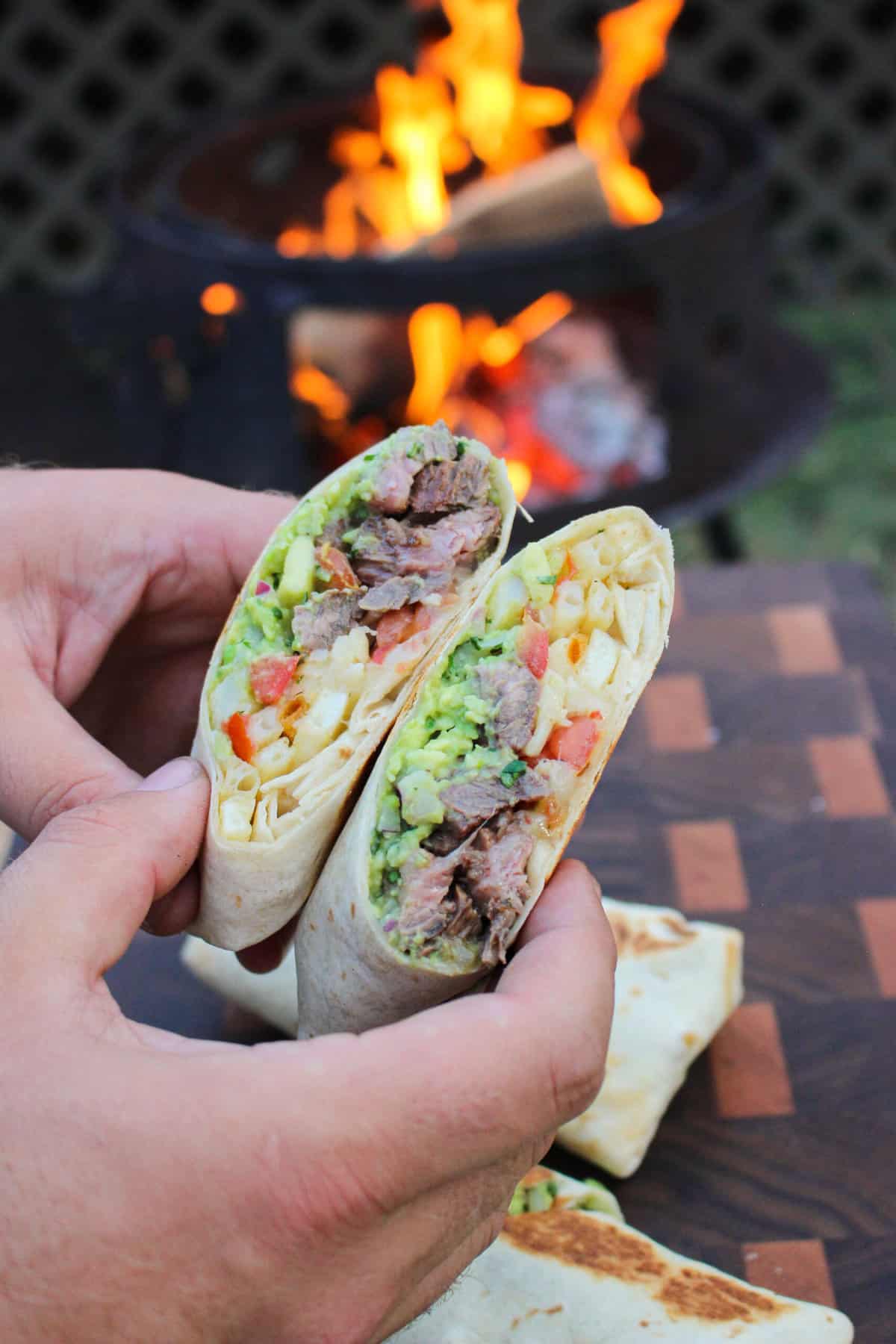 Can I Substitute any Ingredients?
When it comes to the key parts to this Southern California style burrito, it's important to have thin-cooked beef, guac, and fries.
However, you could substitute tater tots for the French fries and a variety of shaved grilled meat for the steak. Thinly shaved Lomo al trapo or even lamb barbacoa would be a great use in this recipe!
If you have a different type of cheese you prefer, like cheddar or queso fresco, feel free to substitute that as well to fit your taste.
What To Serve With This California Burrito:
This huge burrito is a meal all in itself, like all good street food. But if you want to round it out, serve these California style burritos with:
Rice and beans (now there's irony)
For more delicious recipes, check out my second cookbook Flavor X Fire or my first cookbook Food X Fire!
Needing more spice in your life? My spice line can help with that. Check them out here.
California Burrito Recipe
This California Burrito Recipe is loaded with marinated and grilled steak, homemade guacamole, French fries, pico de gallo, and cheese.
Ingredients
Beef & Marinade:
2-3

Skirt Steaks

24

oz

Light Beer

4

medium Limes

juiced

¼

cup

Chopped Cilantro

¼

cup

Soy Sauce

2

tbsp

Ground Cumin

1.5

tbsp

Garlic Powder

1

tbsp

Black Pepper

2

tsp

Cayenne Powder

Kosher Salt

to taste
Guacamole:
3

Large Avocados

¼

cup

Diced Red Onions

⅛

tbsp

Chopped Cilantro

2-3

medium Limes juiced

Kosher Salt

to taste
Burrito:
Large Tortilla

French Fries

Pico De Gallo

Monterey Jack Cheese

Sour Cream

for garnish
Instructions
Begin adding all the ingredients for the marinade into a food safe bowl or bag. Mix together thoroughly, then add your steaks into the marinade. Place in the fridge and let marinate for at least 4 hours but ideally overnight.

Preheat your grill to high heat (around 400F) for direct cooking.

Pull your steaks out of the marinade and discard the excess marinade. Grill them over high heat for 2-2.5 minutes per side until 120F internal. Once done, pull the steaks off and let rest for 10 minutes.

While the steaks rest, mix together all the ingredients for your guacamole in a bowl and set to the side. Finally, toast your tortillas over the flames for about 30 seconds per side to warm them up.

When the steaks are done resting, slice it up against the grain and into small bite size pieces. Next, start building your burritos with a warm large tortilla and layers of guacamole, handful of chopped steak, pico de gallo, handful of fries and shredded cheese. Roll nice and tight and repeat until you have made as many burritos as you like. Add the burritos to the skillet/plancha over the fire to crispy for about 1 minute per side. Once done, pull off the burrito and serve hot.

Slice the burritos in half if you desire, serve with the sour cream on the side and enjoy!
Nutrition
Calories:
616
kcal
|
Carbohydrates:
31
g
|
Protein:
44
g
|
Fat:
36
g
|
Saturated Fat:
8
g
|
Polyunsaturated Fat:
4
g
|
Monounsaturated Fat:
21
g
|
Trans Fat:
1
g
|
Cholesterol:
107
mg
|
Sodium:
949
mg
|
Potassium:
1529
mg
|
Fiber:
14
g
|
Sugar:
3
g
|
Vitamin A:
806
IU
|
Vitamin C:
41
mg
|
Calcium:
104
mg
|
Iron:
7
mg