Crispy Orange Chicken going down in the wok and over the flames. I did a shallow fry on these Sweet Teriyaki Sake seasoned chicken thighs (oh hello, my new signature line). We cubed them for the perfect, bit size chicken bits. I could've stopped here, but no. The sweet orange chili sauce took it all to the next level. So, are you ready to level up?!
Fo Shizzle My Sizzle
It's another day spent by the firepit for me. This time we're cooking up some Crispy Orange Chicken, and that's exactly where we'll start: with the chicken. I began by cubing my chicken thighs. I love cooking with chicken thighs. They're fattier than chicken breast, which makes them more flavorful. They're also thinner than a chicken breast, making it easy to get bite size pieces that will cook well in a shallow fry.
After cubining up the chicken thighs, I reached for the seasoning. I used Sweet Teriyaki Sake seasoning from my new, spirit infused line with Spiceology. If you haven't already, you can check out that seasoning here, and all my other seasonings here. I mixed the seasoning with cornstarch in a large bowl before pouring it all over the chicken thighs. The cornstarch will help hold the seasoning to the thighs while they're frying, so make sure each cube of chicken receives a generous coating.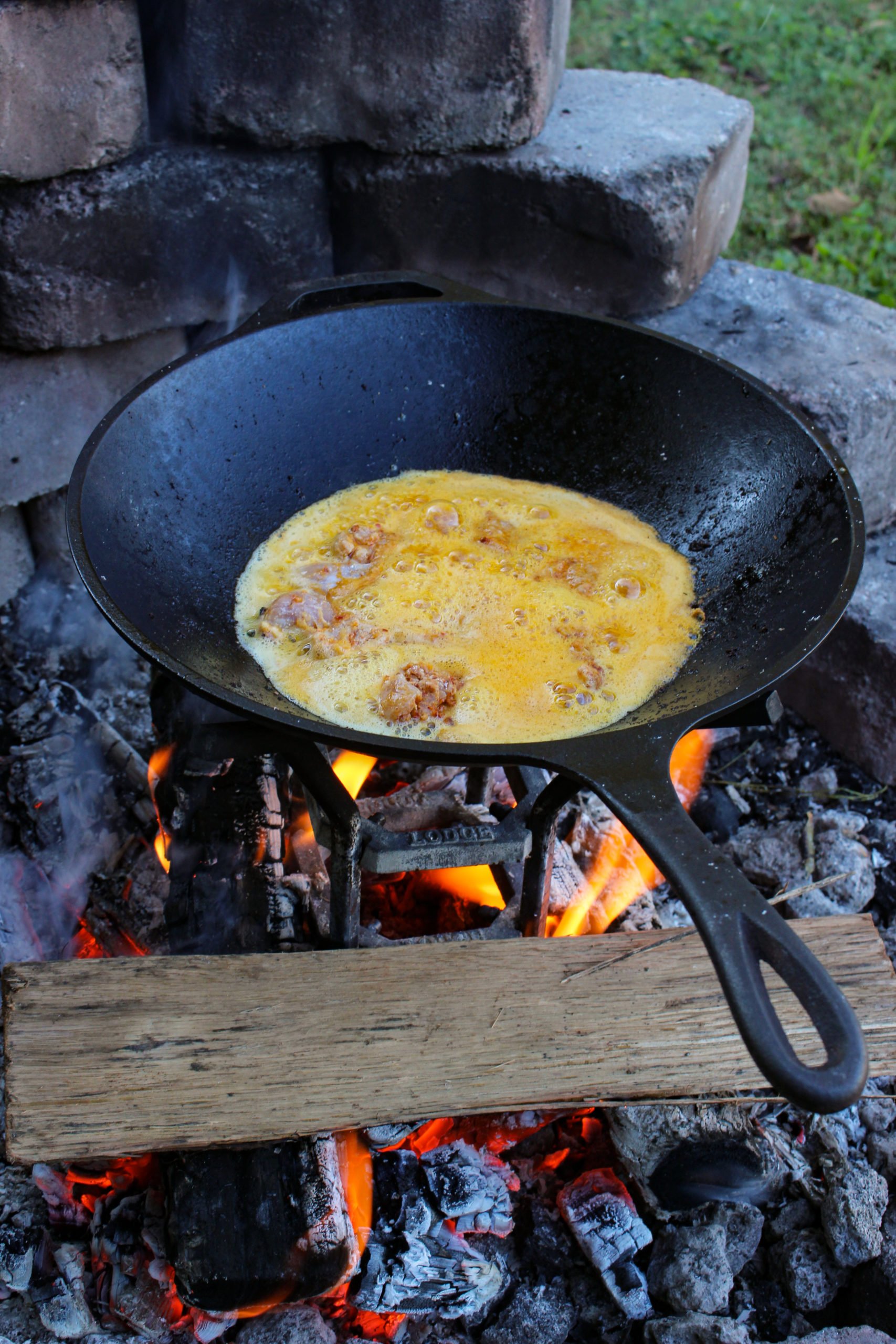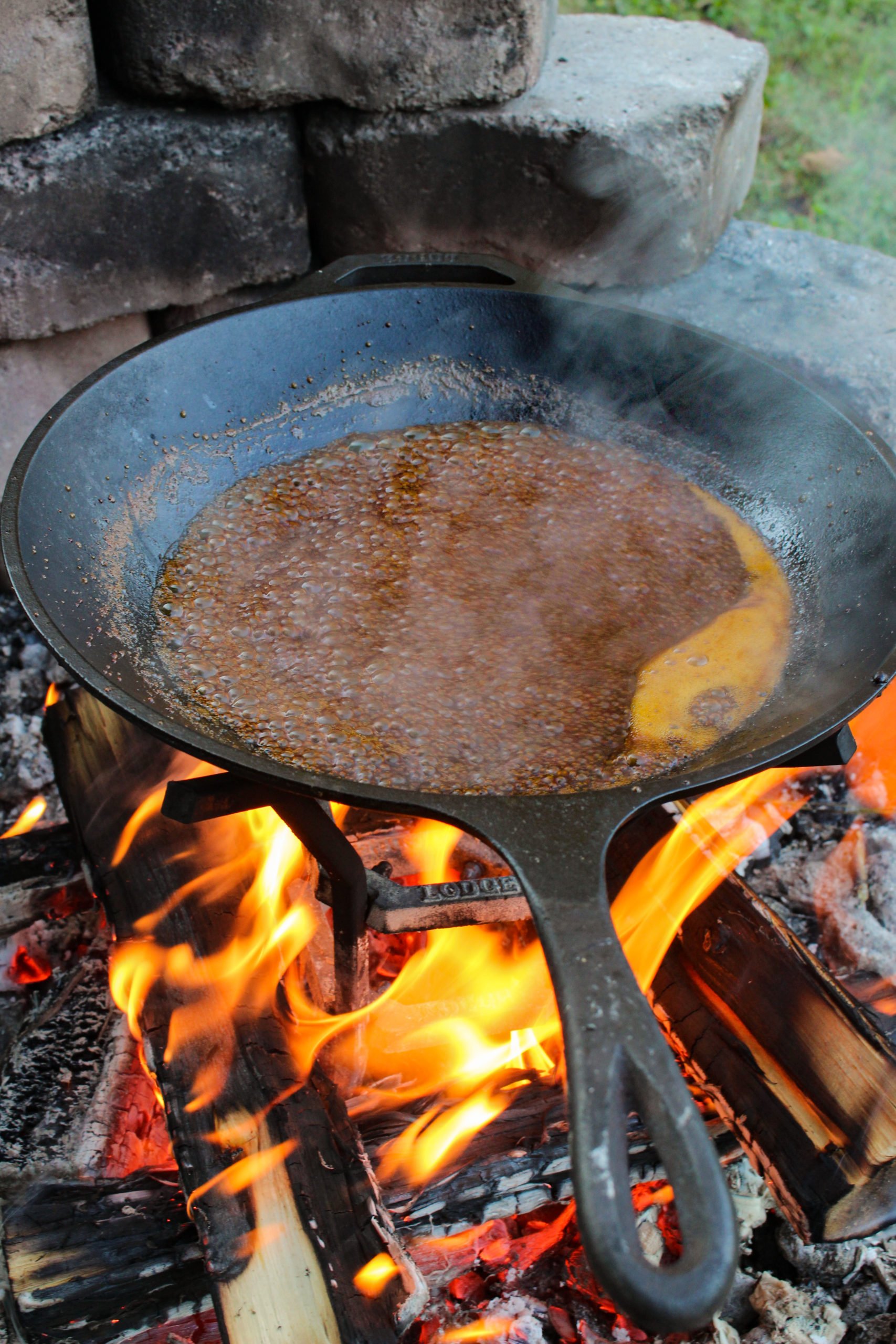 Fryin' and Stlyin' with this Crispy Orange Chicken
Now that the chicken is seasoned, we're ready to put the crispy in this Crispy Orange Chicken. We do this, of course, by frying it. I used a wok for this cook, but you could also use a deep cast iron skillet or even a dutch oven if that's what you already have. From here, place the wok over the fire and let it preheat. Then, add your frying oil. I did a shallow fry for this recipe, so you only need enough oil to cover the frying chicken. Mine was around an inch to an inch and a half deep.
Place the cubed chicken thighs in the hot frying oil in batches until all the chicken is cooked. It should have a nice, crispy outside while still being tender and juicy on the inside. After all the chicken is cooked, we'll move on to the orange chili sauce.
Want more wok recipes? Check out my Sriracha Bourbon Pork Belly Recipe!
You Happy About an Orange Chili Sauce
I cleaned out the wok so that I could make the orange chili sauce for the Crispy Orange Chicken in it. Place it back over the fire and start adding your orange chili sauce ingredients. Hold the cornstarch and water mixture for later, everything else can go straight into the wok. Once all the ingredients are added (except the water and cornstarch, we're still holding those), mix the ingredients together. I brought this mixture to a boil and let it fuse together for a bit.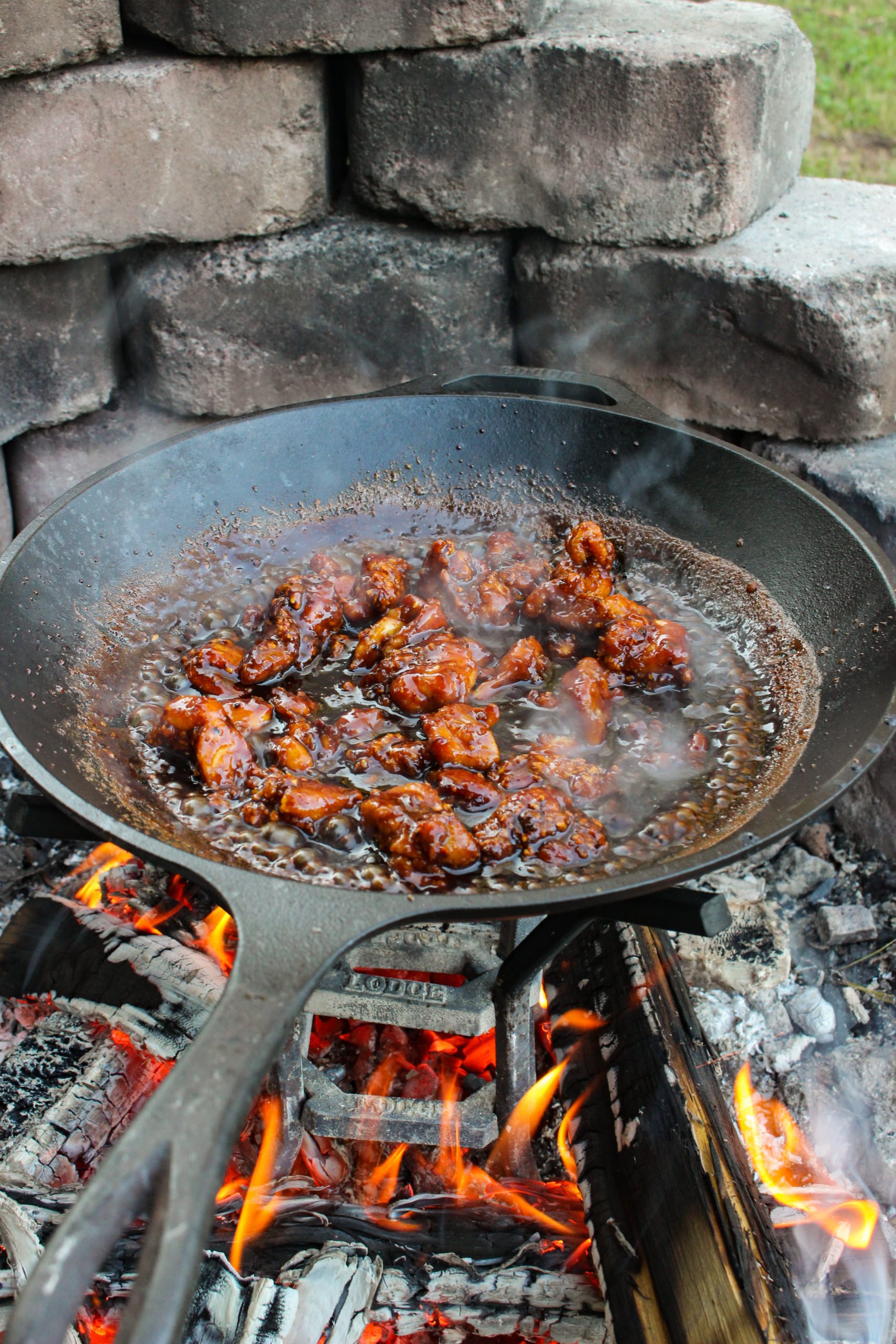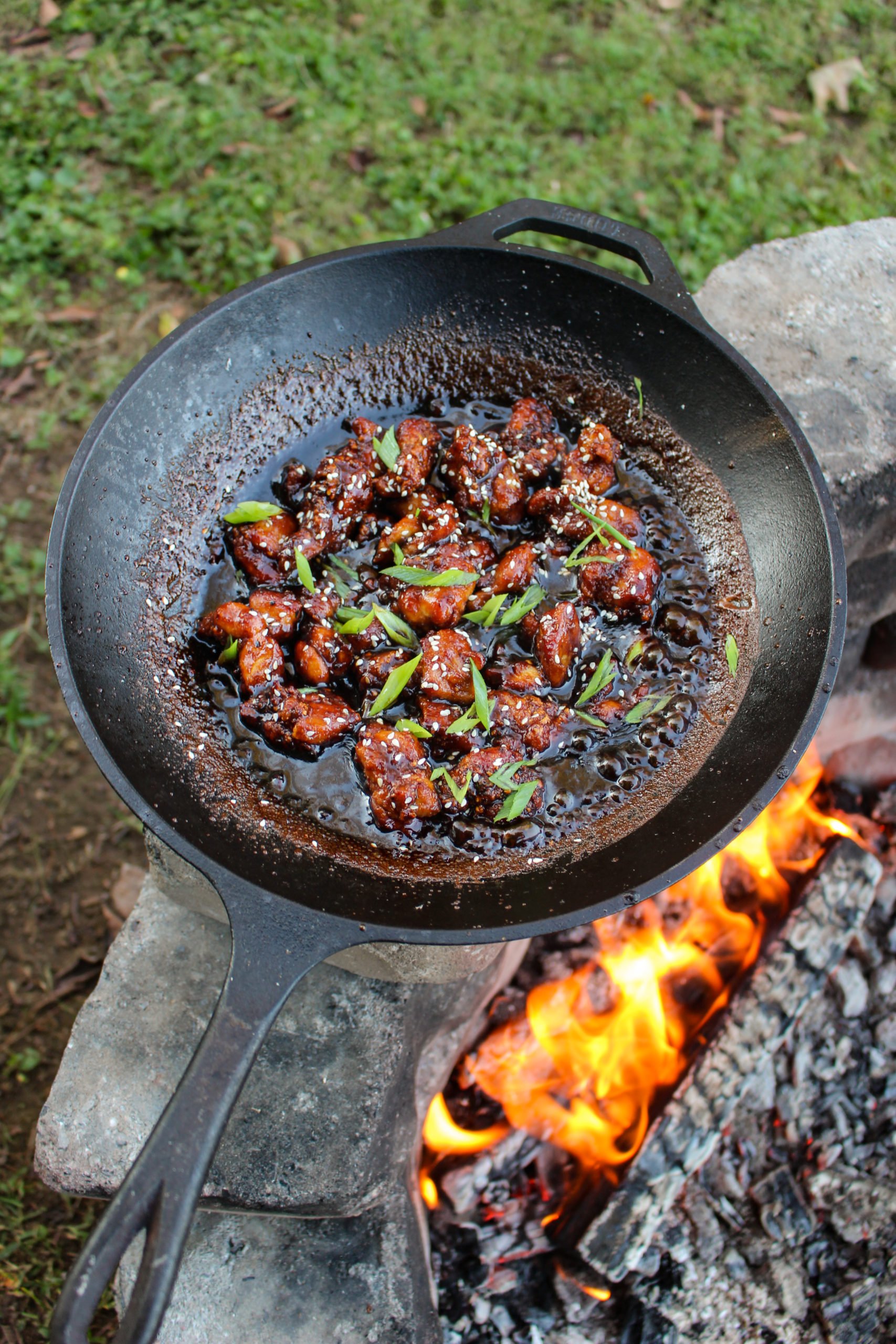 Next, we'll start slowly adding the water and cornstarch mixture. Water and cornstarch mixed together and then added to any liquid sauce helps it thicken. I added about half of it to the wok and stirred for a while, letting it thicken. I kept adding a little more, bit by bit, until I reached my desired sauce consistency for this Crispy Orange Chicken. Make sure to stir throughout this process to prevent burning. Burnt orange as a color is good, but as a food is bad.
Love chicken thighs? Me too! Check out Grilled Hot Chili Chicken Thighs Recipe here!
Crispy Orange Chicken for Everyone
Add the chicken back to the wok and give it a good mixing. I let it sit over the fire for a minute or so to let the chicken get nice and hot again. Then, pull it from the flames. I garnished this Crispy Orange Chicken with some chopped scallions and sesame seeds. Serve it straight from the wok or over a bed of rice. YUM! Best enjoyed with friends and family. Cheers!
For more delicious recipes, check out my cookbook Food X Fire!
Needing more spice in your life? My spice line can help with that. Check them out here.
Crispy Orange Chicken
Crispy Orange Chicken for dinner tonight!
Ingredients
Chicken:
1.5

lbs

of Chicken Thighs

cubed

1

cup

of Cornstarch

1.5

tbsp

of Sweet Teriyaki Sake Rub or your favorite seasoning

2

cups

of Frying Oil
Orange Chili Sauce:
4

Navel Oranges

juiced

1/4

cup

of Soy Sauce

2

tbsp

of Honey

1.5

tbsp

of Orange Marmalade

1.5

tbsp

of Rice Wine Vinegar

1

tbsp

of Sriracha

1.5

tsp

of Ginger Paste

1.5

tsp

of Black Garlic Sauce or Minced Garlic
Thickening:
2

tbsp

of Water

1.5

tbsp

of Cornstarch
Garnish:
Sesame Seeds

Green Onions

sliced
Instructions
Preheat a medium high heat fire (around 375F) for direct grilling. Add a wok or skillet to the fire 1 minutes before cooking with frying oil.

Cube up your chicken thighs and place in a bowl. Add the Sweet Teriyaki Sake seasoning (or your favorite seasoning) plus the cornstarch to another bowl and mix. Add the cornstarch seasoning mix to the chicken and make sure it spreads all over evenly. Once the frying oil is 325F, add your chicken and cook for about 3 minutes per side until the chicken is 165F internal. Do this in 2-3 batches in order to not overcrowd the skillet. Once the chicken is done, place in a bowl with a paper towel at the bottom to soak up excess oil.

When all the chicken is done, dispose of the frying out and clean out the wok. Add it back to the fire along with all the ingredients for the Orange Chili Sauce. Let simmer over medium high heat for about 5 minutes. Add the cornstarch and water to a bowl and carefully add that to the skillet to thicken the sauce. Whisk together and let the sauce simmer until it has reached your desired consistency (about 2-3 more minutes). Once ready, add the fried chicken to the sauce and mix together gently (so you do not scrape off the crust.

Once the chicken is well coated, pull the skillet off and garnish with sesame seeds and green onions. Serve and enjoy!