On the menu today is this epically delicious Sriracha Bourbon Pork Belly. Cooked over the fire in a cast iron wok, it is a spicy and sweet flavor combo that can be ready in only 15-20 minutes. Just make sure you grab some pork from Kansas Pork and the National Pork Board to guarantee you have amazing flavor. Let's dive in!
Prepping your Pork Belly
If you did not know, pork belly is the same cut where you get bacon. It is fatty but jam packed full of flavor. Everyone loves bacon, so this recipe should be a hit. The first step in doing this Sriracha Bourbon Pork Belly is prepping the pork belly itself. I grabbed my pork belly from Kansas Pork and the National Pork Board because it is delicious and packed full of flavor. This recipe only needs about 2 lbs of pork belly, so not need to go overboard on the amount. If you find pork belly with the skin still attached, then that is just a bonus. The skin is some of the best parts when you cook it right!
Now, I like to cube my pork belly into 1" thick squares. Keeping them even will help render them a lot better. Also, don't worry if you think those are too large of cubes. They will render to about half that size one the skillet. Once you have everything cut up, you can prep your fire. Adding a skillet or wok over the flames, you can wait till it's hot then dump in the pork belly. I am going to season my pork belly with Spiceology's Honey Garlic Sriracha seasoning, but feel free to add your favorite pork seasoning if you like. Once the pork belly has rendered and is 165F, you can pull if off and set it aside. Now for the Sriracha Bourbon sauce.
Combo of Sriracha and Bourbon
I wanted to do something unique with this recipe when it came to flavor. I have actually done a cook like this a couple of years ago, so I thought that we should be more cutting edge this time. The combo of Sriracha and Bourbon wasn't the first thing that came to my mind for these Pork Belly. However, the spiciness of Sriracha is mellowed with the sweet sugariness of the bourbon that makes for a great flavor. Add in some soy sauce for a savory note and you have some epic Sriracha Bourbon Pork Belly!
Let's Dive into this Sriracha Bourbon Pork Belly
In the end, this Sriracha Bourbon Pork Belly is an insane flavor combo that can be made in under 20 minutes over the fire. Even if you don't have a grill, this is a great recipe to try in your kitchen! Just make sure to have some delicious Kansas Pork Belly. Cheers and enjoy!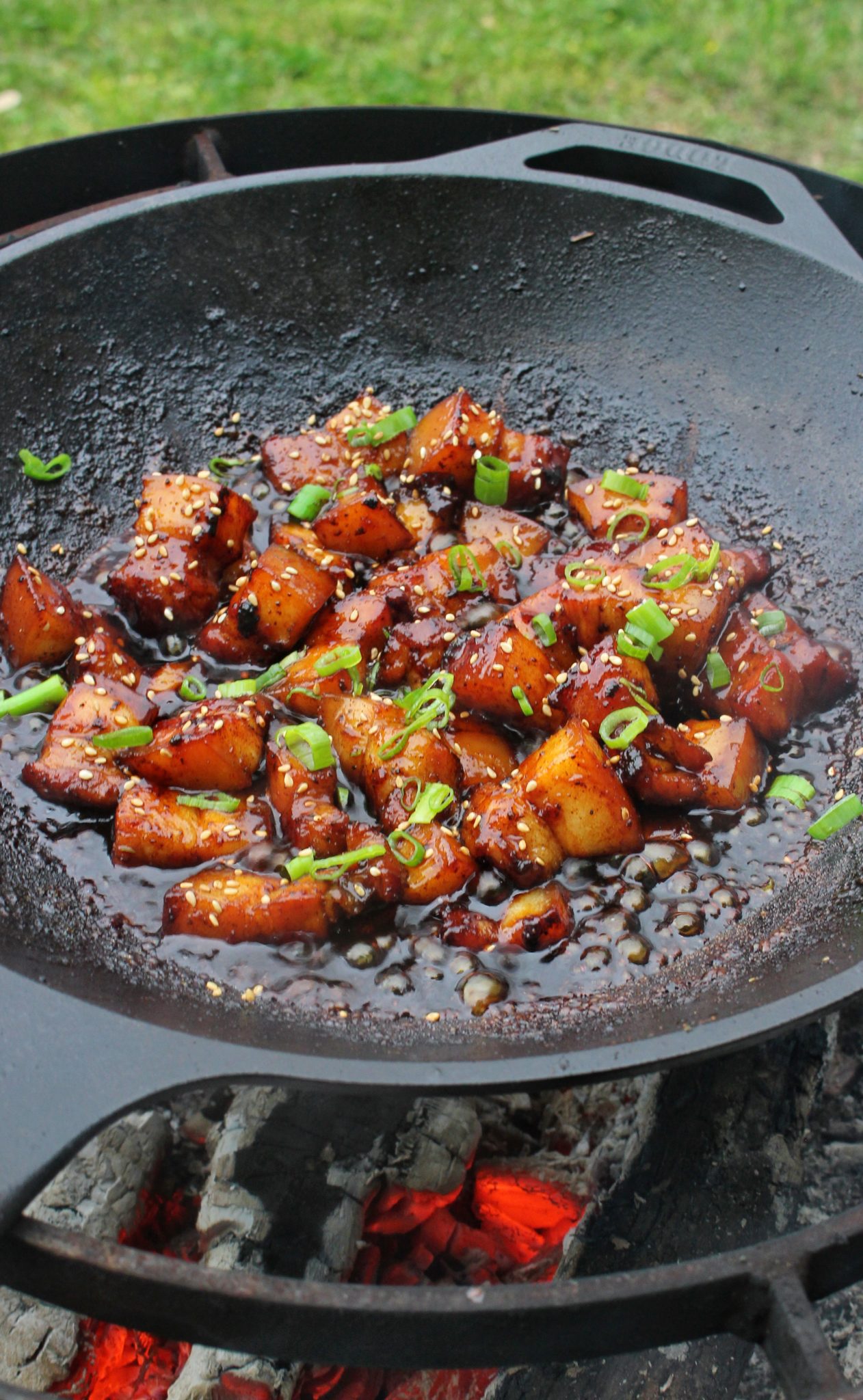 Print Recipe
Sriracha Bourbon Pork Belly
On the menu today is this epically delicious Sriracha Bourbon Pork Belly. Spicy, sweet but simply cooked over the fire in minutes!
Ingredients
Pork Belly:
2

lbs

of Pork Belly

cubed

1

tbsp

of Honey Sriracha Seasoning or your favorite pork seasoning

Sliced Scallions

for garnish

Toasted Sesame Seeds

for garnish
Sriracha Bourbon Sauce:
1/4

cup

of Soy Sauce

2

tbsp

of Bourbon

2

tbsp

of Honey

1.5

tbsp

of Sriracha

2

tsp

of Fish Sauce

2

tsp

of Ginger Paste

2

tsp

of Garlic Paste
Instructions
Preheat your fire to high heat (around 400F). Add a cast iron skillet or wok over the fire 1 minute before cooking to warm up.

Add your cubed pork belly along with your pork seasoning to the skillet. Cook for about 7-8 minutes or until the pork has rendered well and is at least 165F internal. Once done, pull the pork belly off and discard excess fat.

Place the skillet back over the fire and deglaze with the bourbon. Next, add all the ingredients for the Sriracha Bourbon Sauce except for the honey. Let that simmer until it begins to thicken (about 8-10 minutes). Once it has thickened, add the honey and gently stir until it has thickened to your desired liking.

Add the pork belly back to the skillet with the sauce and simmer in the sauce for 2-3 minutes. Garnish with sliced scallions and toasted sesame seeds. Pull off the heat, let cool and enjoy!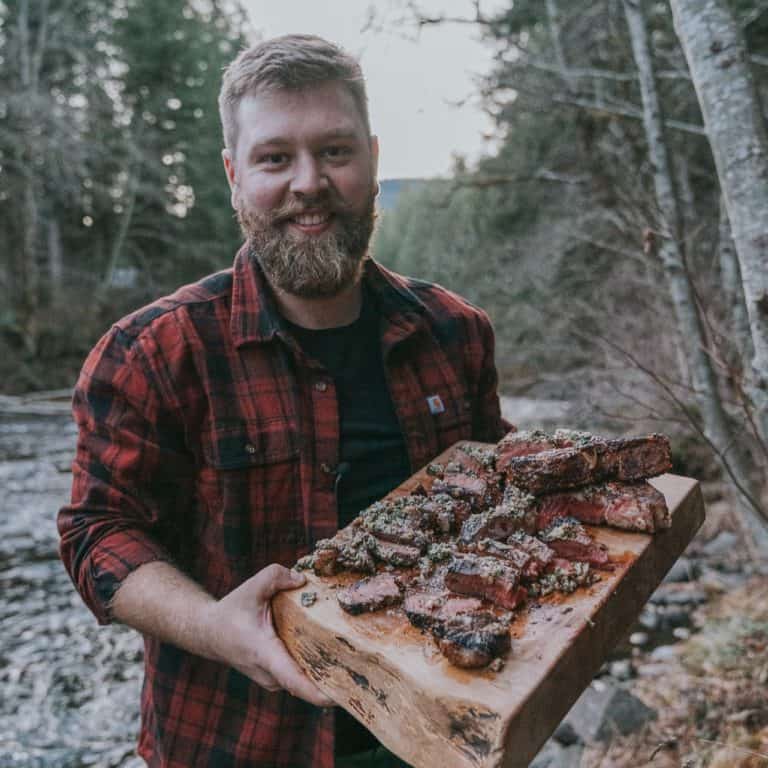 Derek is the driving force behind Over the Fire Cooking. He started cooking with live fire in 2016 and decided to start a social media page so his friends and family could follow the journey. Fast forward to today and Over the Fire Cooking has spread across multiple platforms with millions now following Derek's fire cooking journey. He's a southern fellow who enjoys everything from classic BBQ to Central and South American inspired dishes. Whatever he's cooking up, it's guaranteed to be so freakin' delicious!