Dirty Lobster Tails are my new favorite thing. Not only are they fun to make, but they are made right on top of some hot Cowboy Charcoal. What is not to love about that?!
So What are Dirty Lobster Tails?
Way back when, I fell in love with cooking things on top of lump charcoal. I have cooked bread, steaks and tacos all on top of the coals because it creates such a unique experience and flavor. Lobster tails are just one more thing to check off the list.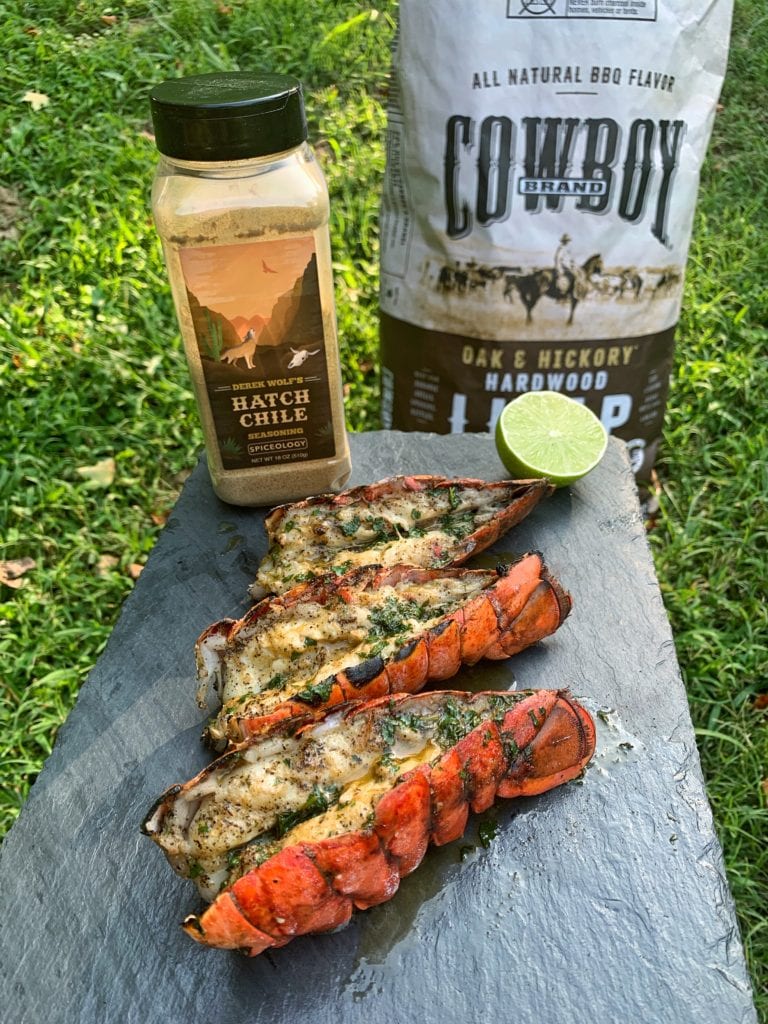 Lobster tails are a natural fit for cooking on some hot lump charcoal because they combine two essentials for coal cooking: easy to create a crust and cook fast. The only tough part about cooking these dirty lobster tails is putting them flesh side down at the beginning. For this, you need to season them up really good. This will help create a crust on the flesh that will make a barrier between the meat and the hot Cowboy Charcoal. Next you need to make sure the coals are white hot. Not all black or ashy, but white hot with a good ember flame. This will help sear them quickly so you can flip a couple minutes later.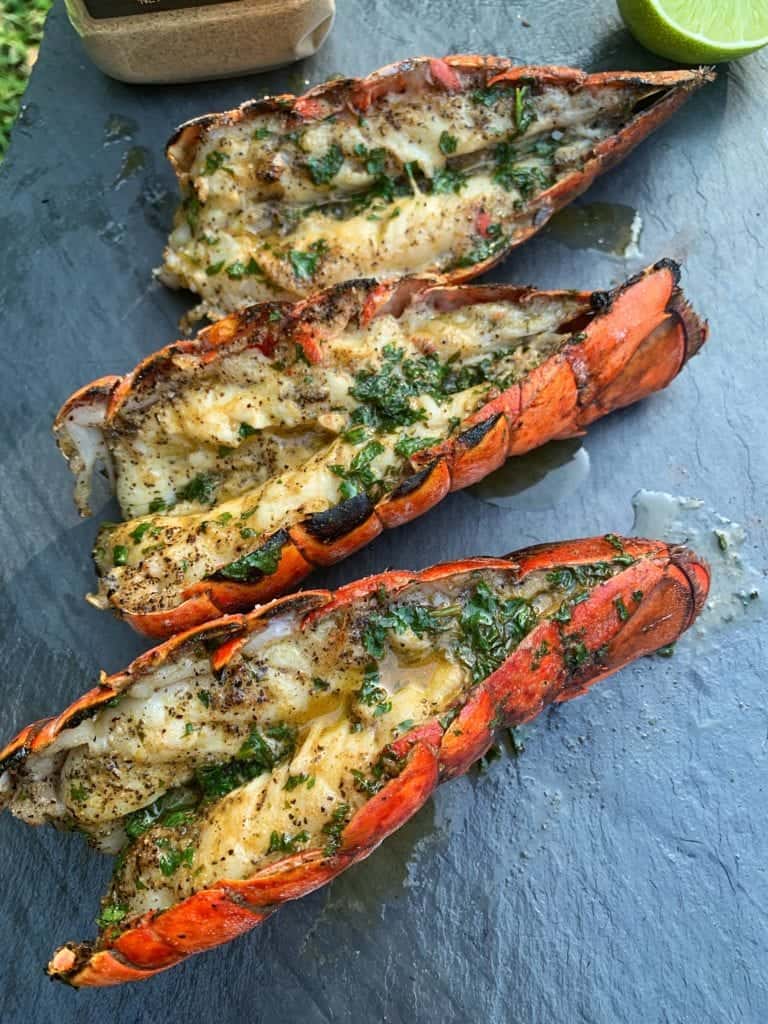 What about the Hatch Chile Butter Sauce?
What are lobster tails without butter?! For this recipe, we are making a Hatch Chile Butter Sauce that is made with my new Hatch Chile Seasoning. This tangy & spicy rub is packed full of flavor to fill in the gaps that the delicate lobster and robust charcoal are leaving behind. In the end, the butter makes a rich, creamy and tangy twist to the top of your dirty lobster tails.
Benefits of Cooking on the Coals
To be honest, the biggest benefit for cooking on the coals is the experience. When done properly, this is a fun cook for those that like to be adventurous over the fire. Cooking on the coals though is not for the faint of heart. Make sure to have your Cowboy Charcoal hot, lobster seasoned and a fresh beer in hand before you start cooking. Things go fast once they hit the coals!
Dirty Lobster Tails with Hatch Chile Butter Sauce
Delicious dirty lobster tails cooked right on top of some hot Cowboy Charcoal. Then, these Lobster Tails are then finished with a Hatch Chile Butter Sauce for extra flavor.
Equipment
Cowboy Charcoal, Cast Iron Sauce Pan, and Tongs.
Ingredients
Lobster Tails Ingredients:
3-4

Cold Water Lobster Tails

Salt & Pepper

Avocado Oil
Hatch Chile Butter Sauce Ingredients:
2

tbsp

of my Hatch Chile Spice

2

tbsp

of unsalted butter

¼

cup

of Tequila

white

1

lime

squeezed

1

tbsp

of cilantro

chopped
Instructions
Using a sharp knife, safely split the lobster tail down the back (do not go all the way through the flesh and open. Discard any pieces of broken shell and lather in avocado oil. Season with salt and pepper thoroughly.

Once Cowboy Charcoal is white hot, place the lobster tails flesh side down on the coals and cook for 2-3 minutes. While lobster are cooking, place sauce pan on coals to preheat.

Gently lift the tails and flip to cook on shells for another 7-8 minutes. Add to sauce pan all of your Hatch Chile Butter Sauce ingredients and let simmer for 2 minutes. Once simmered, lather the lobster tails in the butter sauce until the lobster tails are firm and white.

Pull lobster tails off and pour any remaining butter on top. Let cool for 2 minutes then eat & enjoy!
This article does contain affiliate links to products that we personally use and support. Purchasing an affiliate product does make us a small commission at no cost to you. This helps us continue creating for our website. All words and opinions are our own, and we appreciate your support!