Flap Steak Pizza Recipe
Who would ever add pizza toppings to their steak? I do! And you should too because this Flap Steak Pizza recipe cooked over hot Cowboy Charcoal is off the chain.
Flap Steak Pizza is a perfect combo of great steak topped with the best parts about pizza. This recipe cuts out the carbs too so you end up saving those calories without sacrificing flavor! First you need to find some flap steak!
What is Flap Steak?
Flap steak, also called bavette steak or sirloin tips, comes from the bottom sirloin region of the beef. It is a cheaper cut as it is fatty, thin and needs to be cooked correctly to maximize flavor. It is a fun blend of the heartiness of flank steak with the quick cooking method of skirt steak.
One key thing to remember: like skirt steak, you must cut against the grain to make this steak tender! In the end, it is a great choice to use as a base for pizza because it cooks quickly and is thin like pizza crust for this flap steak pizza.
Matambre a la Pizza Inspiration
My inspiration for this cook comes from South America. They use a cut very close to Flap Steak called Matambre, which is very difficult to find in the USA. This cut has a lot of intermuscular fat, therefore it has to be cooked over hot coals for a while in order to become tender.
They traditionally cook the matambre then cover it in sauce, cheese and toppings to make steak pizza. This recipe is truly no different. I have the high quality Cowboy Charcoal, but just needed to switch out the matambre for flap steak pizza.
**Note: You can easily do this recipe with skirt steak or flank steak if flap steak is also difficult to find**
Time to Eat
In the end, we have a great mixture of grilled steak and pizza. This Flap Steak Pizza recipe is off the charts delicious. Try it for yourself this fall!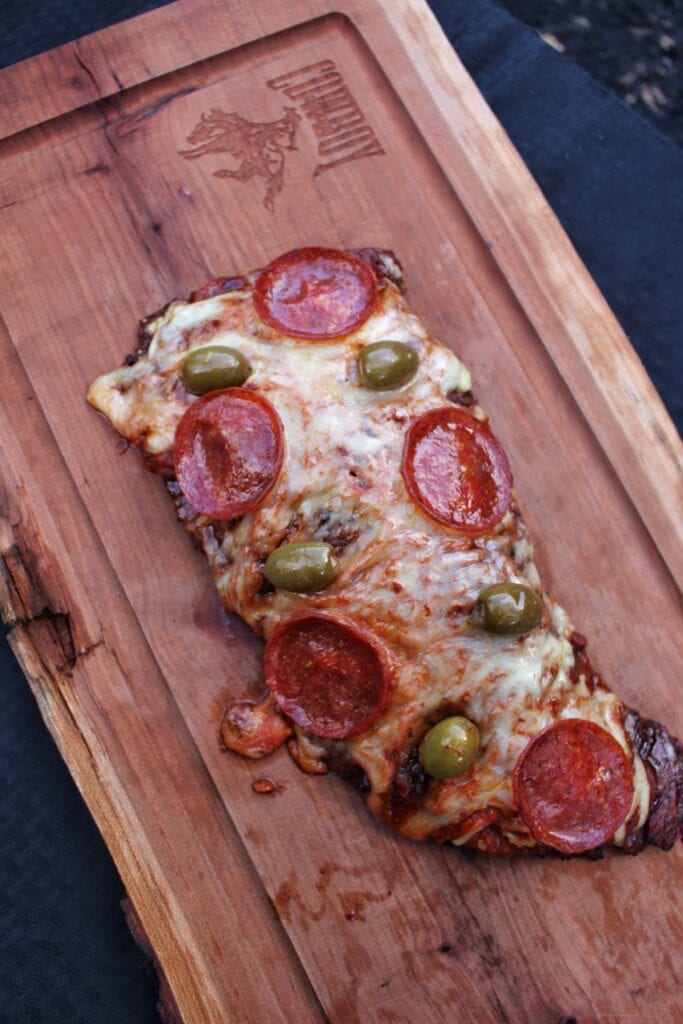 Flap Steak Pizza
Every thought about adding pizza toppings to steak? This Flap Steak Pizza if the best of both worlds for half the calories!
Ingredients
Steak Ingredients:
1

Whole Flap/Bavette Steak

Salt & Pepper

Oil
Pizza Topping Ingredients:
1.5

cups

of Marinara Sauce

1.5

cups

of Mozzarella Cheese

grated

8-10

Pepperoni Slices

6-8

Green Olives

Red Pepper Flakes

to garnish

Chopped Basil

to garnish

Salt

to garnish
Instructions
Season the flap steak with oil, salt and black pepper thoroughly.

Using Cowboy Charcoal, fill a full chimney of coals, light and let preheat for 15 minutes. Pour coals into grill and place into one pile for 2-zone cooking.

Lay the flap steak directly over the hot Cowboy Charcoal, and let sear both sides for 1-2 minutes to create a crust. Pull steak away from coals and step for indirect cooking. Lather the marinara, mozzarella cheese, pepperoni, olives and any other toppings you desire. Close lid and let cook for 10 minutes or until the steak is 120F and the cheese has melted.

Once done, pull steak off grill and let rest for 10-12 minutes.

Top steak with red pepper flakes, chopped basil and salt. Slice against the grain and enjoy!
This article does contain affiliate links to products that we personally use and support. Purchasing an affiliate product does make us a small commission at no cost to you. This helps us continue creating for our website. All words and opinions are our own, and we appreciate your support!