Welcome to the RV lifestyle with Over The Fire Cooking! I have teamed up with GoRVing to show off how easy it is to cook over open fire while RVing in the great outdoors. First recipe to try, my new Panko Fried Wild Salmon. Fried Salmon tastes delectable when combined with sautéed vegetables like beans, mushrooms and tomatoes.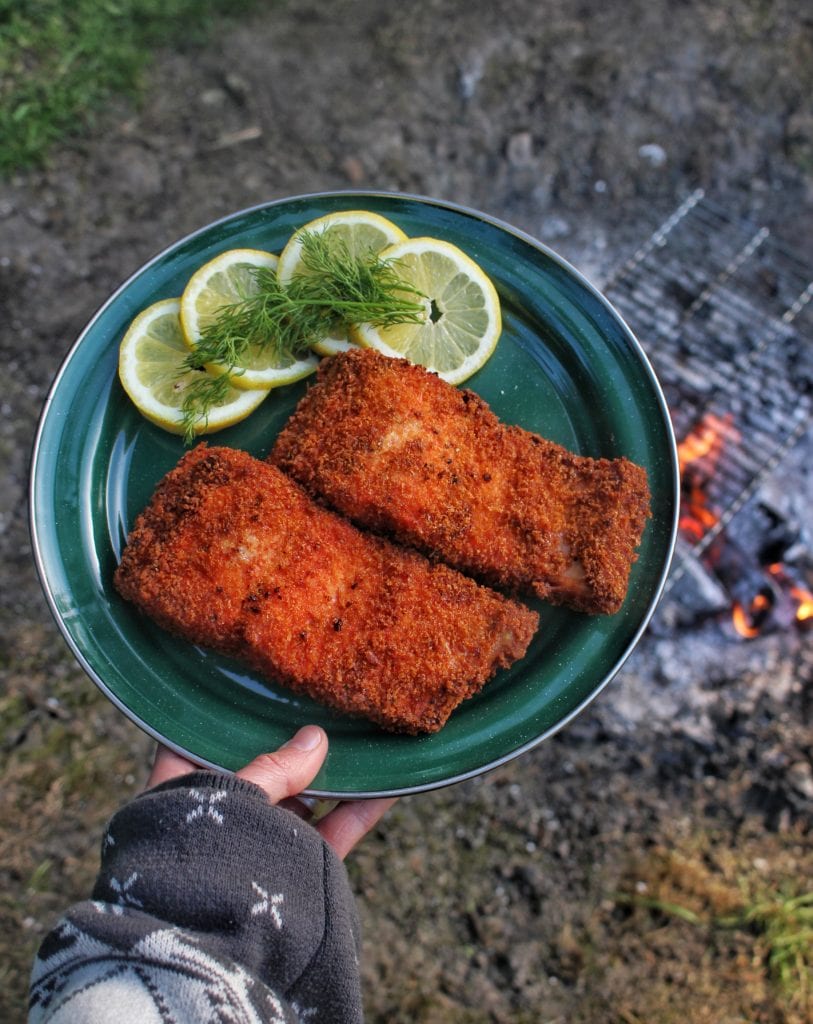 Fried fish is nothing new. We all love some classic fish and chips while we are out to dinner, but what about doing it at the RV site with fried salmon? This is definitely not as easy since you may not have a frier and you probably want to cook it over open fire. We all know that oil and fire really like each other (oil fires are not cool…), but they do not have to scare you!
It is all about controlling the oil and heat for this Panko Fried Wild Salmon recipe. By using a cast iron skillet with a high lip, this will help prevent fire from getting inside. Also by maneuvering the salmon carefully, this will prevent flare ups from happening. Now on to the recipes…
How to Make the Panko Fried Wild Salmon
Made this fish recipe using wild caught salmon found locally on Orca Island. Super meaty fish caught only a couple of miles away from the fishery we bought it at. Perfect for this Panko Fried Wild Salmon recipe!
Next, you are going to need a cast iron skillet. I love my skillets so much! You always hear me harping about how awesome they are, but for this recipe you need a hot skillet with some good oil inside for frying. Using an egg wash with some seasoning, dredge the salmon in the wash then cover it in panko crumbs. Add it to the frying oil and let science do the rest!
Panko Fried Wild Salmon is a perfect dish to serve right at the RV site because it can easily feed the whole family. Add some rice and broccoli on the side and you are ready for a feast next to the campfire.
Before starting the recipe, remember when you are cooking Fried Salmon, don't throw off the skin. It acts as a safety layer between fish and the hot skillet.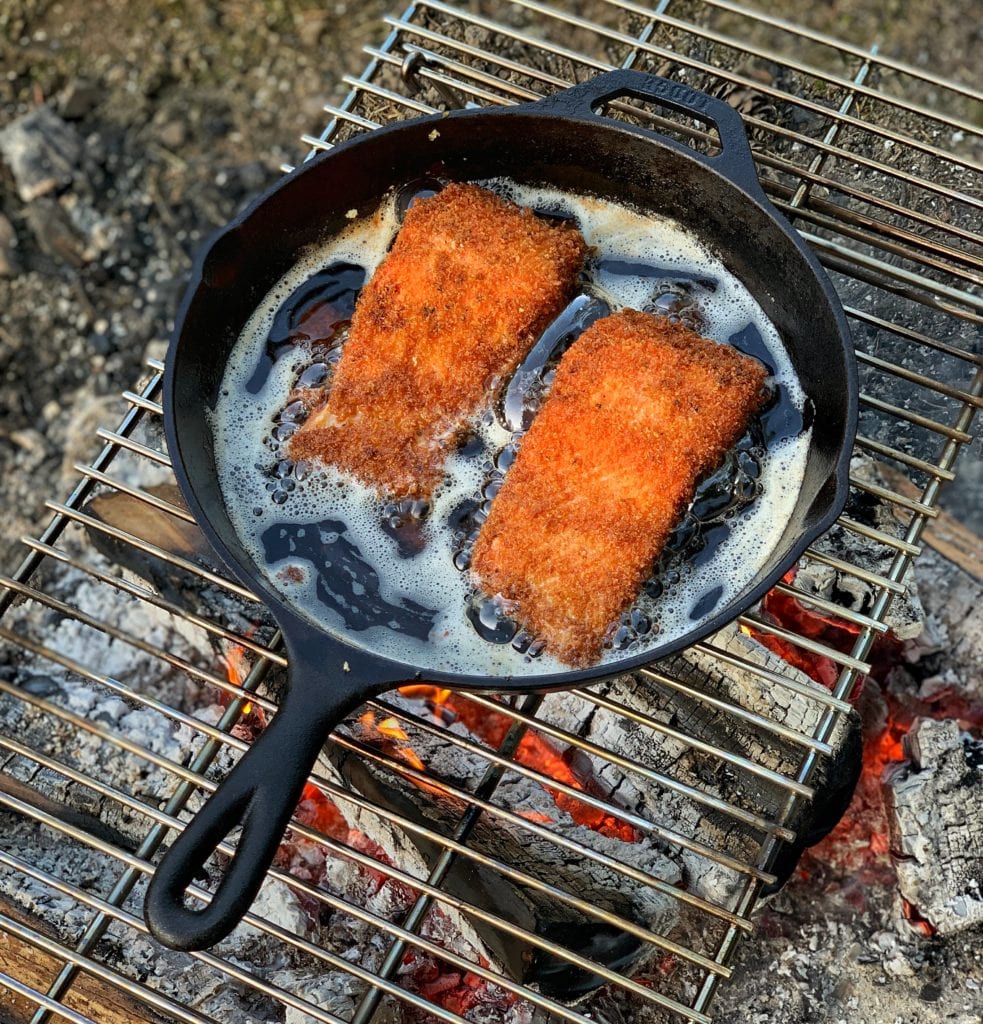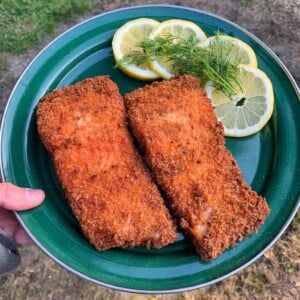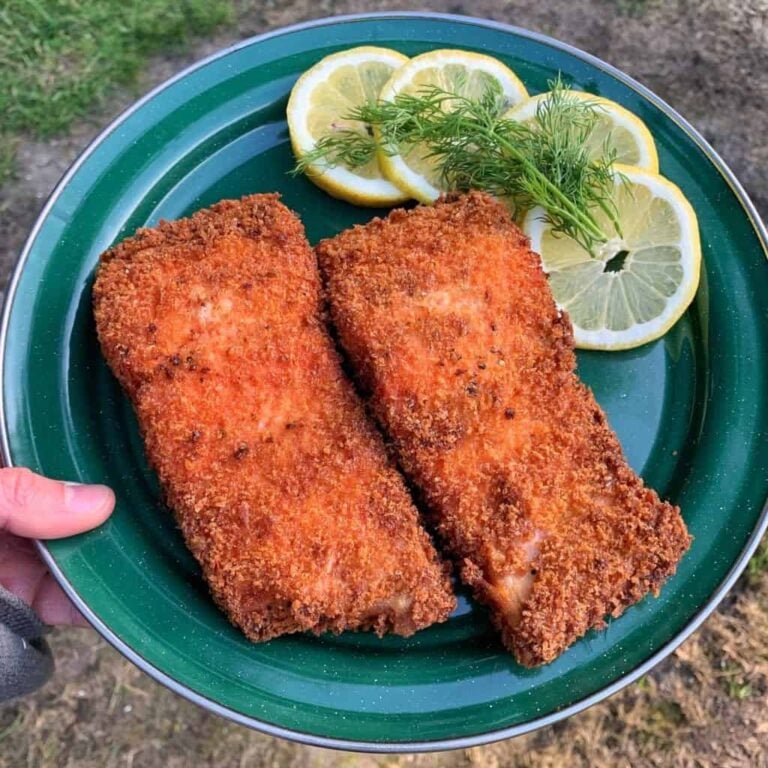 Panko Fried Wild Salmon
Delicious dish to make anywhere your RV takes you. Try these Panko Fried Wild Salmon out in the woods or in your own home for some tasty seafood with a crunch.
Equipment
Cast iron skillet

Wood

Fire Starters

Heat Resistant Gloves

Cutting Board

Knife
Ingredients
2

Filets of Wild Salmon

4

eggs

whipped

1.5

tbsp

of Paprika

1

tbsp

of Black Pepper

2

tsp

of Kosher Salt

1

tsp

of Cayenne Powder

2

Cups

of Panko Crumbs

1

Cup

of Vegetable Oil

Lemon & Dill

garnish
Instructions
Using a fire starter and some local wood, start your fire. Make fire a medium to medium-high heat. Place your grill directly over fire and preheat skillet with some vegetable oilfor frying over it.

In a bowl, whip the eggs and add paprika, black pepper, kosher salt and cayenne powder. Add salmon to egg mixture and mix thoroughly. In a separate bowl filled withpowder. Add salmon to egg mixture and mix thoroughly. In a separate bowl filled with panko crumbs, add salmon until thoroughly coated.

Add a pinch of panko crumbs to the frying skillet to see it it sizzles. Once it is hot, add salmon and cook meat side down first. Flip about 2 minutes and finish cooking the salmon until desired temperature. I prefer wild caught salmon at 130-135F (about 8-10 minutes total).

Once done, pull off salmon and let rest for 2 minutes. Garnish the fried salmon with lemon and dill for added flavor and enjoy!
This article does contain affiliate links to products that we personally use and support. Purchasing an affiliate product does make us a small commission at no cost to you. This helps us continue creating for our website. All words and opinions are our own, and we appreciate your support!