Sponsored by Lone River Ranch Water
Smoked Tequila Lime Burnt Ends bring the fiesta to you! We've been getting pretty festive around here lately, but you know what is good anytime of year? Burnt ends. Specifically, pork belly burnt ends.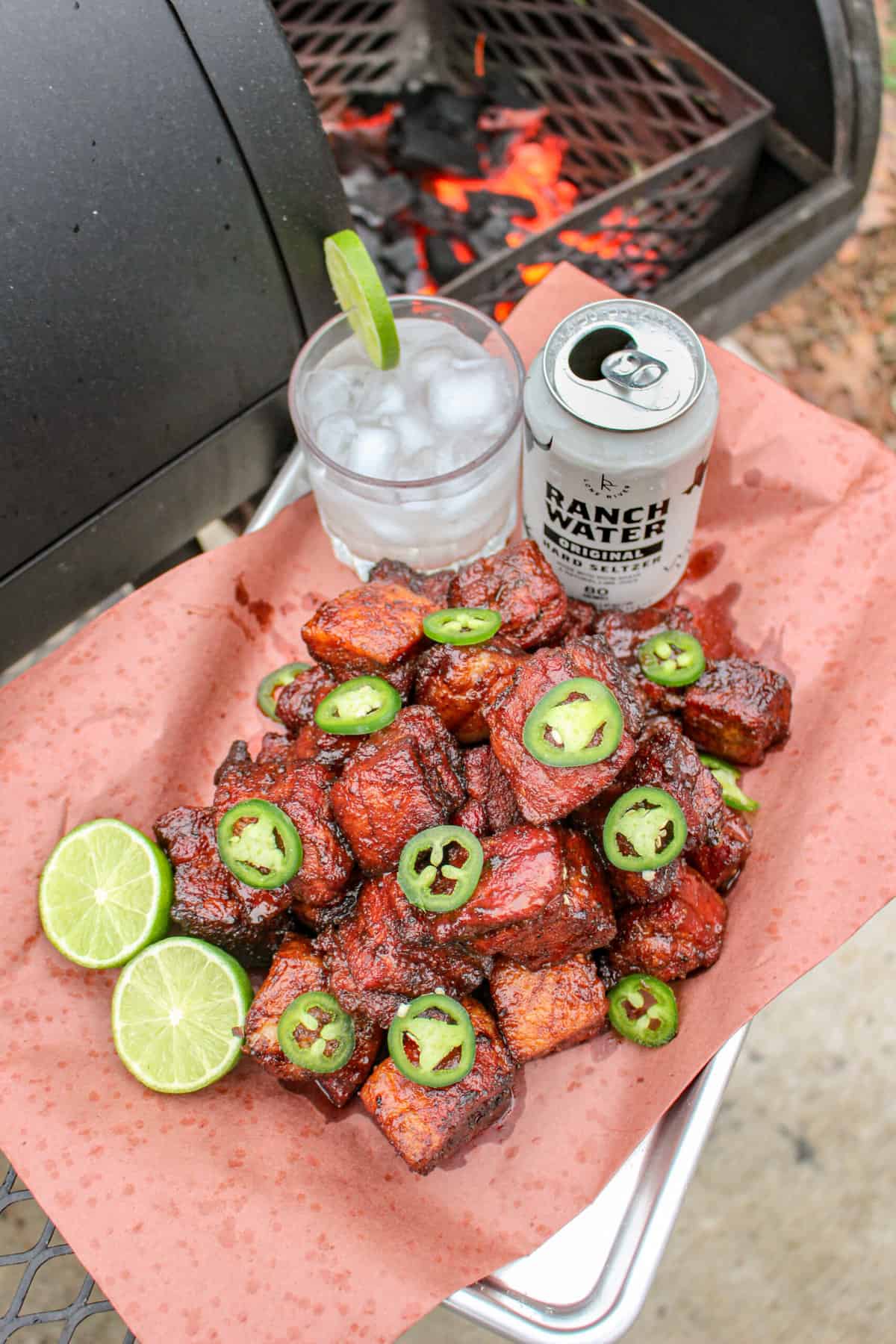 Today, I've partnered with my good friends at Lone River Ranch Water to bring you a recipe that not only incorporates the tasty hard seltzer, but also leaves you some for sipping at the end. Cheers to another day cooking delicious food around a fire!
Smoked Tequila Lime
A crack, hiss, and fizz. Can we all just agree that there is such a simple joy in opening up a canned beverage? To me, it typically means I'm about to enjoy a drink with friends and family. Whether it's around a pool, at a holiday party or (my favorite) around a fire; I know a good time is sure to follow.
For another beverage inspired recipe, check out my Cherry Coke Chicken Skewers recipe!
Well today we're taking those simple joys and putting them in this Smoked Tequila Lime Burnt Ends Recipe, along with some tequila and lime. I made these smoked burnt ends out of salty, savory pork belly. You know what pairs really well with smoked and fatty foods? Citrus. Also, tequila… But I think you could make an argument that tequila would work well with just about anything.
For more pork belly recipes, check out Crispy Korean Pork Belly Sandwiches, Sriracha Bourbon Pork Belly and Smoked BBQ Pork Belly Recipe.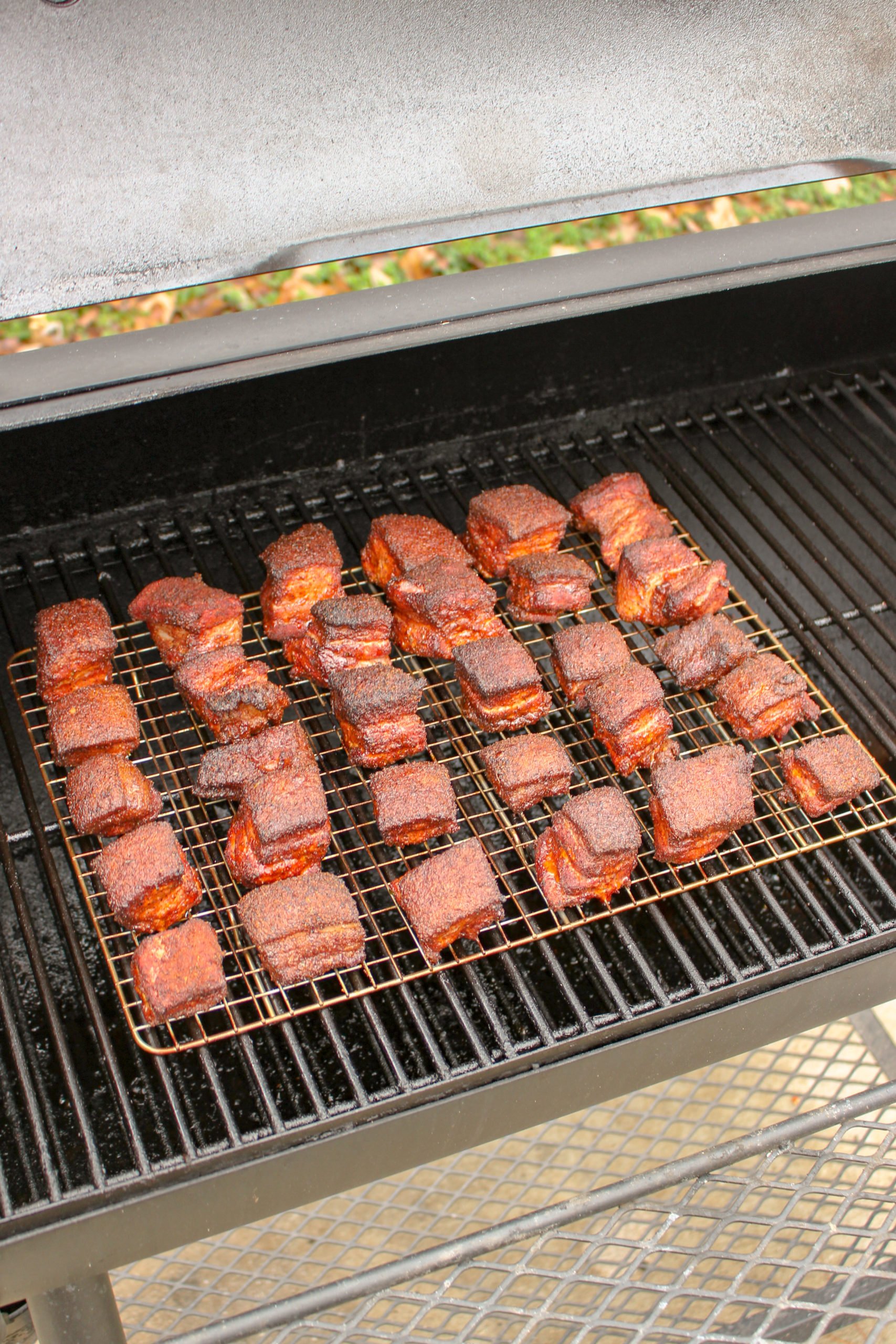 So, why citrus and tequila? Well, they are both strong in flavor and therefore won't be drowned out by the bold flavors that inherently come with smoked burnt ends. The citric acid is really what helps cut through the fattiness in the pork belly. Along with that, the semi sweet, slightly earthy flavor of tequila really helps balance out the pork's saltiness.
Burnt Ends and BBQ Sauce
At this point, you might see how Lone River Ranch Water is the perfect fit for this Smoked Tequila Lime Burnt Ends recipe. I used their original seltzer, made with agave nectar and lime, along with some tequila and lime. Again, the sweet and citrus notes this adds to the burn ends is incredible. It brings a light freshness to the dish that would have been lost otherwise.
I started the Smoked Tequila Lime Burnt Ends recipe by cutting the pork belly into cubes. Then, I seasoned them with one of my favorite BBQ seasonings. Feel free to use your favorite seasoning here. If you don't have one, I've written a recipe that's similar to what I used below.
Now, cover each pork belly cube in seasoning and then evenly disperse them across a grilling rack. This will make taking them on and off the smoker much easier. Take the rack out to the smoker and let's get to smoking these Tequila Lime Burnt Ends.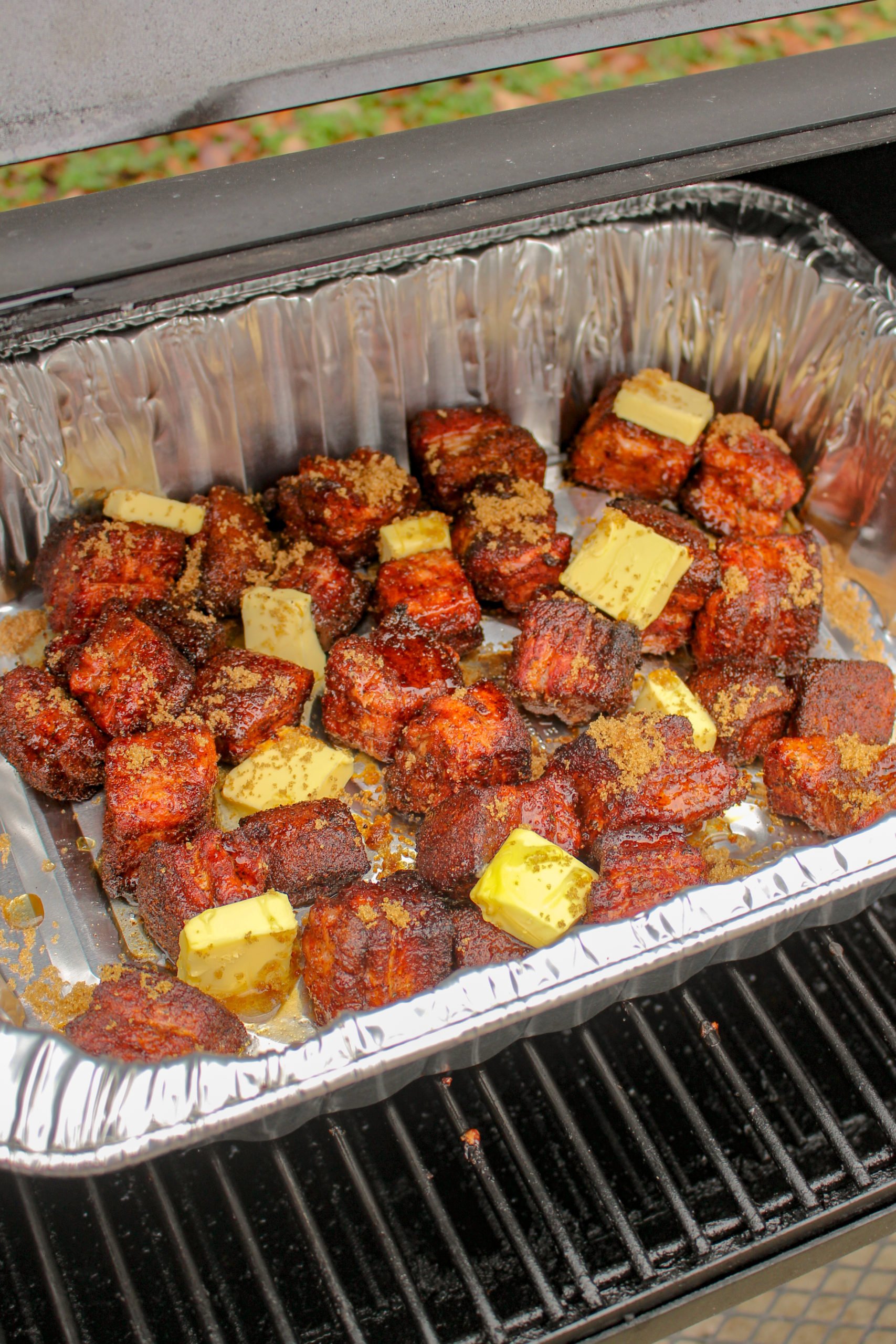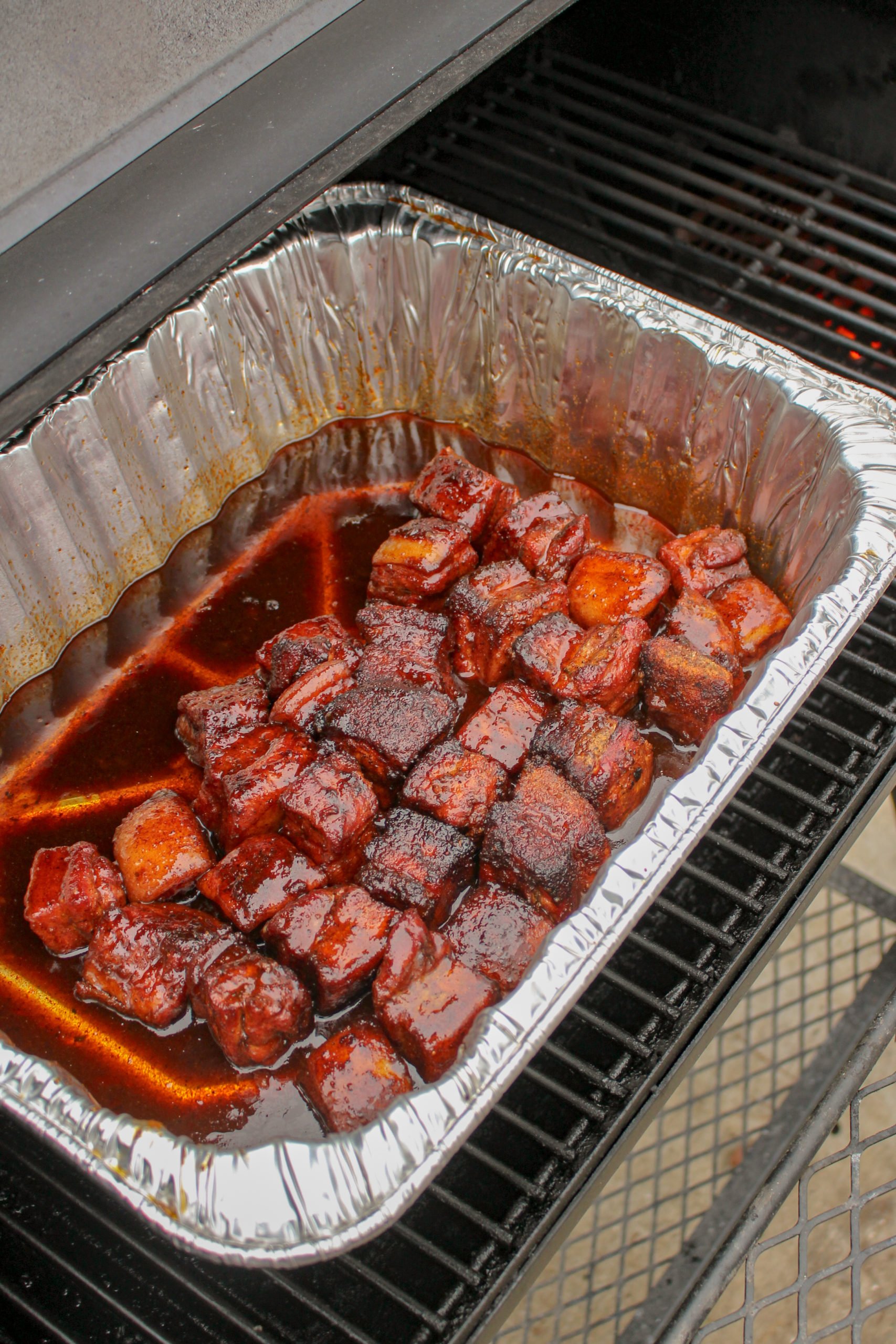 For more burnt ends recipes, check out my Smoked Salmon Burnt Ends, Poor Man's Burnt Ends and Teriyaki Pork Belly Burnt Ends.
Smoked Tequila Lime BBQ Sauce
Part one of this recipe is letting the burnt ends cook on the rack. Part two comes when we remove them from the rack and transfer them to a cooking try. To that tray we'll add butter, brown sugar and agave… Yum! Close the smoker lid and let part two of this cooking process continue.
Now, let's talk about part three of the cooking process because that's where the BBQ sauce comes into play. We'll pour this BBQ sauce on top of the burnt ends as they finish cooking. What does this BBQ sauce consist of? You can probably guess by now… It's primary ingredients are tequila, fresh lime juice, agave and the OG Ranch Water. No surprises here, but let me just say this sauce is so freaking delicious! Not only does this sauce add a rich, glossy and caramelized texture to the Smoked Tequila Lime Burnt Ends, but it provides a depth of flavor that's incredible.
Bringing Out Burnt Ends
When the pork belly has had time to finish cooking in the BBQ sauce, remove them from the smoker and place them on a serving platter. Now to bring things full circle, crack yourself a can of Lone River Ranch Water, garnish your Smoked Tequila Lime Burnt Ends with some sliced jalapeños and dig in! Best enjoyed with friends and family. Cheers!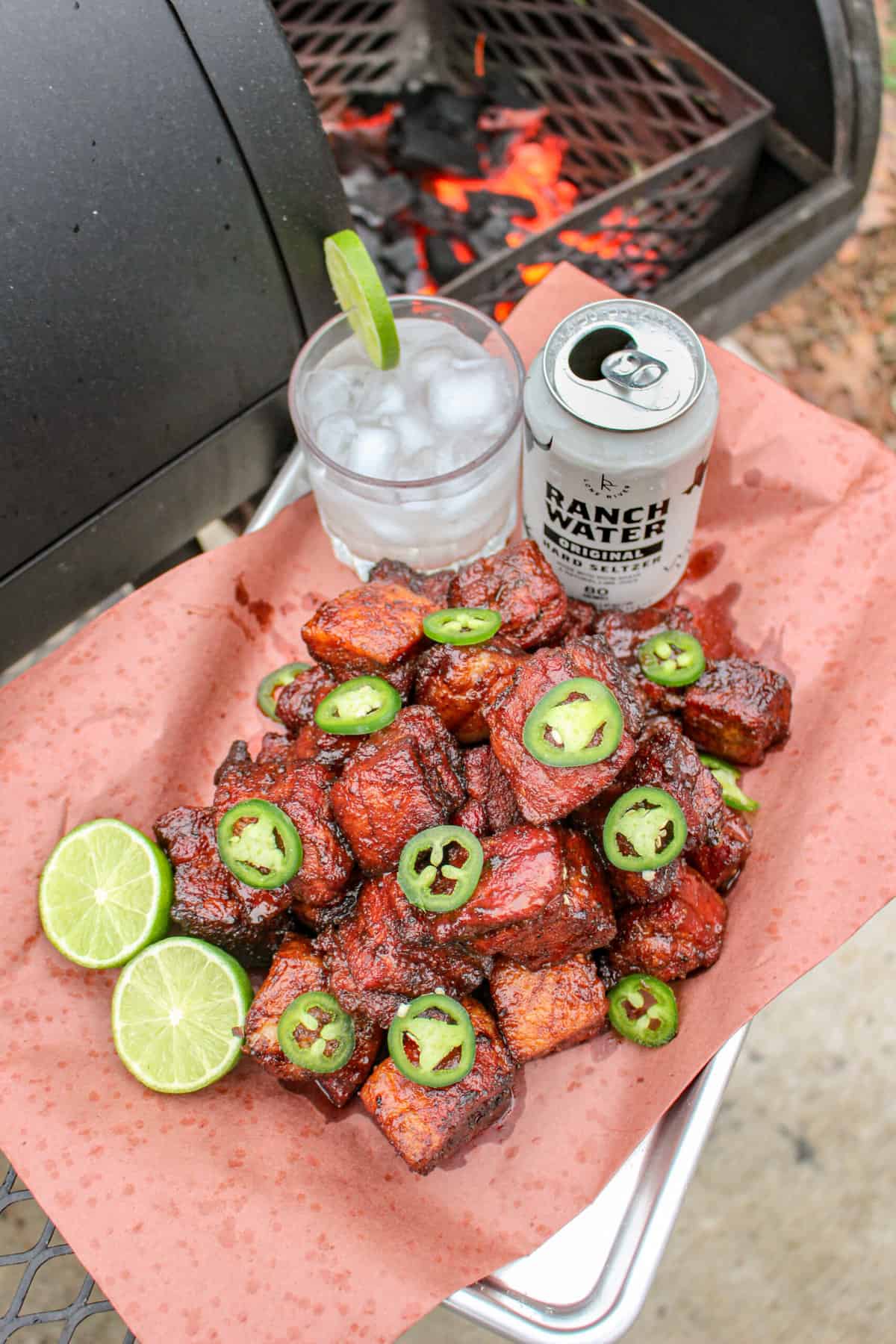 For more delicious recipes, check out my cookbook Food X Fire!
Needing more spice in your life? My spice line can help with that. Check them out here.
Print Recipe
Smoked Tequila Lime Burnt Ends
Smoked Tequila Lime Burnt Ends with a crisp Lone River Ranch Water… All I can say is, cheers!
Ingredients
Pork Belly:
2

lbs

Pork Belly

cubed

¼

cup

Favorite BBQ Seasoning
Alternate BBQ Seasoning:
2.5

tbsp

Brown Sugar

1.5

tbsp

Kosher Salt

1

tbsp

Chipotle Powder

1

tbsp

Black Pepper

1

tbsp

Garlic Powder

¾

tbsp

Onion Powder

1.5

tsp

Cayenne Powder
Crutch:
2

Sticks Butter

unsalted and cut into cubes

¼

cup

Brown Sugar

2.5

tbsp

Agave Nectar
Tequila Lime BBQ Sauce:
2

oz

Tequila Blanco

¼

cup

Ketchup

⅛

cup

Brown Sugar

1.5

tbsp

Agave Nectar

1

medium Lime

juiced
Instructions
Start by cubing your pork belly into 1-2" cubes. Next, start lathering your cubed pork belly with oil then thoroughly season with your favorite BBQ seasoning or my homemade BBQ season below. Place your pork belly on a baking wire rack evenly spaced out and set aside.

Preheat your smoker for medium-low heat (250F). Top with wood chips or wood chunks for added smoke flavor.

Add your pork belly onto the smoker and cook for 2.5 hours. Once they are around 160-180F, pull off and place in an aluminum foil pan & top with butter pads, brown sugar and agave nectar. Cover with foil and place back in the smoker for 1.5 hour or until they are 205F internal.

As the pork belly is finishing, preheat a skillet over a medium heat fire (about 350F) for the BBQ Sauce. Begin by adding your tequila and let simmer for 2 minutes. Next, add the rest of the ingredients and stir. Let simmer over medium low heat until thickened (about 10-15 minutes). Once done, pull off and let cool for 5 minutes.

Once the pork belly is done, open it up and discard any excess liquid. Cover in the BBQ sauce and place back on the smoker, uncovered, to caramelize for 15 minutes. Once done, pull off and let cool for 5 minutes

When done, serve with sliced jalapenos, limes and some Lone River Ranch Water. Enjoy!
Nutrition
Serving:
5
Burnt Ends
|
Calories:
952
kcal
|
Carbohydrates:
36
g
|
Protein:
15
g
|
Fat:
81
g
|
Saturated Fat:
29
g
|
Polyunsaturated Fat:
9
g
|
Monounsaturated Fat:
38
g
|
Trans Fat:
1
g
|
Cholesterol:
109
mg
|
Sodium:
1915
mg
|
Potassium:
423
mg
|
Fiber:
1
g
|
Sugar:
30
g
|
Vitamin A:
681
IU
|
Vitamin C:
5
mg
|
Calcium:
44
mg
|
Iron:
2
mg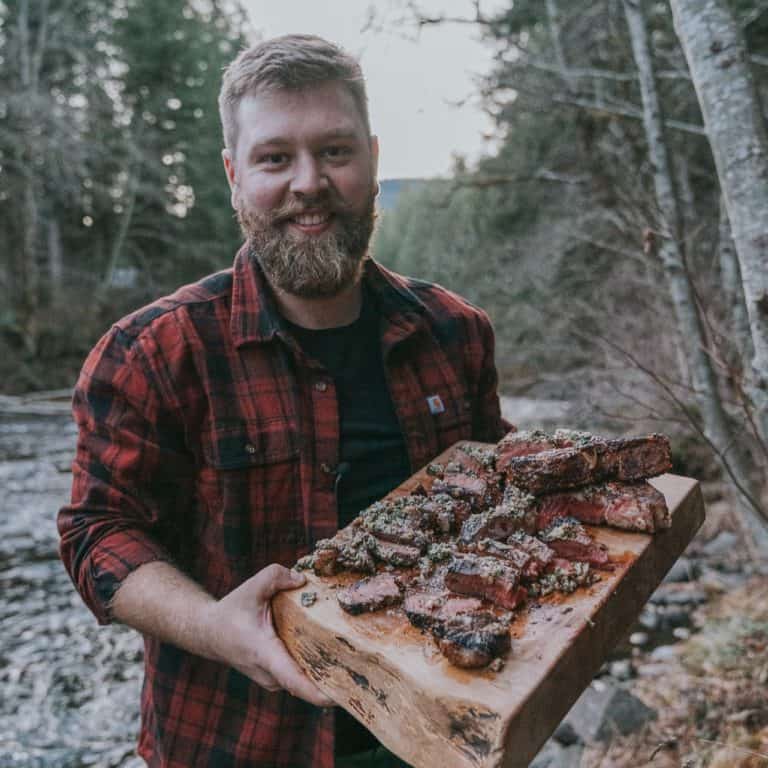 Derek is the driving force behind Over the Fire Cooking. He started cooking with live fire in 2016 and decided to start a social media page so his friends and family could follow the journey. Fast forward to today and Over the Fire Cooking has spread across multiple platforms with millions now following Derek's fire cooking journey. He's a southern fellow who enjoys everything from classic BBQ to Central and South American inspired dishes. Whatever he's cooking up, it's guaranteed to be so freakin' delicious!