The Glizz Burger is a combination of two American classics: the hamburger and the hot dog. A love child born in the depths of TikTok, or somewhere equally as terrifying. But I know exactly what you're thinking, "I wish my Glizz Burger was fancier" and "I really wanna show up the guys at the country club". We here at Over the Fire Cooking present the Glizz Burger Oscar.
What the f@#k is a "Glizz Burger"
I get it, I really do. This is obviously an abomination. No serious person with the slightest bit of dignity would ever be caught dead with a glizz burger. Stuffing a hamburger into a hot dog? Just absurd. Well, that's probably what the first guy who saw a chili dog on a menu said… and we all know how that turned out.
Now, if you're thinking I'm gonna give you some long story about how a hot dog truck got in an accident with a hamburger train in 1928 and the Glizz Burger Oscar was born: you're wrong. So wrong.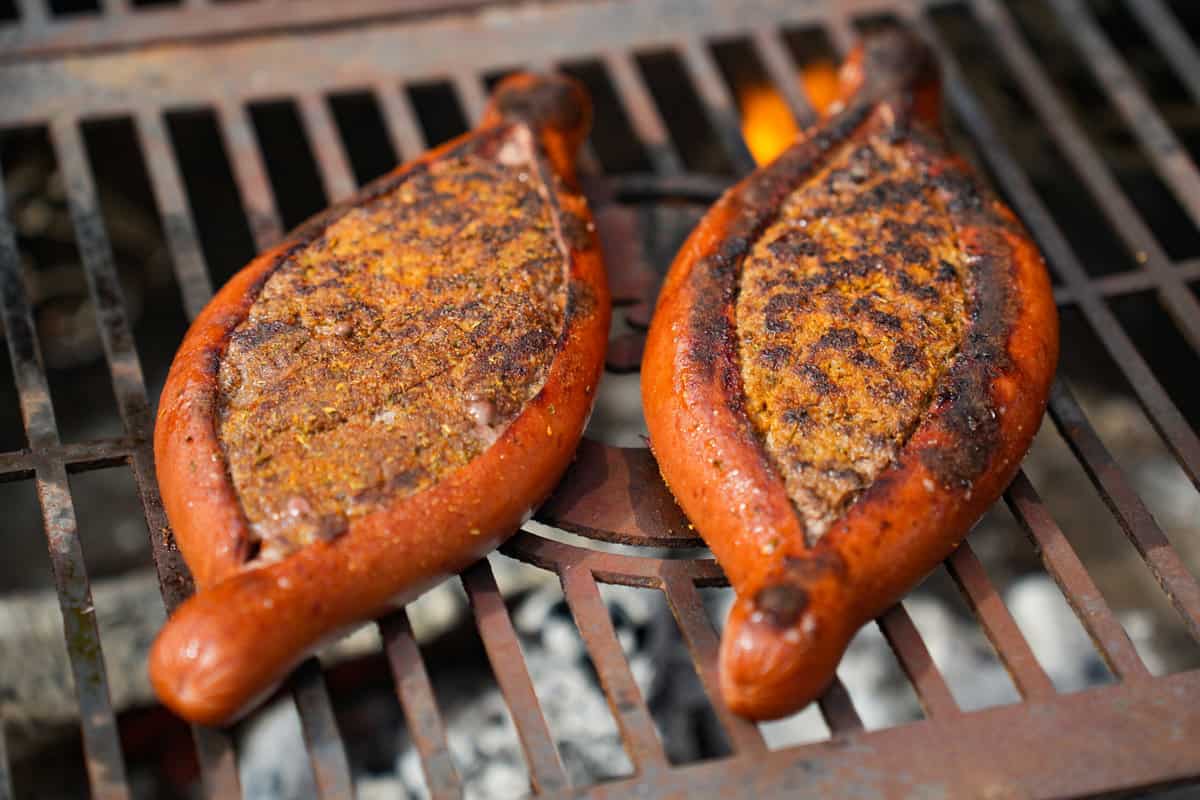 Something this ridiculous is born of the internet. But that doesn't mean its bad. A close cousin to the chili dog. By stuffing hamburger into a hot dog it makes a nice neat meat package. In fact, I heart the first name for the glizz burger was "wiener meat package". That was obviously changed quickly.
If you're digging this glizz burger recipe, then check out Derek Chili Cheese Glizzburger.
Let's Oscar
Who is Oscar and why the hell is he on my Glizz Burger?!? Hop down off that high wiener and listen to reason. Steak Oscar, crab and hollandaise topping, is a fantastic treat. But why limit it to steak? Let's Oscar everything.
The preparation is simple, very simple. Crab, cook it up in a skillet with some butter, and a hollandaise. I know a hollandaise can be a little intimidating, but just take it slow. Take your time and the hollandaise won't break on you. Also know blender or immersion blender is a must for this operation.
For more with Oscar, check out Grilled Steak Oscar!
Glizz Burger Oscar Meats
Gonna go full Ina on this one: grind filets fresh, or store bought is fine. For real tho, use quality and you'll be rewarded. This is a play on Steak Oscar, so use steak.
Ground sirloin is readily available at most grocery stores. Pro Tip: the butcher counter will grind up any steaks they have on sale for you (you'll just pay the price of the steak).
The other option is to grind at home. There are many grinder options on the market; from manual to electric. This is a fun addition to and kitchen, because it also opens up new recipes and grind mixtures.
The reason it works so well for this Glizz Burger Oscar recipe: freshness.
When you grind at home and immediately cook there's a much lower chance of bacteria forming in the meat. With this precaution it can be much safer to cook the meat to medium rare. But, as always, use safe meat handling practices.
Glizz Burger Oscar
Glizz Burger Oscar for a recipe that will have everyone talking.
Ingredients
2

foot

long Weiners

1

lb

Filets

or ground sirloin

½

lb

crab meat

2

sub rolls

chives
Hollandaise Sauce
3

egg yolks

1

tbsp

Dijon mustard

I tsp salt

1

tsp

cayenne

Juice of 1 lemon

½

cup

melted butter
Instructions
Heat grill to high heat.

Prep glizzy burgers by slicing hot dogs down the center and stuffing with ground meat. Grind your own steaks for this or buy pre ground meat. Season generously with OTFC Lemon Chili Rye Rub.

Toast sub rolls on the grill. Remove and set aside.

Grill glizz burgers for 3-5 min per side on high heat. Lower heat and cook until desired internal temp is reached. If you're grinding your own meat fresh, medium rare is safe. Remove and set aside.

Heat skillet on the grill and cook crab meat in butter. Over high heat this will only take a few min.

Make Hollandaise. This can be made with a blender or an immersion blender. Combine egg yolks, Dijon, salt, cayenne, and lemon juice. Slowly add in the butter while blending the yolk mixture. Do this part very slowly to avoid breaking the sauce.

Assembly time! Glizz burger on the bun topped with crab and hollandaise. Garnish with some chives. Go to town!
Nutrition
Calories:
516
kcal
|
Carbohydrates:
20
g
|
Protein:
37
g
|
Fat:
31
g
|
Saturated Fat:
17
g
|
Polyunsaturated Fat:
2
g
|
Monounsaturated Fat:
9
g
|
Trans Fat:
1
g
|
Cholesterol:
286
mg
|
Sodium:
1016
mg
|
Potassium:
643
mg
|
Fiber:
1
g
|
Sugar:
2
g
|
Vitamin A:
1173
IU
|
Vitamin C:
6
mg
|
Calcium:
78
mg
|
Iron:
7
mg