How do you take a good thing and turn it into a great thing, stuff it with cheese of course! That's exactly what we did for today's Green Chile and Cheese Stuffed Chicken Recipe. I took some chicken breasts and filled them with hatch green chiles and TWO types of cheeses! They were so juicy and I loved the creaminess the cheese added to these chickens. Here's how it all went down…
Not your Average Chicken Dance
This might come as a surprise to some, but we actually eat a lot of chicken at our house. I like to pair chicken with almost anything because it's a lean protein. I've also found that the most tender and juicy chicken is made by cooking it over open fire, not that I'm biased or anything.
I kicked this Green Chile and Cheese Stuffed Chicken recipe off by cutting into one side of each chicken breast. The goal here is to create a pocket for the cheese. Be careful to not cut completely through the meat and try to keep your cut in the center of the chicken breast so all sides will cook evenly.
After creating the pockets, I mixed together cream cheese, hatch green chiles and shredded cheese in a separate bowl. Once mixed evenly, I started filling each chicken breast with the cheese mixture. Don't be afraid to fill each one with a generous amount, you will likely lose some of the filling during the cooking process so better to have more than less here.
Once each pocket was filled, I secured each Green Chile and Cheese Stuffed Chickens with a couple of toothpicks to help hold the cheese in place for cooking. I then lathered the outside of the chicken breast with oil, salt and pepper.
Time to Grill up these Green Chile and Cheese Stuffed Chickens
The cooking process for these chickens consisted of two phases. I started by cooking the chickens indirectly, with the coals on one side of the smoker and the chickens on the other. I kept them here for the majority of the cook, about an hour to an hour and a half. This allows them to cook slowly, producing the juiciest chicken while also keeping the cheese mixture intact. Once they were basically cooked, I seared them off on the other side of the smoker directly over the coals.
Once I had moved our Green Chile and Cheese Stuffed Chicken over the direct coals, I also threw on some tomatillos. I let these guys char up a bit so I mix together a tomatillo salsa. Make sure to flip the tomatillos pretty frequently so that they don't become burnt on any side.
Salsa for my Chickens!
Once the tomatillos had a nice charring, I pulled them off along with my cooked Green Chile and Cheese Stuffed Chickens. While I let the chicken cool a bit (because the melted cheese on the inside was lava hot), I quickly mixed the salsa together. In a blender I mixed the tomatillos with garlic, lime juice, red onion, cilantro and hatch green chiles. Blend to your liking and serve it on top of the chicken or in a side dish. Enjoy!
Print Recipe
Green Chile and Cheese Stuffed Chicken
This Green Chile and Cheese Stuffed Chicken is next level! It's super easy and great for dinner.
Ingredients
Chicken:
4

Chicken Breast

1.5

tbsp

of Sea Salt

1

tbsp

of Pepper

2

tbsp

of Canola Oil
Stuffing:
4

oz

can of Hatch Green Chiles

1

cup

of Cream Cheese

½

cup

of Shredded Cheddar Cheese
Tomatillo Salsa:
4

Tomatillos

without husks

6

Garlic Cloves

⅛

cup

of Cilantro

1

Lime

juiced

⅛

of a Red Onion

2

oz

of Hatch Green Chiles
Instructions
Take your chicken breast and slice a pocket into them about 2-3 inches deep and about the whole length of the chicken for the stuffing. Mix together your cream cheese, green chiles and shredded cheddar. Stuff the chicken with 2-3 tbsp of the cream cheese mixture, then pin the opening with a toothpick. Lather the outside of the chicken in oil and season with salt and pepper. Repeat this with all the chicken, then place in the fridge for 30 minutes to set.

Preheat your grill for two zone medium heat indirect cooking (around 325F).

Add your chicken to the cool side of the grill to cook for about 1-1.5 hours until they reach 165F internal. Once the chicken is cooked, heat up your coals for high heat (around 400F). Add the cooked chicken plus the tomatillos over the hot coals to sear for about 1.5 minutes per side until crispy. Once done, pull the chicken and tomatillos off the grill to rest.

As the chicken rests, add the tomatillos and the rest of the tomatillo salsa to a food processor and blend until smooth.

Slice your chicken, top with the salsa and enjoy!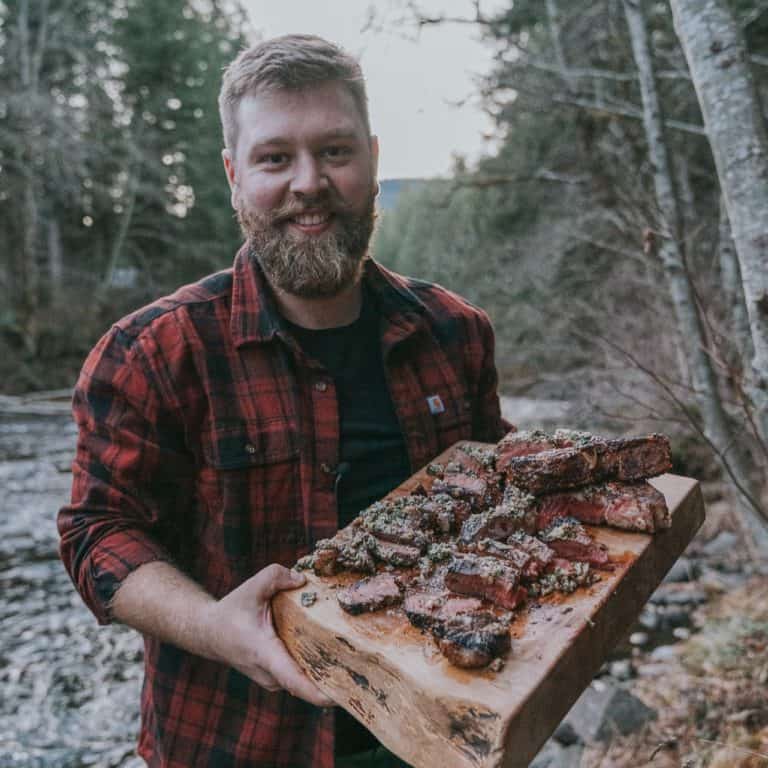 Derek is the driving force behind Over the Fire Cooking. He started cooking with live fire in 2016 and decided to start a social media page so his friends and family could follow the journey. Fast forward to today and Over the Fire Cooking has spread across multiple platforms with millions now following Derek's fire cooking journey. He's a southern fellow who enjoys everything from classic BBQ to Central and South American inspired dishes. Whatever he's cooking up, it's guaranteed to be so freakin' delicious!