If you are like me, then you might be looking for something new to have on Thanksgiving. Don't get me wrong, the classic turkey spread is the best! But, sometimes you want to spice things up a bit more. Introducing this Herb Encrust Cornish Hens recipe cooked over hot Cowboy Charcoal. They are an excellent substitute/addition for your Thanksgiving feast.
What are Cornish Hens anyway?
For those that do not know, Cornish Game Hens are actually a breed of chicken. So if the kids freak out at a new meat, just tell them it will taste like chicken (because you aren't lying!).
Cornish Hens are a type of chicken that hails from Wales in the UK. They are usually a blending of classic Cornish Hens and White Plymouth Rock Chickens to make a USDA approved meat. They tend to be a stockier, meatier, and heavier bird for their size which makes them excellent pieces of meat for Thanksgiving.
How are we going to cook these guys?
The first thing you will notice about this Herb Encrusted Cornish Hens recipe is that we are not technically "smoking" them. They need higher heat in order to encrust with the herb rub; therefore, we are going to kick up the heat with our Cowboy Charcoal.
We are going to shoot for the grill/smoker to reach 375F using an indirect cooking method. They will still grab some smoke from the fire, but we are trying to roast them at high heat in order to get nice crispy skin.
This is an excellent recipe to use Cowboy Charcoal plus some Wood Chunks! The Cowboy Charcoal Lump Charcoal keeps high heat for a long time, so it is the ideal base fuel source. For when you need some added uptick in temperature, add some oak or hickory wood chunks. The chunks will get the temperature up higher without having to use more fuel.
Let's eat these Herb Encrusted Cornish Hens
Once these Herb Encrusted Cornish Hens have reached 165F, we are going to pull them off and rest for 5 minutes. Let them cool, then begin slicing! Serve with the wedge potatoes and any other Thanksgiving classic. Enjoy!
Print Recipe
Herb Encrusted Cornish Hens
If you are like me, then you might be looking for something new to have on Thanksgiving. Introducing this Herb Encrust Cornish Hens recipe cooked over hot Cowboy Charcoal.
Ingredients
Cornish Hens:
3

Cornish Game Hens

6

tbsp

of Cold Butter

1.5

tbsp

of Canola Oil

1

Lemon

juiced

Lemon Halves

for garnish
Herb Seasoning:
2

tsp

of Rosemary

finely chopped

2

tsp

of Thyme

chopped

2

tsp

of Tarragon

finely chopped

1

tsp

of Parsley

finely chopped

6

Garlic Cloves

minced

1.5

tsp

of Smoked Paprika

1.5

tsp

of Sea Salt

1.5

tsp

of Black Pepper

1

tsp

of Red Chili Flakes
Potatoes:
4

Russet Potatoes

wedged

1.5

tsp

of Kosher Salt

1

tsp

of Black

Oil
Instructions
Using a spoon, separate the skin from the breast meat on the cornish hens. Make sure to be careful as to not break the skin. Once they are all separated, add one tbsp of butter under the skin of each breast. In a bowl, mix together the canola oil and the lemon juice. Lather the meat in the oil + juice. Mix together the ingredients for the herb seasoning. Thoroughly season the meat on all sides and inside. Lather and season the potatoes when everything else is done.

Using Cowboy Charcoal, preheat your smoker to a medium-high temperature of 375F. Feel free to add wood chips or chunks for additional smoke flavor.

In a roasting skillet or cast iron pan, add the potatoes and the cornish hens along with some lemon wedges if you desire. Add the skillet to the smoker to cook for 2.5-3 hours or until cornish hens register 165F internal. Make sure to stir the potatoes occasionally. When the meat is done, pull it off and let it rest for 5 minutes.

Serve the meat whole, sliced or halved. Enjoy!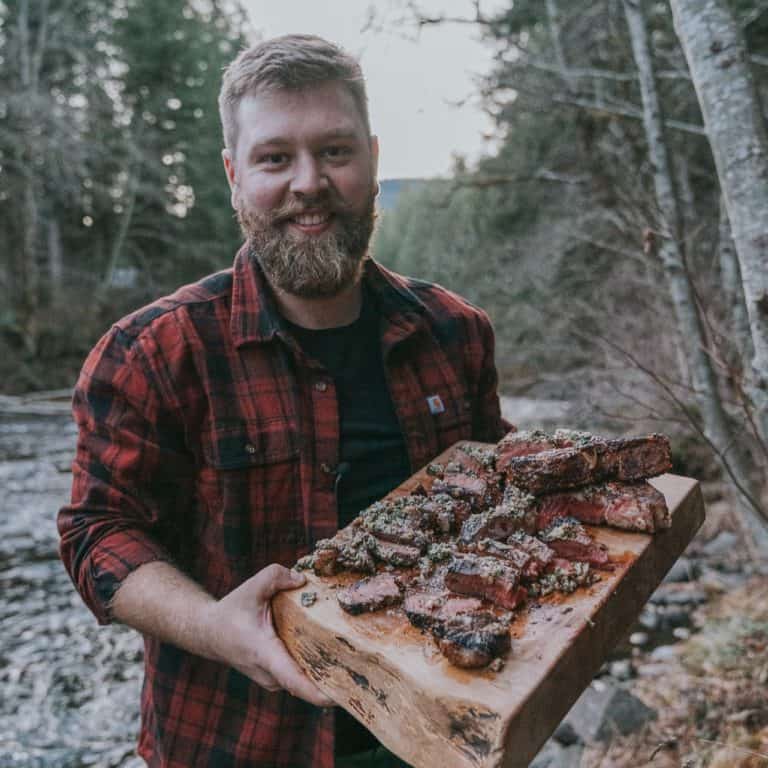 Derek is the driving force behind Over the Fire Cooking. He started cooking with live fire in 2016 and decided to start a social media page so his friends and family could follow the journey. Fast forward to today and Over the Fire Cooking has spread across multiple platforms with millions now following Derek's fire cooking journey. He's a southern fellow who enjoys everything from classic BBQ to Central and South American inspired dishes. Whatever he's cooking up, it's guaranteed to be so freakin' delicious!