Looking for something new on the smoker? Your search is over with these Smoked Chicken Thighs with Spicy Peach Glaze. Time to dig in!
Why Smoke Chicken Thighs?
Truth is, there are so many great meats that you can smoke over fire. Whole chicken, chicken wings, beef ribs, lamb ribs and more just to name a few. But there is only one that stands above the rest: chicken thighs.
These fatty delicious chunks of meat come from the chickens… thigh! They are dark meat so that tends to mean they can take longer cooks and more smoke. I like to leave the fat on them because that is all the flavor, but if you don't need that extra fat then feel free to take it off.
How To Smoke Chicken Thighs
Smoking chicken thighs is the ultimate way to make them delicious too.
Start by lathering the chicken thighs in oil and rubbing the chicken skin with your favorite spice rub. But for the best peach flavor, try out my Hickory Peach Porter Rub. It complements the Spicy Peach Glaze super well and it's a very versatile seasoning for chicken, pork and more. If you do not have my rub, then grab one of your favorite BBQ chicken seasoning. Make sure it has some sweetness too, as that will help with the glaze. Now about that glaze, let's chat for a second.
Then throw the chicken thighs on smoker and cook them until they register 165F with an internal meat thermometer.
Next, make the glaze by whisking all of the ingredients together and heating in a small cast iron skillet over the heat. Brush the smoked chicken thighs with the spicy peach glaze.
How Long To Smoke Chicken Thighs
We are going to chicken thighs on the smoker for 1-1.5 hours until they are 165-170F internal. Do not be afraid to cook them over that 165F mark as they become more tender. Go only as high as 185, or else they become bitter from the smoke.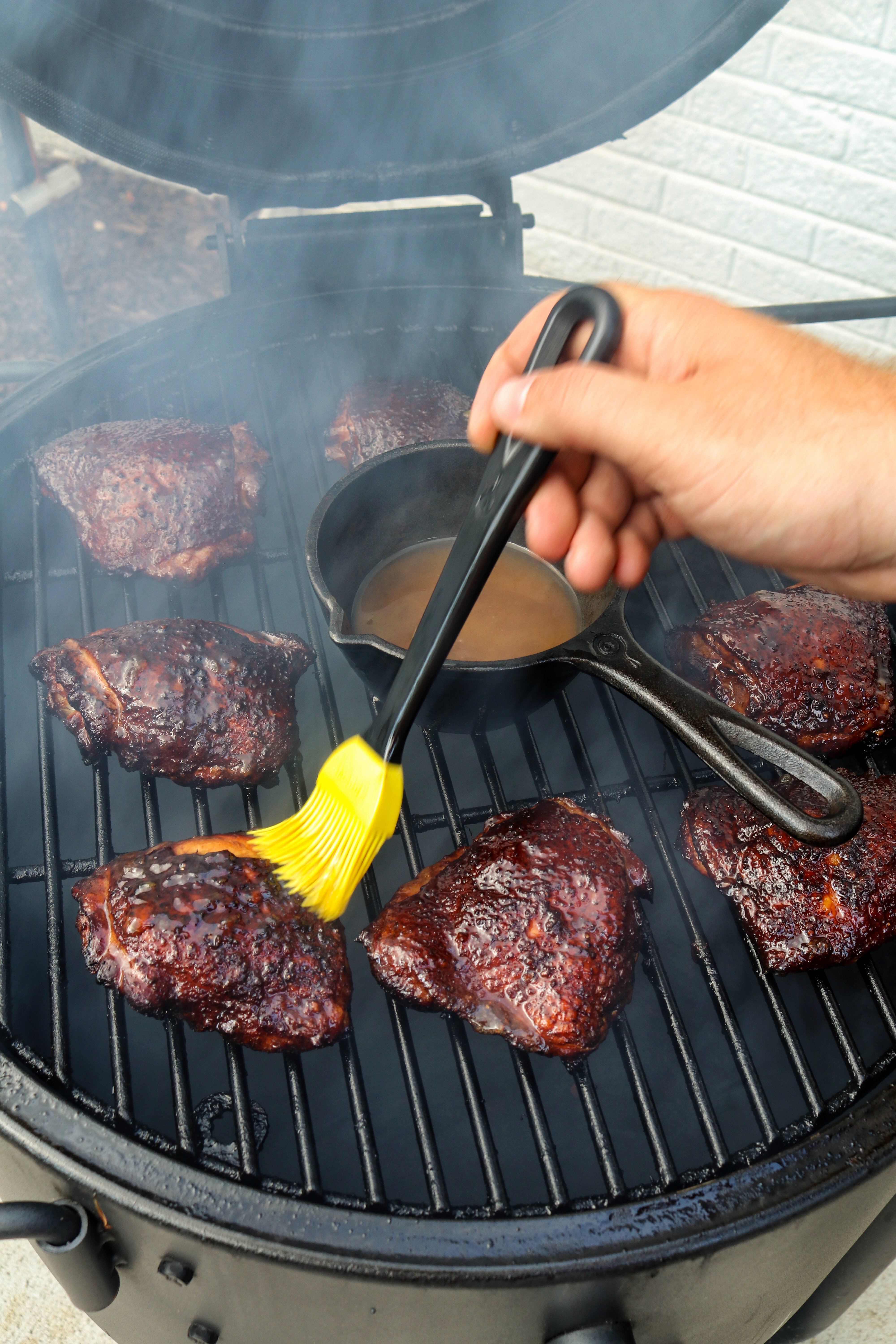 The Spicy Peach Glaze
All smoked chicken thighs done well does not need a lot of sauce, but an excellent glaze of bbq sauce can really accentuate flavors like never before. This Spicy Peach Glaze is out of this world for doing just that.
Made of butter, peach preserves, honey and habanero hot sauce, this glaze goes excellent on chicken or even pork ribs. But why is it called a glaze? A glaze is a mixture of ingredients that provide a shiny, sweet and sometimes savory finish on food. This glaze is all of the above.
With the savory/spiciness coming from the habanero, this glaze adds the sweet & shininess from the honey & peach preserves. Definitely a win on these Smoked Chicken Thighs.
Whatever you are looking for, try these Smoked Chicken thighs with Spicy Peach Glaze. They are out of this world delicious. Find the whole recipe on my blog or visit my youtube for the full breakdown. Cheers!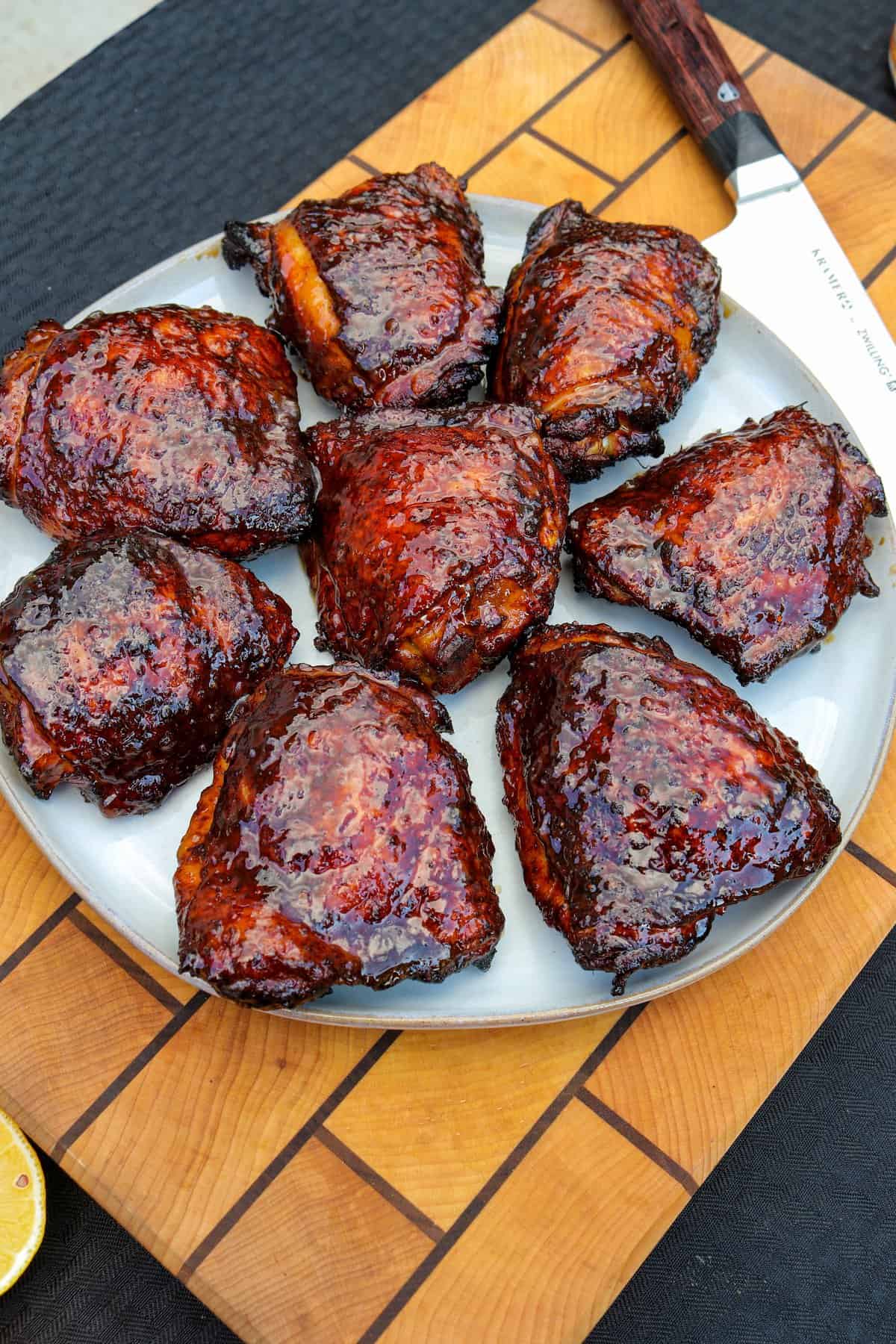 What Is The Best Wood To Use For This Recipe?
We always use and recommend a blend of oak and hickory wood. It doesn't have too aggressive a flavor and burns clean.
Smoked Chicken Thighs with Spicy Peach Glaze
Make some epic Smoked Chicken thighs with Spicy Peach Glaze. They are sweet, savory and spicy all at the same time! Add some smoke and you're in heaven!
Ingredients
Chicken Ingredients:
8

Skin On Bone In Chicken Thighs

2.5

tbsp

of BBQ Seasoning

I used my Hickory Peach Porter Rub

1.5

tbsp

of Canola Oil
Spicy Peach Glaze:
3

tbsp

of Butter

salted

2

tbsp

of Peach Preserves

2

tbsp

of Honey

2

tsp

of Habanero Hot Sauce
Instructions
Prepare your chicken by trimming off any unnecessary fat. Lather with oil and season using some BBQ seasoning (I used my Hickory Peach Porter rub). Place in the fridge to set for 30 minutes.

Preheat your grill to medium low temperature (about 275F). Add some wood chips or chunks for added smoke flavor.

Add your chicken thighs to the grill and smoke for about 1.5 hours until they reach 165-170F internal. When they are about to be done, add a basting skillet to the smoker. Add your butter and let melt. Next, add the rest of the glaze ingredients and mix thoroughly. When fully mixed, gently glaze the outside of the chicken with the glaze before taking off the smoker.

Once the chicken is done, pull off the smoker and glaze just a little more. Let rest for 5 minutes. Serve & enjoy!