Jalapeño Watermelon BBQ Ribs just in time for your 4th of July celebrations! I've seen a lot happening with watermelon lately, and thought I'd jump on the bandwagon but with my own spin. Today we're pairing puréed watermelon with some pickled jalapeños for a pork rib glaze. This was a new, spicy tang for me and I loved every bite of them! Make this recipe a reality at your next backyard BBQ! Keep reading for all the delicious details below.
Jalapeño Watermelon Meets BBQ
The jalapeño watermelon aspect of this recipe doesn't come into play until we make the rib glaze, so hang tight while I explain the beginning steps for these ribs. Like with any rib recipe, we'll start by removing the silver skin from the pork ribs. This is on the back side of the rack of ribs and is almost impossible to chew threw, so we'll want to remove it before we begin cooking the ribs. I like to use a butter knife and wedge it between the silver skin and the meat. After making a large enough gap, you can grab the silver skin and pull it off in one long rip. From here, you can trim any excess fat from the ribs and then move to seasoning.
I used mustard as a binder for my All Purpose BBQ seasoning from Spiceology. The flavoring on the BBQ is delicious, and (due to it's "all purpose" nature) it's a great blend to use as a base. It will give me the BBQ flavoring that I want, but not overpower my jalapeño watermelon glaze.
Lather each rack of ribs with the mustard and generously season each rack of ribs on all sides. From here, take them to the smoker. We will let the ribs smoke here for about three hours. After placing the ribs on the smoker, head back inside to make a spritzer. My spritzer consisted of apple cider vinegar and hot sauce. I mixed it together in the spay bottle and spritzed my ribs every 30 minutes.
Step Two for Our BBQ Ribs
Once the ribs have been on the smoker for three hours, prep your aluminum wrap. I started this process by laying out a sheet of aluminum foil. Then place three slices of butter, a sprinkle of brown sugar and a drizzle of maple syrup onto the foil. Grab one rack of ribs and place it on top of the buttery sweetness. Then, on top of the rack of ribs I do another layer of butter, brown sugar and maple syrup. Now, wrap the ribs up tight and place them back on the smoker. They will remain here for two hours.
Now, while the ribs are in their sugar/butter bath, let's make the glaze. This is where our jalapeños and watermelon come into play. Before making the glaze, you'll need to purée some pickled jalapeños and watermelon. The spiciness of the jalapeños is such a great balance to the sweetness of the watermelon. Once these two ingredients are prepped, head back out to the smoker. In the charcoal chamber, add a small grill grate and sauce bowl. Once the sauce bowl is warm, add all your ingredients and bring to a simmer. Stir this mixture as needed until it's combined and reaches a glaze consistency.
Jalapeño Watermelon BBQ Ribs for the Win
After the ribs have cooked for their two hours in the aluminum, remove them from the foil and place them back on the smoker. They'll cook here for one final hour. During that hour is when we will baste them in our jalapeño watermelon glaze. Add on as much of the glaze as you like. I also topped my ribs with some sliced jalapeños for that extra flare and a bit of spice. When the last hour of cooking has past, remove the ribs from the grill and let them rest for a couple of minutes. Then, it's time to eat! Best enjoyed with these grilled jalapeno poppers, friends and family. Cheers!
Print Recipe
Jalapeño Watermelon BBQ Ribs
Jalapeño Watermelon BBQ Ribs just in time for your 4th of July celebrations! I've seen a lot happening with watermelon lately, and thought I'd jump on the bandwagon but with my own spin.
Ingredients
Pork Ribs:
2-3

Racks of Pork Ribs

2

tbsp

of your Favorite BBQ Seasoning

2

tbsp

of Yellow Mustard

for binder

Sliced Jalapenos

for garnish

Watermelon Wedges

on side
Spritz:
1

cup

of Apple Cider Vinegar

2

tsp

of Hot Sauce
Crutch:
18

tbsp

of Brown Sugar

6

tbsp

of Honey

6

tsp

of Butter
Jalapeno Watermelon BBQ Sauce:
1/8

cup

of Watermelon Puree

1/8

cup

of Ketchup

2.5

tbsp

of White Vinegar

2

tbsp

of Pickled Jalapenos

pureed

1.5

tbsp

of Honey

1

tsp

of Worcestershire

1

tsp

of Brown Sugar
Instructions
Trim the pork ribs of any excess fat and carefully remove the membrane on the back of the ribs. Lather with mustard and season thoroughly with BBQ seasoning. Place in the fridge for 2 hours to set.

Preheat your smoker for indirect cooking around 225F. Add some wood chips or wood chunks to the smoker for added flavor.

Add the ribs to the smoker on the indirect heat side. Cook for 3 hours. In a spritz bottle, add the apple cider vinegar and hot sauce. Every 30 minutes, spritz the ribs.

After 3 hours, pull your ribs off the smoker. Lay down a layer of aluminum foil with 3 tbsp of butter spaced out on the foil. Add some brown sugar and drizzled honey over the butter. Top the butter mixture with one of the pork ribs with the bone side facing up. Add more butter, honey and brown sugar on top of the rib. Carefully wrap in the foil until tight and secure. Repeat this step for all of the pork ribs.

Once done wrapping, add the ribs back to the smoker with bone side facing up. Cook for another 2 hours. About 30 minutes before the ribs are done, add a basting skillet over medium high fire. Add all the ingredients for the Jalapeño Watermelon BBQ ribs to the skillet and let simmer until thickened (about 20 minutes) making sure to stir occasionally. Once done, pull off and let cool.

After 2 hours, unwrap the ribs and discard the foil. Place all the ribs back on the smoker and increase the heat to 350F. Begin glazing the outside of the ribs until with the BBQ sauce and top with sliced jalapeños. Continue to cook the ribs for another 30-40 minutes until they are caramelized on the outside but tender on the inside.

Once done, pull the ribs off and let rest for 3-5 minutes. Serve with a side of sliced watermelon. Slice and enjoy!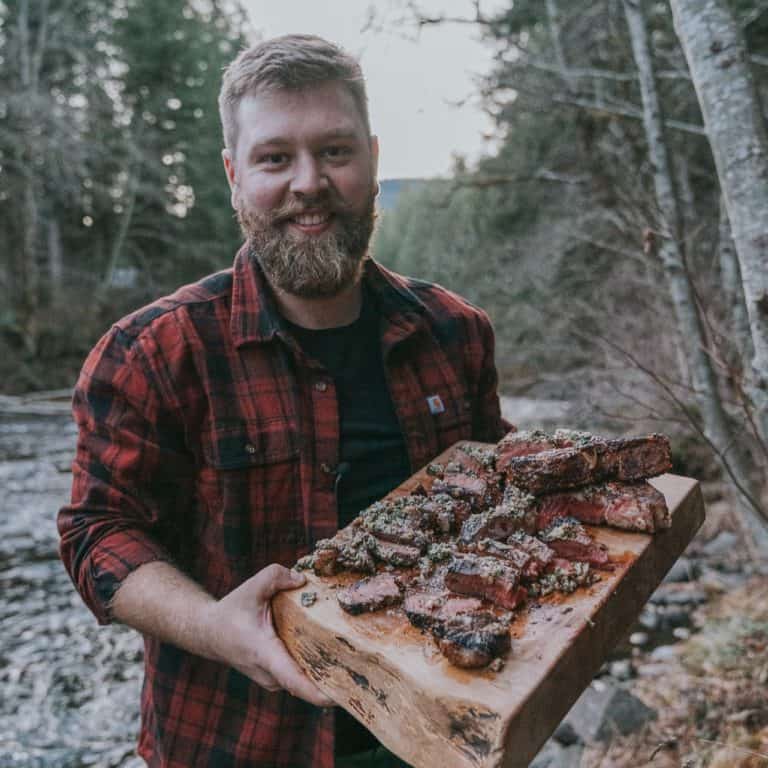 Derek is the driving force behind Over the Fire Cooking. He started cooking with live fire in 2016 and decided to start a social media page so his friends and family could follow the journey. Fast forward to today and Over the Fire Cooking has spread across multiple platforms with millions now following Derek's fire cooking journey. He's a southern fellow who enjoys everything from classic BBQ to Central and South American inspired dishes. Whatever he's cooking up, it's guaranteed to be so freakin' delicious!