So, you're hosting a party for 4th of July and these jalapeno poppers on the grill need to be on the menu! It's pretty easy to come up with the main courses like steak, hot dogs, and burgers (come back on Saturday for my 4th of July burger recipe). But what about appetizers? You know, like crispy bacon wrapped totally delicious grilled jalapeño poppers?
Post Sponsored by Cowboy Charcoal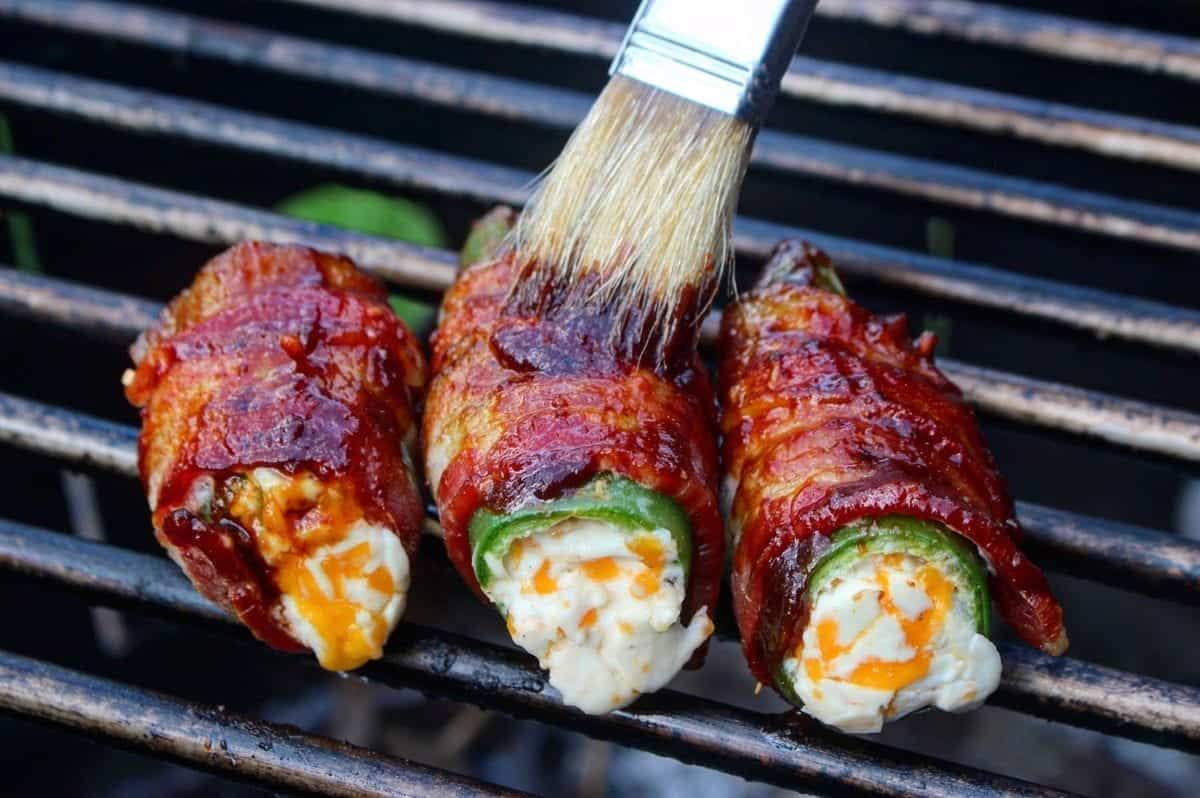 First off, these are cored out jalapeños filled with cream cheese and then wrapped with bacon. They are first grilled and then lathered in Smokehouse BBQ Sauce. Why the sauce though?
Well, your answer is here! Try my new Bacon Wrapped BBQ Jalapeño Poppers. These crispy and sweet favorites are super easy to make and will definitely be a conversation starter.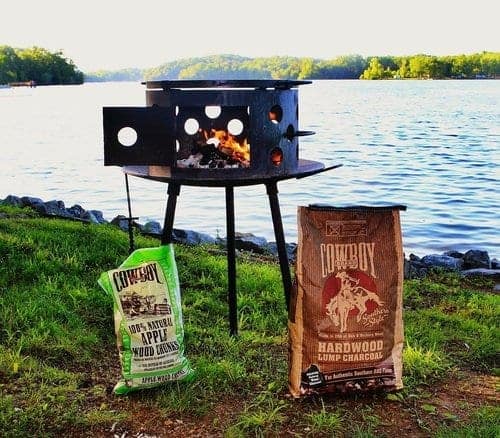 Recipe Ingredients
jalapenos
Cowboy Hickory Smoke BBQ Sauce
ream cheese
cheddar cheese
bacon
toothpicks
Cowboy Hickory Wood Chunks
How To Make Grilled Jalapeno Poppers
Start by prepping your fire with Cowboy Hardwood Lump Charcoal in a charcoal chimney. Once lit, the coals will be ready to use in about 10 to 15 minutes.
Add some wood chunks if using to the coals, and let them burn off for about 5 mintes while the grill grate heats.
Meanwhile, soak your toothpicks to prevent them from burning. And in a bowl, mix up the softened cream cheese and the shredded cheddar cheese for the filling.
Next, cut the top of the jalapeno popps off and using a thin spoon or knife, scrape out the seeds and membranes. Stuff each with the cream cheese filling and then wrap a slide of bacon around each, securing with a toothpick.
Grill the jalapeno poppers for 7 minutes per side, or until the bacon is as crispy as you like it.
Pull the jalapenos from the grill and brush them with Cowboy Hickory Smoke BBQ Sauce to serve!
Additions & Substitutions
If you don't have cheddar cheese on hand, you can use shredded Monteray jack, colby or even American cheese for added flavor!
We love using smoked bacons or even peppered bacon on this appetizer recipe to change the flavor and mix it up from time to time.
Expert Tips & Tricks
Bacon can cause flair ups, so don't leave these on the grill unattended. Have a long pair of stainless steel tongs on hand to rotate the poppers and make sure the bacon cooks evenly on all sides.
Use a 2 zone fire in your fire pit to create a cool and hot side so that you can move the stuffed jalapeno poppers from side to side while maging the fire and making sure the bacon cooks through.
Storage Instructions
Store leftover jalapeno poppers in an airtight container in the fridge for up to 3 days and reheat on a grill or in an oven until warmed. However, we find that the texture is best the day of right off the grill.
Recipe FAQs
What are jalapeño poppers?
Enter the world of some of the best food you can think of: jalapeño poppers. My favorite appetizer, these spicy and creamy grilled jalapeno poppers are bursting with flavor from the inside out. This jalapeno poppers recipe are seeded jalapenos stuffed with a cream cheese mixture and wrapped in bacon – the perfect blend of heat with just enough balance to not be too much. A perfect appetizer!
Why add bbq sauce?
BBQ sauce adds a massive amount of flavor to meat, veggies and more. Overall, it is a fantastic way of creating great flavor in any grilling dish.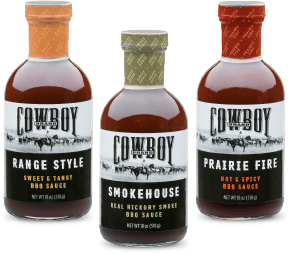 The best addition that BBQ sauce brings is its sweetness. This sweetness really compliments the spiciness of the jalapeños in my Bacon Wrapped BBQ Jalapeño Poppers recipe.
I like to add BBQ sauce to my stuffed jalapeno popper because it is smoky, sweet, and caramelizes the outside layer. Grilled Jalapeno Poppers taste best when paired up with the sauce.
How long do I grill the poppers for?
For these bacon wrapped jalapeno poppers you want to cook them long enough to cook and crisp the bacon. We found 7 minutes per side perfect for our liking, but some peolpe like their bacon extra crispy.
Can I Cut My Jalapenos Ahead Of Time?
You can cut the tops and deseed the peppers up to 24 hours ahead of time. Just store them in an airtight container in the fridge until ready to stuff and grill!
So let the Jalapeño Poppers get the party started, pair them with some fun grilled armadillo eggs, and you enjoy Independence Day with the ones you love. Cheers!
Print Recipe
Grilled Jalapeno Poppers Recipe
Sweet and spicy with a touch of zest. Try these Bacon Wrapped BBQ Jalapeño Poppers asap.
Ingredients
8-10

full jalapenos

1

bottle of Cowboy Hickory Smoke BBQ Sauce

1/2

cup

of cream cheese

1/2

cup

of sharp cheddar cheese

8-10

strips of bacon

8-10

toothpicks

Handful of Cowboy Hickory Wood Chunks
Instructions
Light the Cowboy Hardwood Lump Charcoal in a charcoal chimney or mound inside your grill and let burn for 10-15 minutes.

Place a handful of Hickory Wood Chunks onto fire and let burn for 5 minutes.

Soak toothpicks in water in order to prevent burning.

In a bowl, mix the cream cheese and sharp cheddar thoroughly.

Cut top off jalapenos and scrap out all of the seeds.

Stuff jalapenos with cheese mixture.

Wrap a whole piece of bacon around jalapenos and secure with a toothpick.

Once the grill is mostly white ash coals and medium heat, then place wrapped jalapenos on top.

Let jalapenos grills for 7 minutes per side or until your level of crispiness for the bacon.

Pull jalapenos off the grill and brush Cowboy Hickory Smoke BBQ Sauce on top.

Enjoy and Happy 4th of July!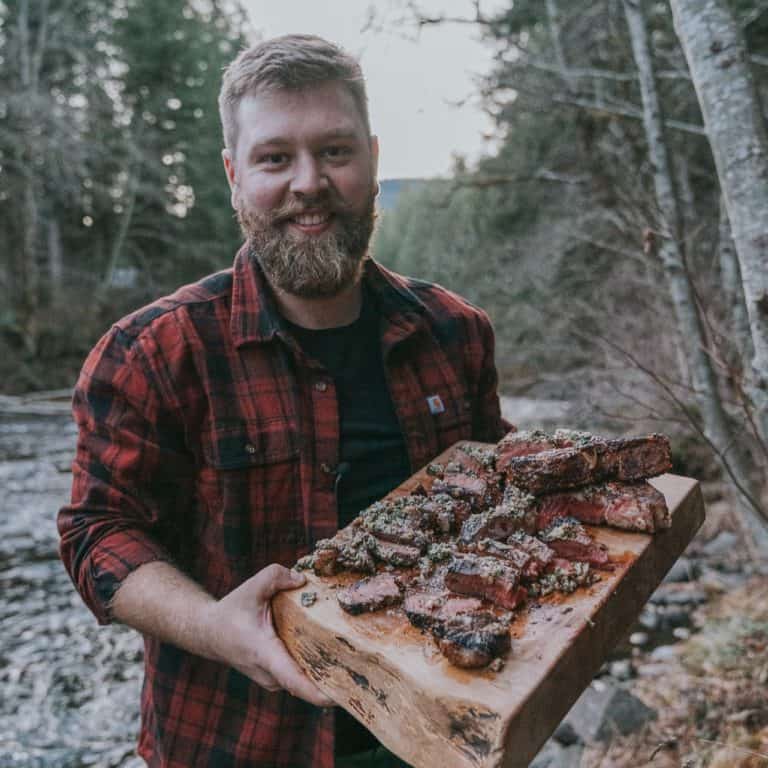 Derek is the driving force behind Over the Fire Cooking. He started cooking with live fire in 2016 and decided to start a social media page so his friends and family could follow the journey. Fast forward to today and Over the Fire Cooking has spread across multiple platforms with millions now following Derek's fire cooking journey. He's a southern fellow who enjoys everything from classic BBQ to Central and South American inspired dishes. Whatever he's cooking up, it's guaranteed to be so freakin' delicious!