Lamb al Asador is a classic South American cook that consists of lamb being flayed and hung on an asado cross over open pit fire. This show stopping way of cooking is a centerpiece in Argentina. It is associated with guacho/cowboy styles of living; and is one of the core main dishes for every aspiring fire cook. Learning how to cook a lamb al asador was one of the first things I wanted to know when I started my journey. Thanks to the American Lamb Board, I get the honor of showing you how I cook my lambs on the asado cross. So let's start with some tips and tricks that will help you conquer this amazing cook in your backyard.
Post sponsored by the American Lamb Board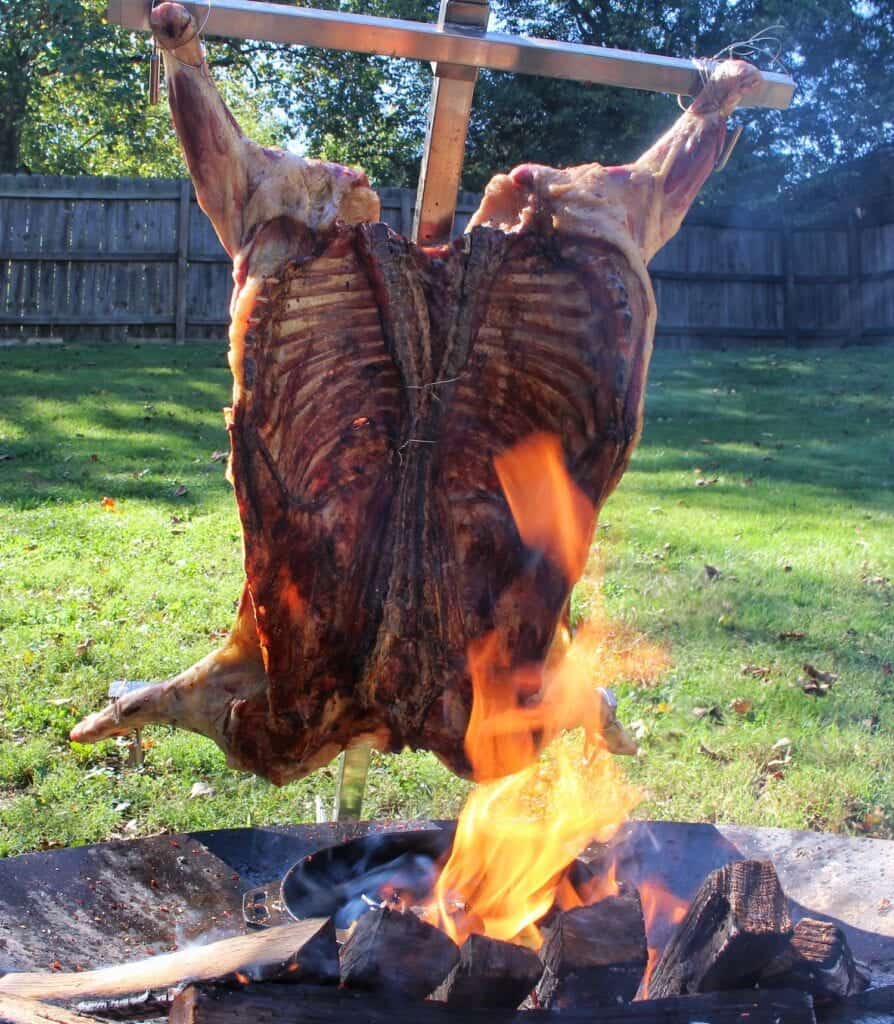 Getting the Lamb Ready
First off, finding a whole lamb is not that easy. Make sure to reach out the the American Lamb Board who can help you connect with a local rancher! Next, shoot for a smaller lamb if possible. The lamb I used was around 60lbs which is not too big, but smaller is better as it will cook faster over the fire.
Also, ask your local butcher to butterfly the lamb for you. This will help you from having to break bone with improper equipment to get the lamb ready for lamb al asador. If the butcher cannot or you don't have a butcher, use a hatchet or a saw to open up the top and bottom part of the spice to that the lamb will lay flat.
Once you have gotten the right lamb, make sure to store it appropriately, get plenty of sleep the night before and have all your equipment ready for the day of the cook. This is a 6+ hour cook, so get rockin' early.
Securing it to the Cross
Getting the lamb secure on the cross is a massively important part of the process. I high recommend getting food grade stainless steel wire if you can, but regular steel wire is okay as well.
Whatever you do, do not get galvanized wire! This is not an ideal metal for cooking with, and might discolor your food where it touches.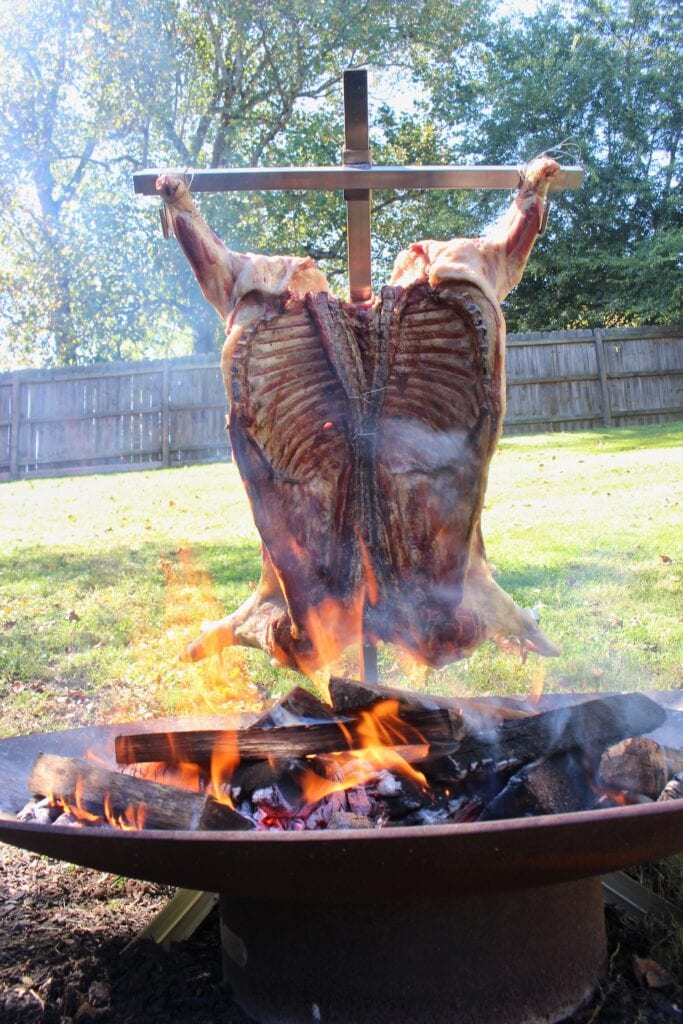 Once you have the right wire, secure the lamb al asador in a couple of places: ankles, wrists, spine and neck. Make sure to secure the legs and the spine super tight as these will be where a majority of the weight is kept while the animal is hanging.
Once it is secure and fastened, it is time to start cooking!
Love lamb? Check out our smoked lamb leg recipe too!
Maintaining the Fire for the Lamb Al Asador
Alright, so you have the lamb on the cross seasoned and tight. Let's build that fire!
Having a medium-high temperature fire at all times is the key to this whole cook. You want to cook evenly and consistently, so you have to build the right fire. One way to know if you have a medium-high temperature fire is to do the hand check. Safely place your hand 6 inches away from the fire and hold. If you can hold it there for 4-6 seconds then you are golden. Anything under or over, and you are too hot or too cold. Keep the fire right there between 4-6 seconds using the hand trick.
Fire is set, place the lamb al asador on and you are cooking! But what about making sure the lamb is juicy?
Making the Brine
Moisture will leave the lamb very quickly with this style of cooking. One way to prevent that is buy making a brine. In cast iron, add all the ingredients I stated below for the brine. Make sure to let simmer for 10 minutes, and then start basting the lamb. The brine will add flavor to the crust will making sure the meat stays juicy.
Lamb Al Asador for the Neighborhood Party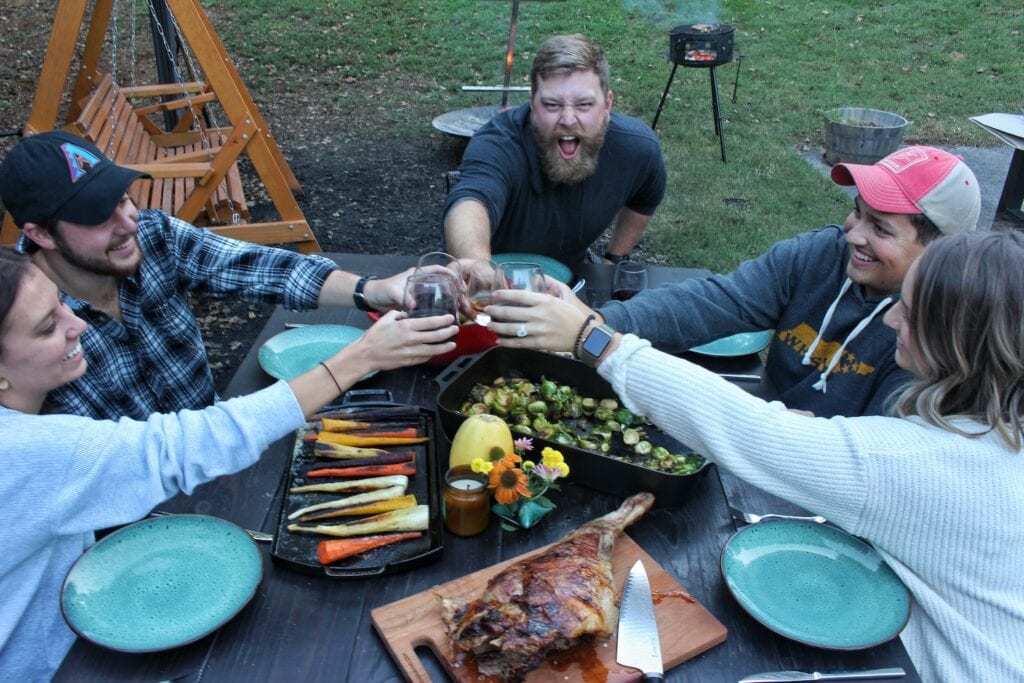 This American Lamb Al Asador is one heck of a cook for the whole neighborhood! Invite all your family and your friends over when trying out this recipe! Make sure to check out American Lambs locator to find American lamb near you. Enjoy!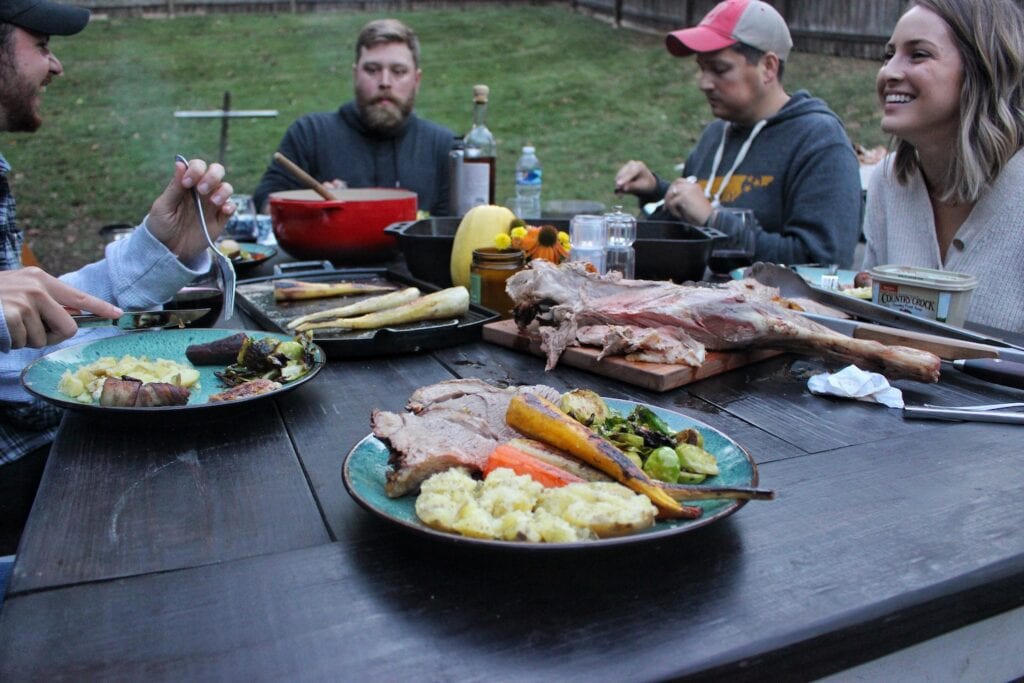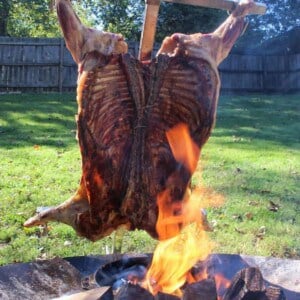 Lamb Al Asador
Its time to learn how to cook this whole lamb over fire the South American way. Try my Lamb Al Asador to really become the fire cooking master!
Equipment
Asado Cross, Steel Metal Wire, Gloves, Cast Iron Skillet, Basting Brush and Cutters
Ingredients
Lamb Ingredients:
1

Whole Lamb

butterflied

Salt
Brine Ingredients:
2-3

Cans of Your Favorite Beer

½

cup

of Red Wine Vinegar

¼

cup

of Olive Oil

1

White Onion

Cubed

2

Lemons

Sliced in Half

4

Sprigs of Rosemary

4

Sprigs of Thyme

Handful of Mint Leaves

6

Cloves

of Garlic

unpeeled

2

Tbsp

of Crushed Red Pepper Flakes
Instructions
Trim any excess fat on the lamb, then score the back side fat to help cook faster. Season the outside with ample amounts of salt. Using metal wire and cutters, secure the butterflied lamb to the asado cross around the legs and along the back.

Having built a medium-high temperature fire, place lamb over fire with the flayed side towards the fire. Cook at a consistent medium-high for 3-4 hours. Move lamb away from fire if it begins to burn.

While lamb is cooking, add all marinade ingredients to a cast iron skillet and let simmer over fire for 10 minutes. Baste lamb all over every 30 minutes of the cook to maintain moisture.

After 3-4 hours, carefully flip lamb with back towards fire and cook for another 2-3 hours. Internal temperature is anything over 145F, but ideally would be into the 180's to 190's as the lamb will melt off the bone here. Continue to baste throughout.

Pull lamb off of asado cross, slice and serve!
This article does contain affiliate links to products that we personally use and support. Purchasing an affiliate product does make us a small commission at no cost to you. This helps us continue creating for our website. All words and opinions are our own, and we appreciate your support!