Smoked Leg of Lamb is a delicious cut of meat that would be perfect for your next family gathering. I teamed up with Oklahoma Joe's to bring you a simple but delicious centerpiece option for your upcoming holiday gatherings! Seasoned with my Lemon Chili Rye seasoning and then smoked on the Oklahoma Joe's Bronco Drum Smoker, this leg of lamb turned out incredible. It's tender, juicy, smokey, and has the perfect tang from the seasoning. I paired it with a creamy Dijon sauce, and it was out-of-this-world delicious!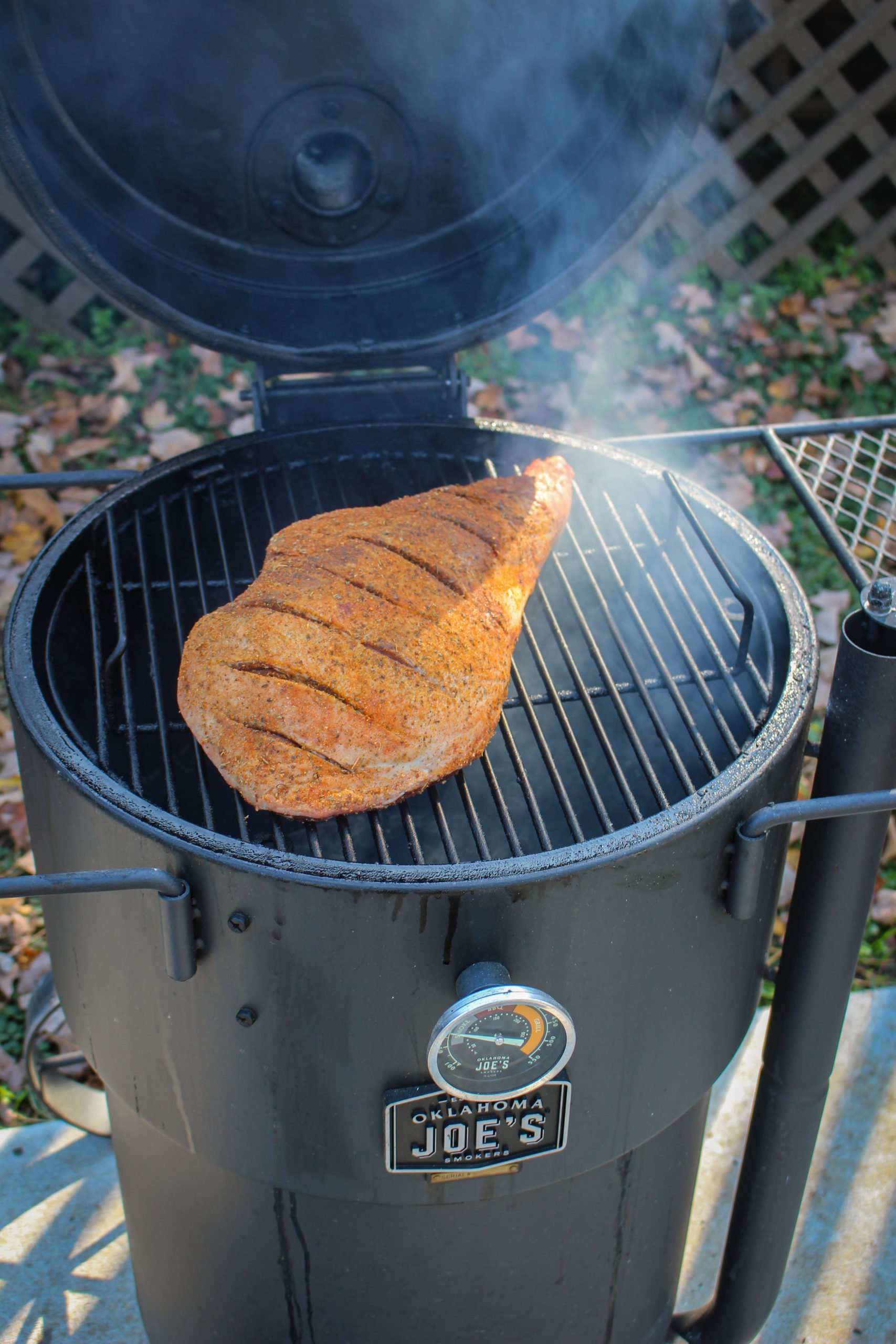 Lamb is totally underrated. Yeah, I said it!
It's a staple piece in most countries around the world, but it's not something we typically see in the US. Don't get me wrong, I love a turkey on Thanksgiving and prime rib for Christmas, BUT there are so many other gatherings that happen this time of year where you could incorporate a protein switch up… Like a smoked lamb leg. If you want something different, then this recipe is for you.
You know one thing you don't have to switch up? Your cooking process on Oklahoma Joe's Bronco. Thanksgiving turkey? Smoke it. Christmas prime rib? Smoke it. Leg of lamb? Smoke it!
Each dish will come out tender and juicy and also have the incredible smoky flavor we're all searching for. It honestly makes cooking large cuts of meat so easy, which is why I turned to it today for this Smoked Leg of Lamb recipe.
WHY YOU'LL LOVE THIS SMOKED LEG OF LAMB RECIPE
Let's turn this whole leg of lamb into a juicy masterpiece by marinating it with canola oil, Lemon Chili Rye Seasoning, chives, and lemons. Whether you're celebrating a special occasion or wanting to jazz up your dinner table, slow cooking on a pellet smoker or a charcoal grill brings out a rich flavor. The easy instructions make it great for anyone, even if you're cooking lamb for the first time.
RECIPE INGREDIENTS
Gather your ingredients to pull this smoked lamb leg off like a pro!
FOR THE LEG OF LAMB
Bone-in leg of lamb
Canola Oil – This coats the lamb leg, allowing it to form a super crispy crust!
Chives
Lemons
Add flavor to everything you're cooking
shop over the fire spice lines

ALTERNATE SEASONING:
If you don't have my Lemon Chili Rye Seasoning, then this is an alternative spice blend that works great as a substitution.
Kosher Salt
Black Pepper
Garlic Powder
Cayenne Powder
Lemons
CREAMY DIJON SAUCE:
Dijon Mustard – Adds a tangy and sharp flavor to the sauce.
Sour Cream – Brings a creamy and slightly tangy element.
Mayonnaise – Adds richness and a velvety consistency to the sauce.
Spicy Prepared Horseradish – Infuses a zesty kick and a hint of heat and adds a layer of complexity to the sauce.
Hot Sauce – Enhances the overall spiciness of the sauce.
Lemons – Offer a citrusy brightness that cuts through the richness of the lamb.
Chives – Introduce a mild onion flavor and a pop of color.
HOW TO MAKE SMOKED LEG OF LAMB
PREPARING A LAMB LEG FOR SMOKING
I kicked things off for this recipe the night before smoking it by scoring, seasoning, and placing my leg of lamb in the fridge. I decided to prepare the leg of lamb the night before so that it would help the seasoning stick to the leg of lamb when it gets smoked.
To score the leg of lamb, get a sharp knife and make diagonal, shallow cuts up the center of the leg. Scoring the lamb provides a larger surface area for seasoning and also helps more fat to render. Then, lather the leg of lamb down with oil and cover it entirely with the Lemon Chili Rye seasoning. If you don't have my Lemon Chili Rye seasoning, then you can mix together a substitute I created, listed in the instructions below. My seasoning is pretty awesome though… Just sayin'.
After our future Smoked Leg of Lamb is seasoned, place it in the fridge overnight so that it'll be ready for smoking tomorrow!
If you're a fan of Leg of Lamb, then check out my other Herb Marinated Hanging Leg of Lamb, Hanging Leg of Lamb, and White Wine Herb Leg Skewers recipe here!
SMOKING THE LAMB
As dinner time comes rolling around, head outside and light some charcoal. Once they start to glow orange, dump them in the Bronco and let that drum smoker preheat. When the temperature gauge reads 250F, it's time to put the leg of lamb on. Place it on the smoker and close the lid. The Smoked Leg of Lamb will take anywhere from 2-3 hours to cook. We want the internal temperature of the meat to reach at least 140F with a meat thermometer at the thickest part of the lamb leg.
CREAMY DIJON SAUCE
While the bone-in lamb leg is smoking, let's prep the creamy dijon sauce. Simply mix all its ingredients in a bowl and give it a good stir. I really like how the sour cream and mayo in this sauce balance out a bit of the spiciness from the seasoning while the lemon juice adds to the tang. All in all, it's a great pair for this smoked lamb leg.
If you know me, you know I'm all about the sauce. If that's you too, then check out the sauces in these Ribeye Caps with Horseradish Board Sauce, Lobster Skewers with Bang Bang Sauce, Marinated Steak with Thai Chili Sauce, and Grilled Filets with Chile Vinegar Sauce recipes!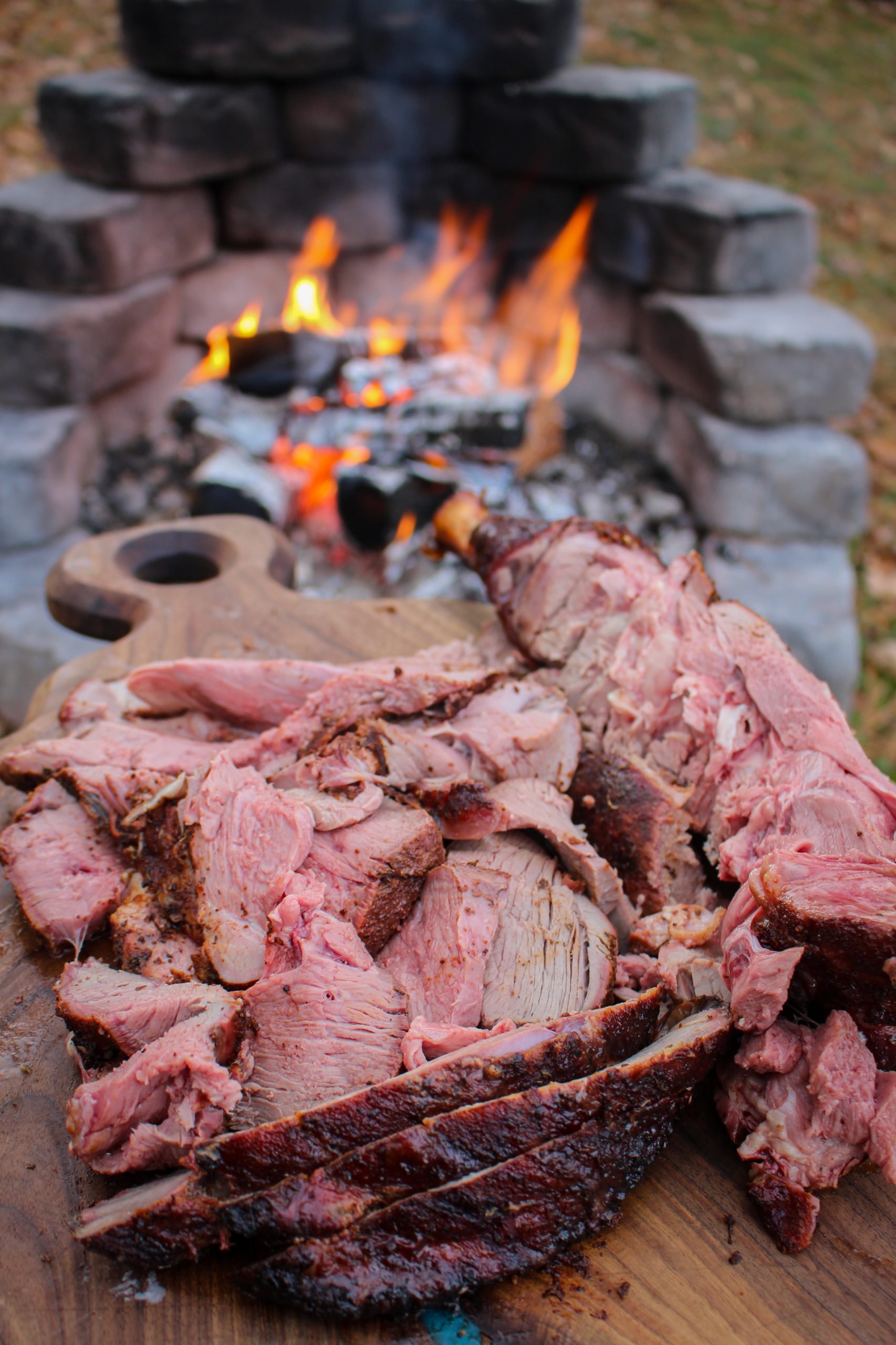 SERVING SMOKED LEG OF LAMB
Pull the Smoked Leg of Lamb from the grill after it hits temp and then let it rest for about 20 minutes. Then, all that's left to do is slice and serve! I sliced all the smoked lamb leg from the bone, arranged it on my cutting board, and then drizzled the creamy dijon sauce over the cuts of lamb before serving. Best enjoyed with friends and family. Cheers!
TIPS
Play around with other fresh herbs and seasonings to get a personalized, unique flavor.
Don't forget to marinate the lamb leg! Lamb tends to have a gamey flavor, but it can be reduced by marinating it!
HOW TO STORE LEFTOVERS AND REHEAT
Store leftover lamb in an airtight container in the fridge for 3-4 days. You can also freeze it by wrapping lamb meat in plastic wrap and then aluminum foil for up to 3 months.
To reheat, make sure the lamb meat comes to room temperature. Then, follow these steps:
Preheat the oven to 325F.
Wrap leftover lamb chops in aluminum foil and place on a baking sheet.
Bake for 10-15 minutes until the internal temperature reaches 145F.
WHAT TO SERVE WITH THIS RECIPE
Pair with your favorite side dishes like fresh green beans, grilled asparagus, and roasted potatoes!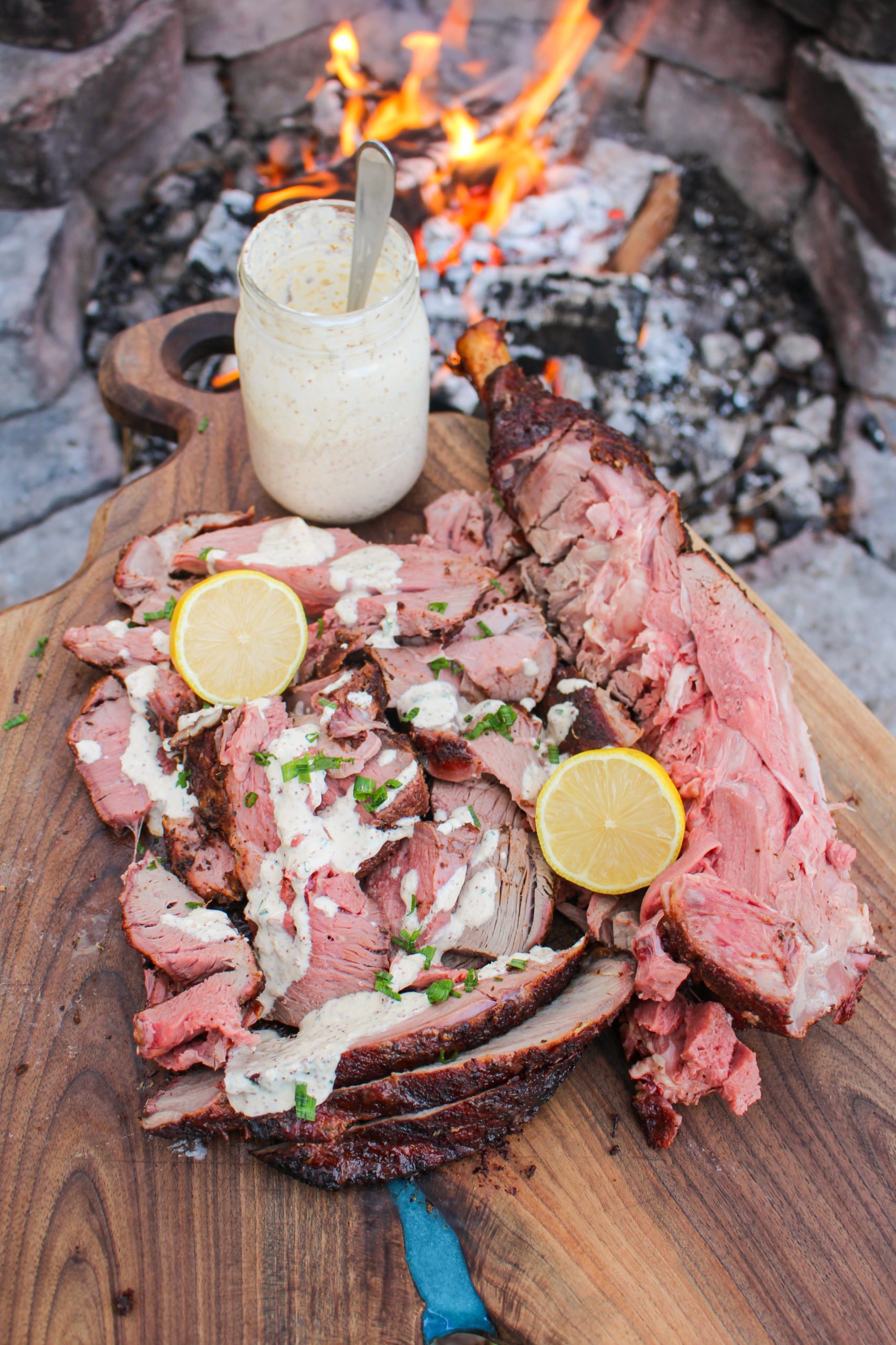 RECIPE FAQs
DO I NEED TO MARINATE MY LAMB?
For this bone-in leg of lamb, we marinate overnight to help infuse the flavors.
WHAT TYPE OF WOOD SHOULD I ADD TO MY SMOKER?
We recommend a blend of hickory and oak wood for smoking!
SHOULD I TRIM THE FAT OFF MY LEG OF LAMB?
Because this lamb will smoke for a while, we leave most of the fat on. It will render as the lamb cooks, furthermore adding flavor and moisture.
CAN I SMOKE A BONELESS LAMB LEG?
You can smoke a boneless leg of lamb, but you need to adjust the times. Bone in cuts always cook longer to read medium rare or your desired internal temperature.
WHERE TO BUY A LEG OF LAMB?
Head over to your local butcher or online for high-quality lamb meat.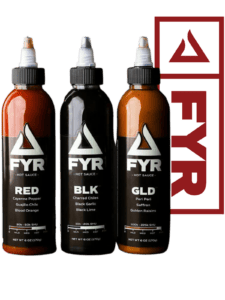 Get stoked for life
This sauce is FYR!
Born from a deep passion for food and flavor. Whether you're grilling in the backyard or live fire cooking around the world, we have what you need to transform every meal into an adventure.
Smoked Leg of Lamb Recipe
Smoked Leg of Lamb for you and your family to enjoy!
Ingredients
Lamb:
1

Whole Leg of Lamb

1.5

tbsp

of Canola Oil

Chopped Chives

garnish

Lemons

garnish
Alternate Seasoning:
1.5

tbsp

of Kosher Salt

1

tbsp

of Black Pepper

1

tbsp

of Garlic Powder

2

tsp

of Cayenne Powder

2

medium Lemons

juiced
Creamy Dijon Sauce:
2.5

tbsp

of Dijon Mustard

2

tbsp

of Sour Cream

2

tbsp

of Mayonnaise

1

tbsp

of Spicy Prepared Horseradish

2

tsp

of Hot Sauce

2

medium Lemons

juiced

1.5

tsp

of Chives

chopped
Instructions
Begin by scoring the fat side of your leg of lamb. Make 6-7 horizontal cuts over the fat about 1-1.5" apart from each other.

Next, lather the leg with canola oil and thoroughly season with Lemon Chili Rye seasoning or the alternate seasoning.

Place the leg of lamb in the fridge and let sit for at least 4 hours but ideally overnight.

Preheat your Oklahoma Joe's Bronco to 250F for indirect cooking. Add some wood chips or wood chunks for additional smoke flavor.

Pull your leg of lamb out and place it on the smoker.

Cook at 250F until it reaches about 140F at the deepest part of the leg (about 2-3 hours).

When done, pull the lamb out and let it rest for 20 minutes.

In a bowl, mix together all the ingredients for the Creamy Dijon Sauce and set aside.

Slice your leg of lamb up, serve with dijon sauce on side or on top, garnish with chopped chives and more lemons. Enjoy!
Nutrition
Serving:
8
g
|
Calories:
327
kcal
|
Carbohydrates:
12
g
|
Protein:
39
g
|
Fat:
15
g
|
Saturated Fat:
4
g
|
Polyunsaturated Fat:
3
g
|
Monounsaturated Fat:
6
g
|
Trans Fat:
0.02
g
|
Cholesterol:
117
mg
|
Sodium:
1532
mg
|
Potassium:
734
mg
|
Fiber:
5
g
|
Sugar:
2
g
|
Vitamin A:
384
IU
|
Vitamin C:
31
mg
|
Calcium:
156
mg
|
Iron:
7
mg