Steak and fries, what a delicious duo! They're almost like a mullet… Business in the front (steak… obviously) and a party in the back (I see you fries)! Together, they're everything we want in a meal! This Peppercorn Herb Steak and Fries recipe is all done completely from scratch. I created my own version of a peppercorn herb steak rub on the Oklahoma Joe's Judge Charcoal Grill and paired it with some homemade fries. Keep reading to see how it all came together!
Sponsored by Oklahoma Joe's Smokers
Potatoes = A Steak's Best Friend
Have you ever noticed how our culture loves to pair steak and potatoes. Potatoes come mashed, baked, twice baked, loaded and fried! I love having them any way they come, but for the purpose of this Peppercorn Herb Steak and Fries recipe let's talk more about the homemade fries.
To make homemade fries, you'll want to start with three to four Russet Potatoes. Then you'll cut them into fries by making long horizontal cuts, then flipping them and making additional horizontal cuts. I made my fries about the thickness of a pencil. Throw all the freshly cut future fries into a bowl of ice water.
Want more recipes like this? Checkout my cookbook, Food X Fire!
An Ice Bath for My Fries
You might be wondering why I placed my uncooked fries into a bowl of ice water. Well, here's why: soaking the uncooked fries actually removes starch from the potato.This helps prevent the fries from sticking together when they're frying. It also helps get that crispy outside crunch that we all love so much. It's also important to note that I soaked the potatoes after cutting them into fries. That creates a larger surface area for water to contact the potato.
Another french fry trick is frying them twice. I started by placing my fries in the frying dish and let them get soft, but pulled them from the oil before they turned brown. Then, I put them back in the frying dish for a second time when I was a few minutes away from serving the peppercorn herb steaks. This helps them crisp up on the outside and reheats them for serving. Leave the fries in the frying bowl until they're a golden brown color this time. Pull them from the oil once they're reached your desired color and crispiness.
Peppercorn Herb Steak
For this cook, I decided to go with three NY Strips. We can't prepare these steaks without first preparing the peppercorn herb rub. All we need to do for this rub is throw all our peppercorn herb ingredients except for the salt into a mortar and pestle. Grind the ingredients together until it's a fine and smooth blend. Then add the salt to the mixture and give a quick stir. Now we're ready to season our steaks. I covered my three NY Strips in a light layer of oil before covering them thoroughly with the peppercorn herb rub. From here, we can take them to the grill.
There is a bit of juggling in this cook. I threw the steaks on the Oklahoma Joe's Judge Charcoal Grill first. Then, I moved my frying dish with oil onto the grill grate. Once the oil was hot, I threw in my fries for their first round of cooking. In the meantime, check the steaks and flip as needed. Then, back to the fries. Pull them from the oil after they start floating to the surface. They should be soft on the inside, but only slightly golden brown in color. Let the fries rest and go back to focusing on the steaks.
Slice & Eat the Peppercorn Herb Steak and Fries!
When the peppercorn herb steaks have reached your desired cooking likeness, pull them from the Oklahoma Joe's Judge Charcoal Grill. Set them aside to rest and grab those fries again. Place them back in the frying dish and let them stay there until they reach the perfect golden brown color. Once they're golden brown in color, pull them from the frier. I finished the fries by tossing them with some garlic salt.
Finally, slice into those steaks and set them next to our bed of fries. It's time to eat! This is an awesome recipe to showcase how the Oklahoma Joe's Judge Charcoal Grill can cook multiple things at once. Enjoy this meal with your friends and family. Cheers!
Make seasoning easy with some spices from my spice line!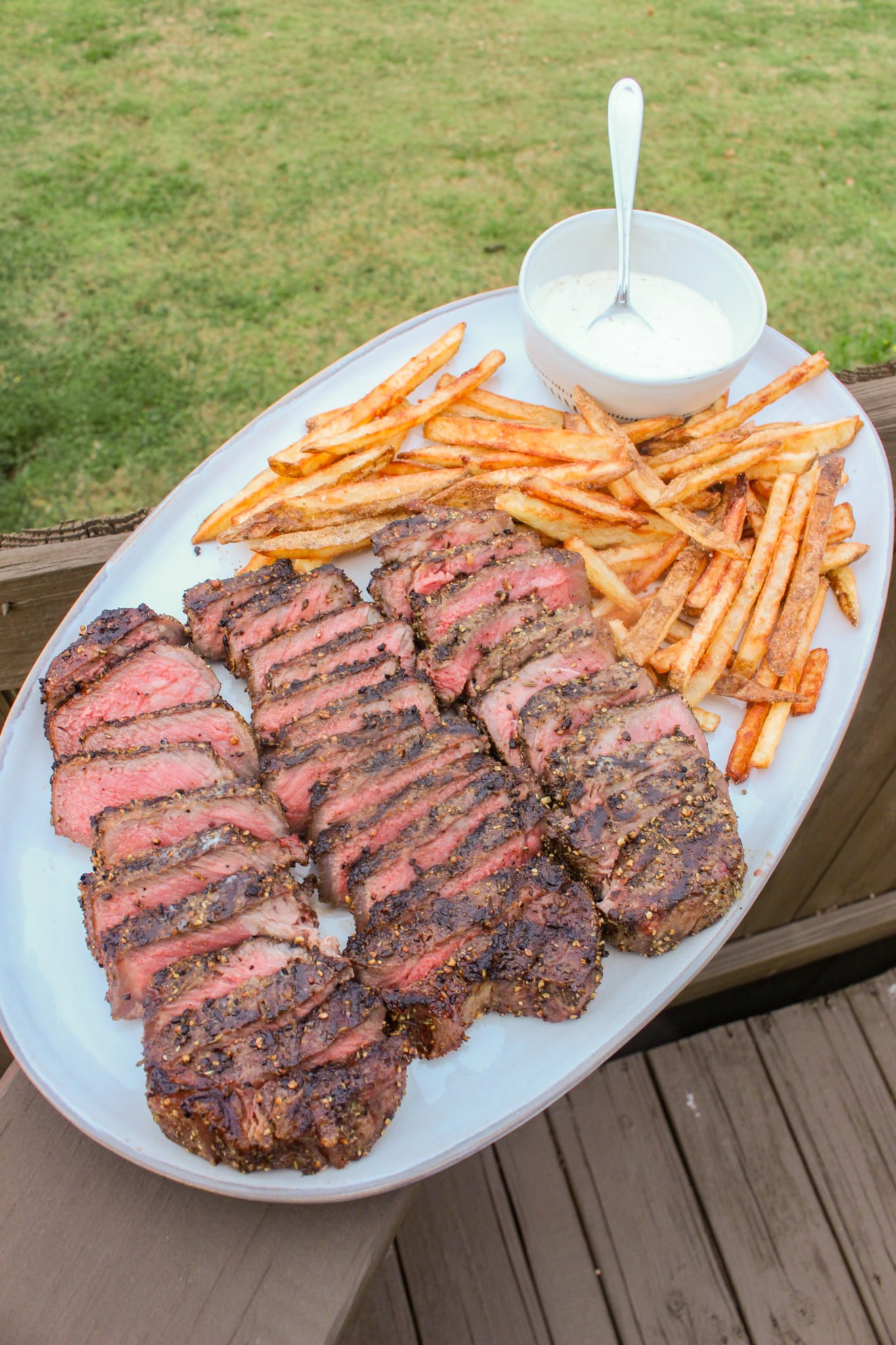 Print Recipe
Peppercorn Herb Steak and Fries
Steak and fries for a delicious duo! A fresh peppercorn herb rub for the steaks and savory aioli to go along with the fries take this classic to the next level!
Ingredients
Steak:
3-4

NY Strip Steaks

1

tbsp

of Canola Oil
Peppercorn Herb Seasoning:
1.5

tbsp

of Mixed Peppercorns

2

tsp

of Sea Salt

1

tsp

of Fennel Seed

1

tsp

of Dried Garlic

1

tsp

of Dried Oregano

1

tsp

of Dried Rosemary

1

tsp

of Dried Thyme
Fries:
2

cups

of Russet Potatoes

cut into fries

2.5

cups

of Peanut Frying Oil

1

tbsp

of Garlic Salt
Lemon Garlic Mayo:
2.5

tbsp

of Mayonnaise

2

tsp

of Garlic Paste

2

tsp

of Spicy Mustard

1/2

of a Lemon

juiced

1.5

tsp

of Olive Oil
Instructions
Wash your russet potatoes and begin to slice them into fry size shapes. Once done, place them into a large bowl filled with iced water and place them into your fridge to set for at least 1 hour but ideally for 3 hours.

In a mortar & pestle (or a food processor), add the peppercorn herb seasoning and mix until you have a medium coarse grind. Lather you're steaks with canola oil and generously season with the peppercorn herb seasoning. Place in the fridge until ready to use.

In a bowl, mix the ingredients for the Lemon Garlic Mayo. Place in the fridge until ready to serve.

Preheat your Oklahoma Joe Judge Charcoal Grill to a two zone high heat temperature (around 450F).

Add your steaks to the grill for 45 seconds before rotating 90 degrees to get your grill marks. Once you have the grill marks, flip your steaks over and sear the bottom side for 45 seconds before rotating. Once seared, pull your steaks over to the cool side of the grill to cook until they are 120F (another 5-7 minutes).

As the steaks cook on the cool side, add a dutch oven or a deep skillet with the peanut oil to the hot side of the grill. Preheat the oil to 350F. When the steaks are done, pull off and let rest for 10 minutes.

Once the oil is ready, add your fries to the skillet to cook for about 7-8 minutes or until they begin to turn golden brown. Add in batches as to not overcrowd the skillet. Once the first batch is done, pull off and add the second batch. Once the fries are done cooking for the first time around, add them back to the skillet to cook for another 3-4 minutes in order to make them extra crispy. When done, pull off and toss them in some garlic salt. Set aside too cool for a couple of minutes.

Slice your steaks and serve with a side of fries and the mayo. Enjoy!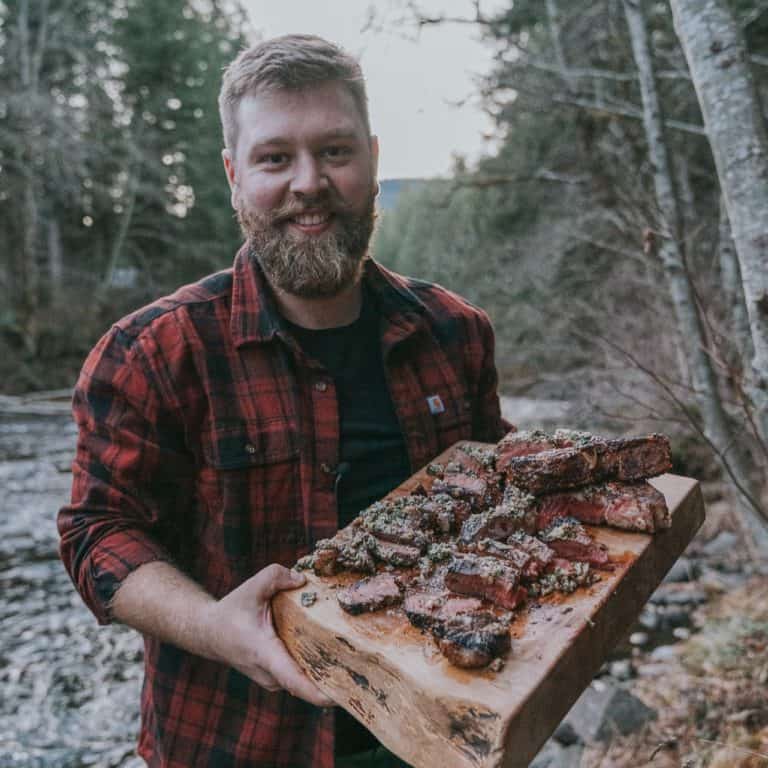 Derek is the driving force behind Over the Fire Cooking. He started cooking with live fire in 2016 and decided to start a social media page so his friends and family could follow the journey. Fast forward to today and Over the Fire Cooking has spread across multiple platforms with millions now following Derek's fire cooking journey. He's a southern fellow who enjoys everything from classic BBQ to Central and South American inspired dishes. Whatever he's cooking up, it's guaranteed to be so freakin' delicious!