Whether you accidentally forgot to de-thaw your turkey or just want something different this year, this Braised Osso Buco recipe is for you. Using either veal shanks or beef shanks, we are going to simmer over low heat this delicious and tender dish. Cooked in a myriad of awesome ingredients, it will be falling off the bone in the end. Plus, this Braised Osso Buco is a great dish to feed the people for Thanksgiving if you double it!
Let's do something else for Thanksgiving
Every year, I always say that I am going to cook something other than turkey but I never do. Don't get me wrong, I love some delicious smoked turkey or even turkey legs! It's just that turkey gets old very quickly for me. It is not the easiest cut of meat to make delicious and has a tendency to be overcooked. So if you are thinking about doing something else for thanksgiving, then what could that be? You could always do prime rib, beef tenderloin, chili or beef short ribs! This year I wanted to switch it up with a super "fancy" dish, Braised Osso Buco
Pre-Order my new cookbook: Food by Fire!!!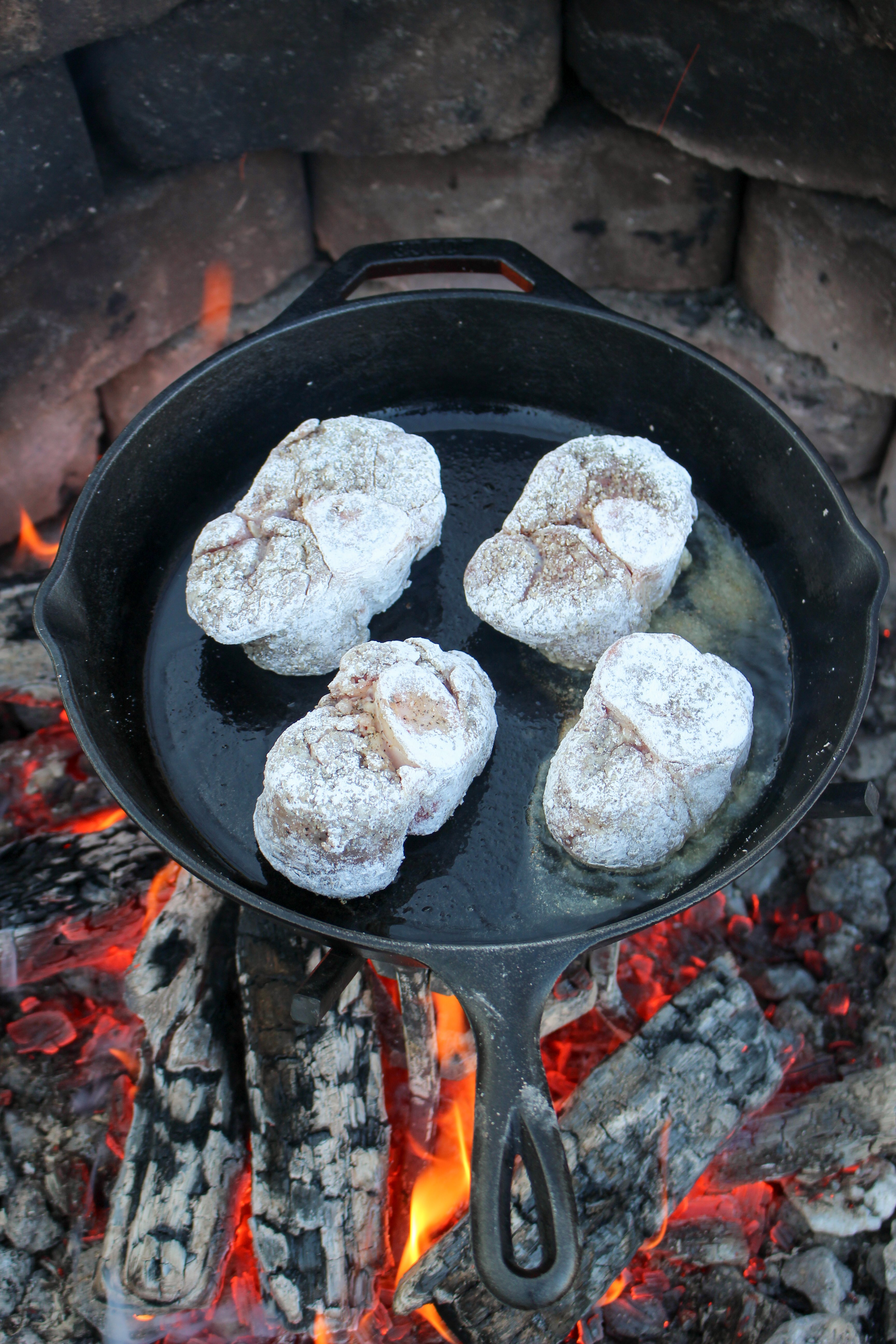 What is Osso Buco?
Hailing from Italy, Osso Buco is a classic dish that uses a very tough cut of meat: beef or veal shanks. These are not cuts of meat that you can just throw onto the grill and cook for 15 minutes and be done!
With this Braised Osso Buco recipe, we are going to slowly braise these shanks in a myriad of liquid and seasonings to slowly break down the meat until it is fork tender. Pair this Braised Osso Buco on thanksgiving with some mashed potatoes, pasta or even polenta for perfect bite.
Grab all of my seasonings & rubs!!!
How are we going to cook this?
We are going to start making the Braised Osso Buco by searing off the shanks in the skillet. That will give us the color and texture on the outside we are looking for before they slowly simmer in juices. Next, we will add the veggies including carrots, onions, celery, garlic and shallots. Let those caramelize with some dijon mustard, red wine and chicken broth. Feel free to add some beer, white wine or other liquids for added flavor!
Once the sauce is simmering, we will add the shanks back to the skillet to cook over medium heat for 1.5-2.5 hours. Flipping the shanks every so often, we will end up with falling off the bone meat that is delicious and flavor packed in this Braised Osso Buco!
Let's devour this Braised Osso Buco now!
This might not be your traditional Thanksgiving recipe, but this Braised Osso Buco will do if you want a break from turkey or are thinking last minute. Just double the recipe with a family dinner! Cheers and enjoy!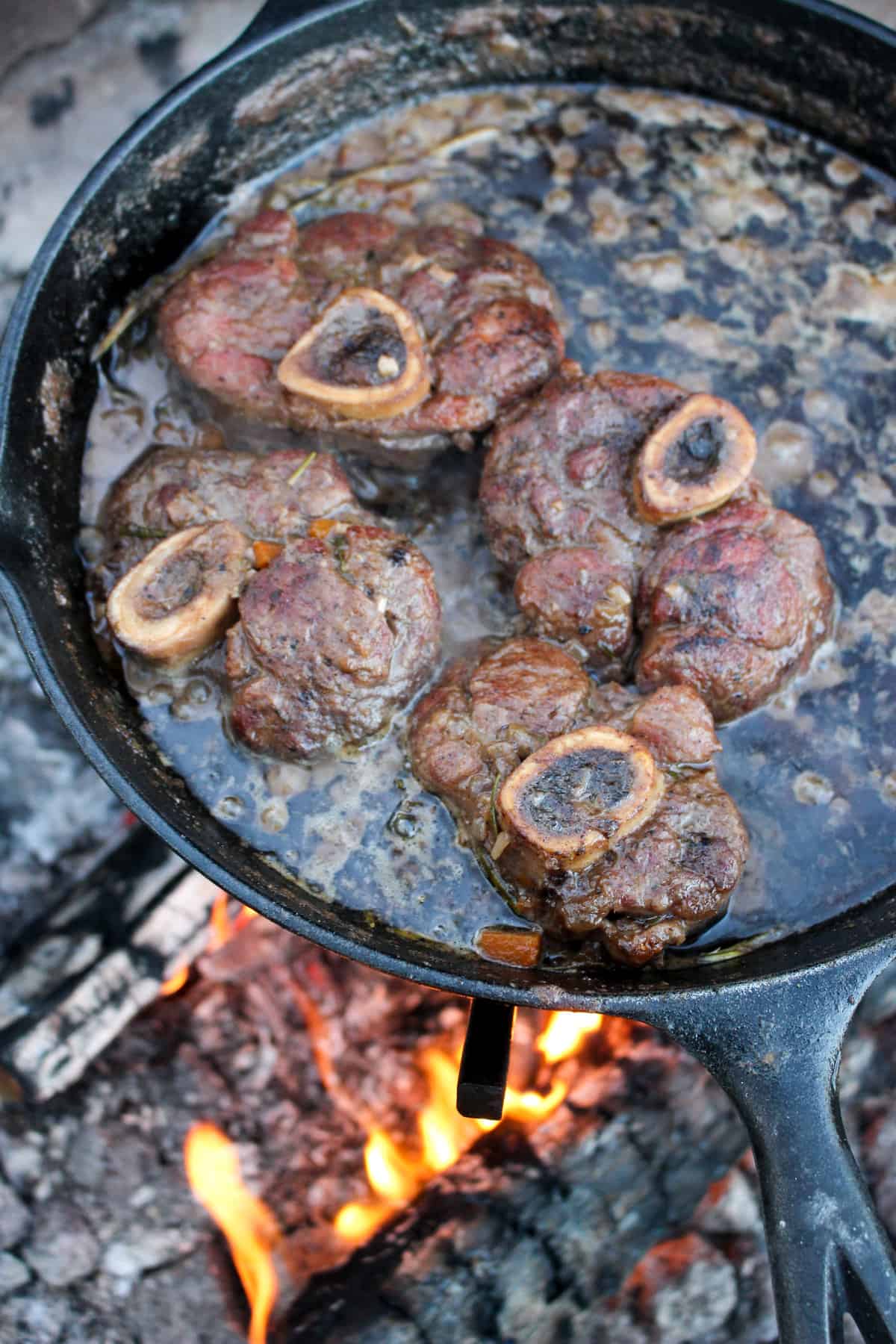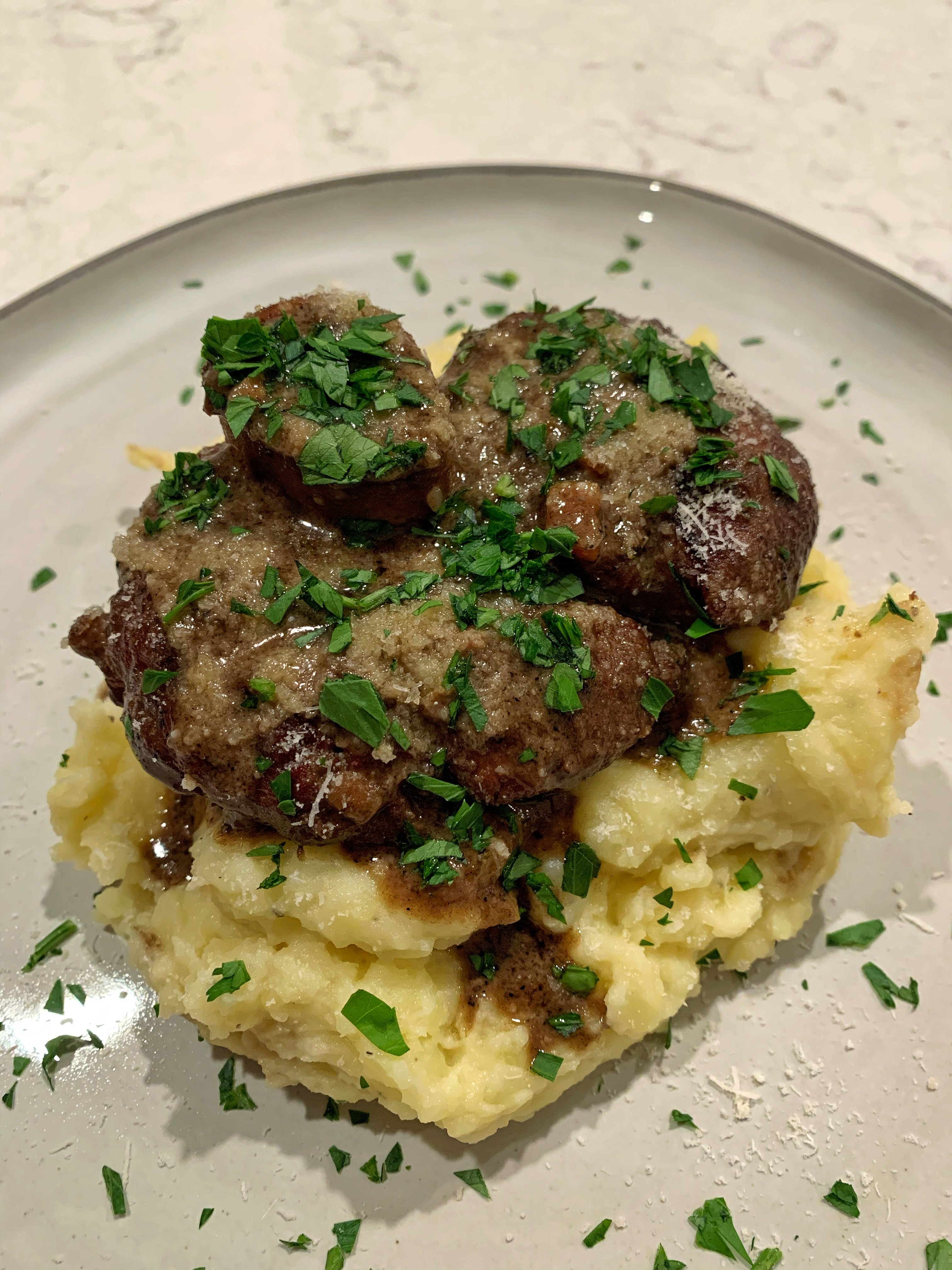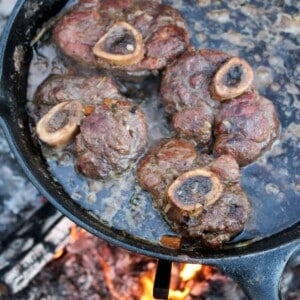 Braised Osso Buco
Whether you accidentally forgot to de-thaw your turkey or just want something different this year, this Braised Osso Buco recipe is for you this Thanksgiving.
Ingredients
Meat:
4

Veal or Beef Shanks

1

tbsp

of Sea Salt

1

tbsp

of Black Pepper

2

tsp

of Garlic Powder

¼

cup

of Flour

1

tbsp

of Canola Oil
Sauce:
2

tbsp

of Unsalted Butter

⅓

cup

of Carrots

finely diced

⅓

cup

of Celery

finely diced

⅓

cup

of White Onion

finely diced

6

Garlic Cloves

minced

1

Large Shallot

minced

¼

cup

of Red Wine

2.5

tbsp

of Dijon Mustard

2

cups

of Chicken Stock

2

sprigs of Rosemary

2

sprigs of Thyme
Garnish:
Parsley

finely chopped

Parmesan Cheese

grated

Mashed Potatoes

optional
Instructions
Lather your shanks in oil and thoroughly season using a blend of salt, pepper and garlic powder. Add some sifted flour to a bowl or plate and gently dredge the shanks until they are coated with flour on all sides evenly. Place the shanks on a plate to set for 5 minutes.

Preheat your fire to a high temperature for direct skillet cooking (around 400F). Add a large cast iron over the fire with oil to preheat 2 minutes before cooking.

Add your shanks to the skillet and sear for 1-2 minutes per side until all parts of the shank are browned including the sides. When done, pull the shanks off and discard the excess oil in the skillet.

Re-adjust your fire to a medium temperature for direct skillet cooking (around 350F). Allow your skillet to lower in temperature for 5 minutes off the heat, then add back to the fire.

Add butter to the skillet to melt with 1 tsp of oil. First, add your carrots, celery, and onion. Cook for about 2 minutes until they become soft. Next, add your shallots & garlic to brown for about 1 minute stirring frequently. Finally, mix in your red wine, dijon mustard and chicken stock. Continue stirring frequently. Bring the skillet to a low running boil, then add the shanks back to the skillet. Add some more chicken stock if necessary so that the liquid comes to just below the top of the shank. Cook the shanks at a consistent medium temperature running boil for 1.5-2.5 hours or until they are falling off the bone and fork tender. Make sure to flip the shanks every 30-45 minutes for an even cook. Keep adding wood as needed, and add more chicken stock if the liquid drops below half the height of the shank.

While the shanks are simmering, make your side dish to go with them. I recommend mashed potatoes, rice, pasta or polenta!

Once the shanks are tender and done, pull off the fire. Place an individual shank on top of a bed of your side dish, spooning some liquid from the skillet over top and garnishing with parmesan cheese and finely chopped parsley. Enjoy!